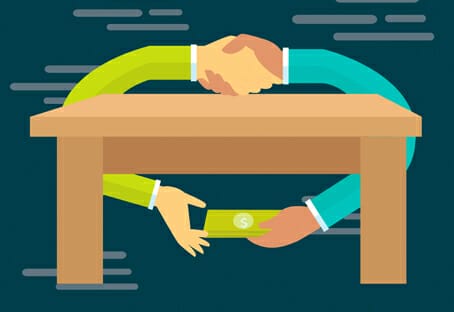 Having tackled the 'Tragedy of the Commons' and personal ethics in September, this month the discussion turns to the ethics of organisations and their leaders.
English Catholic historian, politician and writer Lord Acton (1834–1902) coined the phrase "Power corrupts and absolute power corrupts absolutely", but it is valuable to read his statement in full and consider its context as this gives it even greater meaning.
In a letter to scholar and ecclesiastic Mandell Creighton in 1887 denouncing (unsuccessfully) the attempts by the First Vatican Council to promulgate the doctrine of papal infallibility, he said:
"… Power tends to corrupt, and absolute power corrupts absolutely. Great men are almost always bad men, even when they exercise influence and not authority, still more when you superadd the tendency or the certainty of corruption by authority. There is no worse heresy than that the office sanctifies the holder of it. That is the point at which the negation of Catholicism and the negation of Liberalism meet and keep high festival, and the end learns to justify the means."
Great men are almost always bad men…
Corporate Excesses
It would seem that little has changed since Lord Acton penned his letter. The Global Financial Crisis of 2007/8 provides an example of so called "trusted institutions" acting solely in the interests of the privileged few and at the ultimate expense of the masses. Without the explicit authority and knowledge of the banks and the ratings agencies, it would not have been possible for these corrupt practices and products to have flourished. Banks and ratings agencies created the monster that was the GFC in their quest for ever greater power and wealth and eight years later we must ask if anything has changed.
Closer to home we have seen the ACCC institute proceedings in the Federal Court against Medibank Private Ltd., alleging it contravened the Australian Consumer Law by engaging in misleading conduct, making false representations and engaging in unconscionable conduct. The allegations are in relation to Medibank's failure to notify Medibank members and members of its subsidiary brand, AHM, regarding its decision to limit benefits paid to members for in-hospital pathology and radiology services.1
Followed by this: Medibank has put slow industry growth and a shrinking market share for its premium product behind it, to post a 46 per cent rise in full year profit to $417.6 million.
Add this: the Private Health Insurance Ombudsman announced a record high in complaints by policyholders, driven by a 148 per cent increase in complaints by Medibank policyholders.
Meanwhile, Dr. Michael Gannon, president of the AMA noted at a recent National Press Club presentation that, "Increasingly, we are seeing behaviour by large private health insurers that reflects that their ultimate accountability is to their shareholders.
If the actions of the Funds continue unchecked and uncontested – especially their aggressive negotiations with hospitals and their attacks on the professionalism of doctors – we will inevitably see US-style managed care arrangements in place in Australia."2
But let's look at optometry and see if we can observe any of these traits of power corrupting decision makers.
Optometry
Two recent examples in the US are of interest. The first involves US optical insurance company VSP, which has raised considerable concern in the US in recent years due to its dominant market power in unilaterally setting optometry fees for its optometrist providers. And now this from a news release on the American Optometric Association's website and extracted from a letter to AOA members by then President Steven Loomis and President Elect Andrea Thau3:
"We have pressure from medicine, pressure from online and mass retailers, pressure from online pseudo-technologies and, of course, pressure from multibillion-dollar vision plans that seek to devalue the care we provide and force us into a race to the bottom.
"Especially troubling of late are the misguided policies and priorities of VSP, a company that seems to be arrogantly committing itself to placing its bottom line ahead of doctors' ability to provide full-spectrum, quality care and doctor-patient decision-making."
The AOA mailed a letter on June 27 to VSP Global Chairman of the Board Daniel Mannen, O.D., taking issue with several of the company's corporate practices. The letter was signed by Drs. Loomis and Thau.
In the letter, AOA:
Called VSP's Premier Provider program "fundamentally misleading to patients, unfair to doctors, and at odds with the delivery of quality care".
Took issue with VSP's frame policy, which required doctors of optometry to carry VSP-owned frame lines or face a cut in reimbursements.
Reiterated AOA's support for the Dental and Optometric Care Access Act (H.R. 3323). The legislation, backed by the AOA and the American Dental Association, cracks down on vision plan abuses.
On July 1, VSP announced that it was postponing implementation of the frame policy.
But why is the case of VSP so interesting? VSP claims it represents the interests of independent optometry and it is fair to say their origins certainly demonstrate that. But their recent actions, as described above, would lead one to question their true motives.
In a further news release4,5 the AOA announced that: "The U.S. Federal Trade Commission (FTC) filed suit against 1-800 Contacts on Aug. 8, alleging that the company unlawfully used its market power to orchestrate and maintain anti-consumer agreements with rival online contact lens retailers. These agreements not only suppress competition in online search advertisements, but also "restrict truthful and non-misleading internet advertising to consumers, resulting in some consumers paying higher retail prices for contact lenses," according to the FTC's administrative complaint.
"As early as 2003, 1-800 Contacts recognised that it was losing sales to lower-priced online competitors," the FTC complaint reads. "However, 1-800 Contacts did not want to lower its prices to compete with these rivals, and devised a plan to avoid doing so. To this day, 1-800 Contact's prices for contact lenses remain consistently higher than the prices of its online rivals."
1-800 Contacts and its rivals have long espoused that their primary interest was to lower the price of contact lenses to consumers yet their actions demonstrate otherwise.
So what does this mean for optometrists and optometry in Australia? Simply this: when choosing who to do business with, be aware that the larger the organisation you are dealing with, the more likely that their primary motivation is the satisfaction of shareholders above all else.
Michael Jacobs is a business consultant and columnist for mivision. He was the former Chief Executive Officer of Eyecare Plus for 10 years until early 2015.
References
1. www.accc.gov.au/media-release/accc-takes-action-against-medibank-for-alleged-misleading-and-unconscionable-conduct
2. ama.com.au/media/dr-gannon-national-press-club-address
3. www.aoa.org/news/advocacy/aoa-never-stronger-takes-issue-with-vsp-practices?sso=y
4. www.aoa.org/news/advocacy/aoa-commends-ftc-action-against-1-800-contacts?sso=y
5. www.ftc.gov/news-events/press-releases/2016/08/ftc-sues-1-800-contacts-charging-it-harms-competition-online?utm_source=govdelivery