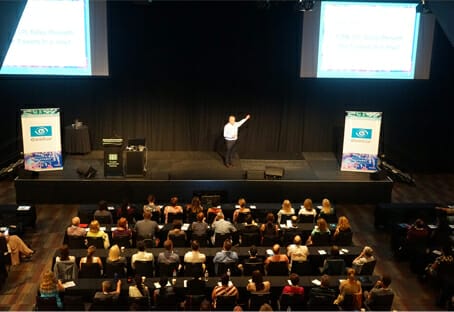 Relevance was the theme for this year's ProVision member only conference in Cairns and if numbers are the measure, this independent optometry group certainly has a meaningful place in community eye care and eyewear.
Big personalities, high spirits and good news welcomed around 400 ProVision stakeholders to the group's biennial Conference from 8–10 September.
The conference opened with a casual evening sponsored by Essilor at the Cairns Cruise Liner Terminal where old friends quickly reconnected and new friendships were ignited.
CEO Steven Johnston, still buoyed by the successful implementation of a cultural change roll-out through practices, congratulated attendees on their performance over the past 12 months. With growth in revenue, purchases, participation in ProVision education, new practice fitouts and the number of practices operating under the ProVision umbrella (now 445, up 16 from the previous year) he said the past 12 months had been an outstanding success. "It's been tough out there so we're really pleased with the numbers we've been able to achieve this last year," said Mr. Johnston. Even so, he said, ProVision could still do better. "We need to embrace newness; we need to bring new patients to our practices for different reasons… We want to give the best customer experience that we possibly can – whether in practice, via the website, Facebook, or by phone – every contact point has to be flawless. We're not going to out-market the competition, we're not going to discount in a race to the bottom, we want to give customers the best experience at every contact point."
It's been tough out there so we're really pleased with the numbers we've been able to achieve this last year
Mr. Johnston spoke about the support ProVision offers its members for practice development, staff engagement and business growth. "Our key business strategy remains to leverage our supply chain so we can lower your cost of goods and we've been doing that through ProSupply and more recently ProShop in the business to consumer end," he told delegates.
Reinforcing Relevance
A strong contingent of celebrity speakers spoke to the theme of relevance, each approaching the topic from a different angle to cover off a number of key issues including change management, providing customers with positive experiences, developing emotional intelligence to successfully connect with customers and staff and the art of communication, especially when it comes to managing difficult conversations.
Social researcher and trends expert Michael McQueen spoke about disruption; the power of disruption through technologies such as online sales and social media feedback; the power of the marketplace to disrupt business with new entrants; and the power of demographics to disrupt the way we manage and do business. Mr. McQueen reflected on the influence of Generation Y, now 17 – 35 years old, who in the past have been criticised for a poor work ethic, disloyalty etc. "Fifty cents in every dollar of discretionary buying power now belongs to Gen Y – a generation we can't ignore," said Mr. McQueen. "In 10 years Gen Y will comprise 42 per cent of Australia's working population."
Mr. McQueen spoke about how business can reinvent itself to stay relevant in the face of disruption and ahead of the curve. He said businesses that have done this successfully, "have reinvented themselves before they were forced to do so".
Social analyst David Chalke spoke about changing consumer expectations of 'service' and about how practices need to adapt. He said the new retail environment had to offer a positive, new and pleasant experience from the shop front through to the consult room. "Value is so much more than just the price of an item – you can fight price discounting by giving something personal," he said emphasising the importance of honesty and responsibility, of handling complaints effectively and working to the old adage that the customer is never wrong. "That doesn't mean they are right but the last thing you should do is tell them they're wrong," said Mr. Chalke.
Getting Buy in
Adam Ferrier, Consumer Psychologist and Chief Strategy Officer from the agency Cummins & Partners, offered advice on how to drive tangible long lasting behavioural change. He said "action changes attitude faster than attitude changes action," making it important to get people to invest mentally, emotionally and actively in changes that need to be made. Referring to "the Benjamin Franklin effect" he said the best way to get someone to like you is to get that person to do something for you. Using the example of Ikea's flat-packed furniture that requires customer assembly, he said, "Stop asking your customers what you can do for them, ask what they can do for you. As soon as they do something for you they'll like you more." Furthering his point, he said, "Betty Crocker (cake mixes) failed until using the mix required cracking an egg – that gave people a sense of ownership".
Emotional Intelligence
There's no doubt that managing staff, helping them reach their potential and keeping them engaged in the business can be challenging. Naomi Simson from Shark Tank and founder of RedBalloon, a company listed as one of the top 50 places to work for five years in a row, spoke to delegates about her own experience with team building. "Business is never easy, but it gets even harder if you don't embrace change," cautioned Ms. Simson.
Peter Schmideg spoke about the importance of developing emotional intelligence – which enables a person to tune into their own, and others' feelings and emotions to help guide thinking, actions and decisions. Encouraging a greater level of self-awareness, he asked delegates to consider how aware they are of how they look or present to staff or clients, particularly when annoyed or in
a bad mood.
"There are core emotions for emotional intelligence: sad, mad and glad with lots of variations in between and it's important to know how to use your resources to change those core emotions," said Mr. Schmideg. "When you are under pressure or stress, when you need emotional intelligence the most, that's when you are most unlikely to use it. Being able to respond appropriately, as opposed to react, is about emotional intelligence."
Demonstrating the important of emotional intelligence, Mr. Schmideg said although a person's high intelligence quotient might get them their first job, it's the former that will sustain them and get them promoted. "Emotional intelligence determines your future success, what happens to your career, your growth and how you deal with people, how you manage your moods, how you deal with pressure, and how you deal with change."
Tackling Tough Conversations
Communication expert Georgia Murch spoke about the more difficult conversations in business and how practitioners can handle them better. Using her own experiences in business as an example, Ms. Murch said "to become a remarkable communicator, you need to learn to find the gold… to seek feedback that enables you to become a better person.
"You could be doing something now that's getting the result you need but damaging people in the process."
"Leaders are not just people managers – we're all leaders in one way or another… a leader's job is to resolve conflict, not to create it or avoid it," she said.
Finally, Li Cunxin, author of the book and movie 'Mao's Last Dancer' spoke about his extraordinary life, having been born into poverty in rural China and pushed into the world of dance. An international ballet dancer, senior manager with an Australian stockbroking firm and now Artistic Director of Queensland Ballet, he is an inspirational example of overcoming adversity to achieve excellence.
Workshops, Trade Show, Dinner and More
Alongside a magnificent plenary session, ProVision offered members the opportunity to attend workshops, to review brand ranges at a trade show, and to party at a gala dinner hosted by well-known comedienne Libbi Gore.
During the dinner, Gaye and David Wymond owners of platinum sponsor Eyes Right Optical, told their story of strategic risk taking in order to achieve success. Having worked in the business of eyewear for some time, Mrs. Wymond said she wanted to introduce Australia to more contemporary, bolder and brighter frames.
"There were contemporary frames available in Australia at the time but there was nothing different, nothing that stood out. I wanted to bring in frames with colour – purple, orange, red – and so that's what we did… We brought colour to the optical industry" said Mrs. Wymond.
Having imported their first 20 bold and colourful frames, Mr. Wymond said they were encouraged by the distributor to exhibit at the Australian Optical Industry Fair. "Our distributor told us we really had to be there… she said it would work and she was right. We invested everything we had made over the past year into three days at the Fair and it turned what was a hobby for us into a business."
That was back in 1992 and ever since then, Mrs. Wymond said the secrets to Eyes Right Optical's success have been service, working for what's reasonable for all concerned and having a passion for bringing beautiful eyewear to the Australian market.
The next ProVision conference will take place in the second half of 2018.