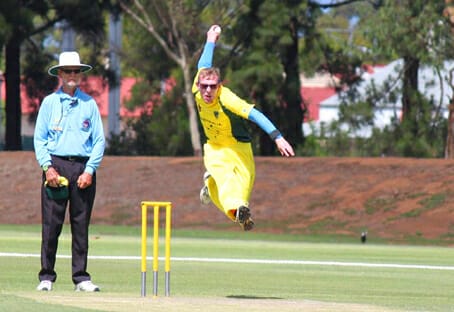 When Australian fast bowler Ray Moxly started playing 'blind cricket' aged 14, he felt liberated. For the first time in his life he was able to enjoy a sport that was especially designed for people with a vision impairment. The game has taken him around the globe, enabled him to compete at an international level and to achieve world records. Now he's giving back.
Cricket is the most popular summer sport in Australia with over 1.3 million people playing the game. Few people however realise that blind cricket even exists, let alone that it is played at an international level and that the best bowlers deliver the ball at an incredible 100kph+, comparable to sighted Test players like Mitchell Starc and Josh Hazlewood.
Ray, now approaching his mid-40s and born with ocular albinism, was introduced to the game by mentors who visited the special education unit at his high school. "Three guys came out to school, did a presentation to all the kids, and took us out to play cricket. That's when I started playing," he said.
Ray had always been the smallest kid at school from day one when he started primary school early, at four years of age. "Having ocular albinism I had incredibly fair skin, I was severely cross eyed and wore thick glasses. Needless to say, I learnt resilience early on and I developed mates – mates who would go out of their way to include me."
The game started in Australia by returning soldiers from World War 1 who'd lost their sight on the battle fields…
While he participated in class activities and sport, the rules always needed to be changed to accommodate his poor vision. "In tutorials I was always given an A3 sheet of paper instead of A4; outside of class, I'd play sport with my mates and I'd be put in a position where I could operate. We signed up for soccer and when I played I'd often misjudge the distance and go in to tackle too hard. My friends would jump in and explain the situation before anyone got too upset, then on we'd go on."
A Breath of Fresh Air
It's easy to understand then why blind cricket was such a breath of fresh air. The game started in Australia by returning soldiers from World War 1 who'd lost their sight on the battle fields. The ball was simply a can filled with pebbles so that players could follow the sound. The concept remains the same only the ball used in modern blind cricket is plastic and filled with ball bearings. Metal stumps ping when they are hit and the batsmen use a 'normal' bat.
A blind cricket 11 is comprised of four partially sighted (B3) players, three poor partially sighted (B2) players and four totally blind (B1) players – positioned on the field according to their sightedness. The ball is bowled underarm and the bowler must ask the batsman if they are ready before bowling. Batsmen hitting fours and sixes is a common occurrence – there are plenty of classic catches taken and the best bowlers deliver the ball in excess of 100kph!!
"I don't remember a lot about those first games, but on reflection, they would have been the first time in my life that I had the opportunity to do something where the other participants didn't have to make an exception to cater for my vision impairment – it's not so much the joy of playing cricket – it's the only time in my life when I feel entirely normal – no one makes an exception because of my vision."
Ray said there is only one other game he can think of that entirely caters to people with vision impairment.
"Opportunities for team sport are very limited – blind cricket is the most accessible and most aligned with a sighted sport – it's set up to make the most of the vision that you have and we have people playing from their childhood into their 50s and 60s. Other games, like Goalball, involve wearing a black out mask to equalise everyone's lack of sight – for someone with a degenerative disease it must be a nightmare to have your remaining sight taken away like that."
The game of Goalball is played with three blindfolded people a side, it can be brutal, the aim is to block a roughly 1.5kg ball, the size of a medicine ball, fitted with a bell, hurled at you by the opposing team.
Not a Cricket Tragic
Ray has competed at an international level in 15 of the 16 Series Australia has played in and in January 2017 he will represent Australia again in the World Cup in India against countries including the West Indies, Sri Lanka, South Africa, England, Pakistan and India. As the holder of the world record for the most wickets in an innings in blind cricket, he is understandably Australia's opening strike bowler.
Yet despite being a world champion bowler, Ray says he's not a cricket tragic. "I don't go to sleep at night listening to cricket on the radio, I simply enjoy it and I like getting involved. "I don't think I realised, until just a few years ago when people started to ask me about what I get out of cricket, that the greatest thing about the game is, having been designed by blind people when you're out on the field, no-one has a disability. There's nothing contrived, everyone has equivalent vision and we don't make exceptions."
It was for this reason alone that Ray went on to become the Chairman of Blind Cricket Australia and the Secretary of World Blind Cricket. "I want to make sure other people can have the same experience – whether they want to play social cricket or at international level, it's so important that people know the game exists and that they are very welcome to become involved." As Chairman of Blind Cricket Australia, one accomplishment Ray is particularly proud of is the recent partnership announced between Cricket Australia and Blind Cricket Australia, funded by the Commonwealth Bank. The partnership will see all National Training Camps and all International Series fully funded and completely free for players to attend – a first in Disability Sport in Australia.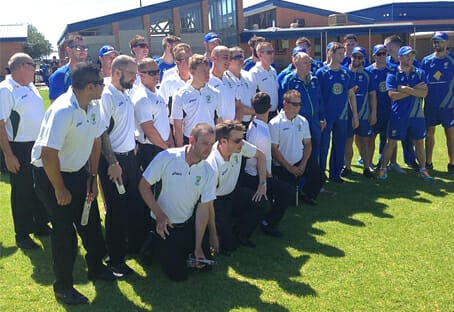 Australian blind team with the Australian Men's T20 team, Adelaide 2016
How to Get Involved
Blind Cricket is supported in Australia by the Lord's Taverners, Brien Holden Vision Institute, Vision Australia, the Royal Society for the Blind of South Australia, Australian Disability Sport and Cricket Australia.
With the cricket season well underway, Ray said most teams will be filled however Blind Cricket Australia is always on the lookout for new players.
Contact: chairman@blindcricket.org.au
White Canes for Africa
Ray's involvement with Blind Cricket at an international level has had far-reaching consequences. In 2010 he travelled to Dubai to represent Australia at the World Blind Cricket Council AGM. It was there that he first met Armand Bam, the Executive Director of the South African charity League of Friends of the Blind (LOFOB), which, in addition to providing social services and education and employment opportunities for the blind and vision impaired, promotes Blind Cricket in South Africa.
In 2014, when Ray travelled to Cape Town, South Africa for the World Cup, he met Armand again. In between those years, the friendship had grown and while in South Africa, Ray was invited to stay at Armand's home and to visit the communities supported by the LOFOB.
"On the plane home I had an idea – white canes. In Australia you can get a cane for free – it's taken for granted but in South Africa, people walked around using pieces of metal or sticks as canes. They broke, became bent and then people were unable to get around – to get to work or school," explained Ray.
"So I decided this was something I could do. With my contacts here, I called everyone from Vision Australia to Guide Dogs and the Royal Society of the Blind, as well as a few other low vision groups and slowly the canes started to come in. I also raised money giving speeches and I coordinated the purchase of canes for me straight from Bevria – a company which makes canes in Australia.
"Eventually I had 100 canes and 60 cane tips. I packed them into two suitcases and was just about to leave for the airport when another box of canes arrived at my doorstep. I had to empty my case of clothes to get that last box on the plane and so I arrived in South Africa with 200 canes and one change of clothes.
"I spent two weeks with Armand meeting adult clients at LOFOB and going on the school run. I spent my time distributing the canes to very poor who typically live in townships, to pre-school and school aged children and adults who have always had poor vision and to those who had lost their sight through illness, accidents or other trauma. Meeting the parents of those children really gave me an appreciation of the difference those canes would make, not just to the children, but to their families and their futures as well."
Ray, who has so far paid his own costs to transport the canes to South Africa is aiming to collect another 200 canes. He is determined to continue the program but says it is absolutely essential to personally deliver the canes to families in the townships as otherwise they are likely to be 'lost' in transit. "I could freight the canes but even if they get there, the cost will be high. It makes more sense to take them myself and that way I have the opportunity to reaffirm the difference that this campaign is making," he said.
Financial donations and new canes or used canes that are in excellent condition are welcome to support Ray's White Canes for Africa project. Email: raymoxly@gmail.com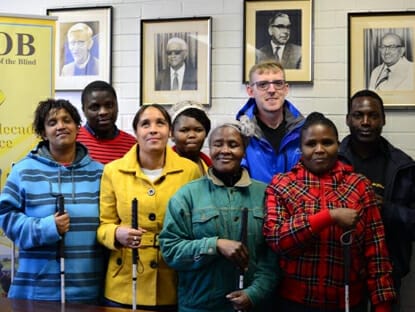 LOFOB cane presentation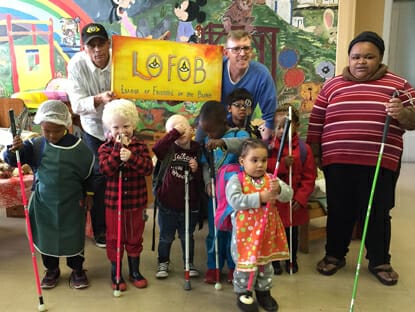 LOFOB Preschool cane presentation