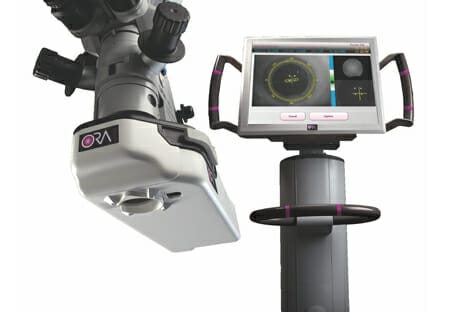 Cataract surgery has evolved over the last 30 years from a procedure ideally designed to relieve patients of media opacity alone into a refractive surgical procedure in its own right. The Alcon Optiwave Refractive Analysis (ORA) is a tool developed to help further refine refractive results following cataract surgery.
The step from intracapsular cataract extraction – or no intraocular lens (IOL) implanted at the time of surgery – with aphakic spectacle correction, to extracapsular cataract extraction with insertion of an IOL, significantly reduced the need for postoperative spectacle correction. The advent of small incision surgery cataract surgery using phacoemulsification and foldable IOL technology further refined refractive results by reducing induced
postoperative astigmatism.
The introduction of toric IOLs allowed the correction of a large range of regular corneal astigmatism and improved refractive results from cataract surgery with better uncorrected distance visual acuity (UCDVA).
Multifocal IOLs have reduced and, in some cases, eliminated patients' spectacle dependence. Their success however requires precise postoperative refractive outcomes with toric correction often necessary to achieve this.
ORA is a sophisticated novel system that may help further achieve enhanced IOL power accuracy in cataract surgery
Optimum refractive results from cataract surgery rely on accurate intraocular lens power calculation prior to IOL implantation as well as the correct axis of implantation of toric IOLs. This has been achieved by more refined preoperative measurements for intraocular lens calculation using automated machines to perform ocular biometry: IOLmaster; Carl Zeiss Meditec and Lenstar; Haag-Streit. These machines have allowed more accurate and reproducible biometric measurements compared with previous operator dependant ultrasound based techniques.
The data obtained by these machines can be analysed by a number of IOL power calculating formulae, the choice of which is surgeon and patient dependant. These formulae use anatomical data to predict postoperative anterior chamber depth and effective lens position, potentially creating prediction error in IOL power calculation.
Despite the advances in IOL power calculation, consistent postoperative cataract surgery refractive results remain elusive. One large multicentre study with experienced surgeons showed 80 per cent of patients were ± 0.5D postoperatively1 and results became even less reliable in patients with high myopia, hyperopia and previous laser refractive surgery.2,3,4 The U.S Food and Drug Administration (FDA) trial data for Alcon toric IOL showed that only 62 per cent of patients had <0.5D of residual refractive astigmatism (RRA) and 88 per cent had <1.0D of RRA.
Post cataract surgery refractive error not accepted by the patient can often be managed with further surgery, with either excimer laser or piggyback IOL implantation or even IOL exchange. These surgeries, while effective, are often accompanied by patient dissatisfaction with perceived 'sub-par results', added expense and, in some cases, significant surgical risk.
Challenges for Accurate Toric IOL Implantation
Determining the Axis for Implantation of Toric IOLs
Toric IOLs must be implanted in the correct axis to maximise their refractive effect. Deviations from the correct axis result in less correction of postoperative astigmatism and degradation of UCDVA.
Traditionally the axis of toric IOL implantation is determined by keratometric values using either manual keratometry, corneal topography, auto refraction keratometry and data from the manifest refraction or any combination of the above. However, the axis and power of the corneal meridians can vary between each device and even day-to-day, depending on factors such as the tear film. These results can be further affected after cataract surgery by surgically induced astigmatism (SIA), which can be accounted for, but may not remain constant from patient to patient or indeed case to case. These factors contribute to unreliable toric IOL axis of implantation and therefore lessen the accuracy of toric IOL power calculation.
Implantation Axis of Toric IOLs
Toric IOL axis, once determined, may be physically achieved by rotating the IOL at the time of implantation with reference to manually placed ink marks on the cornea, marked prior to surgery. These however can be inherently inaccurate because of human error. Automated registration techniques (Verion Alcon, Calisto Zeiss) are now in use. These have helped eliminate the human error but determining the 'true' correct axis for IOL implantation remains challenging.
Posterior Corneal Curvature Influence of Toric IOL Power Calculation
Most of the formulae use data from anterior corneal curvature measurements which derive total corneal power from an assumed relationship between anterior and posterior corneal curvature. More recently however, variations in posterior corneal curvature have been found to influence total corneal power.5 In short posterior, corneal astigmatism increases with increasing anterior with-the-rule (WTR) astigmatism, but stays relatively stable with anterior against-the-rule (ATR) astigmatism. The finding suggests that toric IOL power calculations are less accurate unless posterior corneal curvature is accounted for. The Baylor Nomogram by the same group of investigators and more recently the Barrett Formula, developed by Professor Grahame Barrett, Perth Western Australia, have been used to take into account the effects of posterior corneal curvature on toric IOL power calculation accuracy.
Optiwave Refractive Analysis (ORA)
ORA is a sophisticated novel system that may help further achieve enhanced IOL power accuracy in cataract surgery.
ORA determines the true refractive state of the eye intraoperatively immediately following cataract removal (and hence the optimum IOL power required) and can confirm the refractive state of the eye immediately after that IOL has been implanted. This means the optimum power and axis of the IOL can be verified, or modified if required, at the time of surgery.
Essentially, it delivers all the above mentioned IOL power determination techniques and technologies performed
in real time.
Currently ORA is used as a tool to verify preoperative IOL power calculation techniques rather than to replace them.
Via wavefront aberrometry, ORA uses Talbot-Moire interferometry and proprietary algorithms to determine the refractive state of the eye. Following removal of the cataract, the eye is inflated with viscoelastic to achieve an intraocular pressure (IOP) of 15-21 mmHg, as measured with a tonometer. Care is taken to maintain a well hydrated cornea and avoid globe distortion from the lid speculum (Figure 2).
The measurements taken at this time can be compared with those taken preoperatively and, if a change of IOL is deemed necessary, this can be ascertained before the IOL is implanted. (Figure 3)
Following IOL implantation and rotation to the assumed correct axis for toric IOLs, the refractive state of the eye can be rechecked using ORA, and modifications to the IOL axis can be made to achieve an optimum refractive state for the eye. Limbal relaxing incisions can also be titrated in the same manner.
Published Results
One study showed a RRA of 0.46 ± 0.42 in the ORA group versus 0.68D ± 0.34 in the ink marked subjects using the original Acrysof toric IOL calculator.6
It also showed a RRA of ≤ 0.5D, ≤ 0.75D, ≤ 1.0D in ORA group of 38 per cent, 78 per cent, 86 per cent and 95 per cent versus 22 per cent, 33 per cent, 74 per cent and 89 per cent in the second group.
The results were statistically significant.
Another study showed mean RRA 0.29D ± 0.28D in the ORA group versus 0.36D ± 0.35D in the conventional group.7
89.2 per cent achieved ≤ 0.5D RRA in the ORA group vs 76.6 per cent in conventional group.
Both groups underwent laser assisted cataract surgery (LACS) and ink marks were used in the conventional group.
In a group of post myopic refractive surgery eyes, ORA was used to determine the IOL of choice then compared retrospectively with other methods for IOL calculation. The median absolute refractive error was 0.35D in the ORA group versus 0.51-0.6D in the retrospective analysis, depending on formula choice.8
Conclusion
ORA is a novel and promising technology. It also offers the opportunity to collect post-operative refractive data from individual patients and add them to a world-wide data base to further enhance the algorithm accuracy.
Its accuracy however, can be affected by intraoperative factors such as the level of corneal clarity and oedema at the end of a cataract surgery case. Additionally, it may add surgical time to cases and the overall cost of cataract surgery.
It will be interesting to assess ORA accuracy compared with using both newer formula, such as the Barrett formula, which takes posterior corneal curvature into account, and image guidance systems that guide toric IOL alignment intraoperatively rather than relying on ink markings, which may less accurately guide toric IOL placement.
Finally, postoperative capsular contraction may alter the IOL position and potentially erode refractive results that were once ideal.
Ideal refractive outcomes are highly desirable for both surgeons and patients. ORA is another step in our efforts to further refine refractive results following cataract surgery. It may prove particularly useful in patients who have previously undergone corneal based refractive surgery in which consistent post cataract surgery refractive results remain especially challenging.
Dr Ravi Singh MBBS (Syd) FRANZCO is an Ophthalmologist based in Newcastle, Australia. His principal areas of clinical interest are cataract, refractive and cornea surgery as well as eyelid surgery. He graduated from Medicine at the University of Sydney and undertook Ophthalmology training at the Sydney Eye Hospital. He then undertook a Cornea and Refractive Fellowship in the UK under Professor Harminder Dua in Nottingham,UK followed by an Oculoplastic Surgery fellowship with Dr Jane Olver in London, UK.
In addition to private practice he is a VMO and Unit Director for Ophthalmology at the John Hunter Hospital and Senior Lecturer in Ophthalmology at the University of Sydney where he tutored in Refractive Surgery. He is also a board member of the Hunter Postgraduate Medical Institute, the peak teaching body in the Hunter area.
References
1. Hahn U, Krummenauer F, Kolbi B et al. Determination of valid benchmarks for outcome indicators in cataract surgery: a multicentre prospective cohort trial. Ophthalmology 2011;118:2105-2112
2. Ghanem A, El-Sayed H. Accuracy of intraocular lens power calculation in high myopia. Oman J Ophthalmol. 2010;3:126-130.
3. Canto A, Chhadva P, Cabot F et al. Comparison of IOL power calculation methods and intraoperative wavefront aberrometer in eyes with refractive surgery. J Refract Surg. 2013;29:484-489.
4. Lanchulev T, Hoffer K, Yoo S. Intraoperative refractive biometry for predicting intraocular lens power calculations after prior myopic refractive surgery. Ophthalmology. 2015;121:56-60.
5. Koch D, Ali D, Weikert M et al. Contribution of posterior corneal astigmatism to total corneal astigmatism. J Cataract Refract Surg. 2012;38:2080-2087.
6. Hatch K, Woodcock E, Talamo J. Intraocular lens power selection and positioning with and without intraoperative aberrometry. J Refract Surg. 2015;31(4):237-242.
7. Woodcock M, Lehmann R, Cionni R et al. Intraoperative aberrometry versus standard preoperative biometry and a toric IOL calculator for bilateral toric IOL implantation with a femtosecond laser: One-month results. J Cataract Refract Surg 2016;42:817-825.
8. Fram N, Masket S, Wang L. Comparison of Intraoperative Aberrometry, OCT-Based IOL formula, Haigis-L, and Masket Formula for IOL power calculation after Laser Vision Calculation. Ophthalmology 2015;122:1096-1101.