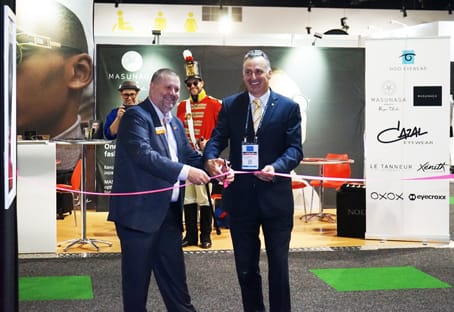 Silmo came to Sydney in March, bringing with it stand out brands from Australia and around the world, industry insights and a whole lot of commerce.
There's been plenty of banter in the industry about whether or not Australia's first ever Silmo would be a hit. The French optical fair is a lead event for the European industry and within our relatively small economy, the chance of replicating the Parisian glamour this annual show is renowned for was pretty slim. Not that the organisers felt it was necessary to do so. In fact, Silmo Sydney had a particularly Australian flavour right from the start, with a massive Mako fishing boat sitting in the entrance, care of Mondottica.
Amy Hoole from Mondottica said Silmo had been a worthwhile investment for her family company, presenting as it did, a chance to launch two new innovations and catch up with buyers from around Australia, New Zealand and further afield.
"We came to Silmo with two new products to promote – our new Mako Rx sunglasses which, for the first time, offer wearers the benefit of 8x base glass progressive polarised sunglasses and our new Spine men's optical collection."
There are so many talented young designers out there and they deserve our support
Spine's unique temple system springs into place against the face and won't budge no matter how much you try. To prove the point, the company had a constant video running of buyers from the floor, doing their best to shake the glasses off their face.
Independence for Independents
At MYM Group, Mark Blackadder was taking great delight in introducing customers to his new collections; Mercedes Benz Style, Vuarnet, Van Arkel, Wunderkind and Flair. "Optometrists know me as the distributor of TAG Heuer eyewear. Silmo Sydney gives me an important opportunity to tell them about my new business," said Mark. "While overall, attendees were lower than I'd expected, those that came were quality independents which was great for our business."
Jono and Louise Sceats of Jono Hennessy were also introducing new brands to the Australian audience, among them Louis Belgium, Adrian Marwitz, Simple Eyewear and Kaleos Eyehunters, members of their new Stars of Independents Group. Having selected five up and coming frame designers from around the world at Munich Optifair earlier this year, Louise was keen to introduce them to the Australian market.
"There are so many talented young designers out there and they deserve our support. We have a strong distribution network and a great team of sales representatives so we're able to introduce them to our optometry members of Stars of Independents and in doing so, give independent Australian practices new products that differentiate their offering from the competition."
A Niche Perspective
Andrew McKinnon, CEO of Optometry New South Wales / Australian Capital Territory said it was impressive to see so many new brands available to support independent optometrists. "Independent optometry practices need to create their own niche market that they can excel in. Stocking small brands that meet the needs of their audience in terms of style and price point is integral to this," he said.
Annette Saust Estø, founder and designer of Fleye Copenhagen agrees that optometrists need to find their niche.
"You might choose to stock premium eyewear or you might choose lower cost eyewear, whichever way, there are buyers for both. The most important thing as a retailer of eyewear is be selective about what you stock – create a presence for the brands you have so that your customers know what you stand for."
Annette's eyewear is definitely at the premium end of the spectrum with delicate yet strong frames, made from titanium and carbon fibre, some with fine wood overlays and others featuring frames within frames showcasing different colours, textures and finishes. Having been distributed in Australia for just four years, Fleye is now in 100 optometry practices across Australia and is making a presence in New Zealand.
Another stand-out exhibitor was ProOptics. Jacque Katsieris and Ray Kessler, from ProOptics, launched their new Italian brand Safarro at the event. Jacque said the individuality and bold colouring of Safarro frames proved particularly popular among independent optometrists. "Safarro went really well, people loved seeing something new on the market from Italy that is not over-priced and over-designed."
Networking and Business Building
Adam Fletcher, managing director of CR Surfacing said Silmo was a great opportunity to catch up with current customers, organisations within the industry and new prospects.
"It was great to see an international event come to Australia. The show provided a strong business platform which led to many opportunities with customers both current and prospective, as well as the ability to mingle with likeminded quality suppliers.
"The number of exhibitors that were there to support the future of independent optometry was incredible. It was definitely a great fit for CR Surfacing Laboratories."
Mr. Fletcher said he would like to see Australia's major shows staged on alternate years. "Due to scheduling and being an independent company, CR Surfacing can comfortably commit to one major event per year. Having shows of such a large magnitude run during the same year causes exhibitors and show-goers to make a decision on what to attend, meaning many people could have missed out on Silmo. Having exhibitions run on alternate years could be a great thing for the industry.
Industry Insights
Complimenting a solid line-up of eyewear and eye care exhibitors, Silmo Sydney offered attendees some valuable, practical industry information. The highlight of the lectures given on the floor was delivered by Gianni Cossar from the global market research company GFK. Gianni provided global insights into the industry, highlighting different buying behaviours across sectors of the globe, demonstrating with evidence, the influence that different cultural groups and market maturity have on sales of frames vs. lenses vs. contact lenses. He demonstrated, for example, that consumers in India were more likely to place greater emphasis on the selection of a frame as opposed to a lens, whereas in Europe, a more mature market in terms of eye health, the emphasis was more likely to be directed toward the technical aspect of a lens. Gianni's organisation is currently in the process of collecting data about the Australian and New Zealand eyewear market. The analysis he draws from this data will provide valuable insights that will help drive manufacturing and practice success in the future.
Positive Feedback
As Silmo Sydney came to a close, organiser Gary Fitz-Roy, managing director of Expertise Events, said he was happy with this launch event. "The general feedback has been very positive about the relaxed calm setting but most importantly the overwhelming comment has been around the quality of buyers and how so many wrote such great business." He said in 2018 Silmo Sydney would take place from 20–22 July at the International Convention Centre, Darling Harbour.
Mega Rox Party Sets Sydney Alight
Silmo wouldn't be Silmo without an evening of entertainment, networking and pure fun. The Mega Rox Party was exactly that, hosted in Sydney's historic Rocks district with the iconic Opera House and Harbour Bridge in the background. Approximately 400 people from the eye care sector attended the event, enjoying wonderful food and drinks that flowed throughout the evening. With the options to dance all night in the disco or chill to the sounds of an acoustic guitar, there was something for everyone… a fitting way to close the inaugural Silmo Sydney.