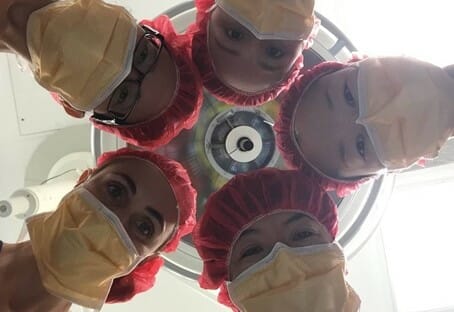 A recent New Yorker magazine cover image, 'Operating Theatre' by French artist Malika Favre, resonated with women everywhere and inspired hundreds of female surgeons across the world to take selfies and share them online as part of social media campaign to raise awareness about women in medicine.
The original cover image, published on 3 April, depicted female surgeons peering down at the operating table and aimed to highlight the patient's perspective when undergoing surgery. In a social media campaign launched by an endocrine surgeon at the University of Wisconsin, the image was replicated by female surgeons all over the world to challenge stereotypes about women in surgery – a field that is still widely dominated by men.
Some of the inspirational female ophthalmologists from the Royal Australian and New Zealand College of Ophthalmologists (RANZCO) supported the initiative by taking part in the campaign, dubbed the 'New Yorker cover challenge'. RANZCO hopes this will draw attention to issues of equality, diversity and inclusion in the workplace and be a celebration of the role that women play in ophthalmology.
"Like most surgical specialities, ophthalmology is still a male dominated profession, but that is slowly changing," said Dr. Amy Cohn, an ophthalmic surgeon based in Melbourne. "We wanted to take part in this social media campaign to draw attention to that and celebrate women in ophthalmology, and women in medicine more generally. We hope we can help inspire even more women to consider ophthalmology as their medical speciality in the future."
Find the posts at www.facebook.com/RANZCOeyedoctor