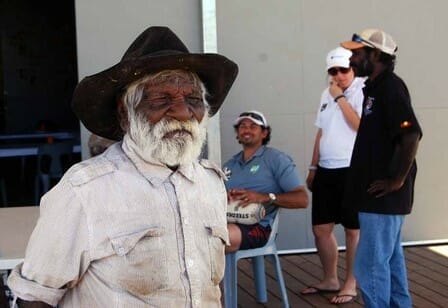 The first national report on indigenous eye health has highlighted that eye diseases and vision problems are common long-term health conditions experienced by Aboriginal and Torres Strait Islander people. The three main causes of vision impairment in adults being uncorrected refractive error, cataract and diabetic retinopathy.
The Indigenous Eye Health Measures 2016 report, released by the Australian Institute of Health and Welfare (AIHW), was launched by the Minister for Indigenous Health, Ken Wyatt. It is the first national report on Indigenous eye health measures and brings together comprehensive data from a range of sources, presenting it at national, state and regional levels.
More Indigenous Australians Accessing Eye Care
Minister Wyatt said one-third of Aboriginal and Torres Strait Islander people had reported one or more long-term eye conditions in 2016, however, "on the positive side, the report indicates that more Indigenous Australians are accessing eye health services provided through specific service programs.
"The report finds that in 2014-15 more Indigenous Australians received an eye examination than in the previous twelve months; that the gap in accessing cataract surgery compared to non-Indigenous Australians is narrowing; and the rate of blindness for Indigenous Australians has decreased from 1.9 per cent in 2008 to 0.3 per cent in 2016.
"While the report shows improvements are being made in Closing the Gap in Indigenous eye health, more needs to be done.
"This report is important because from here we can build an evidence base for monitoring changes in Indigenous eye health, and identify service delivery gaps at the regional level," Minister Wyatt said.
Key Findings
Key findings in the report reveal that:
• A lower proportion of Indigenous Australians with diabetes had a diabetic eye examination in the preceding 12 months, compared with non-Indigenous Australians; and
• In 2014–15, the median waiting time for elective cataract surgery was longer for Indigenous Australians than for non-Indigenous Australians. Some Indigenous Australians are waiting more than one year for cataract surgery.
The recommendation for a national report into Indigenous eye health was a key part of the 2015 Aboriginal and Torres Strait Islander Sector Funding Proposal, produced by Vision 2020 Australia in collaboration with member organisations.
"These reports are an important step towards closing the gap in Aboriginal and Torres Strait Islander health, and particularly eye health and vision care," said Vision 2020 Australia CEO Carla Northam.
"Indigenous Australians suffer from vision impairment or blindness at three times the rate of non-indigenous Australians. We hope these new measures will help to improve the effectiveness of national eye health programs."
She said Vision 2020 Australia would release a sector-wide proposal, Closing the Gap in Eye Health and Vision Care by 2020, in the coming days.
"We look forward to sharing our insights, and those of our members working in Indigenous eye health, with the Australian Government. Along with other important recommendations to improve eye health outcomes for Indigenous Australians, the new proposal will call on the Australian Government to promote more effective national oversight on the issue"
Additionally she said Vision 2020 Australia would recommend that the Indigenous Eye Health Measures 2016 report is referred to the Council of Australian Governments Health Council and its advisory body, the Australian Health Ministers' Advisory Council.'
The Australian Government is investing around AU$72 million over 2013-14 to 2020-21 to improve eye health for Indigenous Australians.