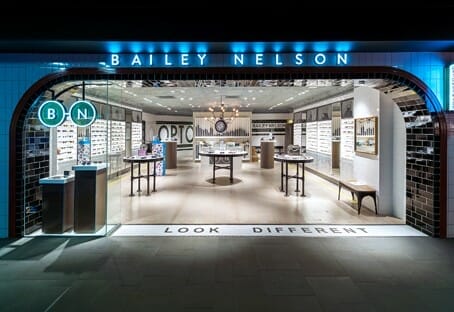 Australia's optometric landscape is shifting, with independents increasingly attracted to franchise and joint venture models, attracted by administrative, supply chain and marketing support.
Bailey Nelson has announced a joint venture model to attract and retain optometrists in Australia and New Zealand. The organisation, which was established as a stall at Bondi Markets in 2012, primarily targets young adults and now operates a network of over 30 practices in four countries; Australia, New Zealand, North America and the United Kingdom.
In June, The Optical Company announced the arrival of Level 28, a gallery-like retail store that targets the millennial market with frames designed exclusively for the store by international designers. Level 28 will begin its store roll-out by the end of the year.
Last year George and Matilda launched and within 18 months, attracted 37 practices to its partner model.
Bailey Nelson's Company Founder and Chief Executive Officer Peter Winkle, said his company decided to establish a joint venture model because, "The Bailey Nelson optometry model works best when we have an optometrist and store manager committed to the practice for the long term… We are seeking partnerships with optometrists who combine exceptional clinical care with commercial expertise."
He said Bailey Nelson is offering its partner optometrists back-end support, a "world class supply chain", as well as finance, payroll, marketing, IT and HR departments.
"We are not a mass market brand and are highly selective about the areas that suit a Bailey Nelson store, so the number of places are limited," said Mr. Winkle.
Joint venture partners will need to make a significant investment in the store and will receive a salary plus a share of profits proportionate to their investment. For example, if an optometrist invests 50 per cent of the cost to establish the practice, they will receive 50 per cent of the profit.
TAILORED RETAIL PRESENCE
Bailey Nelson has a strong retail-oriented presence with each store uniquely designed to suit the target audience within its geographic location. Yet Eyecare Director Robyn Weinberg said this doesn't detract from its focus on clinical care. "Bailey Nelson has recently invested in designated optometry and clinical support, with a new team of leaders appointed nationally… Our support goes beyond retail expertise. We will drive customer advocacy, excellence in clinical standards, sales growth as well as market penetration."
With young adults at the heart of its target market, the company has a Sydney based design team and manufactures its own optical and sun frames in China from acetates, hinges and lenses from Italy; stainless steel from Germany; and beta titanium from Japan. It claims its Chinese factories are focussed on responsible production and "are some of the best frame makers on the planet". Bailey Nelson also has its own house brand lenses. It stocks branded lenses and contact lenses as well.
LEVEL 28
Level 28 is also retail focussed, promising a "gallery like" retail experience complemented by a strong clinical focus and an online presence as well.
Colin Kangisser, CEO of The Optical Group which has established Level 28 said the new brand was part of a broader strategy to create a stronger national presence for his organisation.
"The Optical Company has and will continue to develop as a leading optical provider in Australia, with its unique vertically integrated retail brand strategy including comprehensive optometry services," said Mr. Kangisser. "In order to complement our large existing brand portfolio and to reach out to a diversified customer base including the growing millennial market, we recognise Level 28 as another part of our business.
He continued. "Level 28 has been developed from our studies of optical trends both internationally and locally and we are confident that with our experience in the optical industry, in both private and listed businesses, we will make Level 28 a great success in Australia as with our other brands. "It is the one and only concept store which we believe appeals to a wide demographic by offering a wide range of eyewear." An entirely new look has been created for Level 28 stores that will appeal to the savvy millennial market, with fixtures, fittings and lighting purpose-designed to showcase sunglasses and spectacles within a contemporary environment. Crisp brand collateral, including signage, spectacle cases, lens cloths, and packaging will all be designed to reflect the brand.
The rollout is expected to begin in the last quarter of 2017.
DEVIL IN THE DETAIL
Optometry New South Wales Chief Executive Officer Andrew McKinnon said he has noticed an uplift in the number of companies interested in offering franchises and the number of optometrists considering becoming a franchisee. "Specsavers has been an incredibly successful franchise and I think optometrists hold that up as a model for success – whether they're interested in establishing a franchise or becoming a franchisee. What many don't fully recognise is the complexity involved in franchises, they just see it as a way to build value in their business. But establishing a franchise is complex and costly.
"A franchisor has to be able to offer franchisees more than just a brand. Marketing and administrative support as well as supply chain efficiencies are essential.
Many optometrists we have calling us to enquire about becoming a franchisee are under the impression that by joining a franchise, they will be supported as they build their practice up and then when they're ready, they will be free to sell to whoever they like at a profit. That's often not the case.
"I urge both potential franchisees and franchisors to very carefully consider what they are looking for from an agreement and to thoroughly check their contractual obligations. Strong, transparent legal contracts are vital for all parties," he said.