Europe is renowned for designing beautiful eyewear – jewels for the face that enhance the wearer's appearance, fill them with personal confidence and provide lasting, comfortable vision.
Great design is innovative, minimalist, functional, timeless and based on thorough research. It takes into consideration every single detail to ensure that as well as looking good, the product has useful function.
Historically, Europe has excelled in design. When we think of colour, it's impossible to ignore the likes of Monet, Picasso, Renoir and Gaugin. When we thing of innovation, Leonardo de Vinci springs to mind along with more recent talents, among them modern day architect Frank Gehry and James Dyson, creator of the eponymous Dyson vacuum cleaner. When it comes to form and function, who can go past Arne Jacobsen's Egg and Swan Chairs from the late 50s or Philippe Starck's expansive design collection, which just keeps evolving, and today includes furniture, domestic appliances, staplers, toothbrushes and even clothing!
The list goes on and they all have one thing in common – Europe!
seeoo has released a modern version of the pince-nez, which is beautifully crafted from a combination of acetate and stainless steel
A Long History
The manufacture of eyewear in Europe goes back to the 1800s when eyeglasses were perceived to be something you only wore when you were elderly. Lorgnettes – hand held spectacles with a single long handle developed in the1780s – were further refined by the French to include a hinged bridge with a spring, which meant they could be folded. By the 1840s, the French had developed the pince-nez – or pinch nose – to sit on the bridge of the nose without needing to be held. Interestingly, Austrian eyewear company sooee has released a modern version of the pince-nez, which is beautifully crafted from a combination of acetate and stainless steel. seeoo is distributed in Australia by clic.
Back in the 1800s, it was the L'Amy family that led the way for European eyewear manufacture. The family began hand crafting eyewear in the Jura region in 1810 and hasn't' stopped. Today L'Amy is distributed in Australia by De Rigo.
Other notable European contributions to modern eyewear include the arrival of Carl Zeiss in 1847, and the establishment of Mazzucchelli in Italy 1849, initially in the business of making combs before progressing to become one of the world's best known manufacturers of zyl acetate.
In 1877 Josef Rodenstock founded Rodenstock, with the first fine-mechanical workshop in Wuerzburg, Germany. By 1891, Rodenstock employed 120 workers in the manufacture of eyeglasses and binoculars, microscopes, telescopes etc.
Back in France, Morel Eyewear was established in1880 with Jules Morel at its helm. Today Morel continues to operate as a family owned company and in a nod to the its influence on European design, direct descendent Amelie Morel, (also communication director of the family company), was appointed president of SILMO in April this year.
Bollé is another European innovator of eyewear. The company was established in the small town of Oyonnax, France in 1888 to manufacture combs and hair ornaments from boxwood and horn indigenous to the region. After WWII, Bollé led the way in moulding nylon and in 1950, began manufacturing safety glasses and goggles. The cats-eye sunglass was created by Georges Bollé 1956, and continues to be reinvented in many guises. Bollé began marketing ski goggles in 1960.
Today there are over 400,000 professionally-trained designers from diverse backgrounds, working in a wide range of industries in Europe. Fortunately for the eyewear profession as well as lovers of great eyewear, sunglass and optical frames continue to be a part of their output. Although many brands no longer have their eyewear entirely manufactured in Europe, we are still able to enjoy looking, feeling and wearing the innovative, stylish designs of this wonderfully creative part of the world promise.
References
www.theopticalvisionsite.com/history-of-eyewear/100-of-the-oldest-eyewear-companies-in-the-world
www.museumofvision.org/exhibitions/?key=44&subkey=4&relkey=35
Frames Designed in Europe
seeoo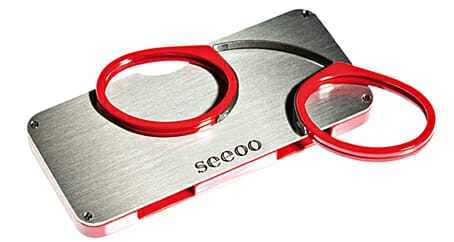 seeoo is the long-forgotten origin of spectacles…the pince-nez. Refined in Austria, these statement frames combine hand-made acetate, stainless steel and scratch resistant lenses. Compact, quirky, functional and offered in a range of add powers, seeoo exudes individuality.
Contact: Clic Eyewear (AUS) 02 9969 5053
Brendel

Brendel eyewear has a history of more than 100 years in European eyewear, and is constantly evolving to take advantage of new materials and techniques. Just in time for Spring, are new metal models featuring the latest 'water colouring' theme. Water colouring is a technically intricate immersion process, which achieves spectacular colour transitions by allowing colours to organically merge into each other.
Contact: European Eyewear (AUS) 03 8756 0900
Marni
Marni was founded in 1994 by the designer and creative director Consuelo Castiglioni. The Marni brand has built its success on a distinctive design that celebrates individuality and pragmatism in an irreverent and creative way. Pictured is model ME2613 414, featuring unconventional and surprising details in function and proportion.
Contact: VSP Australia (AUS) 02 9697 8080
Prada Linea Ross
A casual, effortless look characterises this new optical frame, a creative evolution of the Prada Linea Rossa Spectrum collection. Ultra-lightweight, it features a panto-shaped nylon front with a clean-cut design, highlighted by the metal bridge and temples. Rubber temple tips, colour matched with the front, ensure comfort and a perfect fit. Available in an array of classic hues.
Contact: Luxottica Representative
Coco Song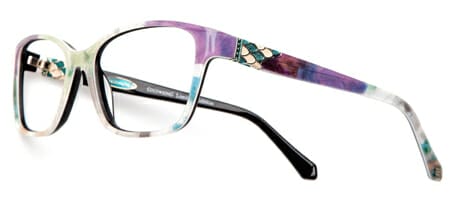 The Coco Song style is all about colour contrasts and decorative details. Beautiful coloured feathers adorn the frames, and if that were enough, attention is captured by the decoration in semi-precious stones inserted into the metal plates decorated with engravings. Pictured is a frame aptly called Beautiful Thing.
Contact: Mimo (AUS) 02 9970 1800
Von Arkel
The Von Arkel Steel Master Collection integrates style with technology and exclusivity. Featured is model 0409-006, a high-quality frame designed by those with expert knowledge in engineering, physics, and micro-mechanics.
The Von Arkel brand's signature characteristic – the hinge – is made exclusively in Switzerland, ensuring quality, precision, innovation, and reliability.
Contact: MYM (AUS) 07 5528 3656
Francois Pinton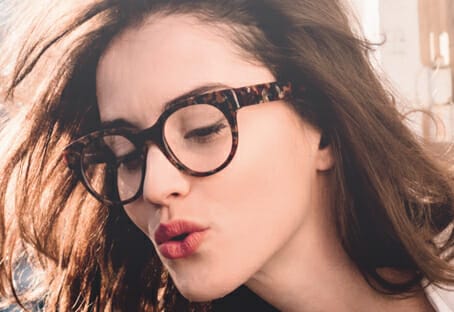 Francois Pinton Eyewear has been handmade in Paris for over 50 years and has been worn by fashion icons including Grace Kelly, Jackie Kennedy-Onassis, Aristotle Onassis and Cary Grant. From classic to modern, each frame is made with the same impeccable craftsmanship and materials. Infused with the heart of Paris, Francois Pinton frames are simply timeless, made to last and to be worn for a lifetime.
Contact: Noo Eyewear (AUS) 03 9523 1991
Fendi Man
Retro chic and intricate details characterise Fendi's first men's eyewear collection. Classic shapes, contemporary models and round retro-inspired styles are present in this collection, which conveys the Italian Fashion Houses' DNA through surprising colour and material combinations. Pictured is the FF 0226 from the latest release.
Contact: Safilo (AUS) 02 9540 0500
Cocoa Mint

Contemporary, stylish and infused with chic sophistication, the Cocoa Mint optical collection features trend-led and beautifully-balanced styles that showcase the best of British design.
Contact: Shaan (AUS) 07 3205 3324
Bottega Veneta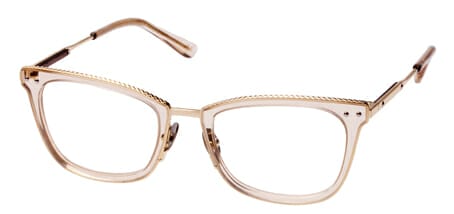 Bottega Veneta offers timeless, elegant sunglasses and optical frames for women and men. Handcrafted in Italy and Japan, the manufacturing process combines traditional artisan craftsmanship with modern technologies, resulting in long-lasting quality and beautiful detail.
Contact: Sunshades (AUS) 02 8303 7300
Jaguar
Jaguar eyewear mirrors the unique elegance and masculine lines of the Jaguar sports car. European design cues and workmanship that are transferred from car to eyewear include the carbon fiber detailing, wood grain finishes and interior design details. Striking highlights on the inside and outside of the frame are inspired by the automotive colour palette. Featured is model 33704-1066.
Contact: VMD (AUS) 07 5594 9845 or NZ 0800 805 369
Safarro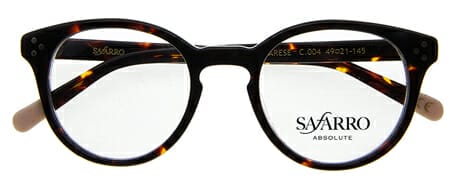 The pantos frame – the quintessential iconic eyewear shape of the 50s and 60s – Is once again setting the trend. Fittingly, the new model Varese from Safarro mixes the classical elements of the pantos with the latest touches of modernity, resulting in a stylish, original look and feel.
Inspired and hand made in Rome, Varese remains true to the sophisticated aesthetics of the brand.
Contact: ProOptics (AUS) 02 8007 6041
Retro collection
Great eyewear should make the wearer feel perfectly dressed, without having to forego wearing comfort, stability and durability. The Retro collection from Rodenstock offers patients elegantly designed eyewear that's light-weight and crafted from titanium for ultimate durability and wearing comfort. As you'd expect, the collection is assembled from the highest grade materials.
Contact: Rodenstock (AUS) 02 9748 0988