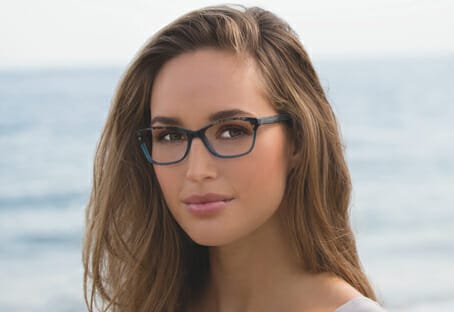 When two intelligent sisters pooled their talents – one with expertise in optometry, the other with expertise in accounting – it was only natural that an award winning company would ensue.
Eyespace was born, and within it, the brand Cocoa Mint; frames that cross the borders of age for sophisticated fashion aware women.
Since launching Eyespace in 2013, Jayne and Julie Abel have won a series of awards for their products and business services. Today the eyewear design and manufacturing company offers independent optometrists over 650 frames for every demographic and it recently launched two sunglasses collections. Brands include Jensen, Basebox, Louis Marcel, Rock Star, Zips and its flagship brand Cocoa Mint, the subject of this story.
The sisters describe Cocoa Mint as "an iconically British and effortlessly stylish brand" that provides optometry practices with a choice of stunning, beautifully balanced designs.
Design principles are focused on creating simple yet striking forms
Developed in response to the changing buying patterns of the 30-plus woman, their aim was to create a relaxed fashion brand that bridges the gap between young trendsetters and fashionable progressive lens wearers – for patients who want frames that carry the finesse of a designer product but at a more accessible price-point.
"More than ever, this demographic is opting into a lifestyle image that the industry has been neglecting in favour of focusing on the youth market," Jayne told mivision. An optometrist of many years standing, her unique 360-degree perspective on practice management intuitively delivers frames that satisfy both the expectations of optometrists and patients. Collections are competitively priced and supported by stylish merchandising reflective of the design. Each Cocoa Mint frame is provided with a complimentary branded hard case to complete the high fashion catwalk experience.
It's something the market has applauded. Experiencing immense growth and turning heads for all the right reasons, last year Cocoa Mint won the UK industry's top accolade, "Optical Frame of the Year" at the Optician Awards. The judging panel described the winning piece (CMS 2023) as "looking great and supported well in practice. A product whose quality defies its price-point". Cocoa Mint was also shortlisted for this award in its launch year (2013).
Simple Yet Striking Designs
The 2017 collection comprises 60 stunning designs, each in two colourways. The beautifully balanced selection of fresh and colourful acetate and metal pieces – ranging from a 47 eye size through to a 55 eye – are designed to suit the full spectrum of face shapes.
Design principles are focused on creating simple yet striking forms with on-trend details that lift the frame, such as dual-toned plating and colour blocks, sculpted acetates, laser cut trims, enamel insets and T-Bars, Swarovski crystals and textural inlays using leather and snakeskin.
Influenced by high-end cosmetics, the thoughtfully chosen colour combinations naturally complement the feminine tonal palette: stunning acetates set a soft warmth, which flows throughout the collection using hues from nude pinks and taupes to jet black with streaks of teal, blue and purple, as well as striking multi-toned mottles.
Jayne said her clinical experience with patients, as well as day to day fashion trends, were core considerations when conceptualising the Cocoa Mint collections. "The frames are meticulously formed from intensive analysis of future trends in womenswear, research into the iconic fashion accessories worn by celebrities fitting the Cocoa Mint profile, and of course the patient's 'journey' within the optician's practice – most relevantly, consultation and dispense," she said.
With 'fast fashion' now the norm for both high street and designer clothing brands, and patients increasingly developing standalone wardrobes of glasses to complement their different outfit choices, trend forecasting plays a critical role in today's design and development processes.
Moving into a New Season
"Combination retro frames feature heavily in eyewear trends throughout 2017/18," said Jayne. "Capturing the vintage spirit, you'll see mixed material frames that lend a multi-generational feel to eyewear, and these will widen the market appeal for dispensing.
"A key design detail in all Cocoa Mint models, that we will see filter through eyewear design in general, is consistent attention to small details. New-season frames will benefit from retro-infused styling, metallic insets and accents and richly detailed tortoiseshell acetates that naturally demonstrate a fashion-forward eye and exude design prowess.
"Looking specifically to colour palettes, two major stories are set to emerge; following the release of 2017's Pantone of the Year, 'Greenery', stunning translucent greens are being applied to eye fronts, which look fantastic in the practice and soften when worn for a modern, yet flattering look.
"For a modern yet feminine feel, London's street style has seen the emergence of 'dopamine dressing' – wearing overtly fun clothes designed to lift the mood – in the high end. This is being perfectly translated to eyewear by incorporating shots of colour on the exterior; for a high-glamour look, shades of pink, yellow and red are being inserted to the eye front. For those looking for a more paired back take on the trend, interior washes of colour will satisfy any craving for colour."
Cocoa Mint is designed and developed in the United Kingdom and manufactured in the world's leading designer factories. According to Julie Abel, this has proven to be imperative for achieving the desired quality and finish. With the aim to ensure that every frame exceeds industry standards, each model undergoes a 62-point quality check, far beyond the requirements of ISO9002.
Eyespace is considered to be the UK's fastest growing eyewear supplier. Based Worcestershire, the heart of the UK, it was named "Optical Supplier of the Year" in 2015 and in 2016 was shortlisted in the UK Private Business Awards.
Cocoa Mint is distributed in Australia by Shaan. Contact (AUS) 07 3205 3324.