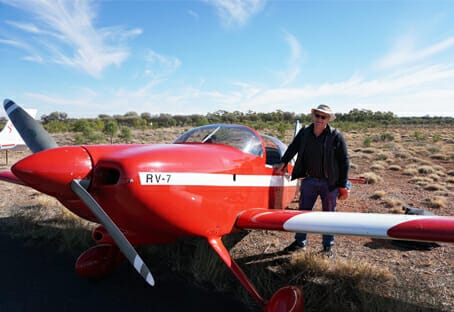 Having performed the necessary pre-flight checks, Dr. Philip Anderton expertly heads into the air from Maitland Airport, NSW in his RV-7 twin-seater, single engine aircraft.
The mission? To perform some necessary and greatly appreciated optometric clinics for patients in the Outback.
mivision tagged along to get a handle on this valuable service, which Phil has selflessly provided, on a bi-annual basis for the people of Wanaaring and Tibooburra, over the past five years.
We tore over the treetops on our way to our first stop at Wanaaring via Dubbo and Bourke for refuelling at the local airfields. It was fascinating to see the changing landscape as we moved into the more arid regions of the corner country of NSW, flying at altitudes from 770 to around 2,000 metres.
The clinic started at nine o'clock and ran until the last patient had been seen, at around five thirty in the afternoon
Wanaaring, with a population of just 40, is a small rural town servicing the local area, cattle stations and service workers. To obtain similar optometric services locals must otherwise travel six hours, on challenging roads, to centres like Broken Hill and Dubbo.
They certainly appreciate these outback clinics.
Focus
After spending the night at the Outback Inn and meeting some colourful characters, staunch locals, drovers and travellers, Phil readied the clinic for action.
The Wanaaring Health Clinic, provided by Western NSW Local Health District is staffed by an amazingly dedicated Royal Flying Doctor Service remote area nurse, who is on call pretty much 24/7, every day of the year. Although the facilities – in a converted three-bedroom house – have well equipped medical and dental suites, Phil has to bring in all his optometric equipment and set it up, ready for the steady flow of patients. He's developed a remote optometric equipment package that fits into a duffel bag.
The clinic started at nine o'clock and ran until the last patient had been seen, at around five thirty in the afternoon.
The first patient, who last saw Phil about eighteen months prior, required an updated pair of bifocals. His general eye health was fine but he did show us extensive skin damage on his right arm, from thirty-seven years of truck driving with his arm out the window and exposure to Australia's harsh UV conditions. Sorting this out had required a number of long trips, hospitalisation and skin grafts. Fortunately he has worn sunglasses for many years and his crystal clear blue eyes showed no sign of pterygia or visually significant cataracts. Not bad for a man in his seventies who has spent a lifetime in Outback Australia.
Another patient was diabetic and Phil made sure his retinas were healthy, with an extensive fundus exam.
It is hoped that outback clinics will soon have non-mydriatic fundus cameras for routine use by the remote area nurses as well as by the Royal Flying Doctors who provide amazing services in rural Australia. Visiting ophthalmologists and optometrists would also find this tool of immense value. No doubt any donations of working fundus cameras would be greatly appreciated. If you have one lying around please contact Phil.
Examination of another patient, who had been seeing Phil for some years, demonstrated the value of consistent eye checks and good record keeping. Noting an increase in IOP, the patient was referred on for review by a scheduled visiting ophthalmologist.
Other cases consisted of routine eye examinations, broken spectacles and, in the case of one drover, the need to update reading glasses after increases in presbyopia. He said he could see cattle at hundreds of metres and drive long distance through the bush at night but of late he was having no joy reading. He had also found ready-made reading glasses unsatisfactory. Phil determined this was due to the patient's rather large inter pupillary distance (PD), which was measured at 74mm. As ready-made spectacles assume a 'standard' near PD of around 60mm, in a high add the induced base-in prism could cause significant asthenopia. He carefully explained the situation and demonstrated what custom-made, prescription readers could achieve, via the use of a trial frame and lenses set at the correct PD.
Moving Down the Line
After another superb flight we landed at Tibooburra, which officially lists the population at 150 people. That said, locals explained that at last count there were only 60 inhabitants, including eight foreign backpackers working in hospitality as part of their visa requirements. Tibooburra was a relative metropolis compared to Wanaaring. There are even two (small) hotels, two shops, a caravan park and motel, Telstra mobile coverage, fibre-optic Internet and Wi-Fi at TJ's Roadhouse!
This time Phil set up his clinic in a room at the Tibooburra Local Aboriginal Land Council offices. The 'consulting room' was filled with interesting Aboriginal artefacts, stone tools and art works.
Tibooburra means 'place of rocks' and consists of massive outcrops of granite rocks as far as the eye can see, with many buildings constructed of beautiful sandstone blocks from a quarry not far out of town.
After a slow start the clinic filled up and Phil was able to provide his services to a mixed bag of locals and a few Irish travellers who work in the two hotels, a long way from Belfast. Unfortunately, quite a few people did not show up for their eye exams as they were mourning the loss of a dearly respected elder, who was also one of Phil's fondly remembered diabetic patients.
Kudos
Wherever we travelled, everyone spoke very highly of Dr. Phil Anderton. He's got to know a few of the locals over the years and they were all pleased to see him. He is well respected and his services are greatly appreciated.
City optometrists generally have little appreciation of the challenges that rural optometrists face. For patients in the far-flung parts of the country, where there are no optometric services, obtaining an eye examination – or simply repairing a pair of broken spectacles – is a time consuming and expensive endeavour.
The dedication of all the people who make these things possible, including the nurses, staff, visiting consultants, flying doctors, support crew and administrators is immense.
Kudos to them all and thanks Dr. Phil for your dedication.
About The Service
Dr. Phil, as he's affectionately known, voluntarily provides this service, as he does the use of his self-built aircraft. The Visiting Optometrist Scheme (VOS) and the Brien Holden Vision Institute cover his costs for fuel, accommodation and sustenance.
Medicare pays for optometric consultations, and if patients can qualify for the Vision Australia Spectacle Scheme, they get their spectacles for free. If not, they can purchase spectacles at a low cost through the Institute's low cost spectacle scheme.
The Institute provides a limited range of plastic and metal spectacle frames and on completion of the optometric clinics, has single vision and bifocal spectacles made-up. The completed spectacles are then posted to the outback clinics.
Understanding Phil Anderton
The name Phil Anderton is well known to many in the eye care professions in Australia and internationally. Academics, students and graduates alike speak very highly of him.
Anyone educated at the University of New South Wales (UNSW) School of Optometry and Vision Sciences over the past forty years would have benefitted from the education Phil has provided. A specialist in retinal physiology, pharmacology and tear film biochemistry, he has lectured and performed research in this field as well as lecturing in general optometry, supervising clinics and the like. He has served on numerous committees, councils and boards, acted as an advisor to faculties and was instrumental in setting up the therapeutics program at UNSW. Phil has also owned and run his own optometric practices.
Former student, Michelle Phan, described Phil as a great role model. "There were many lecturers at optometry school but Dr. Phil was known for being a kind, gentle, humble, scientist who was also cool, kind of nerdy and yet easily approachable. I remember he used to arrive for class wearing black leather shoes with a slight heel on them and I thought to myself, 'For real? He's not tall enough already?'"
She went on to say, "He's taught over 30 groups of optometrists over the decades and even after 'retirement' he's never truly retired, taking his love for flying and his passion for optometry to the Outback where eye care is not easily accessed. What a great role model you are Dr. Phil!"
Phil has a deep understanding of optometry. He advises on rural solutions in optometry and ways to continually improve the services offered.
Currently he is active as a Council Member of the National Rural Health Alliance, representing Optometry Australia's Rural Optometry Group, and serves on education boards and advisor to institutions.
Working with Technology
While passionate about all things optometric, Phil also loves working with technology and has used it for his benefit and that of the profession.
In the 1970s, well before the Windows era, Phil was writing computer programs in Fortran, machine language and assembler code for a Digital PDP-11/10 computer to create ways to perform research into retinal photoreceptor potentials.
Together with optometrist/computer engineer Grant Sayer (currently Director of Infrastructure and Applications at Macquarie University) he created the email based Ausoptom List which remains in daily use by many Australian and international optometrists and industry personnel. When he started it in 1993 it was in the form of an electronic bulletin board, via slow dialup modems at a time when email and the Internet were just evolving from the primordial soup!
Today the Ausoptom List continues to thrive, helping practitioners manage tricky cases, obtain spare parts, sort out equipment repairs, seek out advice on practice, staff and patient management, software, recommendations for new equipment, purchases and drug prescribing advice. It even provides an avenue for frustrated practitioners to vent their spleen.
On the Road, in the Air
Phil also loves machines that move, as another of his former students, optometrist Ben Bolton, from Newcastle found out. "Phil Anderton was a lecturer of mine from 1996-1999. He taught our class many subjects including microbiology, optics, cranial anatomy and neuro-ophthalmology among other things. I always got along with Phil even when he put me in my place for questioning his knowledge of microbiology when he referred to Acanthamoeba as a 'bacteria.' His response? "So you want to teach the class?" We didn't know each other personally at that time.
Ben continued, "I moved back to Newcastle four months ago and Phil has since invited me to his family home at Stockton, along with my dog. He rode a 1970s model Ducati and I have a rare 2012, 1100cc special edition Ducati. We occasionally chat about riding and while I offered Phil a ride on my monster bike he replied that these days he sticks to flying!
"Knowing my fellow optometrist brother and I love fishing, Phil sent me a photo of a 40 pound Jewfish caught off Stockton that he helped gaff. Phil was not only my mentor in optometry but is someone I now regard as close friend."
Phil obtained his power pilot's licence in 1976 and has also flown gliders. In 2002, while attending a Sport Aircraft Association of Australia BBQ, he was taken up for a flight in an experimental, aircraft, a VanGrunsven RV-6 American kit plane.
It was love at first sight and between 2005 and 2009 Phil took delivery of the various sections of his RV-7 kit plane. He subsequently spent around 1,600 hours expertly building his aircraft and learning many engineering, electrical and mechanical skills on the way. Today he enjoys flying his high performance acrobatic craft whenever he can and finds the rural optometric eye service trips a good opportunity to get some air miles and visit the Outback, which he also loves.
The RV-7 is extremely light with short take-off and landing ability and an excellent power-to-weight ratio. Should the single engine fail, a glide angle of 1:5 means there's a fair chance of making a safe landing within a few nautical miles. Phil uses a variety of instruments, GPS and an excellent iPad app to precisely plan – and stay on – his route. He plots his course along main roads and via airfields en route, in case of emergency. Phil flies under visual flight rules and has over 1,000 hours at the controls.
There's much more to Phil than space allows us to share but he really is a true visionary and a highly skilled and
generous human being.
Dr. Phil's Rural Optometric Kit
Modern optometrists have become very spoiled, with a wide variety of amazing technology at their fingertips. Many would be lost without their optical coherence tomographers, fundus cameras, digital lensmeters, electronic phoropters, topographers and remote controlled LCD test charts.
That said, thankfully there seems to be an increasing trend for optometrists to do volunteer eye care expeditions. Although it is unlikely that we will see the desired eradication of preventable blindness by 2020, the progress made has been positive. Thanks to dedicated people and generous donors and sponsors, eye care is increasingly being provided in the far-flung corners of the world for those less fortunate and most in need.
Although it depends on where you are going and what equipment is available, Phil's remote eye care kit is both compact and functional… and could be just what you need.
He has fine-tuned the equipment needed and evolved it as technology improves. The LED slit-Lamp and hand held Tono-Pen are good examples of the technological developments.
Here's a non-exhaustive list of what Phil has found well suited for a clinic with no other optometric facilities, which enables him to provide a very thorough optometric examination:
Snellen chart (3-metre Log-Mar Bailie-Lovie Chart)
Retinoscope*
Direct ophthalmoscope*
Hand held LED slit-Lamp biomicroscope*
Hand held Tono-Pen*
Binocular indirect ophthalmoscope*
Full aperture trial lens set and trial frame
Jackson's cross-cyl
Howell test card for near acuity and phoria testing
Ishihara colour plates**
Randot stereo test
Amsler grid**
Fluorescein strips
Tropicamide (MINIMS 1 per cent)
Oxybuprocaine (MINIMS 0.4 per cent)
16 assorted plastic and metal spectacle frame samples
Pen torch
* Denotes battery-powered equipment.
**An iPad or Smartphone app that includes Ishihara, test charts, Amsler grid and so on can be a useful space saving consideration that can also be used for anterior segment, retinal imaging and telemedicine.
For those visiting remote areas without electricity, battery-powered instruments and spare batteries are advised.
A small, flexible solar charger, with USB and regular outputs, can also be considered for some instruments
that use built-in rechargeable batteries.