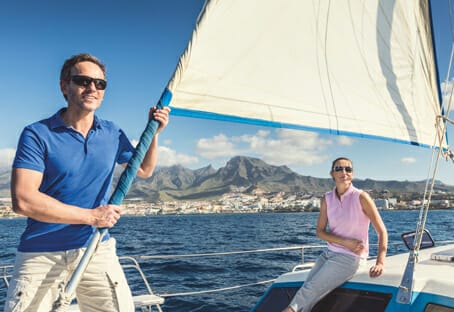 Over the years optometry and dispensing have lost the lion's share of the plano sunglass market to sunglass boutiques, retail surf shops, fashion outlets, pharmacy, online providers and many other competitors.
The provision of prescription sunglasses and photochromic spectacles is however, something we still own. It's an underutilised, value-added niche that can help you stand out from the crowd.
Thanks to our sunny climate and the sporty, outdoor lifestyles many of our patients enjoy, the potential for prescription sunglasses in Australia and New Zealand is great.
From tradesmen needing safety, UV and sun protection to the myriad of cyclists, fishermen, skiers, walkers and more, your market awaits you. It's just a matter of talking through the benefits of prescription sunnies and offering the appropriate option. As you'll see in the following product listings, there's an ever-increasing number of options worthy of your recommendation.
Equipping patients with Rx sunglasses can be a very rewarding and satisfying aspect of eye care and can add significantly to practice revenues
Combined Frame and Rx Lens Offerings
Due to their nature, sunglasses have some challenges when it comes to being fitted with cosmetically appealing prescription lenses. That said, many popular sunglass brands have worked around this to offer comprehensive options to meet the lifestyle and vision needs of patients.
Many wearers of regular prescription spectacles look for sunglasses that offer better protection from glare and harmful UV radiation. This usually involves larger eye sizes and a 'wrap' design.
Wrap-around sunglasses are challenging when it comes to fabricating prescription lenses. That's because they need steeper base curves to match the curvature of the wrap. These problems are aggravated with higher prescriptions. The larger lens diameters currently fashionable in sunglass collections – compared to traditional Rx spectacles – add to the issues. Potentially increased back vertex distance and compromised pantoscopic and viewing angles are further considerations that need to be resolved.
Some of the leading brands generate and fit prescription sun lenses in house while others have partnered with lens labs and manufacturers to offer excellent packages. They've developed sophisticated algorithms to compensate for the challenges. The results can be cosmetically pleasing with good outcomes for the wearers.
As a consequence, there is now a broad range of prescriptions – typically ranging from +6.00D to -8.00D and astigmatic corrections up to -4.00D – that can be filled in a wide variety of sunglass frames. Serengeti and Bollé for example offer a comprehensive selection.
Of course prescriptions that fall outside the typical range can be fabricated but it may then be necessary to use a similar frame to the one your patient usually wears.
In some cases an 'insert' can be provided that clips behind the sunglass frame with a smaller eye size, as we see with, for example Adidas, Rudy Project and others.
Rose Tinted Lenses?
As optometrists we can provide many value-added combinations to prescription sunglass orders, such as gradient tints, photochromic and polarised options. A choice of 'neutral density' grey tints – that do not alter colour perception – or tints that specifically enhance colours can be considered.
Some brands target specific sports like golfing while others focus on cycling or water sports. Popular sunglasses brand, Maui Jim, has developed lenses that are available in a multitude of colours according to the desired outdoor sport, plus they come comes in single vision or multifocals with the brand's famous polarised tints.
The old adage of 'looking at life through rose tinted glasses' comes to mind.
Decisions, Decisions…
There are many times that a prescription wearing patient will see a sunglass or prescription frame that is not part of a manufacturer's frame and lens package. They've set their mind on this choice and request that the practice makes them up in their Rx.
Skilled practitioners will often be able to find a lens material and design to satisfy the patient's cosmetic and visual needs. There are however, times when it is necessary to inform the patient that with their high Rx, a satisfactory outcome is simply not possible in their specific frame choice.
This can be an ideal opportunity to offer contact lenses or even refractive surgery as a consideration, which of course, will free them up to wear any sunglass they desire. A number of patients mention that freedom of choice, when it comes to sunglass wear, is a prime motivation when considering contact lenses or surgery, as is the ability to participate in sports where spectacles are restrictive. If your patient does go with contact lenses, you may also be able to offer them a more functional prescription sunglass in a style similar to their regular spectacles, for those times when they cannot or do not want to wear contact lenses.
Photochromic Lenses
For many patients, the need to buy, maintain and carry around a combination of occupational lenses, progressives, reading glasses, single vision and Rx sunglasses is (understandably) all too hard – both in terms of practicality and economy. Even patients with a simple pair of single vision prescription spectacles can find the need to schlepp two pairs around a hassle. They end up leaving one or the other pair on a shop counter when swapping between them, or simply lose them along the way.
To these patients, the provision of a multipurpose pair of spectacles, that covers most of their needs, is their prime goal. Transitions or photochromic lenses could be the answer. Photochromic lenses, which can be made from glass, polycarbonate or plastic, darken on exposure to specific types and intensities of light while in the absence of activating light, return to their clear state.
Although Transitions as a brand has become synonymous with photochromic lenses, there are other manufacturers out there that produce or source their own versions.
Across the spectrum, photochromic lenses continue to evolve and improve, with faster response times to changing light conditions, improved darkening and greater eye protection.
While there are now specific photochromic lenses that darken more effectively behind the windscreen of a car, there is still room for improvement here due to the shielding effect of the car's roof and the UV blocking effect of the windscreen and windows. Improved darkening functionality can come at the cost of being advised against night driving, simply because the lenses may not lighten enough to be safe for night time use. In countries like Germany, there are very specific rules that limit the tints that can be used for night driving.
Photochromic lenses are also generally less effective on hot days, which are usually very bright. They do, however, darken very effectively in cold conditions. This is a boon for those in the snow and in cold, bright environments.
Another Opportunity
In summary, although photochromic lenses still have some way to go, they are great for general use and cover most day-to-day needs. From your practice business perspective, they also provide the opportunity to suggest to your photochromic lens wearers a dedicated pair of custom Rx sunglasses for specific occasions.
Equipping patients with Rx sunglasses can be a very rewarding and satisfying aspect of eye care and can add significantly to practice revenues. Using your skills to select the correct base curve, tint and polarised options, as well as selecting high index materials, while compensating for vertex distance and pantoscopic angle can lead to great outcomes.
The following eyewear brands have their own lens labs ready and waiting to grind and fit their proprietary lenses to meet your patients' needs.
Bollé
Bollé's B-thin Active Design Rx program delivers high performance sunglass lenses that are up to 45 per cent lighter and 72 per cent thinner than standard prescription lenses. There are more than 20 different lens colours available in polycarbonate or trivex material, and patients can choose from polarised, non-polarised and light reactive photochromic lenses. Suitable with most Bollé sunglass models; B-thin Active Design Rx offers lenses for both shield and interchangeable lens models.
Available in single vision and progressive, with prescription powers from +6.00 to -8.00 (Cyl 4.00), and can be produced in 99 per cent of all prescriptions.
Contact: Bollé (AUS) 03 8558 1000
Rodenstock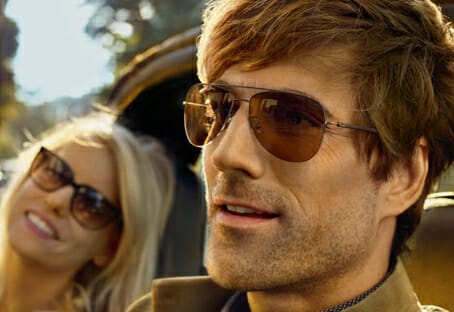 Rodenstock's Road Sun 2 special lenses are designed to meet the needs of motorists and ensure enhanced road safety.
The special colour tint reduces the glare of the sun, but is still bright enough to be able to read the display and navigation system. Rodenstock Road Sun 2 lenses can be combined with Rodenstock sunglasses all from a single source. Perfect for driving with full sun protection.
Contact: Rodenstock: (AUS) 02 9748 0988
Bonastar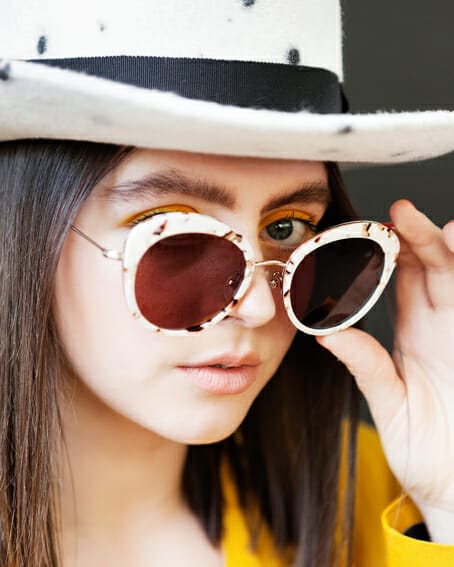 Gradient polarised single vision lenses are the latest offering from Bonastar. Mirror coatings are available. Both tinted and polarised grind Rx lenses can be enhanced with mirror coating in seven colours; silver, gold, blue, green, pink, red and purple.
Discounts are available on stock transitions and grind Rx tinted lenses. They can be bundled with Paul Hueman or Mars Fashion sunglasses package deals.
Bonastar photochromic and tinted single vision lenses are available in all indexes; bifocals are available up to index 1.59, and multi-focals up to index 1.67. Polarised lenses are available in stock plano and grind single vision, bifocals, and multi-focals.
Contact Bonastar: (AUS) 02 9310 1688
Maui Jim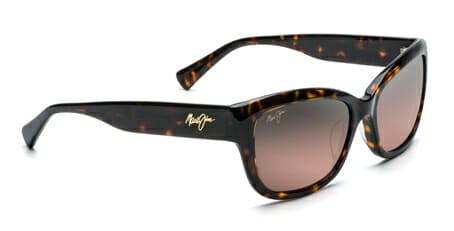 Maui Jim produces every single prescription lens from its state-of-the-art laboratory in Peoria, Illinois.
Digitally processed and fully compensated, MauiPassport lenses provide visual acuity across the entire lens, with a wide field of view that's distortion free, along with the excellent clarity and colour enhancement of Maui Jim's proprietary PolarizedPlus2 technology.
MauiBrilliant, the newest prescription lens to come from Maui Jim, combines optics nearly as clear as glass (ABBE Value 56) with just one third the weight of a traditional glass lens. According to Maui Jim, this is the lightest, highest clarity prescription-ready lens available anywhere in the world.
Contact: Maui Jim (AUS) 1800 010 244
Oakley
Prizm is an Oakley lens technology that enhances detail and maximises vision in a range of environments. While Prizm Sport enhances detail in precise ways for specific sports and sport environments, Prizm makes delivers more vivid and vibrant colours in everyday life.
From October 2017 Oakley's most popular Prizm lenses, such as Prizm Black Polarised and Prizm Daily Polarised, will be available in prescription.
Contact: Oakley (AUS) 03 8598 3100 
The following lens companies offer photochromic lenses, which can be ordered as a frame and lens bundle via select eyewear distributors or ordered direct from your practice
Essilor
Transitions Style Adapt lenses are available in four new on-trend colours to suit most frame styles: sapphire, amber, emerald and amethyst. Reassuringly, these new colours offer patients the same protection against UV and blue light as the traditional favourites. Exclusive to Essilor and can be combined with Crizal Sun UV anti-reflection coating for certified E-SPF 50+, maximum UV protection and scratch resistance.
Contact: Essilor Account Manager
Hoya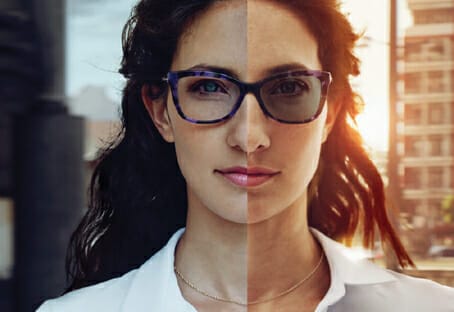 Sensity photochromic lenses adapt to their surroundings, darkening to sunglasses outdoors and quickly fading back to full clarity indoors.
These lenses provide comfortable vision in all light conditions; perform consistently in all climates, seasons and circumstances; and provide 100 per cent protection against UV-A and UV-B rays.
Available in brown, grey and green.
Contact: Hoya Account Manager
Opticare
Sunmatic photochromic lenses automatically adjust to outdoor lighting conditions by providing the right level of tint, then return to their clear state – both indoors and at night.
Sunmatic lenses automatically change from clear to steel grey, blocking harmful UVA and UVB light up to 400nm. Photochromic technology embedded into the lens has the ability to adapt to environmental changes and can deactivate up to 10 per cent transmission within three minutes. Sunmatic can significantly decrease the chances of cataract development.
Opticare offers MEI fitting for sunglasses in six bases up to -8.00 prescriptions.
Lens Availability:
1.56 Single Vision Stock HC, MC & Grind, Bifocal & Freeform Progressive
1.61 Single Vision MC, Grind & Freeform Progressive
1.67 Single Vision Grind & Freeform Progressive
Contact: Opticare (AUS) 1800 251 852
Transitions
Transitions lenses are developed using patented Life360 testing and design methodology, which measures real world conditions with real people. In 200+ conditions and 1,000+ scenarios across the globe, Life360 measures not only direct light but every light in between like light scatter, reflected light, indirect light, level of UV and blue light. The result is photochromic lenses that are clear indoors and at night, and that adapt to the perfect tint, no matter the conditions: bright sun, cloud, mottled light, shifting shade and the infinite levels of light in between that wearers encounter every day.
Transitions Adaptive Lenses family features three everyday lens choices; all block 100 per cent of UVA and UVB while helping protect against blue light outdoors and emitted from digital screens:
Transitions Signature – available in grey, brown and graphite green – is the clearest lens indoors and at night and the fastest to adapt utilising Chromea7 technology.
Transitions XTRActive – available in grey, brown and graphite green – is extra dark outdoors, even in the hottest temperatures. It also has moderate activation in the car, with a hint of tint indoors to protect from harsh indoor lighting.
Transitions Vantage – available in grey – seamlessly polarise as they adapt and darken for extra glare protection and vibrant vision outdoors.
Contact: Transitions Account Manager
Younger Optics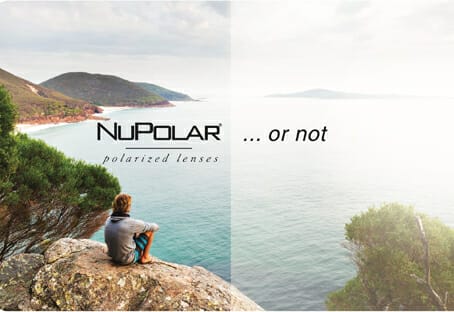 Transitions Drivewear seamlessly changes to three different colours for great vision in any condition.
Combining NuPolar polarisation and Transitions photochromic technology, this lens changes colour and lightens or darkens density to suit current light conditions: Bright sunlight – dark brown colour with 90 per cent tint; driving or overcast – copper colour with approximately 75 per cent tint; low light conditions – olive colour with 63 per cent tint.
Available in a wide range of prescriptions in high impact Trilogy Trivex material and polycarbonate, along with 1.50 hard resin.
Contact: Younger Optics (AUS) 08 8241 9800
Serengeti
Serengeti's Vario Drive Thin Design, manufactured using NXT Technology and trivex material, is up to 72 per cent thinner and 45 per cent lighter than traditional prescription lenses. Photochromics, spectral control and polarisation are engineered into every lens.
Tailor made to the frame, the prescription and the wearer's measurements, Serengeti Vario Drive Thin Design technology is available in almost all Serengeti frames, and in six different photochromic lens colours.
Available in single vision and progressive, with prescription powers from +6.00 to -8.00 and a -4.00 cal for the Serengeti frame range. Can be produced in 99 per cent of all prescriptions lenses.
Visit: serengeti-eyewear.com
The following lens companies offer a variety of sun lenses, which can be ordered as a frame and lens bundle from select eyewear distributors or ordered direct from your practice.
Essilor
Stylistic wrap lenses are available in single vision and progressive and use Essilor's W.A.V.E. technology to minimise aberrations that occur due to the high base curves needed for wrap frames.
Xperio polarised sun lenses eliminate annoying reflected glare for better awareness and reaction time, and provide 100 per cent UV protection, plus enhanced contrast while maintaining true colour perception. Xperio is available in most lens designs and in a range of colours in both full and gradient.
Essilor sun lenses can be combined with Crizal Sun UV, a new generation of anti-reflection coating specifically for sun lenses that provides comfortable vision and blocks UV reflection from the back surface. Additionally, Essilor has a wide range of Suntints with Physiotint technology and mirror finishes for the latest in on-trend fashion.
Crizal Prevencia was the first selective blue light filter. It reflects away 20 per cent of the specific blue-violet light between 400 and 455nm, while allowing through the wavelengths around 470nm, (blue-turquoise), that are essential for our circadian rhythms. Like all Crizal lenses, Crizal Prevencia also provides a premium enduring clarity of vision with protection against reflections, scratches, smudges, dust and water. Every Crizal UV lens sold helps fund vital research in the fight against cancer.
Essilor Smart Blue Filter is a clear lens coating that provides up to three times more blue-violet light protection than standard prescription lenses, without changing the look of your patient's spectacles. Specific absorbers neutralise residual yellow tinge, enhancing lens appearance and colour perception. Smart Blue Filter offers the same level of filtering of blue-violet light as Crizal Prevencia, so you can use it as a safe-guard against the sun's blue light for patients at risk of age related macular degeneration, or for the added contrast and comfort of your digital device users.
Contact: Essilor Account Manager
Hoya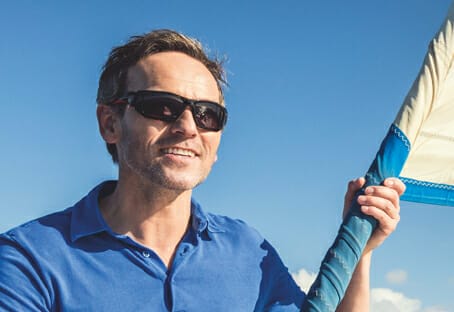 Sportive is a new range of lenses designed specifically for larger and high curved fashion and sport frames. These new lenses provide wide fields of vision at all distances; continuous protection from dust, glare and sun; protection against wind during fast movement; and high-contrast vision in all weather conditions thanks to contrast-enhancing tints.
Just as importantly, Sportive lenses are super stylish, especially when combined with one of the contrast-enhancing tints from Hoya's Special Sphere series, Sun Style, Sensity Photochromic range or NuPolar premium polarised.
This complements the extensive Sun Lens portfolio from Hoya which includes Hilux NuPolar and Dynamic Premium and Prime NuPolar progressive lenses.
Contact: Hoya Account Representative
Younger
Younger's NuPolar lenses are suitable for most frames including wrap, sports frames and rimless, in a range of colours in both solid and gradient tint with 100 per cent UV blockage. Available in high index 1.60 and 1.67 for best cosmetics and high prescriptions, and perfect for extreme sports in impact-resistant Trilogy (trivex) or polycarbonate.
NuPolar Gradient lenses have the gradient built into the encapsulated polarising filter so there's no tinting required at the lab. This means the tint and match are consistent every time with zero chance of the lens colour fading with exposure. Available in three tints: grey/grey, brown/grey and brown/brown.
Contact: Younger Account Manager
Zeiss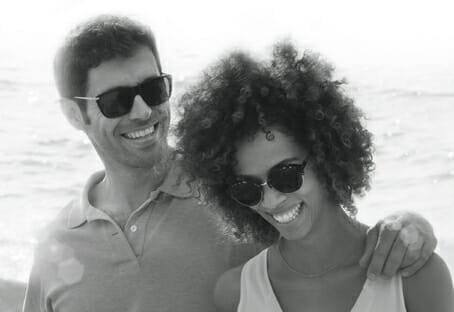 The Zeiss Outdoor Lens Rx portfolio offers flexibility of choice with a broad range of tint colour and density options, catering to the light intensity and needs of any situation; and polarised options as well as a range of tints now available in 1.50, 1.60 and 1.67 index lenses. All tinted and polarised lenses can be combined with DuraVision Mirror (eight colours to choose from) and DuraVision Sun (back surface AR) coatings. All Zeiss Outdoor Lens Solutions provide 100 per cent UV protection, even with light tints.
Zeiss prescription sunglasses comply with Australian/New Zealand Standards AS/NZS 1067 for sunglasses and fashion spectacles and are tagged to ensure the lens categorisation is clear to you and your patient.
Contact: Zeiss Account Manager
Shamir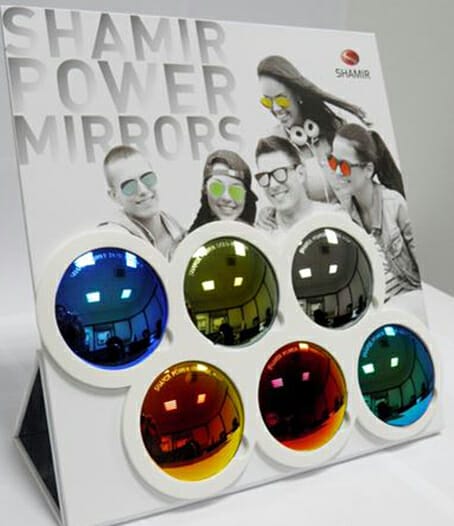 Shamir's Glacier Sun UV coating prevents reflected sunlight from bouncing off the rear surface of the lens, to minimise glare and protect eyes from damaging reflected radiation. The front surface is achromatic AR coated, ensuring there is no change of lens colour and vision is bloom free. Shamir's Power Mirrors are available on any Rx sun glass order in silver, gold, green, blue, red and orange.
All digital progressive lenses are designed to fit the largest Rx sun glass frames without "non-cut out issues".
Contact: Shamir (AUS) 1300 553 465