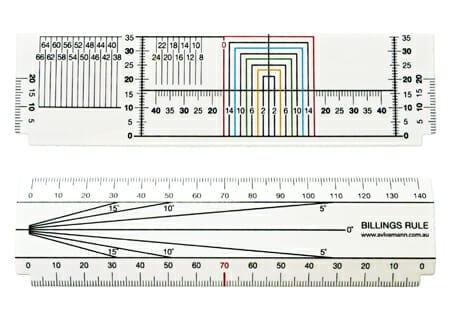 The Billings Optical Rule is a multi-task optical rule that has been jointly developed by John Billings FBDO, Aviva Mann Optical Group Australia and Eyeline Optical Ltd NZ.
This PD Ruler allows for the accurate measurement of spectacle frames, PDs, and other frame and fitting calculations required in today's modern optical practice, laboratory and workshop environments. Unique features:
Corners notched for resting on frame rim
Designed for both right and left hand users
Protractor for measuring pantoscopic angle
Coloured bridge centration grid for accurate frame alignment
Easy measurement for box DBL sizing
Box DBR rule
Quick left and right back vertex distance measurement
Easily read figures and markings
Top pocket size
Sloping/wedge edges.
Contact: Aviva Mann Optical Group (AUS) 08 9353 0400