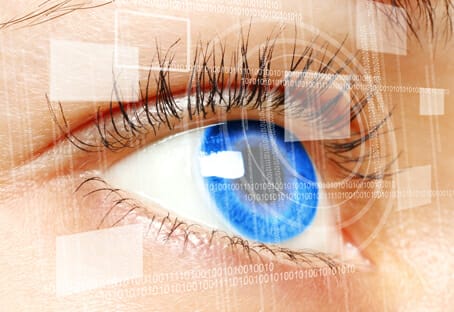 When single mum Helen Langford was diagnosed with Fuchs' Dystrophy she was told there was nothing that could be done to save her sight. Ten years later, and already losing useful vision in one eye, she was desperate to find an alternative… She found Dr. Greg Moloney.
Surgery for Fuchs' Dystrophy is rapidly changing. What once required a full corneal transplant can now be achieved using just 2 per cent thickness of a donor cornea and in some cases, no donor cornea is required at all.
Sydney ophthalmologist Dr. Greg Moloney is at the forefront of corneal surgery and recently he returned 20/20 vision to 51 year-old Helen Langford who had lost all useful sight in her right eye and significant vision from her left eye as well. The solution was to perform a Descemet's membrane endothelial keratoplasty (DMEK), a difficult procedure which has been increasingly embraced by surgeons worldwide, with significant advantages over previous transplant procedures.
The procedure is an evolution of the more routinely performed Descemet's Stripping Endothelial Keratoplasty (DSEK)."This isn't new surgery, the procedure has been around since 2006 however there are not as many surgeons doing it with regularity because it is quite a difficult procedure to perform," said Dr. Moloney.
"As I recovered from each operation, I'd wake up every morning expecting to be blind in that eye again, but instead, I could see"
"Rather than transplanting the inner 20 per cent of a donor cornea as in DSEK, we peel off the innermost cellular layer only taking just a fraction of the tissue we used to take. Then we inject the donor corneal tissue into the front of the eye, unfold it and squeeze it into place with an air bubble. The surgery can be more challenging but is done through a smaller incision so the eye remains much stronger, and visual recovery is faster, typically in two weeks. The chance of achieving 6/6 is 85–90 per cent.
DMEK leaves a 2mm wound which requires just one stitch. DSEK required surgeons to create a larger wound that requires three to five stitches.
That's not to say DSEK is bad – it in itself is an evolution of penetrating keratoplasty used to treat Fuchs' 10 –15 years ago. This procedure involved removing the full thickness of a patient's cornea and replacing it with an entire donor cornea. Sixteen stitches were required to close the wound and it often took a full year for the patient to recover good vision. Even after this time astigmatism often limited results.
Waiting to Go Blind
Ms. Langford was diagnosed with Fuchs' Dystrophy back in 2006. Back then she had been told there was nothing that could be done to save her sight which could significantly decline. Later, another ophthalmologist told her there was the option of a corneal transplant, however, due to the invasive nature of the surgery, she was told to wait until her vision was much worse.
"About six years ago, I started to notice short periods of blurriness in the morning which gradually began to extend to an hour or two," she told mivision.
"That was frightening but I didn't allow it to change my lifestyle. I kept working and driving and I talked myself into believing I was fine. It was when I went overseas that I really noticed how bad my sight had become – I was out of my comfort zone and it was confronting – I couldn't read maps, I couldn't easily find my way around.
"I came home, I upped my insurance, stepped back from running my own business in property and took an easy job that I was able to do with my eyes shut. All my thinking became safe and conservative, I was absolutely focussed on ensuring financial security for my son who at that time was a young teenager. While I didn't think about suicide, what did cross my mind was that perhaps it would be better to be wiped out by an accident than to burden my son with a blind mother."
Give It a Try
Over time, Ms. Langford took it upon herself to research alternative treatments. "I saw Dr. Moloney interviewed on television about his approach to treating Fuchs' Dystrophy. I rang his practice and spoke to his receptionist about my situation. Dr. Moloney called me that afternoon to talk further and then his office managed to find me an appointment. In contrast to what I'd been told, he proposed a transplant as soon as possible."
Ms. Langford was approaching legal blindness in her right eye when Dr. Moloney operated on it in May 2016. In December, he operated on her left eye. Vision has returned to 20/20 in both eyes and both DMEK grafts are healthy and clear, with no sensitivity to light.
Dr. Moloney said Ms. Langford was a great success story. "Without this surgery Helen's vision would have become increasingly blurry and she would have experienced increasing sensitivity to light with pain on a daily basis. Although she would never have become "blackout blind", she would have been legally blind – she would have lost all useful vision."
For Ms. Langford, the surgery has been life changing. "I have always been an optimistic person but Fuchs' Dystrophy really shook me up and I know I became quite depressed. It's really challenging when you can't see well enough to feel comfortable about leaving a familiar environment. On a day to day basis, it's the little things that are frustrating – you go out with dog hair and toothpaste on your clothes, simply because it's not something you can see".
"As I recovered from each operation, I'd wake up every morning expecting to be blind in that eye again, but instead, I could see. I felt such an immense sense of joy, of relief and a renewed enthusiasm for life. After all those years, I can finally think about my future again."
A Non-invasive Future
Fuchs' Dystrophy is among the most common indications for corneal grafting in first world countries with surgeons in America performing 15,000 – 20,000 grafts each year.
Dr. Moloney first became interested in treating Fuchs Dystrophy with DMEK about four years ago on his return to Australia having trained in Vancouver, Canada.
"I could see an opportunity to make a difference because so few surgeons were performing DMEK. This was understandable due to the training involved with no courses in Australia. I decided to train myself in the procedure with the help of the NSW Lions Eye Bank and the Sydney Eye Hospital Sight Foundation wet lab. I learned the new surgery through videos and practice with redundant donor tissue, and advice from international colleagues proficient in the surgery. Once confident I offered DMEK to patients, with a back-up DSEK graft available. The learning curve was overcome and this is now one of my most enjoyable procedures to perform. That was about four years ago, I have done many of these surgeries now. In 2015, we began an annual course in DMEK surgery at Sydney Eye Hospital, at the time the only such course outside of Europe and North America. We hope to make it easier for other corneal surgeons to adopt this technique and offer great results to their patients".
As well as performing DMEK, Dr. Moloney and his colleagues have successfully treated a dozen FED patients ranging from 38 years old to 84 years old with a non-invasive procedure which involves removing the central 3mm to 4mm of Descemet's membrane and allowing the cornea to spontaneously heal. Patient selection is critical to the success of this non-invasive procedure, and success is more likely in younger patients, "with good physical reserve" as opposed to "those with poor or diseased peripheral cells," says Dr. Moloney.
Most recently Dr. Moloney has identified that treating these patients with an existing glaucoma medication may further improve the chance of healing.
"We have been following a Japanese study underway to assess the use of a drop for corneal healing – it is based on the same molecule that has already been taken to market for the management of glaucoma. We successfully applied to use the drop as a special access drug to determine its benefit when treating patients with Fuchs' Dystrophy."
Dr. Moloney said the opportunity to trial the molecule came when a patient, who had undergone the procedure to remove diseased corneal tissue, showed no sign of spontaneous recovery. "We removed the corneal tissue and two months later it still had not healed. We advised that a transplant would be necessary but in the first instance we treated her with the drops. Ten days later her cornea was clear. It's very early days, but this is looking positive."
Dr. Moloney addressed ophthalmologists on the treatment at a conference in Los Angeles in May and his study was published in the Journal Cornea in April.
Patients Deserve the Best Options
"What worries me is that the field is evolving so quickly that patients and treating specialists may not be aware of the most innovative procedures currently available for treating Fuchs' Dystrophy. Some patients are being booked in for grafts who may not need them and others are getting older graft procedures when we can possibly do better.
"We can provide patients with a micro incision graft which takes just 30-60 minutes in surgery and a day in hospital, or a non-graft surgery, which takes just 15 minutes. As elegant as DMEK is, patients who undergo any transplant surgery require anti-rejection drops indefinitely and will usually need cataract surgery simultaneously or at a later point. If we can get them to heal spontaneously, then they won't need to rely on donor cells – this will remove the risk of rejection and will also free up valuable donor corneas for other procedures."