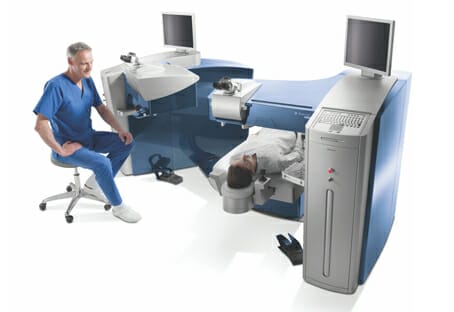 Refractive surgery continues to evolve, offering new technologies and procedures to correct vision that enable patients to maintain active lifestyles and enjoy quality of life.
I started consulting as an ophthalmologist too many years ago to think about. However, when I do reflect back, I'm amazed by the number of patient solutions we searched for with so little technology compared to today.
My interest in refractive surgery was not entirely selfless in origin. I was a myope and heavily addicted to my hard contact lenses. Eventually, as is the case with most people, my tear film became problematic. As an active eye surgeon at Sydney Eye Hospital, I had no time for drops and multiple cleaning solutions. Both contact lenses and glasses were proving to be a significant inconvenience to my professional and personal life. My frustration was shared by multiple patients coming through my consulting rooms each week. As such, I became highly motivated to find an alternative vision solution for my patients and, of course, myself.
Laser Refractive Surgery
Even from my early days as an ophthalmologist, safety, efficacy and speed of recovery were the primary considerations when evaluating technology and new surgical procedures. This, of course is logical, however the importance cannot be over-emphasised and for me, is a flow-on effect that comes from knowing first hand just how dependent we are on our vision to maintain an active life-style, and the anxiety that comes with the potential alternative. Laser refractive surgery emerged as a good solution to meet both the visual needs of my patients as well as meeting my requirements for safety, efficacy and speed of recovery.
The ability to customise my treatment recommendation for patients is the most satisfying part of engaging in new technology as it evolves
In 1998 I had LASIK for myopia of approximately -4.00 and was given mini-monovision with -0.75 residual refractive error in my non-dominant eye. I had a blade procedure performed at LaserSight, Bondi, on a Friday afternoon using a device that had to be manually assembled. I found the mini-mono a little difficult at first because it blurred the distance slightly, but like most patients eventually adapted, and I didn't need glasses for fine print for a further five years. I travel a fair bit and the convenience of not having to fuss with contact lenses, solutions and spectacles, particularly on airplanes, is appreciated. The procedure also improved my enjoyment of sport and horse-riding.
Evolving Options
I started performing refractive surgery around 1995 with PRK on the NIDEK in the Macquarie Street Group and in 1997, migrated to LASIK as my treatment of choice. This had the obvious advantage of increased speed of recovery. Since then I have used many laser platforms including NIDEK, Technolas, Ladar, Mel80, Victus, Zeimer, Intralase, Wavelight, and Visumax. The platform of choice for me these days is the Wavelight platform from Alcon, integrated with its diagnostic suite to allow for wave-front optimised, custom-Q and topography guided treatments. This flexibility allows me to customise my treatments for individual prescriptions, individual aberrometry profiles as well as a patient's individual corneal topography. I also use the Visumax for performing SMILE on patients when I believe this procedure is most suitable for their refractive profile. The ability to customise my treatment recommendation for patients is the most satisfying part of engaging in new technology as it evolves. It's also why for now at least, the Wavelight platform, with its ability to customise treatment algorithms, is the best fit for the majority of my patients.
Customised treatments for complicated cases have been used by surgeons for some time now and have helped plenty of my patients. One case that comes to mind was a 32-year old male myope with a pre-op refraction of R: -4.25 / -0.25 x 120 and L: -4.75 / -0.75 x 88. Following uncomplicated LASIK, he was 6/6 in both eyes 1-day post-op, yet over the course of the next three months, while his left eye stabilised at 6/4.8 unaided, his right shifted to a final unaided acuity of 6/12 and a refraction of -0.75 / -0.50 x 60. We analysed three enhancement plans, Wavefront optimised, Custom-Q and Contoura (Topographic-guided) all of which could be performed on the Wavelight platform. After reviewing the multiple scans and surgical plans, we identified that a topographic-guided treatment would provide this patient the best visual outcome. Contoura Vision is a form of LASIK so the patient could experience the same recovery speed as he had experienced with his initial treatment. One day, one week, one-month and six-month post-op results showed his unaided acuity in this eye to be 6/4.8, matching that of his left eye.
In 2012 David Lin and colleagues published results from using Alcon's Allegretto WaveLight laser, Allegretto Wave Topolyzer and Alcon T-CAT software to perform topographic-based customised ablations in conjunction with corneal cross-linking to improve vision in patients with decentred ablations, asymmetrical astigmatism, post-LASIK ectasia, post-keratoplasty astigmatism, radial keratotomies, keratoconus and those requiring optical zone enlargements.1 They demonstrated that by using this technology in combination, and applying topographic neutralising technique (TNT), unaided vision and best-spectacle corrected visual acuity could be improved in highly aberrated eyes.1
Cross-linking for Refractive Procedures
At PersonalEyes we invested in cross-linking technology almost 10 years ago, once it's clinical benefits in stabilising keratoconic cornea had been established. Having access to this technology, as well as customisable laser-refractive technology, has allowed my colleagues and I to evolve our treatment portfolio in parallel with evidence based medicine to include vision improving solutions for patients who would once have been considered lost-causes. Overall, I believe the process of selectively treating keratoconus with cross-linking combined with PRK is still evolving, and tailoring the treatment protocols, whether it be as a refractive procedure or simply customising the cross-linking treatment as a stand-alone procedure for better outcomes based on topography, is an exciting therapeutic area.
Research into the use of cross-linking for refractive procedures is growing. Earlier this year Elling and colleagues published a paper on the use of photorefractive intrastromal corneal crosslinking for the treatment of myopic refractive errors.2 Their single-centre prospective study on 26 eyes from 14 patients showed that cross-linking alone was able to reduce mean refractive spherical error by approximately 1.0D on average, improving unaided acuity by an average of four lines.2 Cross-linking usually requires removal of the epithelium and is therefore associated with a high level of discomfort and slow recovery. Research into performing cross-linking with the epithelium in-tact is being widely conducted. If a protocol can be developed where this is successful, this will be a major advancement for this technology. Due to the comfort and efficacy of current refractive surgery options, reliable and reproducible epithelium-on procedures need to be demonstrated before this will have a place in the market. From experience, I know refractive changes induced by cross-linking continue to change over-time. This is an additional reason I wouldn't be comfortable offering this treatment to my patients, however the potential to refine this is very exciting for the future of this technology. As such we will continue to analyse outcomes where cross-linking is used and if suitable, conduct controlled clinical trials to further refine its use in refractive surgery.
Topographic-guided LASIK
In the US, robust clinical trials are required for technology to receive FDA approval. In 2012 Alcon engaged nine sites in a prospective, single arm study to evaluate the safety and effectiveness of Topographic-guided LASIK using the Allegretto Wavelight excimer laser and the Allegro Topolyzer for the treatment of manifest cornea-based myopic refractive errors.3 Two-hundred-forty-nine eyes with up to -8.00 of spherical refractive error and up to -3.00 dioptres of astigmatism at the spectacle plane were enrolled.3 Up until this point, topographic-guided treatments were generally reserved for complicated cases, however the results of this study in which 'normal' eyes were enrolled, were so impressive that come 2015, this specific treatment plan was branded Contoura Vision. Wavelight surgeons across the globe are now starting to use this treatment in all patients where adequate topography maps can be obtained for an accurate Contoura surgical plan. The results of the study showed that after 12 months, unaided post-op vision was better or equal to best corrected pre-op vision in 89 per cent of patients with 31 per cent of patients actually seeing between one and three lines better unaided than they had ever seen in glasses or contact lenses previously.3 Ninety-three per cent of patients achieved 6/6 or better, 65 per cent achieved 6/4.8 or better and 34 per cent achieved 6/3.8.3
At PersonalEyes my colleagues and I have also been achieving great outcomes with this technology. I recently saw a 30-year old male with a pre-op refraction of R -1.00 and L -1.00 / -0.50 x 45 with spectacle corrected visual acuity of 6/4.8 in both eyes. Possibly one of the more straightforward cases for a refractive surgeon however, his motivation for refractive surgery was that he wanted to apply for Civil Aviation Safety Authority (CASA). Coming back to my initial comments about understanding anxiety surrounding lifestyle and vision, these patients, who we see plenty of, have a lot more to lose if you can't meet their expectations. We were able to acquire enough high-quality topography maps to construct a reliable Contoura Vision surgical plan and as such moved ahead with a customised ablation. This patient now enjoys 6/3.8 unaided acuity in both eyes and was successful with his CASA application.
Topographic guided treatments can be a tad more tissue hungry compared to wavefront-optimised or Custom-Q treatments and as such we occasionally exclude patients based on their residual stromal bed thickness. It can also be necessary to exclude patients due to anatomical barriers; ie, when it's difficult to get reliable, repeatable topography maps. At our practice, these patients would still receive a customised treatment plan which may be SMILE, PRK, Wavefront-optimised or Custom-Q LASIK or ICLs (implantable contact lenses).
Treating for Astigmatism
Since the FDA study for Contoura Vision was published, there have been additional clinical publications on new protocols for this technology; one of which is how we correct for astigmatism. There is some evidence emerging to show that treating the topographic astigmatism rather than the refractive astigmatism will achieve better patient outcomes. In November 2016, Kanellopoulos published the results of a contralateral eye study where 100 eyes from 50 patients were evaluated.4 Patients were randomised for treatment, with one eye receiving treatment based on standard clinical refraction and the contralateral eye treated based on the magnitude and axis of the patients' topographic astigmatism.4 In the eyes that received treatments based on standard clinical refraction, 72 per cent of patients achieved correction of their astigmatism within -0.50D of target, 23 per cent gained one line of best corrected visual acuity and 7 per cent gained two lines. Of the eyes that received topographic-modified refraction (TMR) treatments, 88 per cent of patients achieved correction of their astigmatism within -0.50D of target with 56 per cent gaining one line of best corrected visual acuity and 11 per cent gaining two lines.4 These outcomes should not come as too much of a surprise. A standard clinical refraction provides you a snap shot in time of that total optical system, including the influence of the optics of the lens, which can change with direction of gaze, accommodation and age. Applying TMR using repeatable, reliable topography maps allows you to accurately treat the largest contributing component of astigmatism without the noise that may exist in the total optical system. This is a technique I have adopted and, based on initial outcomes, will start to perform more routinely.
Implantable Contact Lenses
Despite all the advances in laser refractive surgery, I still use implantable contact lenses (ICLs) in a reasonable number of patients if suitable. The reason for this is that in general, they can provide better visual quality, particularly in patients whose prescriptions require a large volume of tissue ablation with LASIK. This is supported by the literature.5,6 Unfortunately, ICLs require an anaesthetist to give sedation while implanting these lenses and therefore the patient cannot drive for 24 hours. The procedure is a little more invasive than corneal refractive procedures so in theory has a higher risk profile, however the vision is usually very good by the third day, they provide an alternative to patients who are either not candidates or are poor candidates for laser refractive surgery and as mentioned already, the quality of vision after lens implantation is excellent. As such, ICLs will continue to have a place in my practice for now.
Lasik Vs. SMILE
Although the Wavelight platform is my platform of choice for the majority of patients receiving laser refractive surgery, I do perform SMILE on patients where it is indicated. The initial promises of SMILE were improved biomechanics, reduced risk of ectasia and reduced incidence of dry eye due to not ablating the corneal nerves. There are now multiple papers to show that the biomechanics have not been improved and cases of ectasia have been reported.7,8,9,10 In saying that, the biomechanics and ectasia risk is certainly no worse than LASIK.7,8,9 The literature, including papers published as recently as this year, have been able to confirm the reduction of post-operative dry eye11,12,13 as well as being able to offer a more comfortable procedure overall for patients compared to LASIK.14
My experience is that LASIK still offers patients better visual acuity, particularly for low myopia and myopic astigmatism. This is also supported by the recent literature. Mouniers 2017 paper compared results of wavefront-guided LASIK and SMILE in low-moderate myopia and found that 16 per cent more patients achieved within 0.50 dioptres of their refractive target when LASIK was performed compared to SMILE.15 Kanellopoulos 2017 published his results from a contralateral eye study on patients with myopic astigmatism and found 18 per cent more patients achieved 6/6 or better in the topographic-guided LASIK group compared to SMILE.
SMILE does not treat hyperopia, has no trackers and is not without complications. Both my personal experience and the literature shows that SMILE does however give a relatively short treatment time, a comfortable procedure and a comfortable post-op experience.14 Having the recent literature confirm my personal experience allows me to continue to practice as I currently am for now. I personally believe the real advantage of SMILE is for larger treatments to decrease regression but this has still to be proven in the literature.
My refractive surgery practice is continuing to evolve and this is mostly driven by the literature. Over the next one to two years I anticipate there will be further refinements in SMILE and LASIK for even better outcomes. Looking five years into the future, I expect further improvements in treating high hyperopia, particularly for those not suitable for LASIK and ICLs.
Treating Presbyopia
My particular interest is the correction of presbyopia. Laser refractive options for this have not been overly successful with lens surgery providing the best visual outcomes to date. Although refractive platforms like the Oculentis promises reduced halos, there is still some glare. Additionally, being a bifocal design, the near and intermediate acuity is often not as good as patients would ideally like. This, therefore, requires appropriate counselling of expectations prior to consenting to surgery. Diffractive trifocals certainly provide a high level of visual acuity at distance, intermediate and near and since the launch of Alcon PanOptix we now have an option for patients who require clear laptop vision at 60cm where prior designs were optimised for an 80cm intermediate distance and were once our only option. All diffractive lenses come with photic phenomenon which requires adaptation. Thankfully most patients are able to fully adapt to this over three to six months and still feel safe to drive at night within a couple of days of the second eye surgery, despite the glare and halos.
As much as our options for this ever growing and increasingly demanding patient base have improved significantly in the last 10 years, we are still a long way from a perfect solution. I hope that in the future, ICLs will be released in a multifocal design for presbyopic patients who wish to avoid lens surgery and that intraocular lens technology will continue to improve such that I can offer patients less photic phenomenon and ultimately, fully accommodative vision.
Dr. Kerrie Meades MBBS(Hons), FRANZCO is a refractive and cataract surgeon, an approved Kamra inlay surgeon and the founder of PersonalEyes. Dr. Meades is passionate about refractive surgery including surface treatments, LASIK, phakic IOLs, customised cataract surgery, intracorneal rings, cross linking and presbyopia. She has special interests in cataract and refractive surgery, medical retina including fluorescein angiography and laser. Dr. Meades has published many papers in cataract, refractive surgery and general ophthalmology and has presented at events in Australia and overseas. She is a member of RANZCO, ASCRS, AAO, RACS, founding member of AUSCRS, on the advisory board of ALCON and Secretary of Women in Ophthalmology.
References
1. Lin et al Clinical Results of Topography-based Customised Ablations in Highly Aberrated Eyes and Keratoconus/Ectasia with Cross-linking 2012 JRS
2. Elling et al Photorefractive intrastromal corneal crosslinking for the treatment of myopic refractive errors: Six-month interim findings 2017 ASCRS and ESCRS
3. Results from FDA T-CAT-001 clinical study for topography-guided vision correction (with the 400 Hz ALLEGRETTO WAVE® Eye-Q Excimer Laser) 2012.
4. Topography-modified refraction (TMR): adjustment of treated cylinder amount and axis to the topography versus standard clinical refraction in myopic topography-guided LASIK.
5. Sanders and Vukich Comparison of Implantable Contact Lens and Laser Assisted In Situ Keratomileusis for Moderate to High Myopia 2003 Cornea vol. 22
6. Perez-Vives et al Optical and visual quality comparison of implantable Collamer lens and laser in situ keratomileusis for myopia using an adaptive optics visual simulator 2012 European Journal of Ophthalmology
7. Pedersen et al Corneal biomechanical properties after LASIK, ReLEx flex and ReLex SMILE by Scheimplug-based dynamic tonometry 2014 Clinical Experimental Ophthalmology
8. Agca et al Comparison of corneal hysteresis and corneal resistance factor after small incision lenticule extraction and femtosecond laser-assisted LASIK: A prospective fellow eye study 2014 Contact Lens & Anterior Eye
9. Zhang et al Corneal biomechanics after small-incision lenticule extraction versus Q-value guided femtosecond laser-assisted in situ keratomileusis 2016 Journal of Current Ophthalmology
10. Wang et al Corneal ectasia 6.5 months after small-incision lenticule extraction 2015 JCRS
11. Li et al Comparison of Dry Eye and Corneal Sensitivity between Small Incision Lenticule Extraction and Femtosecond LASIK for Myopia 2013 PLOS ONE
12. Results from the FDA safety and effectiveness study of the VisuMax SMILE procedure for the correction of nearsightedness 2015
13. Kobashi et al Dry Eye After Small Incision Lenticule Extraction and Femtosecond Laser-Assisted LASIK: Meta-Analysis 2017 Cornea
14. Kanellopoulos Topography-Guided LASIK Versus Small Incision Lenticule Extraction (SMILE) for Myopia and Myopic Astigmatism: A Randomized, Prospective, Contralateral Eye Study 2017 JRS
15. Mounier Comparative Analysis of the Clinical Outcomes of SMILE and Wavefront-Guided LASIK in Low and Moderate Myopia 2017 JRS
Weighing Up the Options
Not surprisingly, I have seen several procedures come and go in the last 20 years and although I enjoy being a thought leader and believe it is important to investigate new technology, evaluating patient outcomes must remain at the forefront when making a decision to adopt or to wait and watch. Adopting a new technology that does not provide better clinical outcomes (which in refractive surgery is almost exclusively related to visual acuity and visual quality) on the promise of other theoretical advantages, puts you at risk of impacting a patient's quality of life and leaving them disappointed. Completely avoiding unhappy patients is impossible and in these situations, you must be prepared to stay on the journey to help them to a better outcome regardless of cost, time or even the need to engage other eye care professionals.
All great technologies have to be born at some stage and each surgeon must develop their own rationale for adoption. There will always be surgeons who are confident to adopt technologies sooner than others and these surgeons contribute to evidence which facilitates the growth of the best technologies and occasionally the death of bad technology.
When technology or new applications of existing technology are not used widely, limited discussions based on experience can be had among colleagues. This makes it necessary to evaluate currently available literature to guide your decisions. I look at who is publishing the data and the size of the data set, and over the years have developed more confidence in some investigating ophthalmologists and centres than others. The other consideration is which company is providing the technology and the clinical support they make available. A company with clinical support from someone who has worked with the technology from its inception is easier to have confidence in than one whose clinical support was only recently trained. Trust and credibility is paramount.