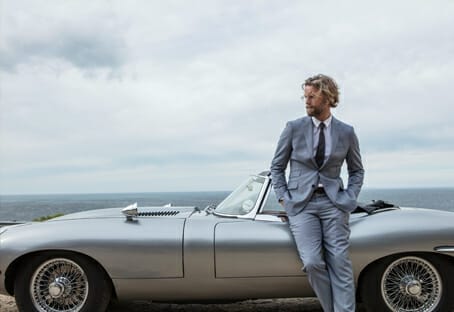 As practitioners, we know the challenges that face us when prescribing progressive lenses. We need to tailor the designs for a myriad of patients' visual needs and personalities. For some, the desire is mainly for distance vision. For others, the prime need is for excellent near and intermediate vision at work, when using computers and digital devices, while keeping in mind the need for clear vision when driving and commuting.
Much is said about free form lens manufacture, but this in itself is not so much rocket science but rather, a way to control cost and speed up manufacture. Surface geometry and design are the cornerstones of the many excellent premium designs.
Basic standard design and generic progressive lenses, although suitable for some wearers, do not allow for the customisation needed to fine tune a design for a specific patient's visual and postural needs.
Premium progressive designs allow us to specify millions of variations in front and back surface lens geometry and design. This helps minimise distortion and control the 'shoulder' of the distortion to minimise impact on distance vision, while providing the widest field for near and intermediate vision. Additionally, premium designs allow for the application of specialised multicoatings and blue blocking filters, fine tuning channel depths and widths, pantoscopic angle, base curve and so on.
Surface geometry and design are the cornerstones of the many excellent premium designs
Premium progressive lenses provide the opportunity to 'up-sell' and generate greater revenue from the same patient, for a similar amount of time and effort. This makes sense and patients are often very enthusiastic about the improved function, visual comfort and performance they experience.
Getting the Optics Right
Every manufacturer spends countless hours and dollars on research and development, in an effort to understand human function, physiological and physical optics and the different ways people use their eyes.
What those R&D boffins have worked out, among many other things, is that some people prefer to move their eyes up and down and left and right when switching from far to near vision or scanning the horizon. Others use head movements to do this. Of course many people use a mix of head and eye movements.
We also know that head, neck and back problems limit movement for some people. Others may experience significant neck problems if the wrong lens design is applied. For example, a computer user in a long channel progressive may have to lift their chin into a very unnatural posture to be able to get into the near or intermediate zone of the lens. Others may find the near reading area or computer zone of the lens too narrow while a truck driver may find the peripheral distortion in the distance zone too limiting if the wrong design is prescribed.
Getting to know your patients and their visual needs, and asking the right questions, is imperative for obtaining excellent results for your patients. A happy patient, especially one who has previously had an expensive and bad experience in progressives, will be an excellent source of referrals that will help to grow your practice.
Specifics
Some manufacturers offer instruments and devices commonly known as 'towers' to help you set up the position and centration of your patients' premium progressives. These instruments may also help determine if the patient is an eye mover or head mover or, as mentioned, a mix of both. These instruments will also help you measure the optical centres and heights for the chosen frame and wearing position, and help determine the channel depth, based on the chosen frame and the individual's postural and functional needs.
Specific manufacturers offer the option of aberration-controlled optics in their premium progressive designs, after analysis by an aberrometer. Some practitioners and patients swear by these aberration controlled designs, reporting improved visual clarity; reduced fatigue, flare and distortion; and improved low light performance; among the benefits.
Preferred Suppliers and Designs
More often than not, practitioners have a favourite lens manufacturer and/or design. Alternatively, they are encouraged to use a specific manufacturer/design as a consequence of commercial arrangements such as a preferred provider system.
Recent mergers and acquisitions, and the creation of new eye care brands and networks, have led to a shake up of these arrangements. As a consequence, some groups have switched their preferred lens manufacturer. Additionally, some practices that have joined newly created eye care groups are being guided to use a lens manufacturer they were not previously using. Some have found the switch challenging while others had been very happy with improvements in patient responses when prescribing the new brands/lenses.
Another problem that causes confusion for many is the constant release of new designs and new names for progressive lenses. Although manufacturer's marketing departments promote all the benefits of the new high tech design they are offering, experience has shown that sometimes a new design is not as well tolerated as the previous 'gold standard' that had worked so well for many patients.
Keep an Open Mind
As practitioners we should strive to always choose what's best for our patients.
Having a range of options and being able to make educated decisions and choices is imperative to success. One should not blindly follow the same course and use the same lens designs and labs simply out of habit or due to commercial restraints.
It's well worth delving into the information provided in the following pages to familiarise yourself with the latest product offerings…
Try the premium lenses offered. No doubt you will be impressed with the results. Patients will be happy and so will your accountant.
Bonastar
Bonastar's dailyPro2 is a premium freeform progressive lens that's specifically designed for daily general wear. With a very soft transition from distance to near vision, Bonastar claims that this lens is great for first time progressive wearers who will benefit from minimal unwanted astigmatism and wider, clearer more comfortable visual fields.
Bonastar's digitalPro freeform is one of the company's most successful and reliable progressive lenses. Easy to fit and wear, with virtually no accommodation problems, the improved 1.67 and 1.74 lenses are less sensitive to heat, and come with a UV blocker for maximum sun protection.
Bonastar's value iNature2 freeform lenses provide an alternative to first time progressive wearers, delivering a great balance between different vision zones, together with unsurpassed comfort and high precision in one lens at a reasonable price.
OSA progressive lenses, including Unique, Accolade Freedom, Ideal, and Quadro are also available.
Contact: Bonastar (AUS) 02 9310 1688
Nikon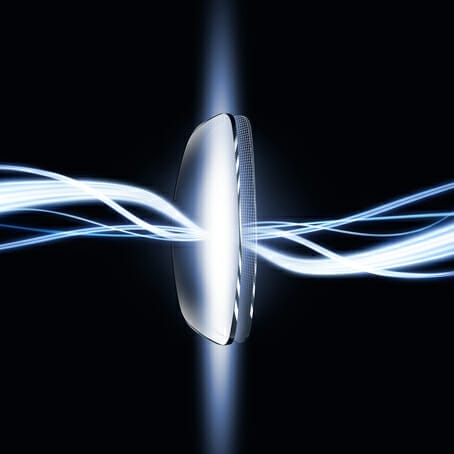 Nikon has restructured its entire lens range. The new Presio Master is the flagship progressive lens and Presio Power has been updated, giving choice at the premium end.
Vital information from eye tracking studies informed the designs. For instance, it was evident that wearers only use areas of a progressive where aberrations are low; so, by reducing the surface aberrations by 44 per cent, Presio Master allows wearers to use twice as much of the lens surface compared to a conventional progressive (aberrations measured 8mm below the eye point for plano lenses, addition 2.00).
Of equal importance in the performance of Presio Master is the use of Nikon's own calculation system dubbed NODE, (Nikon Optical Design Engine) to optimise the lens to the way the patient will wear it. NODE takes into account each patient's prescription and frame parameters based on default values provided by Nikon Europe, bring the lens calculations in line with the diverse ANZ demographic. A wrap angle of 6 degrees, pantoscopic tilt of 8 degrees and back vertex distance of 12mm are now the base values across the Nikon Progressive range. The well-known Nikon Presio Power Infinite also benefits from the use of NODE, which enhances the design through the addition of the frame parameters and tightens the performance range of this lens.
Contact: Nikon Account Manager
Essilor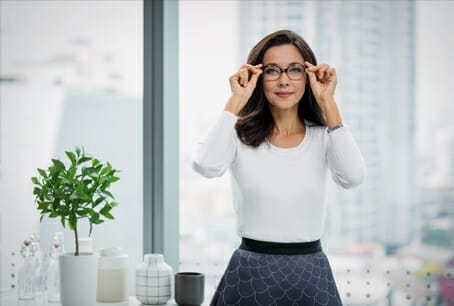 Varilux S Series is a "premium" progressive lens that minimises deformation that causes swim. Any point on a progressive has power and prism, by using both the curve (shape) and the power distribution of the lens straight lines are kept straight and this 'truer' perception dramatically reduces swim. A progressive wearer also wants to have seamless vision, this can't happen without great binocular vision. Starting with the end in mind, Essilor researchers use the concept of the cyclopean eye to create the S Series design needed for the binocular image before splitting it into right and left designs.
Vision and our reflexes are linked, Essilor research has shown that blurring the patient's dominant eye slowed their reaction time by a factor of four. In S Series, referencing the dominant eye to have even lower aberrations in that lens aims to maintain our safety with fast reaction times.
Varilux Physio NE (New Editions) advances on the technology behind Varilux Physio. Wavefront analysis uses beams the size of the pupil, while keeping in mind that pupil size varies according to age, distance, light conditions and prescription. Taking these factors into account and creating a "pupil map" for each wearer's lenses, Varilux Physio NE works on enhancing contrast sensitivity.
We all know that our contrast acuity drops off more rapidly after 40 years of age. A study by Manhatten Vision Associates showed how Varilux Physio increased contrast sensitivity by as much as 27 per cent. The pupil mapping used for Physio New Edition means it has contrast performance at night time that was equal to the daytime performance of the original Physio.
Contact: Essilor Account Manager
Hastings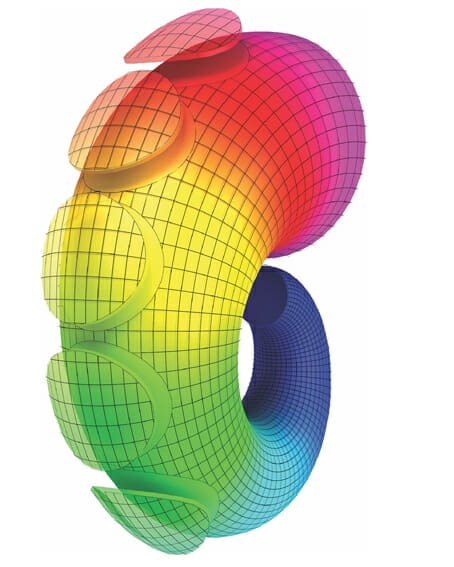 The Infinity HD progressive addition lens, exclusively designed with Camber lens blanks, is Hastings Optical's latest innovation in dual sided digital progressive lenses.
Infinity HD uses a new calculation method to reduce mean power error in the periphery, leading to a significant reduction in lateral aberrations. The result is a reduction of both swim and peripheral power error.
Infinity HD keeps all the benefits of past Camber PAL designs while also providing truly superior peripheral vision. It is the ideal lens for active wearers who want a comfortable PAL that offers high definition vision even in dynamic conditions.
Contact: Hastings Account Manager
Hoya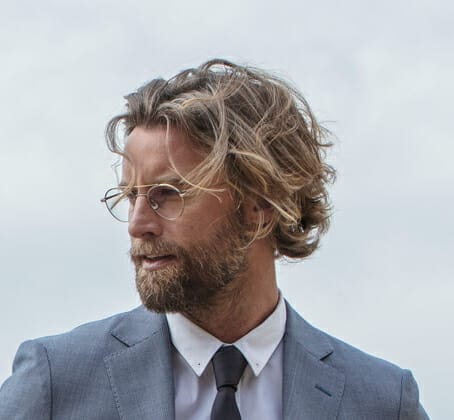 Hoyalux iD MyStyle V+ & EnRoute Driving Lenses
Hoyalux iD MyStyle V+ is a fully personalised progressive lens design that considers the right and left prescription as individual components when calculating the required binocular lens design. It offers each wearer crystal clear vision in a split second, putting everything in instant focus.
The TrueView-i measuring device and Hoya iDentifier software records the patient's lifestyle, wearing parameters, prescription and wearing history. These variables are calculated to provide an optimal design and lens profile tailored to the individual needs of the wearer.
EnRoute lenses are specifically designed for motorists to minimise the stress on the visual system and provide a more relaxed driving experience. These lenses significantly reduce reaction times and the discomfort of glare from traffic. They improve contrast and brightness in low-light conditions, fog and rain; and enable fast, smooth switching of focus between different distances, enabling drivers to enjoy the advantage of clear vision in the far distance, of the dashboard and mirrors.
For professional drivers, EnRoute Pro lenses feature a contrast enhancing filter.
Contact: Hoya Account Manager
Opticare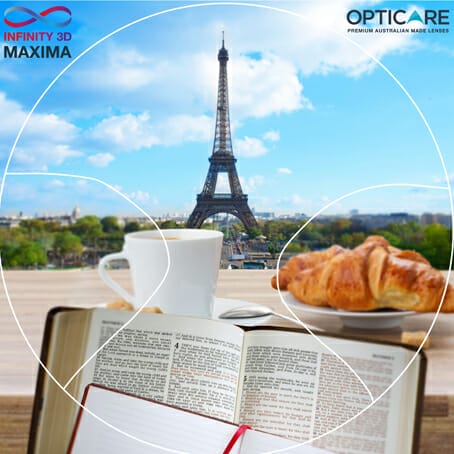 The Infinity 3D Maxima is Opticare's flagship lens design from within its Infinity 3D Lifestyle Series. This lens, which maximised intermediate and near vision without compromising distance activities, is suitable for indoor activities.
Manufactured in Opticare's Sydney Lab using sophisticated German freeform technology, Maxima lenses can be designed to meet millions of unique combinations, as well as factoring in specific eye and frame measurements to an accuracy of 0.03D (in WaveFront option). All lenses in the Infinity 3D Lifestyle Series can be ordered in 0.125D increments.
According to Opticare, the Maxima has the least distortion of any other lens design today. "Based on a plano lens with a 2.00ADD, the maximum unwanted Cyl is 1.6D and this is located away from the line of vision, creating extreme comfort with minimal distortion and swaying of vision as one looks through the sides of the lens. All other fitting parameters (incl. pantoscopic tilt, vertex distance and frame wrap) are integrated as needed into the design. For maximum benefit, we recommend to fit on monocular visual axis (fovea reflex, not pupil centre)."
Contact: Opticare (AUS) 1800 251 852
Rodenstock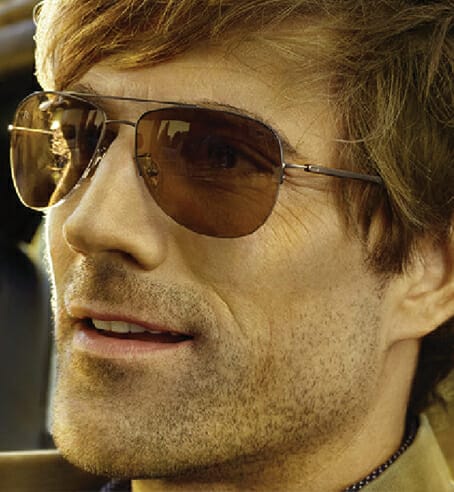 Rodenstock Road driving sunglasses are tailored to motorists' needs with multiple advantages to help your patients feel safer on the road, especially in high risk conditions when vision is impaired by, for example, bright sunlight in the summer or low sun in the winter.
Rodenstock Road driving lenses are also available for everyday use. The design of the lens enables patients to drive comfortably even at night, in glaring lights, high traffic or bad weather. The progressive lens Impression Road 2 is the first driving lens to receive the TÜV certificate for adjustment period, field of vision, glare, contrasts, colour perception and cleaning.
Contact: Rodenstock Account Manager
Shamir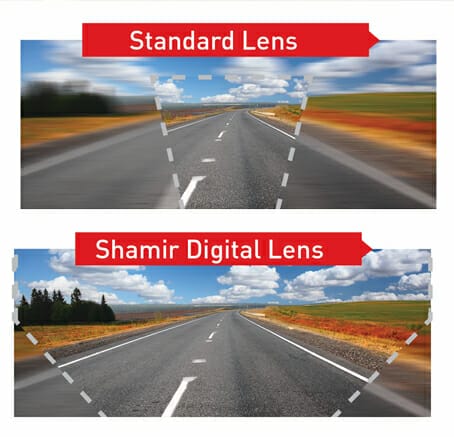 Autograph III is the first progressive lens to challenge and succeed in improving the overall viewing experience for presbyopic patients by adopting a holistic prescription design concept. By reverse engineering the lenses, Shamir can define the optimal corridor width to support clear viewing over a range of objects and viewing distances, regardless of lens power or frame choice.
The Autograph III can be tailored for any prescription and according to Shamir, is the first digital progressive lens that individually addresses the visual issues of hyperopic and myopic presbyopes. With a new ergonomic design concept, it minimises discomfort when viewing objects in the near and intermediate zones and reduces unwanted raising and lowering of the head whilst viewing intermediate objects. By using the latest research and development, and incorporating Shamir's 'as worn' technology, Autograph III delivers four times greater design stability to frame tilt variations, meaning it suits any chosen frame, without need for any adjustments. Finally, new IntelliCorridor Technology uses a unique power profile to provide clearer vision in the intermediate focus. According to Shamir, this is "a major improvement in intermediate vision for all presbyopes".
Contact: Shamir Account Manager
Zeiss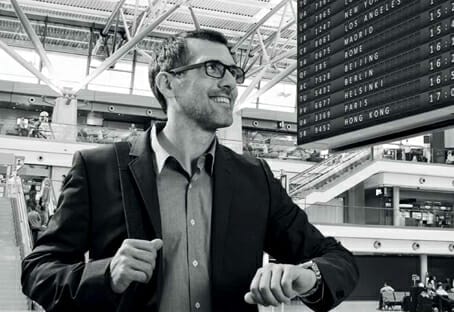 The Zeiss Precision Progressive portfolio provides a range of lens designs to suit different trends and wearer requirements.
Zeiss Progressive Precision Superb Lenses are designed to suit the individual wearer's facial physiology, taking into account personal position of wear parameters. Lenses are optimised for the eyes, frame and face, allowing wearers to experience optimum visual comfort. These lenses provide a clear distance zone and comfortable near vision and reduced peripheral distortions, resulting in the best natural vision in any situation.
Zeiss Progressive Individual Lenses suit wearers requiring a more tailor-made solution for their visual needs. In addition to the benefits of Zeiss Progressive Precision Superb, these lenses are available in a range of lens designs optimised to suit the wearer's main daily activities as well as the individual frame wrap angle.
The benefits of Zeiss Progressive Lenses can be further enhanced with the addition of Zeiss DuraVision Platinum anti-reflective coating for improved clarity and durability or Zeiss DuraVision BlueProtect to reduce the transmission of blue light into the eye. Zeiss Precision Progressive Lenses offer a range of outdoor lens solutions, with tinted, polarised and photofusion options widely available.
Contact: Zeiss Account Manager
VSP Australia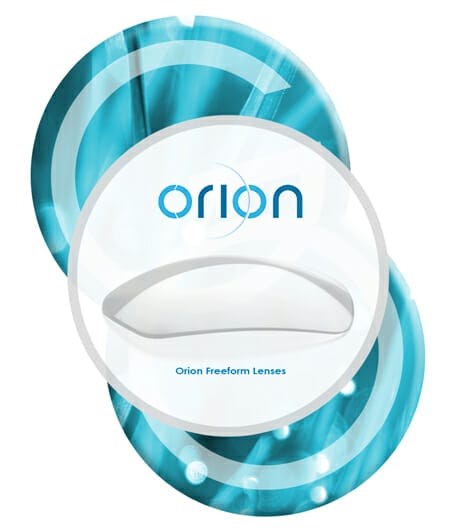 The Orion freeform progressive lens series uses Digital Ray Path technology to determine unique lens calculations for each wearer, taking into consideration viewing angles through the entire lens, and ensuring reduced distortion and improved lens performance for any gaze direction.
The Orion Diamond lens offers further design enhancements calculated with individual parameters singular to each wearer. Individually tailored to match each wearer's personal visual needs, variables such as back vertex distance, pantoscopic tilt and frame wrap allow the Orion Diamond lens to provide the best visual quality in far, intermediate and near fields translating to natural and accurate vision.
Contact: VSP Australia Account Manager