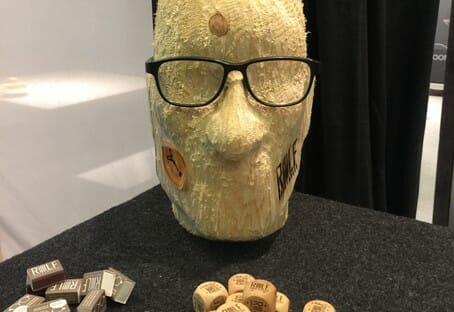 The winner of this year's Silmo d'Or Award for innovation was Rolf with a wooden frame 'Deville', which features a shock absorbing multi-directional hinge enabling the temples to be twisted in all directions. Made from a rubber ring, the hinge is durable and comes in three different sizes, which enables the temple tension to be changed, according to preference and use.
Fleye Eyewear, Copenhagen received the Premier Class Award for Fox, an acetate sunglass. Annette Esto said she was particularly pleased to have received the Premier Class Award, which endorsed the fashion strength of her brand.
"The award brings sales and a lot of attention. It also gives us access to the Premier Class Fashion Show in Paris and that is very important for us – as well as being in the optics industry, we want to lift our sunglass profile in the fashion industry. It's easy to make something that looks fashionable and lovely, but we are happy to have achieved the combination of a fashionable frame that is light and comfortable to wear," she said.
Blackfin won the Jury Special Prize with Arc, a futuristic titanium frame which is an evolution of a special edition frame presented at Silmo 2016. That frame style has been sold as a limited-edition box set with the frame offered in three colourways. Blackfin is yet to determine how Arc will be marketed.
The 2017 Silmo d'Or winners were:
Lenses: Essilor Varilux X Series
Contact Lenses: Novacel with Binova Iflex
Material / Equipment: Nidek with TS 310
Low Vision: AB Vision with SeeBOOST
Children: ADCL APlus with Piwatoo 261
Trend; Optic Frame: Marchon with Chloe Palma CE 2134
Design; Optic Frame: LIO with IVM 1048
Trend; Sunglasses: Grossfilley with Aari Bostroem
Design; Sunglasses: Veronika Wildgruber with Arthur
Sport: SK-X Optical with SK-X Optical Solutions
Innovation: Rolf with Deville
Premier Class Prize: Fleye Copenhagen with Fox
Jury Special Prize: Blackfin with Arc