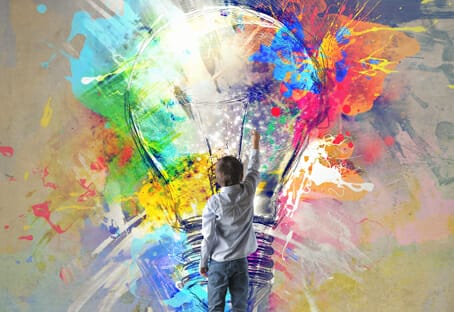 Disruptors are all around us – they're the businesses shaking things up, re-engaging customers who've grown disillusioned with traditional systems… they're the ones more likely to succeed into the future… are you ready to disrupt?
For many years, independent optometry practices have offered a unique service to their patients and communities with continuity of care, one on one patient engagement and a high level of support. Yet despite this, they've struggled to find new patients and failed to re-engage existing ones. In fact, typically, practices only re-engage around 20 per cent of all patients for a return visit… If you break that down, eight in 10 patients who come in for an appointment don't come back.
In a world where corporates, with big budgets, have had the power to run mass-communication campaigns to win patients over, small companies have struggled to get a voice. Now, the rise of the digital world is levelling the playing field and making it easier to connect with patients.
Online and Patient Centric
Frustrating as it is, today, every man, woman and child is glued to their digital devices at different stages of the day.
As a business, to get the greatest return from investing in online technology, everything you do in your practice, and in association with it, needs to be patient centric
When we want to hear from our friends, we look at social media or send them an sms/email; When we need to travel somewhere, Uber, GoGet, Taxify, etc., are there in a flash; dinner suggestions and bookings are suggested by our smartphones; news is quickly and easily digested through social media and apps; and airlines are almost impossible to book any way other than online.
As a business, to get the greatest return from investing in online technology, everything you do in your practice, and in association with it, needs to be patient centric.
That means putting your patients' experience first and foremost, from before their first booking, to their consultation and beyond.
Are you making it easy for them to find your practice when they're looking for you?;
Is it easy to book an appointment when they are in their 'need state'?;
Do they feel appreciated and cared for by all the staff in your practice when they come in for their appointment?;
Do they feel like you want to hear (and act on) any feedback they have provided?; and
How easy is it for them to rebook an appointment for themselves and/or family members?
Patient centric practices will always find they have happier, more satisfied patients, who are more likely to return to your practice and refer your practice to their friends and family. Those who are more sticky (likely to return and show loyalty to your practice) are those who have been referred to your practice by family or friends, compared with those who find you via advertising or a google search.
Time to Disrupt
Disruption is often perceived to be 'scary'– after all, tech businesses like Uber have devastated the taxi industry, AirBnB has hoteliers around the world running to keep up, Amazon is closing entire shopping districts in the US, and NetFlix is changing the way people consume TV.
However, when you consider these examples, all incumbents were running outdated business models and weren't engaging their customers as well as they could, because they held a monopoly on the industry. This made it easy for the disrupters to introduce a new way of providing the service and engage with a ready market.
How Can You Get Disruptive?
At Optometry Victoria's Southern Regional Congress in 2017, best-selling author Michael McQueen presented to delegates about how to make their practice 'indisruptable'. The key is to get in and be the first to disrupt.
When we look at optometry, it's easy to see how smart practices can disrupt an outdated business model to make patient experiences as easy, positive and seamless as possible while still providing the highest level of care.
One way is to go digital with online patient appointments and digital recall notices – after all, gone are the days when patients used fridge magnets or post-it notes to remember contact details. Today, almost half of all searches in Australia are conducted on mobile devices with the vast majority using voice tools like Siri, Alexa or a simple Google search.
How easy is it to find your practice through a search – and when it's found, how easy is it to read and interpret the information then get in touch?
There's a wealth of resources available to make your practice easily searchable, from claiming your 'Google My Business' page, to creating a social media presence and listing on digital platforms like MyHealth1st, as well of course, as keeping your website current and up to date with modern technologies (such as mobile responsiveness).
Implement Online Booking
It stands to reason that many people become aware of problems outside standard work hours – like when they're squinting to watch the news on TV or read a menu in a restaurant.
Traditionally, they've had to remember to call your practice the next day when you're next open – and that's only if they've remembered to do so.
What if you were to make your patients' lives easier by enabling them to book an appointment right there when they notice the problem – in front of the TV, or in the restaurant.
Anecdotal evidence demonstrates that this is exactly how consumers prefer to book medical appointments, and that even when they book appointments during working hours, they prefer to do so online. In fact, 55 per cent of the six million appointments facilitated by the MyHealth1st platform in its first 18 months were booked during practice hours.
This may be surprising however, when you think about it, it's understandable. Online bookings are more relaxing – there's no pressure from a multi-tasking front-desk staff member eager to get off the phone – so they can carefully consider their availability and book a time accordingly. The anecdotes are backed up by evidence, which shows that less than 1 per cent of all appointments booked through the MyHealth1st platform result in no-shows.
Implement Digital Recalls
Traditional recall methods – through the post – are costly, time consuming and in-effective. Even when the letter is opened, chances are it's tossed aside to be dealt with another time.
What if you were to make recalls as easy as a click of the button – if you were to send a reminder via text (at a fraction of the cost) that enables your patient to click straight through and book online immediately.
Already this system is being used by many health providers and, according to data collected by MyHealth1st, it's seeing great results.
Gather Real-time Feedback
Traditionally, once a patient has left your practice, you're unlikely to see them before the next appointment, unless they're coming in to collect their specs or contact lenses. By this time, their experience is a distant memory and they're unable to provide any meaningful feedback.
But what if you could disrupt your own practice by collecting feedback in real time, that can be analysed and used to enhance your services…
An Easy Feedback solution launched by MyHealth1st, enables optometrists to send a survey message to every patient after their appointment (whether they booked online, over the phone, or walked-in). A customised set of questions gathers information relating to the practice goals and concerns and there is an opportunity to promote special offers with patients incentivised to refer their practice to family and friends. Optometrists reported an impressive 28 per cent response rate, indicating that patients are only too happy to engage with their optometry practice and comment on their experiences.
Embracing Opportunities
Digital technology presents a wealth of opportunities for independent optometry practices across Australia and New Zealand to enhance patient experiences and drive loyalty. In doing so, practices can insure their business against disruption, compete with major corporates and achieve greater success.
Klaus Bartosch is the founder and managing director of 1st Group Limited, developer of myhealth1st. He has extensive experience in marketing cloud based services to enterprise customers.