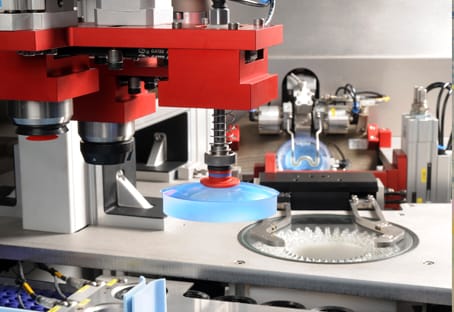 Australian lens laboratories may be few and far between, yet they're successfully competing with the major global lens manufacturers by offering excellent technology, personal service, and a quick turn-around.
Australia has an impressive history in lens design, in fact we were once home to the world's largest lens manufacturer of plastic spectacle lenses; SOLA.
Founded in the 1960s in Adelaide, SOLA helped change the face of spectacle prescribing by introducing plastic lenses which quickly overtook sales of glass.
Today, plastic spectacle lenses continue to account for the majority of lenses prescribed, with only an occasional hi-index glass lens manufactured. SOLA is now part of the respected Zeiss stable, a world leader in spectacle lens production.
Today, plastic spectacle lenses continue to account for the majority of lenses prescribed…
Spectacle lens design and manufacture has become extremely precise and high tech. The complex manufacturing systems are typically almost hands-free, automated, robotic systems and are of course very expensive. This makes it a challenge for smaller countries like Australia and New Zealand to justify local expenditure on plant and machinery, for relatively small volumes. In addition the 'Big Four' multinational spectacle lens manufacturers have opened plants in countries with cheap labour, which further challenges the economic viability of local lens manufacture.
We are however, fortunate to have a few brave souls with vision, tenacity and the belief that with the correct business model, long-term success is possible.
CR Surfacing: Investing in Success
Over the last two years CR Surfacing, which employs 50 Australians, has invested in excess of AU$7 million in capital to ensure it is equipped to compete with global lens labs. The investment has included 1,000m2 of controlled environment laboratory premises in Dandenong South, Victoria, with an additional 1,000m2 for warehousing.
"Our new lab provides the ideal conditions to produce high quality lenses," explained Sasha Sergejew, National Sales Manager of CR Surfacing Laboratories. "We have now Installed our second Satisloh 1200 anti-reflective coating machine and MEI Bisphera-XDD blockless edging system, along with a Satisloh SP-200 mirror coating machine and Teco X-Cube progressive marking machine… and we are the third laboratory globally to install the world's most advanced surfacing system; the Schneider Modulo Line."
In December 2017, CR Surfacing launched its new Perfection Lens Series; the company became a preferred supplier to ProVision – Australia's largest Independent group – as well as New Zealand's largest independent group, EyePro.
Nimble to Meet Market: Hastings Optical Supplies
Hastings Optical Supplies, in Port Macquarie New South Wales, started over 25 years ago as a small lab supplying local optometrists and grew to meet the needs of changing practice structures.
"Our mission is to give the dispensing choices back to the practitioner, by allowing more flexibility to meet patients' individual lifestyle and visual demands. As a practising optometrist, I know what independents are going through, the challenges they're up against and what they need to succeed," said Max Webb, Managing Director at Hastings Optical Supplies.
As a boutique lab, Mr. Webb says Hastings Optical has close relationships with each client, which means special requests can be implemented with ease and speed. "We can stop production and put one job through to meet an urgent or unusual request without upsetting half a day's work, whereas the big labs are often more regimented managing their production loads. For quality, we have technicians undertaking inspections at every step of the production process, which means any rejects are picked up early. This also differentiates us from the robotics used in the big labs."
Mr. Webb said investing in technology has been integral to success. "Hastings Optical was an early adaptor to FreeForm production, introducing it as our main production line in 2007. Since then it has been continually supported with research and development by Indizen Optical Technologies, an independent leader in the development of freeform designs," said Mr. Webb.
"As a result of this relationship, today we can offer our customers the most advanced technology in the market and incorporate new updates and product quickly, thus adapting to the quality demands of our clients."
Hastings Optical recently introduced the newest dual sided optimised progressive lens design, Infinity HD, into Australia. Exclusive to Hastings Optical, Mr. Webb said, "this multifocal has proven to be one of the most innovative progressives worldwide. The feedback has been nothing short of amazing and it is competing internationally with the well-known progressives."
Bundling for Price: Bonastar
Bonastar, based in the inner city Sydney suburb of Surry Hills, distributes its products – stock lenses as well as tailor-made single vision, bifocal and advanced free-form progressives – to over 700 optical retailers in Australia.
The company also distributes its own frames, which means practices can look upon them as a 'one-stop' source for competitively priced eyewear, which can be accessed online 24/7.
"Our 'Style', 'Value' and 'Isave' package deals, are perfect for small optometry practices to beat the competition and increase revenue… we'll do as much as possible to support them with value for money products, extensive warranties, fast turnaround and free in-store promotional materials," said Emily Xu, General Manager at Bonastar.
Supporting the Market: Opticare
Opticare, based in Sydney, is another local lab that sells itself on its fast turn-around and personal service aimed at making the independent optometrists' jobs just that bit easier.
"These days, with freeform technology, processes and equipment used, whether it's an Australian or internationally owned lab, are very similar, however what we have is locally based technical experts who can advise optometrists and help them make quick decisions about what needs to be done."
"Speed of service and our ability to take on the most tricky jobs are our point of difference," said Michael Nasser, General Manager at Opticare. "We can turn jobs around in two to three days and sometimes 24 hours because we manufacture in Australia.
This year at Silmo Sydney, Opticare will re-launch Ocelot, its practice management system and marketing program that's designed specifically to help independent optometrists monitor every aspect of their operations, increase efficiency, improve communication, increase sales and reduce costs.
"Ocelot handles appointments and recalls, stores patient data and enables optometrists to place lens orders. We've invested in upgrading the system because we know how valuable it is to independent optometrists and we know they prefer to use it over other practice management systems because it has been designed by an independent supplier," said Mr. Nasser.
"In Australia, we have fewer and fewer independent lens labs, simply because of market forces – yet independence is good – it provides variety. Being successful comes down to the service we provide, our quality and the cost of the goods we sell… At Opticare, our ambition isn't to take over the world of optics, it's to live the Aussie dream – to run our own show and help businesses around us do the same… and we're about supporting independents to ensure there is diversity in the market."
Niche Offerings: RX Safety
Finding a niche is often the best way for small companies to compete with large globals. RX Safety specialises in manufacturing technically difficult lenses in high power, prism and cyl powers. The company, which is based in Adelaide, was started by Trent McInerney in 1994, who was formerly a technical manager with Sola Optical.
Mr.McInerney said no job is too small for his business, which employs nine people. "Our biggest turnover is certified prescription safety eyewear, licenced by SAI Global since 2005, which we grind and fit in house in trivex and polycarbonate in a wide variety of treatments including Clear, Transitions, polarised and tinted. Our frame range is extensive and our certified script range is the widest available, we offer compliant safety eyewear for wearers whose scripts are outside the certified ranges."
Despite this being a major part of the business, Mr.McInerney said to survive, RX Safety has developed niche products, including prescription dive masks and leaded glass lenses in bifocals and progressives for X-ray protection; as well as speciality lenses for other uses such as surgical instruments.
"We make a very extensive range of speciality lenses; our range is high minus to -28D, with cylinder powers to -15D and prism to 20D. While we are able to make even more extreme powers, the practicality of this is worked out on a case by case basis – our record is -32 dioptres! We have also modified existing equipment to manufacture biconvex lenses with an index script range of 1.5, 1.6, 1.67, 1.74 and glass up to 1.8, enabling us to expand our plus range"
New Zealand
Most of the above Australian labs are well represented in New Zealand and optometrists simply source their lenses from these suppliers then fit them themselves or rely on local production/fitting services. Independent Lens Specialists is one of the few remaining local independent manufacturers around.
It seems that overall, Australian spectacle lens manufacture and supply is in a pretty healthy state.