We have all heard it before: "your window is the soul to your business". Arguably a cliché but, whether you believe this or not, with my experience nine times out of 10 it's true, particularly if you have a retail shopfront with foot traffic passing by.
Changing your window with new eye catching displays every four weeks can have a positive effect on your in store customer traffic and ultimately your sales.
Regular changes create a hype within your practice's community, showing that you care about all facets of your business.
I believe a retail store should be treated like a production and a good dramatic production has a beginning, a middle, and an end.
Regular changes create a hype within your practice's community, showing that you care about all facets of your business
The beginning is the image you convey and how you present your business to the community. This is dependent on the quality of your window display, shop floor and the approach of your staff.
The middle is the patients' experience – how they are treated and how they feel while in store.
The end is the close of sale – the information your patient takes from their interaction with you and how they use it in the real world.
Word of mouth is the ultimate compliment and reward for your business. For me, first impressions count! In order to get a potential patient to stop and walk in, there needs to be something that grabs their attention.
Sounds easy, right?
Be warned that there are window dressings and then there are window designs. Throwing up some fabric, adding a few bows and creating mess is not going to be attractive – let alone attract. There needs to be a theme. Keep it simple: "less is more". The more you display in your window, the less the people outside will see.
MY TOP TEN TIPS
• When using a brand's image/poster look for a theme within the image (e.g. red roses or the ocean)
• Choose your colours carefully, making sure you use complimentary colours
• Do not overcrowd the space, the more you embellish, the less people will see
• Create depth to the design, through background and foreground
• Use movement, whether it's mechanical or not
• Use lights, for example pendant lights or LED strip lights
• Choose an occasion or theme to celebrate and promote. For example, holiday festivities, Valentine's Day or a local community event
• Create a window that people are going to talk about, be controversial if you dare!
• Be creative with recycled materials. I often find pieces on the side of the road that I just have to create something out of (e.g. an old chandelier/pendant)
• Display your products in a creative way (e.g. frames popping out of an egg).
Create works of art that entice people to stop, have a look, and take a photo. The interest generated by your display will ultimately promote your practice.
If you don't have a shop front, create something note-worthy within your practice that will give your customers something to remember and comment on – it's all about starting a conversation.
HOW MUCH DOES A WINDOW COST ?
This really depends on what you are after. A window with a brand poster and a dressed theme will cost approximately AU$250 plus expenses, whereas a bespoke work of art could cost in excess of $1,000.
It is a matter of working with the window designer and within your budget.
Not all of us are artistically inclined but more often than not we have a very eager staff member dying to get their hands on that front window. Give them a go or put it in your budget to employ someone to do it!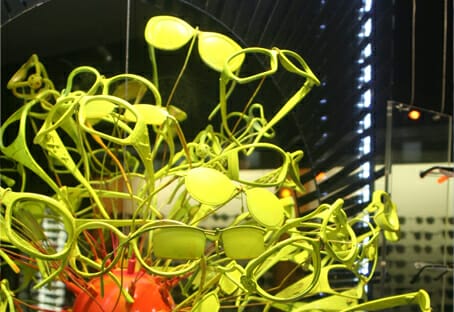 Dale Hutson is a performance artist and commercial artist. He brings his extensive background in professional dance to his art installation work and is hands on in the production process from choreography to set design and construction.
In 2012 Healy Optical commissioned Mr. Hutson to transform the Woolloomooloo Wharf at the Water Bar into a brightly coloured light filled forest of trees. He recently completed a Diploma of Commercial Art and Design, and in the process, received awards for encouragement by the Design Institute of Australia and for team work by CATC.
Feature image: Blue Eyes – this was created using old bits of wire and a resin base that is lit from behind.