Hyperopia is a complex condition that can impact the vision of your young and old patients. Quality information and careful management can significantly improve quality of life.
Hyperopia is not currently receiving the level of attention that myopia attracts. However, it is an important facet of clinical practise that needs to be focussed on.
When consulting patients, the first step is to properly explain hyperopia.
Simply telling a patient that it means 'farsighted' will raise more questions and does not explain the implications or mechanisms at work. A newly diagnosed, older hyperopic patient may say they can't be farsighted, as they cannot see near or far. Younger patients may have rather good visual acuity but their visual system may be under significant stress. Accommodative-convergence issues, resultant asthenopia, esotropia, learning problems, reduced depth perception and amblyopia may be some of the issues.
High-index, aspheric plastic lenses in the right frame can lead to exceptionally good cosmetic and functional outcomes
All too often patients are left with a limited understanding of this condition. Google 'hyperopia' and you'll see what a poor job most explanations and videos do; so it's usually not good enough to simply give a patient a brochure or link and think the job is done.
The use of simple diagrams, animated computer or tablet based explanations or videos may help. The trick is finding resources that satisfy you.
In essence, we need to show that the eyeball is effectively 'too short' or the optics 'too weak', which leads to the focus falling behind the retina. We then need to show how accommodation can 'pull' the focus back onto the retina and explain how ageing reduces accommodation. This is also a good time to explain presbyopia.
It's a vicious circle of life.
VARIOUS FORMS
Hyperopia has various forms, from 'normal' levels or low degrees of hyperopia (that some see as a buffer against later myopia development, or an indicator of likely future myopia), to significant levels that can lead to accommodative esotropia. Significantly, anisometropia and esotropia can both lead to amblyopia and reduced or absent stereopsis, limiting employment opportunities and affecting everyday function and performance.
Uncorrected, undiagnosed or cases of latent hyperopia may be at the heart of learning or behavioural issues. It can be linked to attention deficit and hyperactivity disorder (ADHD), leading to unnecessary medical costs, prescription drugs such as Ritalin etc.
In some cases, prescribing low powered spectacles, in the order of +0.50D to +1.00D, can 'unlock' the visual system and dramatically improve the function of struggling children.
It's a complex condition and needs careful management.
A good practice builder may be to run school screening clinics in your local area. Many practices have cyclical quiet times. Running an approved screening programme can provide important detection of potentially significant problems, grow your practice and fill some appointments during these quiet times.
Another one of those mutually beneficial scenarios we love.
Without going into great detail, screening that includes retinoscopy (or an autorefractor), cover testing, visual acuity, fogging lenses and stereopsis will detect most hyperopes and many other visual conditions.
PRESCRIBING FOR HYPEROPIA
Back in the 'old days', prescribing for significant degrees of hyperopia was a challenge. Thick, low index glass lenses were heavy and potentially dangerous should they suffer an impact. These spectacles were also unsightly and caused discomfort and indents on the nose. They would often fly off the faces of active children and be damaged. In some cases they would simply not be worn.
Today, as you will see in the accompanying product section, we can obtain amazing cosmetic and functional results. High-index, aspheric plastic lenses in the right frame can lead to exceptionally good cosmetic and functional outcomes. For higher degrees of hyperopia, a modern 1.74 index lens can look superb. Multicoating provides further cosmetic improvements, reducing annoying reflections and improving function. We can also provide very high levels of impact resistance and improved safety.
For infants, special frames with wide nose bridges and head bands may help the spectacles stay put. In other cases curl-side or wrapped, library-style temples may do the trick.
Getting children into frames that feature their favourite sporting or fashion logo, or provide the 'Harry Potter' look, can also help get them onside.
With adults – who may be first time, undiagnosed hyperopes suffering the ravages of advancing age and reduced accommodation – we need to deal with different issues. These patients are often rather unhappy as they get a double whammy of middle-age issues and are 'suddenly' not able to see near or far. They may frustratedly exclaim, "But I've always been able to see 20/20". This is when chair side manner and the art of diplomacy are most important. You may also need to explain that spectacle wear may be a legal requirement for driving.
For early cases, single vision spectacles may suffice for near vision related problems and mild asthenopia, but as time goes by, it's worth upgrading patients into occupational lenses that cover a greater range of near and intermediate tasks. Eventually, progressive lenses will usually be indicated, allowing clear vision at all distances.
There are many aspects to hyperopia. We could fill this entire edition of mivision on the subject. Fortunately, we can cater very well to our hyperopic patients of all ages. We can certainly make a difference in their lives and function. For some, our diagnosis and intervention can be life changing.
It's so rewarding to be able to make a difference.
Lenses To Manage Hyperopia
Bonastar
Bonastar's 1.74 Asahi-Lite hyper index lens now comes with blue light cutting technology, to protect from harmful light. It filters out UVA and UVB, as well as highenergy visible light (HEV light) of 400nm- 420nm, which according to recent research, may help protect the eyes against cataracts and age-related macular degeneration. Additionally, according to Bonastar, it's the lightest and thinnest blue light blocking lens, which can enhance patients' wearing experience and appearance.
Contact: Bonastar (AUS) 02 9310 1688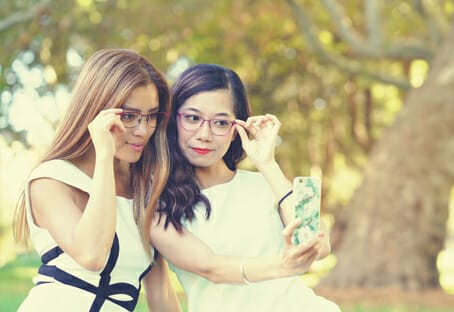 HOYA
With a refractive index of 1.60, Hoya's Eyas lens is especially suitable for wearers with a moderate to high prescription. This lens is heat resistant up to 110 degrees celcius for easy processing, including tinting and coating, and meets Hoya's demanding standards for drilled or groove-mounted frames. Hoya's thinnest lens material yet, the high index Eyvia 1.74, is particularly suitable for patients with a high plus or minus prescription as it the magnification effect caused by thicker lenses. Eyvia is available in the iD range of progressive lenses and the Nulux single vision stock lens. All materials are available with Hoya's premium Diamond Finish Coatings.
Contact: Hoya Account Manager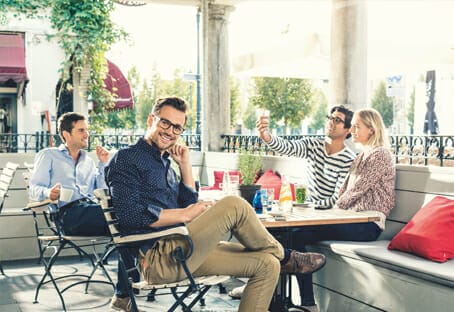 Rodenstock Mono
Optimisation of Rodenstock's single vision Mono lens is carried out at every single vision point. This produces a multi-aspheric surface design that ensures optimum vision up to the lens rim. The individually power optimised design corrects the cylinder axis according to Listings Law to compensate for eye rotation towards the periphery of the lens. As a multi aspheric design available in indexes up to 1.74, the Mono offers a thin, high quality visual correction for your patients.
Contact: Rodenstock Account Manager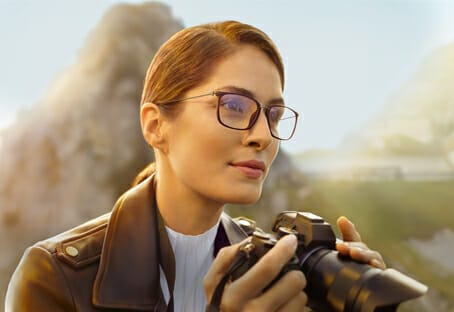 Shamir
Shamir Smart single vision III lenses are personalised to the individual prescription and the chosen frame. Freeform production and advanced optics technologies; Eye Point Technology III and As-worn Quadro, ensure clarity at any viewing point, from the centre of the lens to the extreme periphery. Shamir SV III is available in a wide range of materials and indexes to ensure minimum thickness and no limitations for the hyperopic patient.
Contact: Shamir Account Manager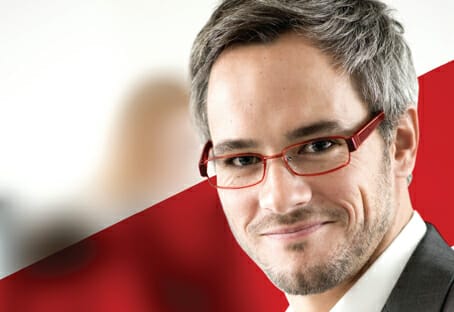 Zeiss
The flatter configuration of Zeiss single vision Superb lenses results in enhanced cosmetics and reduced eye magnification. The back surface atoric design optimises powers in both the spherical and cylindrical meridians, for best optics throughout the lens surface. Available in a wide range lens materials, from 1.5 to 1.74 index and in a wide range of tints, three different polarised colours and PhotoFusion. Lenses can be further enhanced with a Zeiss Duravision antireflective coating.
Contact: Zeiss Account Manager