From 20–22 July, Silmo Sydney will inspire you with the latest fashions and equipment, and a full scale, interactive practice of the future.
Wondering what the future holds for optometry? Silmo Sydney will take you there in more ways than one.
Many of the exhibitors at this year's event are new companies, or companies that have not presented their products at a trade show in a decade. Additionally, you can expect to discover a number of high profile European brands at the show.
Among a long list of international brands on display, you can expect to find Fleye, Eschenbach, Titanflex, and Turning. Local eyewear brands include AM Eyewear and Veiga.
You'll be able to explore a unique, full scale, interactive practice of the future
This year Silmo Sydney's organising company, Expertise Events, has partnered with Optometry Australia to create an event that's bound to get you thinking about emerging trends in practice management and employment.
You'll be able to explore a unique, full scale, interactive practice of the future, complete with demonstrations of state of the art technology, new methods, and industry changes that affect your practice from the front of house to the back. You'll also be invited to participate in workshops, hosted by Optometry Australia, which aim to gather feedback for the development of its Optometry 2040 white paper on the future outlook of the industry.
Don't forget to drop into the Independent Retailers Conference, where specialists will present information and advice on a range of activities pivotal to the growth and long term success of your practice.
Clinical presentations, as well as talks aimed at optometric staff on how to better use social media, manage your HR needs, market your practice, and more will also be on offer. Silmo Sydney takes place at the International Convention Centre Exhibition Centre, Darling Harbour from 20–22 July, 2018.
Register at www.silmosydney.com
Discover All That's New
Land Rover Eyewear
Land Rover sunglasses offer maximum comfort with superior lenses, developed with 100 per cent UVA, UVB and UVC protection, and 99.99 per cent polarised efficiency. On fashion mirror models, exclusive lens technology uses the very latest advances in saltwater-safe hydrophobic and oleophobic coatings for optimum performance. Land Rover frames are suitable for all forms of polarised prescription lenses.
Contact: Aarons Eyewear (AUS) 07 3367 8447
Turning
Turning is a regular winner at the annual eyewear design award in Japan. Famous for its hand polished acetate, these frames come in a great variety of colour and are very durable. Designs for women are available.
Contact: Bushido Eyewear (AUS) 0410 931 115
Visuel
Minima goes beyond the limits of minimalism, to present a range of light and comfortable frames crafted from titanium, stainless steel or acetate. Also available in Asian fit.
Contact: Jeyes (+33) 6 6189 9369 or email jessy@jeyes.fr

Iyoko Inyak
Designed in Belgium and handcrafted in Japan, Iyoko Inyake is known for its inventive and creative, trend setting designs. Various colours and materials are carefully mixed to form frames to complement the wardrobes of stylish men and women.
Contact: Eye Candy Optics (AUS) 02 8091 1611
Illusion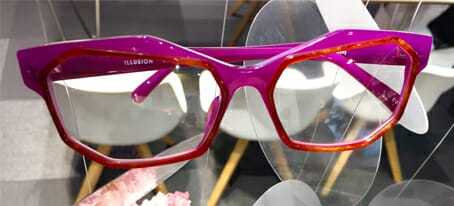 Edgy, contrasting, attention grabbing… Illusion frames merge two forms into one.
Contact: Frost Eyewear www.pm-frost.de/en
Veiga
Veiga eyewear is hand crafted on the south coast of NSW from local and imported, reclaimed and refined materials including plant based acetate, flax fibre, stone, recycled paper and salvaged Australian hardwoods.
Contact: Veiga Eyewear www.veigaeyewear.com
AM Eyewear
AM Eyewear has returned to our shores after a very successful campaign in Europe. The brand's latest 100 per cent Japanese titanium collection is full of detail and, at a wholesale price that leaves room for a healthy margin.
Contact: AM Eyewear (AUS) 02 9357 4550
TitanFlex
Eschenbach is celebrating 30 years of TitanFlex innovation with frames made from the finest TitanFlex material ever produced. Models 820763 and 820764 are ultra-thin, delicate, and lightweight urban styles, yet they maintain the strength of traditional TitanFlex models.
Contact: European Eyewear (AUS) 03 8805 1555
Fleye Copenhagen
Fleye Copenhagen is high-end, award winning Danish design that's driven by curiosity. Puristic yet daring aesthetics blend urban impulses with classic simplicity. Founded in 2002 out of an appreciation for Scandinavian design and culture, today Fleye has a global following.
Contact: House of Brands (AUS) 02 8998 9900
BinOche
Binoche collections are designed in Antwerp, Belgium and manufactured in France and Italy. Established 20 years ago, these unique frames offer endless possibilities in shape, size and colour.
Contact: Binôche www.binoche.be
Kids Eye Gear
Kids Eye Gear helps make patching and wearing glasses fun with colourful orthoptic eye patches, SpecStoppers, ear hooks, and Blinx eyewear charms – collectable soft rubber charms, which slide on and off children's glasses, allowing them to change the colour and style of their glasses as often as they wish.
Contact: Kids Eye Gear (AUS) 0414 566 894
Optica Personalised Branding
Optica has launched new multi colour personalised branding options for cases and lens solutions. All products are supported by a two year warranty and efficient lead times, however minimum order quantities have been reduced.
Contact: Optica Accessories (NZ) 03 982 98 98
NovaTears
NovaTears (Perfluorohexyloctane 100 per cent, 3ml) is a unique preservative-free eye lubricant and tear film stabiliser in a multidose bottle, specifically designed for the relief of evaporative dry eye and meibomian gland dysfunction. NovaTears spreads quickly and easily on the eye with a long lasting effect; and has a pleasant, warm, silky feeling with no blurring or stinging. It contains no preservatives, phosphates, or surfactants, and can be used for six months after opening.
Contact: AFT Pharmaceuticals (AUS) 02 9420 0420
CrystalVue Non-Mydriatic Retinal Camera
The new CrystalVue fully automated NFC- 700 non mydriatic retinal camera captures perfect retinal images, in magnificent high resolution, with a single touch. This camera has an integrated Windows 10 touch screen tablet and an abundance of storage for approximately 100,000 retinal and anterior eye images.
Contact: BOC Instruments (AUS) 1800 804 331
Eschenbach
Australia's ageing population means the need for quality magnifiers will increase in coming years. Eschenbach has eye-catching magnifier displays that will create a point of interest in any practice and add a new revenue stream. Several tiers of magnifier display packages, including for education, are available.
Contact: European Eyewear (AUS) 03 8805 1555
E-Eye IRPL for Dry Eye
The E-Eye has been developed and certified for treating dry eye. The device emits a light that targets the nerves linked to the meibomian glands, stimulating them so they can return to their normal function. The treatment is gentle, quick, and significant improvement is experienced after just three sessions. E-Eye helps prevent the disease and can be used to treat it from a very early stage.
Contact: France Medical (AUS) 07 3393 9342
Topcon Triton Swept source OCT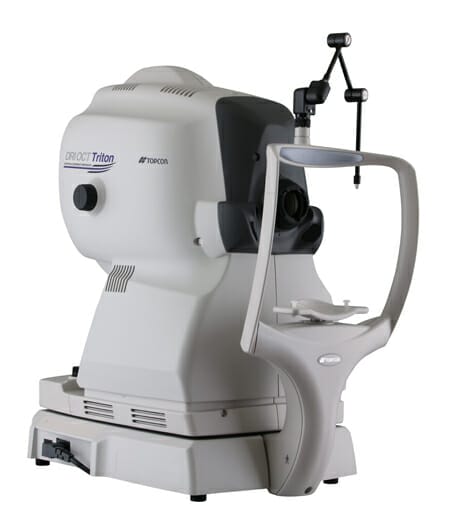 Topcon incorporated findings from Professor Donald Hood (the James F. Bender Professor of Psychology and a Professor of Visual Science, Columbia University) to improve the use of optical coherence tomographic (OCT) imaging for detecting glaucomatous damage into its latest OCT. Topcon's Triton swept-source OCT generates a single 3D wide scan, helping improve a clinician's ability to detect early glaucomatous damage by displaying glaucoma relevant data on one page. Retinal nerve fibre layer (RNFL) thickness is displayed in nasal-superior-temporal-inferior- nasal orientation so that the most vulnerable to nerve damage, the temporal region, is in the centre, thus keeping RNFL bundles together. As well as presenting thickness maps of the RNFL and ganglion cell layer plus layers, the 3D wide scan presents probability maps with visual field test locations overlaid so damage can be confirmed by topographically comparing OCT and visual field probability maps.
Contact: Device Technologies (AUS) 02 9972 8200
MyHealth1st.com.au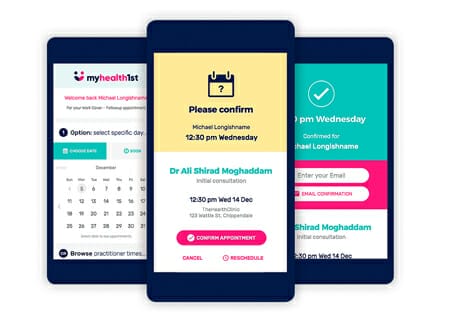 MyHealth1st.com.au is Australia's online health services community platform that simplifies and facilitates interaction between all health services stakeholders. Over 1,200 Australian independent optometry practices use the service to enhance consumer choice and access through a convenient, easy to use, online healthcare search and appointment booking platform. MyHealth1st will present at the Practice of the Future session at Silmo.
Contact: MyHealth1st (AUS) 1300 266 517