Globally, more than 55 million people suffer a potentially vision threatening eye injury every year, with up to 90 per cent of eye injuries preventable. Optometrists and ophthalmologists play an important role in advising patients about eye hazards and appropriate prevention strategies.
Eye injuries are a significant burden not only to the individual, but also to the community and are the leading cause of monocular blindness internationally. Vision loss from ocular trauma can have an immediate and devastating impact on a persons' social, economic and psychological outcomes. Increasingly, eye injuries are associated with sport and at home based activities.1 Manual tasks, such as hammering and drilling as well as the use of typical household products, are commonly implicated with eye injuries at home.2,3 Soccer, football and rugby featured as a significant contributors to eye injury in Australia.4
COMMON EYE HAZARDS
Eye injuries in the workplace come at a high cost, not only for workers, but also employer's, the community and their families. An eye injury can lead to permanent loss of vision as well as lost days at work, reduced productivity and medical and workers' compensation costs. Many occupations are at risk of an eye injury – mining, manufacturing, construction, agriculture, forestry and fishing are just some of the industries where workers most commonly sustain an eye injury at work.
Particles travelling at high speed generated from mechanical equipment, chemical splashes and spills as well as radiation sources are common sources of eye hazards. Chemicals implicated in eye injuries, including sodium hydroxide and sodium hypochlorite, are commonly used in oil refining, hydraulic fracturing, water treatment, metal processing and in cleaning agents such as oven and drain cleaner.
Patients also report increased psychological symptoms following a penetrating ocular injury compared with control subjects
Other activities associated with eye injuries include lawn moving, farm fencing, hammering, chain sawing, tree pruning and grinding.
Home Repairs
Falls, particularly in women over 65, were responsible for 35 per cent of all hospital admissions for eye injury in Australia from 2010 to 2015.4
Open-globe injuries (OGI) have the worst visual outcomes and highest cost of all eye injuries.5 In the five years to December 2015, 205 open globe injuries presented to Sydney Eye Hospital.6 More than half these injuries were accidental OGIs associated with activities outside work. Working with wood and metal, particularly metal wire, was associated with 17 of these injuries. Significant vision loss occurred in 16 of the 18 patients (almost 90 per cent) with final vision of 6/18 or worse in the injured eye. None of these patients wore eye protection.
Consumer Product Related Eye Injuries
A wide range of household objects have been associated with eye injury, ranging from champagne corks and carbonated drink bottles,2 to kitchen utensils, stationery,3 and cleaning chemicals. Children are at risk of injury from household products such as kitchen knives, scissors, pens and pencils and household cleaning products. Education on the hazards associated with these products, particularly for children, will help prevent these injuries.
Fireworks and Other Regulated Items
In Australia, legislation around the sale and distribution of fireworks has helped minimise eye injuries associated with their use. Despite legislation, injuries from homemade fireworks still occasionally occur. The consequences associated with firework injuries and impact of legislation7 should reinforce its role in largely preventing these injuries.
Ultraviolet Protection
Myopia incidence continues to increase at an alarming rate. While the mechanism for the development and progression of myopia is still not fully understood, what is known is that outdoor activity has some effect on slowing the progression. Factors identified as possible mechanisms for myopia progression include dopamine response, pupil size and accommodation. Internationally there are a number of studies currently investigating these effects.
Outdoor activity has been identified as a possible protective factor in the development and progression of myopia. One consequence of these findings is that children are being encouraged to spend more time outdoors. In Singapore and China, where myopia rates are climbing most dramatically, there are public health campaigns promoting outdoor activity. While the benefits of outdoor activity are promoted, it is important that the message is coupled with an appropriate UV protection message. The use of sunglasses and a hat with appropriate UV protection, including from the side, should continue to be promoted. In Australia, a new sunglass standard was published in 2016 with legislation for mandatory compliance with the standard passed in 2017. All sunglasses supplied in Australia must comply with the legislation, which can be found at www.aihw.gov.au8
As we work our way through the winter months in Australia, it is also important to remember the acute risk of UV in snow based activities. In the alps, with increased altitude as well as the highly reflective nature of snow, comes the need for increased UV protection in the form of goggles or sunglasses.
WHO SHOULD WEAR EYE PROTECTION AND WHEN?
Up to 90 per cent of eye injuries are preventable. A common misconception among patients is that regular spectacle lenses provide some level of eye protection. The use of regular spectacles or sunglasses however, can convert an otherwise blunt trauma into a more devastating penetrating eye injury. It is important that patients at higher risk, or those undertaking high risk activities, wear appropriate eye protection that is fitted to ensure coverage and comfort.
HIGH RISK INDIVIDUALS
Prior ocular trauma, previous intraocular surgery, or an ocular condition in one or both eyes, such as Fuchs endothelial dystrophy, keratoconus, high myopia and amblyopia, all represent an increased risk of ocular trauma. In the elderly, falls are commonly associated with injuries around the home. Of a series of OGI cases presenting to Sydney Eye Hospital, 29 resulted from a fall and 86 per cent of these patients had a history of intraocular surgery or trauma.
Males, of almost all age groups, are at highest risk of ocular trauma, with a distinct reversal of this trend for patients over 60. The importance of eye protection should be emphasised to people who have had prior intraocular surgery, ocular injury, or an ocular condition and for those undertaking 'high risk' activities both at work and around the home (Figure 2).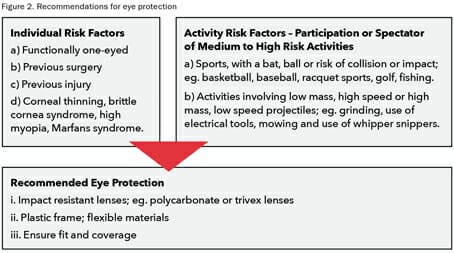 HOW CAN WE BEST PROTECT OUR PATIENTS' EYES?
The use of appropriate eye protection can reduce the incidence and severity of ocular injuries.9 A misconception among patients is that regular spectacle lenses provide some level of eye protection. When undertaking hazardous activities, regular spectacles or sunglasses are known to convert blunt trauma into a more devastating penetrating eye injury when the lens fractures. It is important for appropriate eye protection to replace regular spectacles, particularly for those exposed to eye injury hazards or at increased risk of ocular trauma.10
GOOD VISION PROMOTES GOOD SAFETY
Vision plays a critical role in every part of our lives. Studies have shown that people with uncorrected or reduced vision are more than 60 per cent more likely to have an occupational injury. With the aging workforce, it is important to ensure distance and near visual needs are met with the best prescription eye protection. For patients requiring spectacle correction, many options are available. When eye protection is needed, the best option for vision, fit, comfort and coverage is custom-made prescription eye protection that comply with AS1337.6 Contact lenses can be worn in most circumstances when accompanied by the appropriate eye protection, but should never be considered as a form of eye protection. In some industrial situations, e.g. when dust or harmful liquids or gases are present, there may be additional consequences if eye protection fails when contact lenses are worn.
Following an OGI with vision loss, patients report more difficulty reading, doing their favourite hobby or working in their usual job, with 40 per cent unable to return to their previous job.11 Patients also report increased psychological symptoms following a penetrating ocular injury compared with control subjects.12
IMPROVING OUR KNOWLEDGE AND PREVENTION STRATEGIES FOR OCULAR TRAUMA
The International Globe and Adnexal Epidemiological Study (IGATES) is a large multicentre study currently being undertaken to further refine our understanding of how and when eye injuries occur. The ultimate aim of the study, being undertaken across Asia, Australia, the United States and UK, is to help inform better strategies for prognostication, treatment and prevention of eye injuries. The first phase of the study involves validation of the online tool for data collection using retrospective date. Phase two will require prospective data collection over a 10 year period.
THE ROLE OF PRIMARY HEALTH CARE PROVIDERS IN EYE INJURY PREVENTION
Optometrists, ophthalmologists, orthoptists and dispensers play an important role in preventing eye injuries. Discussing patients' visual needs provides a great opening to understand the hazards they may be exposed to at work, during their leisure time and at home. This will enable you to promote and prescribe the right level of eye protection. Ensure eye protection provides adequate protection, with gaps between the frame and the face minimised. A comfortable and secure fit will help ensure protection and ongoing compliance.
With age and accidental damage, eye protectors can deteriorate. Air born chemicals and commonly used substances, such as sunscreen, can damage the frame and lenses. Regular eye examinations provide a great opportunity to assess the adequateness of eye protection. Individuals should be encouraged to bring all their glasses when attending a regular eye exam so practitioners can inspect eye protection as well as their regular spectacles. It is generally recommended that eye protectors be replaced every two years or if subjected to an impact, unless evaluated as satisfactory for continued use.
The direct economic cost of an eye injury should be viewed as the 'tip of the iceberg', since a patient may be left with life-long social and economic consequences following their injury. The cost and time invested in wearing the correct eye protection outweighs these consequences. Ophthalmologists and optometrists can play a key role in preventing ocular trauma by advising patients about the hazards commonly associated with ocular trauma and the consequences.
Annette Hoskin combines her experience and knowledge in the design and development of eye protection with indepth understanding of the incidence and epidemiology of ocular trauma to help develop effective injury prevention strategies. She is widely published internationally in ocular trauma and the development of eye injury prevention strategies. Ms. Hoskin is currently undertaking her PhD in Ocular Trauma at the University of Sydney, for which she was awarded the NHMRC Dora Lush Biomedical Research Postgraduate Scholarship. She also holds an appointment as a Research Fellow at the Lions Eye Institute, University of Western Australia in Perth. Ms. Hoskin is the Standardisation Manager for Essilor and the Australian representative to International Standardization Organization committees relating to eye protection, sunglasses and spectacles. Her previous roles include regulatory and compliance assessment of sunglasses, spectacles and eye protectors, technology transfer and corporate development.
References:
1. Holmich LR, Holmich P, Lohmann M. [Eye injuries during hobby-work using machine tools]. Ugeskr Laeger. 1995;157(15):2131-4.
2. Kuhn F, Mester V, Morris R, Dalma J. Serious eye injuries caused by bottles containing carbonated drinks. Br J Ophthalmol. 2004;88(1):69-71.
3. Staffieri SE, Ruddle JB, Mackey DA. Rock, paper and scissors? Traumatic paediatric cataract in Victoria 1992- 2006. Clin Exp Ophthalmol. 2010;38(3):237-41.
4. AIHW report. Eye injuries in Australia 2010-11 to 2014- 15. Australian Institute of Health and Welfare 2018
5. Kuhn F, Morris R, Witherspoon CD, Mann L. Epidemiology of blinding trauma in the United States Eye Injury Registry. Ophthalmic Epidemiol. 2006;13(3):209-16.
6. Beshay N, Keay L, Dunn H, Kamalden TA, Hoskin AK, Watson SL. The epidemiology of Open Globe Injuries presenting to a tertiary referral eye hospital in Australia. Injury. 2017;48(7):1348-54.
7. Wisse RP, Bijlsma WR, Stilma JS. Ocular firework trauma: a systematic review on incidence, severity, outcome and prevention. Br J Ophthalmol. 2010;94(12):1586-91.
8. www.aihw.gov.au/reports/injury/eye-injuries-in-australia- 2010-11-to-2014-15/related-material
9. Pizzarello LD. Ocular trauma: time for action. Ophthalmic Epidemiol. 1998;5(3):115-6.
10. Hoskin AK, Philip S, Dain SJ, Mackey DA. Spectaclerelated eye injuries, spectacle-impact performance and eye protection. Clin Exp Optom. 2015;98(3):203-9.
11. Rofail M, Lee GA, O'Rourke P. Quality of life after openglobe injury. Ophthalmology. 2006;113(6):1057 e1-3.
12. Yuksel H, Turkcu FM, Ahin M, Cinar Y, Cingu AK, Ozkurt Z, et al. Vision-related quality of life in patients after ocular penetrating injuries. Arq Bras Oftalmol. 2014;77(2):95-8.
Eye Safety Options
Progear Eyeguard
Aviva & Mann Optical has partnered with Progear Eyeguard to offer a complete Rx service on all Progear branded sports eyewear and H2O swimming goggles. All lenses selected are suitable for sports protection and fitted to the exacting standards required by Progear Eyeguard to meet worldwide standards. Progear Eyeguard complies with all three international sports safety standards: ASTM F803 (USA), EN166 (Europe) and JIS T8147.5.1d (Japan).
Contact: Aviva & Mann Optical (AUS) 08 9353 0400
MSRX Optical
MSRX Optical is a specialist provider of certified prescription safety spectacles to AS/NZs1337.6. MSRX Optical predominantly supplies to the end user providing on-site services to workplaces throughout the greater Sydney, Hunter, Central Coast and Wollongong areas. The company also supplies optometrists. All on-site services are supported by trained and qualified optical dispensers with a passion for Workplace Health and Safety and industry specific solutions.
Contact: MSRX Optical (AUS) 02 4341 7006
Hoya Safety Eyewear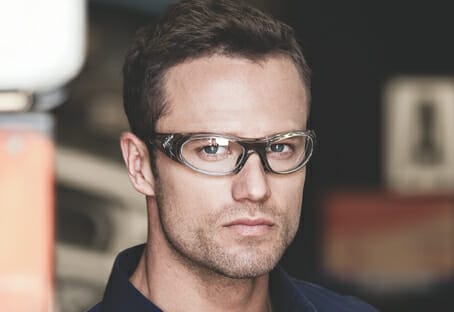 Hoya has provided safety eyewear solutions since 2007 under the AS/NZS 1336.7 standard. Independently tested, this extensive range of safety frames is complemented by Hoya's proprietary lens material – Phoenix – which is completely resistant to common chemicals, making it ideal for safety in the workplace. Hoya safety eyewear offers both low and medium impact solutions to suit your patients' needs.
Contact: Hoya Account Manager
Ugly Fish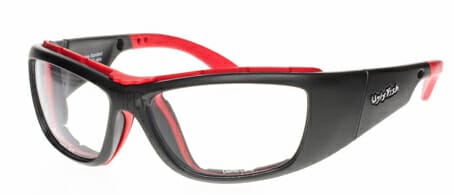 Established in 2003, Ugly Fish Eyewear has evolved from a polarised sunglass brand to include a range of multifunctional (with positive seal) and professional user safety glasses for a diverse range of industries. All Ugly Fish safety eyewear features shatterproof lenses and lightweight TR-90 frames that comply with Australian Safety Standards. Within the stable of products, is a safety prescription range, available through RX Safety, PSG and Hoya.
Contact: Piranha Eyewear (AUS) 1300 369 574
PSG Eyewear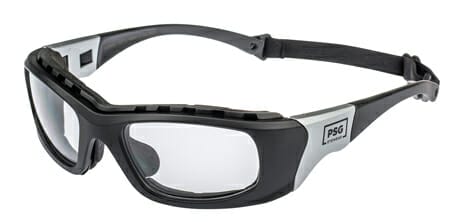 PSG Eyewear's new range of prescription safety glasses is changing the way patients view this very important protective item. An improved range with a fashionable focus and greater comfort are major features of this collection that will increase compliance.
Contact: PSG Eyewear (AUS) 02 9914 3740
Rx Safety

Rx Safety prescription eye protectors are manufactured in Australia and certified to AS/NZS1337.6 for medium impact. Certified lenses are made from Trilogy and polycarbonate materials, and available in single vision, bifocal and multifocal designs. Eyewear is tested on machinery maintained within calibration intervals and calibrated by NATA registered organisations. Rx Safety's wide range of frames is selected for strength, durability and wearer appeal; with eye sizes and coverage that allow for a wide range of scripts and pupillary distances.
Contact: Rx Safety (AUS) 1800 111 461
Shamir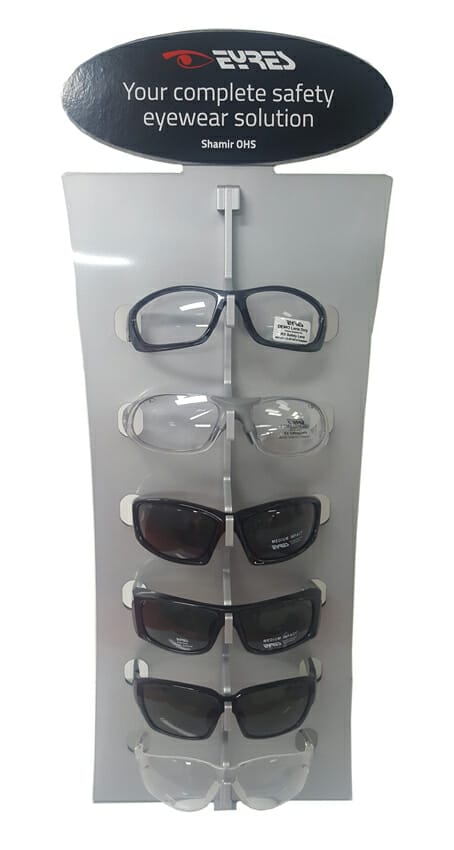 Shamir OHS prescription safety eyewear is manufactured in Australia at Shamir's Brisbane lab. The company caters for all categories of safety eyewear, which is certified to Australian and New Zealand SAI Global Standards, and includes prescription safety eyewear in Eyres flat and wrapped frames fitted with Shamir lenses; Eyres Plano safety eyewear with bifocal readers in clear, tinted and polarised lenses; and Eyres Plano safety eyewear in clear, tinted, photochromic and polarised lenses. Eyres medium impact protective eyewear is suitable for anyone at risk of an eye injury. All Rx lenses are fitted with the latest Attitude and Spectrum digital lenses.
Contact: Shamir OHS (AUS) 07 3213 7000
Dirty Dog
Dirty Dog safety sunglasses are super strong yet lightweight and designed for maximum comfort and protection from physical hazards and glare. All Dirty Dog safety sunglasses meet the medium impact requirements of the Australia and New Zealand Standards AS/NZS 1337:1992 and have a scratch resistant lens coating. Pictured is Wicked, 53523.
Contact: VMD Eyewear (AUS) 1800 449 845
Synchrony Safety Eyewear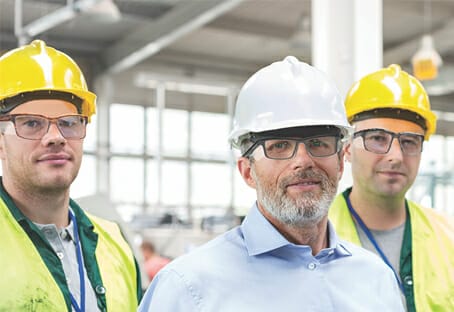 Synchrony safety eyewear offers frame and lens packages that are certified to Australia and New Zealand standard AS/ NZ1337.6:2012 for maximum protection. These modern, functional frame styles are available fitted with a wide Rx range, in single vision, bifocal, workplace and progressive designs. Lenses are manufactured from 1.53 (Trivex) and 1.59 (polycarbonate) materials and double side hard coated. Selected lens designs are available in Transitions grey or polarised grey.
Contact: Zeiss Account Manager
Hi-Scorers
Regarded as the world's finest sports vision system, High Scorer glasses allow you to optimise your performance without sacrificing sight. Available globally, Straub Optical is a proud supplier to many athletes and sportspeople. High Scorer glasses feature an interchangeable lens system, ideal for variable light and environmental conditions. The frame is manufactured from premium spring monel and features a sweat bar – eliminating the chance of fogging. Manufactured in Australia for over 40 years, High Scorers are available with or without prescription lenses.
Contact: www.highscorers.com.au