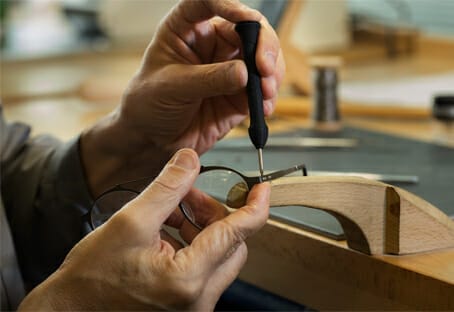 Now the company has gone back to its roots to develop optical frames for men and women that carry the Safilo brand name. As Safilo celebrates its 140th year, mivision caught up with Vladimiro Baldin, the company's chief licensed brands and global product officer, to find out about the DNA behind these new collections.
Q. Safilo has been around for 140 years, what makes it so successful?
Yes, this year we are celebrating 140 years of eyewear manufacturing tradition. It was in 1878 that our first manufacturing site was opened to produce lenses and frames in Calalzo di Cadore, in the Venetian Alps. However, the Safilo name dates back to 1934, when Guglielmo Tabacchi bought his first Italian production site and founded a new eyewear company, making it the oldest player in the Italian eyewear industry.
Safilo eyewear is all about quality, innovation and the 'Italian factor'. Our optical frames reflect our company's long standing heritage as a pioneer in terms of innovation in technical solutions, design and quality. Every frame is a statement about functional aesthetics and impeccable craftsmanship. They are timeless products that stand out for their charm and functionality.
As Safilo celebrates its 140th year, mivision caught up with Vladimiro Baldin
Q. Do you have a typical customer?
We launched Safilo optical frames for men in 2017 and for women in time for the 2018 autumn/winter season. Our designs appeal to eyewear lovers and those who we call 'everyday aesthetes', that is, style conscious consumers, who keep up to date with the trends but are not fashion addicted; people who appreciate the values of brands with a strong history and a modern attitude. These people are looking for quality and distinctive details that can enhance their personal style.
Q. How do you approach eyewear design and where do you seek inspiration?
When we design optical frames, we need to consider many factors. Because we are not fitting sun lenses, the eyewear literally frames the eyes and blends with the face traits. For this reason, we put special care in the design of fronts, to make sure they are well balanced and fit harmoniously on different face shapes. The construction of the front can also influence the kind of lens you can fit on it, and these are all points we consider when we create our eyewear assortment.
The most important source of inspiration is in Safilo's heritage. We look back to our archive and find continuous inspirations that we reinterpret with a contemporary touch and updated technology, merging the tradition of Italian artisanship with state of the art solutions. In this way, our collection of Safilo optical frames is a perfect combination of multiple inspirations, all rooted in the knowledge of quality.
Q. How would you describe Safilo's style?
Our frames have a truly iconic feeling: every frame is a perfect balance between functional performance and aesthetic value. In this sense, we develop the collection according to our concept of 'technoaesthetic comfort', which is achieved through each and every detail, beginning with our distinctive Elasta hinge.
This new, exclusive titanium e-hinge is based on an innovative double spring system that guarantees 15 years of impeccable performance. It is both a functional and aesthetic element… all the functional elements of the Safilo collection – such as the ergonomic anti-slip tips and the interchangeable nose pads – are developed in line with precise aesthetic values, to create a recognisable and distinctive design language
Q. What does the manufacturing process involve?
It all starts from the first creative drawings in our product design and creation department, where designers express their creativity to develop new collections each season.
The 'Made in Italy' manufacturing process, reflects our brand's DNA. Each frame is crafted following a process that combines both technological advancements and human touch: this is key to the creation of optical frames, which need the utmost care in every step of process.
Material selection is about highlighting the original charm and physical properties of each element: acetate, titanium, stainless steel and other metals are shaped to give to our products a distinctive visual impact. In this sense, high quality acetate is at the heart of the collection, with the use of warm vintage Havana shades, celebrating our brand essence and enhancing the properties of this material.
Among metals, we use titanium for its high strength-to-weight ratio: it is the perfect material for light, durable and elegant eyeglasses. Other metals, like flexible stainless steel and alpaca alloy, are chosen for their light weight or resistance and used in sleeker frames.
Making life easy for the optometrist is an important consideration in the design and manufacturing process. Our modular approach, using standardised components as much as possible, makes it easy and quick for optometrists to adjust our frames in the store, using a dedicated service kit we provide.
Q. What do you think will be the new big trend in eyewear?
The next eyewear trends will move away from oversized and exaggerated retro styles to favour a slim look. The 2000s is the new vintage reference, offering inspiration for narrow silhouettes, like rounded, cat's eye and rimless styles, with a lightweight feeling. This is already key in the Safilo optical collection – we choose iconic shapes with delicate proportions, which are always perfectly balanced with the proportions of the face.
Q. What has Safilo got planned for the future in terms of design?
Our first men's and women's collections set the basis of our design philosophy and while the upcoming collections will be consistent with this approach, they will be enriched with new constructions, such as rimless styles. We will offer sun clip-ons in the near future, but always as accessories for frames.
Contact: Safilo (AUS) 02 9540 0555
About Vladimiro Baldin
Vladimiro Baldin joined Safilo in October 2014 as global product creation director, mainly focused on product development, innovation and global creative operations. Today his role has expanded to include management of the licensed brands portfolio.
He also coordinates a team of designers, craftsmen, engineers and technicians in the design, innovation and manufacturing process in Safilo's five Design Studios in Padova, Milan, New York City, Portland and Hong Kong.