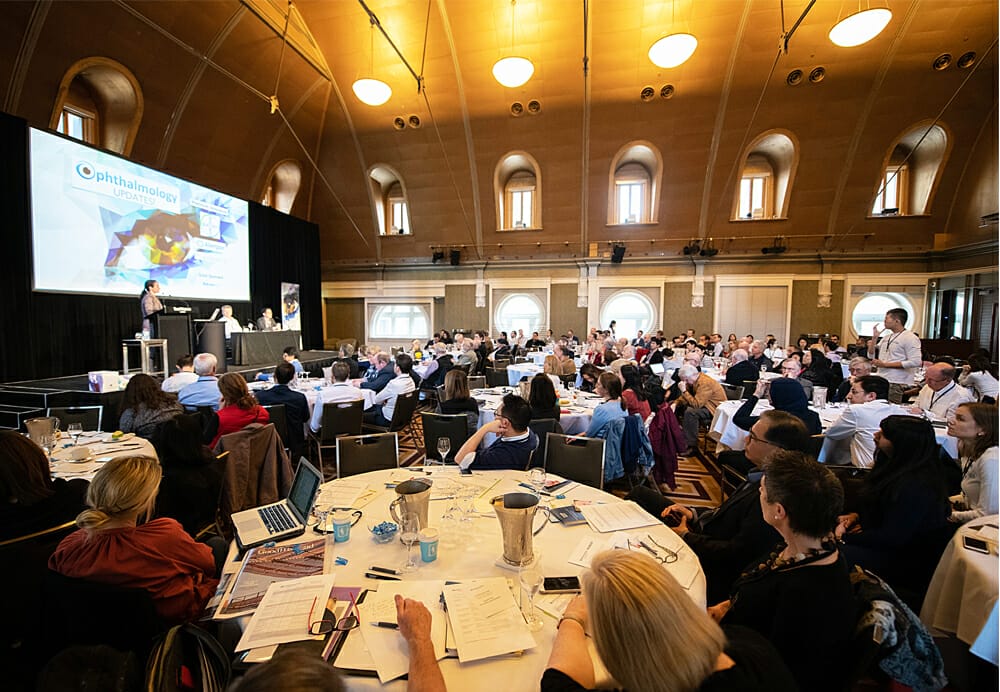 Ophthalmology Updates! brought together some of the brightest minds from each ophthalmic subspecialty to present the latest research and clinical findings from their field. Organised by Assoc. Prof. Adrian Fung, the annual Sydney conference attracted a record of 180 delegates.
Prof. Gerard Sutton, Dr. Sophia Zagora, Assoc. Prof. Clare Fraser and Prof. Chandra Bala were just some of the speakers who addressed ophthalmologists at this year's Ophthalmology Updates! Conference in late August. Delegates also heard from Emeritus Prof. Ron McCallum AO, a legal academic and former professor and dean of law at the University of Sydney, who gave his personal perspective on living with blindness.
CORNEAL BIOENGINEERING AND MORE
Prof. Gerard Sutton spoke on recurrent erosion syndrome, the outcome of a cluster of fungal infections associated with pre-cut DSAEK corneal tissue from Lions NSW Eye Bank in 2017, and corneal bioengineering. In his address on corneal bioengineering, he told the audience that an estimated 10 million people around the world are currently waiting for a corneal transplant, yet over 50 per cent of the world population has no access to corneal transplants.
The best technology is cooperation
"A bioengineered cornea or corneal layers could help address these problems. I have established a corneal bioengineering programme with researchers from the Save Sight Institute, Sydney University, the Intelligent Polymer Institute, Wollongong University and the Lions NSW Eye Bank. We are working on a number of innovative treatments with the ultimate goal of a 3D bioprinted cornea," said Prof. Sutton. The second Annual Corneal Bioengineering Workshop will be held on 27 September at Sydney Eye Hospital.
Speaking on the outcome of a cluster of fungal infections associated with pre-cut DSAEK corneal tissue from Lions NSW Eye Bank, Prof. Sutton said, "Last year we had a cluster of fungal contaminations in pre-cut DSAEK tissue. Similar clusters occurred in the UK and USA at around the same time. Supply of this tissue was suspended for a period of time whilst multiple internal and external reviews were carried out. A number of new protocols were put in place and pre-cut tissue supply was recommenced in February this year. There have been no further episodes of tissue contamination since that time."
UVEITIS
Dr. Sophia Zagora presented an update on uveitis. She spoke about Behcet's disease, immunotherapy, and Ozurdex, and presented three cases that demonstrated her key points. In relation to Behcet's disease, Dr. Zagora discussed the varying presentations seen in ophthalmology and said it often presents with vasculitis and arteritis as well as retinitis. She also discussed the systemic associations and grading system, as well as the new 2018 Eular treatment guidelines. "Studies of our Sydney data have shown that if patients are going to lose vision, they will do so early and as such they need to have immunosuppression commenced early," said Dr. Zagora.
Dr. Zagora discussed new frontiers of immunotherapy and its association with uveitis. "As ophthalmologists, we should take a detailed history to know what drugs our patients are on as their uveitis presentation may be associated with this," said Dr. Zagora. She went on to describe the role of Ozurdex for uveitis, which was recently PBS listed, stressing that it is to be used in non-infectious posterior uveitis.
TECHNOLOGY FOR BLIND AND VISION IMPAIRED
Prof. Ron McCallum spoke about his life experience having grown up blind due to retinopathy of prematurity (ROP). He was born around 10 weeks premature, one of approximately 10,000 babies born with ROP between 1945–1955 in countries including Australia, New Zealand, the United Kingdom and the United States. Prof. McCallum said this significant cohort of blind children positively impacted the education system and ultimately, employment of people with blindness. He went on to speak about current technologies available to assist vision impaired and blind people.
"Modern technology has freed we blind people from the scourges that blind people had when I was born some three score and ten years ago," said Prof. McCallum. Technologies described included talking automatic teller machines with braille, and the iPhone with its universal design, ensuring people with disabilities are able to use it.
Professor McCallum highlighted the iPhone's voiceover functionality with options for language and speed of the voice; and zoom functionality for magnification. He said Apps he uses include colour identification (handy for daily activities like separating and doing the washing) and an App that identifies currency.
"The best technology is cooperation," said Prof. McCallum going on to describe Be My Eyes, a Danish developed app which enlists sighted volunteers around the world to help blind and vision impaired people by providing visual assistance through a live video call.
Launched in January 2015, Be My Eyes is now available for Android and Apple devices and has over 1.5 million volunteers supporting the needs of over 92,000 people in 150 countries.1
The Ophthalmology Updates! conference was concluded with a whisky tour of the Archie Rose Distilling Co. and dinner at Bambini Trust Restaurant in Sydney. In 2019, Ophthalmology Updates! will be held from 24–25 August. www.ophthalmologyupdates.com
Reference
www.bemyeyes.com