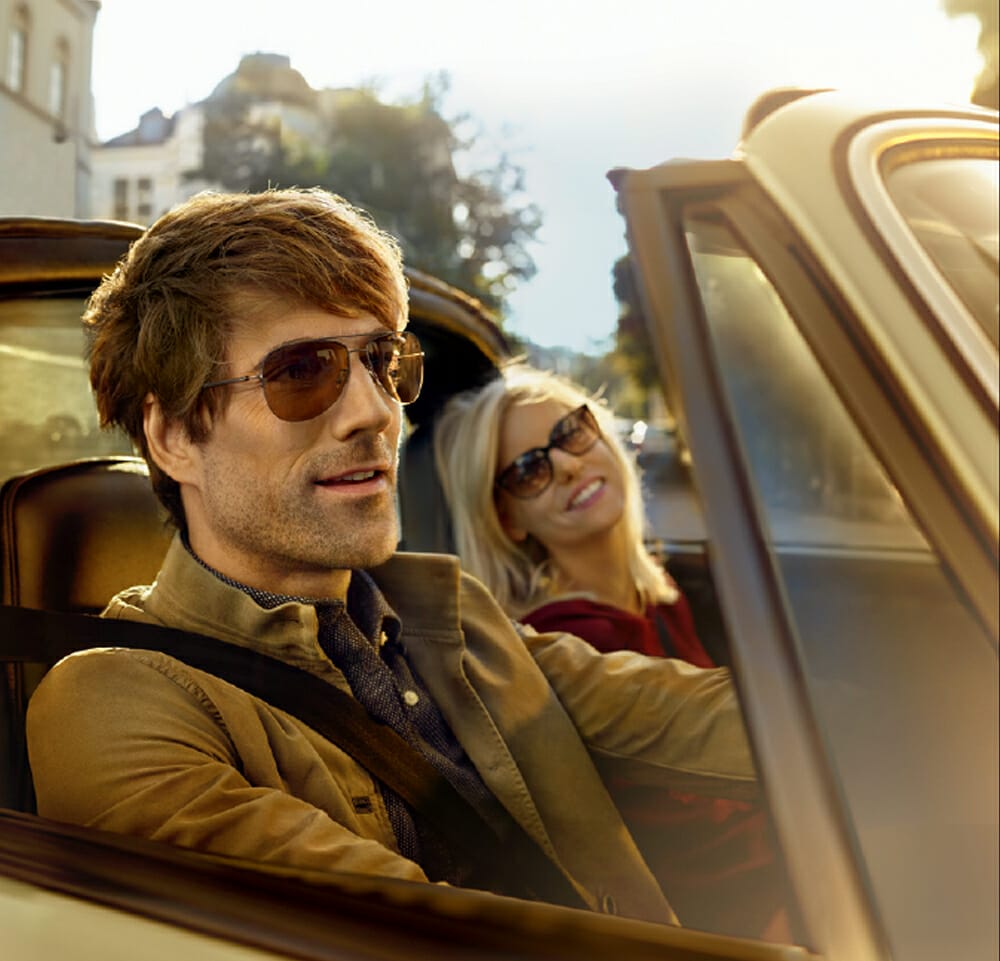 Australia and New Zealand are nations of petrol heads and have contributed greatly to the international motoring scene. We love our cars, we love driving and we love our road trips. Whether part of an hour or two commute in a gridlocked city rush hour, or the harsh, long distances that outback Australia throws at you, one thing is for certain: to maintain safe travel, good vision is essential.
"City traffic movin' way too slow… Drop the pedal and go, go, go…"
Many readers will be familiar with these lyrics, from Freeway of Love by the late Aretha Franklin, Queen of Soul. And many will be familiar with the desire to "drop the pedal", especially at the end of a long week.
However road safety stands in the way. In 2017, there were 1,224 road deaths in Australia1 and that statistic won't be significantly different this year.
While many of us equate sunglasses with greater safety and visual comfort on the road, that's just one aspect of the visual driving environment.
Discussing driver safety with any patient can be challenging because we all tend to overrate our driving ability, especially as we age
Good drivers with good track records for driving tend to have well-honed visual skills. Being able to put all the surrounding visual data together leads to that essential driving skill – anticipation.
However, many drivers are challenged when it comes to collecting visual data quickly and accurately. Impaired peripheral vision and visual acuity, issues with dark adaptation and motion detection, as well as contrast sensitivity, flare, glare, and more are critical to driving performance. Keratoconus, rigid gas permeable lenses, multifocal contact lenses, advancing age, light scatter from cataracts, etc. can also affect road safety. According to Professor Joanne Wood of Queensland University of Technology, studies show that patients with cataracts are 2.5 times more likely to crash than controls.2
While all applicants for drivers licences and renewals are screened for their vision, the current driving standard of 6/12 is simply an arbitrary line in the sand. We've all seen drivers with 6/60 who've driven illegally for decades with no accidents, while other drivers with 6/4 have had numerous crashes.
Visual field impairments are also tested for drivers licences and renewals, with good reason. Prof. Wood has detailed how patients with glaucoma and reduced visual fields are 3.6 times more likely to have an injurious crash than controls. This risk increases with more severe visual field loss.2 
SPECTACLE DRIVING SOLUTIONS
This feature is about frames and spectacle lenses for driving, but the aforementioned issues serve to illustrate that driving, risk, and visual performance are complex issues. We would be doing our patients – and of course other road users – a disservice not to discuss such things.
We may have a patient with uncorrected low levels of astigmatism, hyperopia or myopia that still fall within the legal driving limits. We can potentially improve their driving performance by correcting for these low levels of ametropia. It's important to demonstrate and discuss the benefits of such corrections to aid driving performance, particularly in low light conditions.
We should also not forget the specialised visual needs of motorcyclists and cyclists
When consulting habitual spectacle wearers, we should discuss the benefits of multicoating and indeed special driving filters that reduce glare and enhance contrast. Additionally, take a look at the condition of a patient's current spectacles – scratched, dirty lenses, and coating failures can add significantly to flare, glare, and image degradation. If this is the case, it may be a good opportunity to discuss road safety and why a new pair of lenses is in order.
For multifocal spectacle wearers, we need to discuss the provision of lens designs that are optimised for driving posture, with a wide intermediate field for viewing their GPS screen and so forth. There are a number of specialised progressives designed for drivers.
Although polarised lenses are generally beneficial for drivers – reducing glare and reflections from wet and dry surfaces – some drivers are troubled by interference patterns they may generate on older windscreens. We must also make sure that the polarised lenses prescribed do not dull or black out their digital/electronic instruments, displays, GPS, or phone screens.
Consideration must also be given to patients who habitually wear tinted lenses, as these may be too dark for dusk and night-time use. In Germany, there are strict rules as to the tints that can be used by drivers.
Although there are many who love the convenience of photochromic lenses, they may not darken properly in a car, leaving the wearer with debilitating photophobia. Consider specialised photochromic lenses that are designed to perform better in cars – they have a variety of activators that react not only to UV (blocked by modern windscreens) but to visible light as well. There are also many specialised sunglass lenses that are suited to those with 'perfect' vision, who have no need or desire to wear prescription spectacles or contact lenses. Some manufacturers offer specific 'drivers' or 'driving' lenses, providing another great opportunity to give sound advice. Patients often come back raving about how fantastic their new driving lenses are and what a difference they make.
Many patients ask about special night driving lenses and there are numerous options advertised. Anything with a tint is likely to reduce how much light reaches the retina, which is hardly conducive to night driving. In general, multicoated lenses would be better than uncoated lenses. Although some drivers swear by specialised contrast enhancing yellow lenses and other filters, there's some debate as to their actual benefit.
We should also remember the specialised visual needs of motorcyclists and cyclists.
Discussing driver safety with any patient can be challenging because we all tend to overrate our driving ability, especially as we age. With age come lens changes, reducing contrast while increasing light scatter, flare, and glare. The likelihood of developing glaucoma and age-related macular degeneration increases as we age, impacting our ability to drive safely. Yet older drivers feel that losing their ability to drive means the end of their independence and because of this, they will often attempt to keep driving well beyond when they should have stopped.
ASK THE QUESTION
The aforementioned situations are golden opportunities to discuss driver safety, advise on additional eyewear options, or on the advantages of replacing old, damaged lenses.
Simply start by asking the question, "Do you suffer light sensitivity while driving in the day, or do you get dazzled or experience glare when driving at dawn, dusk, or at night?"
Our spectacle frame and lens partners in this feature have shared some of the available options. Take a look at what they have to offer and consider your options for prescribing lenses to enhance driving performance in your patients. Give the suppliers a call to discuss your needs and/ or find specific solutions for your patients.
If we all did just a little to improve visual performance while driving, we may help reduce the injury rate and indeed lower the road death toll.
Reference 
1. bitre.gov.au/statistics/safety/ 
2. mivision Issue 139, October 2018, page 14 
Lenses for Behind the Wheel
Essilor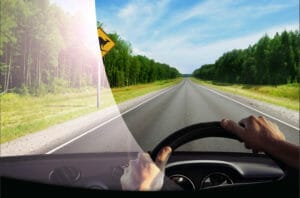 Essilor has a broad range of lenses to optomise driving vision:
Xperio polarised sun lenses eliminate annoying reflected glare from cars and road surfaces for better awareness and reaction time; delivering clarity of vision when driving.
Transitions Xtractive lenses deliver extremely comfortable driving vision, with the ability to darken, even behind the windshield.
Crizal Sun UV is a new generation antireflection coating that provides comfortable vision and blocks 92 per cent of UV reflected from the back surface of sun lenses.
Contact: Essilor Account Manager 
Hoya
Hoya polarised lenses are now available in an expanded range of designs and coating combinations, including seven mirror coatings. New Sensity Dark and Sensity Shine lenses change from almost clear indoors to sunglass dark outdoors as well as reacting to a wide range of the spectrum to darken behind the windscreen.
Sensity Shine has the bonus of a mirror when the lens darkens.
Contact: Hoya Account Manager 
Opticare
Infinity 3D Driver, a new version of Opticare's premium Infinity freeform progressive, minimises peripheral distortions for safer driving while still providing adequate near corridors for general use (see contour comparison). While soft freeform designs such as Maxima are the ideal choice for first time wearers, Infinity 3D Driver is ideal for patients who are used to older, hard design progressives and want to convert to current premium lens technology.
Contact: Opticare (AUS) 02 9748 8777 
Rodenstock Road Sun
Rodenstock Road Sun lenses have a specially developed brown tint to reduce the sun's glare and still allow easy visibility of the dashboard and navigation system. This lens is designed for uninterrupted distance vision, with wide intermediate areas for viewing instrumentation. Plus it's optimised for good speed and depth perception.
Road lenses can be combined with Rodenstock's timeless frames for men and women.
Contact: Rodenstock (AUS) 02 9748 0988 
Shamir
Shamir Urban, incorporating new Intellicorridor technology, has been developed in response to demand for a softer PAL design while providing a seamless visual experience that gives quick and easy focus when driving within an urban environment.
Both Shamir's progressive lenses and Smart Single Vision lenses can be ordered with As-Worn Quadro technology, which takes extra measurements to ensure patients experience the same visual acuity as they did in the optometrist's trial frame.
Shamir's Blue Shield lens coatings effectively absorb harmful UVA and UVB rays while reducing the intake of HEV (High Energy Visible), known as blue light. By absorbing blue light when driving, Blue Shield lens coatings reduce glare and protect against blue light from Xenon headlights. Suitable for everyone and recommended for wearers of prescription or plano lenses.
Contact: Shamir (AUS) 1300 553 465 
Transitions
Clear indoors and at night, Transitions XtrActive lenses activate in the car to provide drivers' eyes with protection from sunlight that is equivalent to a category two sunglass. Transitions XtrActive is also perfect for summer, providing extra darkness in the brightest sun, even in the hottest conditions. Available in grey, brown, and graphite green.
Contact: Transitions Optical (AUS) 08 8238 3257 
SunSync Drive XT
SunSync Drive XT photochromic lenses by VSP Australia activate in the car to protect drivers' eyes and increase comfort. This extra active, light reactive lens gets darker and stays dark behind the wheel.
Contact: VSP Australia (AUS) 02 9697 8080 
NuPolar Infinite
NuPolar Infinite from Younger Optics is a polarised photochromic sunglass lens in popular grey. The combined NuPolar and photochromic technologies quickly respond to outdoor conditions; darkening or fading to suit the light. When driving, the lens darkens to around 75 per cent tint, always blocking dangerous glare for safe driving.
Contact: Younger Optics (AUS) 08 8241 9800 
Transitions Drivewear
Transitions Drivewear is the world's only sun lens that seamlessly changes to three different colours for optimum vision in any condition. Combining world leading NuPolar polarisation and Transitions photochromic technology, not only does the premium lens change colour, it also lightens or darkens density to suit current light conditions.
Contact: Younger Optics (AUS) 08 8241 9800 
Zeiss
Zeiss DriveSafe lenses are optimised for wearers who want to feel safer and more comfortable when driving with their everyday lenses.
A specially developed combination of lens design and coating gives drivers accurate vision on the road and reduces glare from oncoming vehicles.
Available in single vision and progressive lens designs.
Contact: Zeiss Account Manager
Frames for the Road
Fenton
The Land Rover Eyewear range comprises 28 dispenser friendly frames and among them is the Fenton. This British designed frame with an updated round eye shape features Land Rover's signature wrap trim in silver, and a custom tip shape with tip plate. It's finished with a premium OBE flex hinge. Available in black acetate or striated brown (SBR), and in an eye size of 51.
Contact: Aarons Eyewear (AUS) 07 3367 8447 
Cocoons
Cocoons fitover night driving eyewear features the twilight lens system designed to block 100 per cent of harmful UV light and 60 per cent or more of harmful High Energy Visible (HEV) blue light, while providing 93 per cent overall visible light transmission. These HEV filters effectively reduce scattered blue light and improve contrast, allowing the eyes to remain relaxed, focused, and free from fatigue that can result from extended exposure to halos and artificial LED light sources.
Contact: Aviva & Mann (AUS) 1300 850 882 
Serengeti
Serengeti's amber-coloured Drivers' lens enhances colours, contrast, and definition while lightening and darkening to provide optimal light transmission in any condition. It's suitable for overcast to medium light conditions and available in non-polarised and polarised ultra-light mineral and Polar PhD 2.0 lenses.
Drivers gold, an amber-coloured mirrored lens, is particularly helpful in brighter driving conditions. Available in polarised ultra-light mineral and Polar PhD 2.0 lenses.
Serengeti's gradient drivers lens was invented to help pilots and drivers read their instruments. This lens is darker at the top and lighter at the bottom to protect the eyes from above and provide a clear view of the dashboard below. Suitable for overcast to medium light conditions and available in polarised and non-polarised ultra-light mineral lenses.
Contact: Bolle (AUS) 1300 138 098 or (NZ) 03 3751400 
Ray Ban
The Colonel – model 3560 – is the new rising star of Ray Ban's General family with its softer, square-edged shape, flat metal double bridge and temples of the original General. The Colonel features new shiny metal profiles and classic gradient lenses.
Contact: Luxottica Account Manager 
Police
The grey and brown lenses fitted in Police model SPL725 are colour neutral, which means they will not alter natural colours, however they will optimise the driving experience.
Contact: De Rigo (AUS) 02 9428 1500 
Mako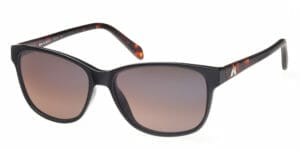 Mako produces a variety of polarised glass lenses with a high definition filter to enhance depth perception and deliver clearer vision on the road. Worn by the Offroad Adventure Show drivers on Network Ten, Mako sunglasses are suitable for driving in all light conditions and reduce road glare.
Contact: Mondottica (AUS) 02 8436 6666 
Oakley
Prizm polarised lenses fine tune colours by minimising bad light and maximising good light to enhance details and optimise the visual experience. Industry leading polarisation reduces glare.
Contact: Oakley (AUS) 1800 625 539 
Maui Jim
Maui Jim's PolarizedPlus2 lens technology eliminates 100 per cent of harmful UV, 99.9 per cent of harsh glare and 95 per cent of blue light. Combined with great clarity and natural colour enhancement, they deliver optimal visual acuity and improved depth perception for safer driving.
Recommended for driving, Maui HT (High Transmission) is a low light lens that's ideal for those times when most lenses would be too dark. Maui HT lenses are suitable for driving in the early morning or late afternoon when light conditions are extremely changeable. The Maui HT colour option boosts colour, contrast, and depth of field and has PolarisedPlus2 protection.
Pictured is Alelele Bridge, a classic aviator shape with a lightweight frame, adjustable nose pads, and rubber inserts on the inner temples.
Contact: Maui Jim (AUS) 02 9452 5575 
Convertibles
Convertibles semi-rimless spectacles are made from titanium and come with clever magnetic polarised sunglass clip-ons. Fusing sophisticated design with creative technology they offer UV protection, comfort, and functionality.
Contact: Optique Line (AUS) 03 9853 0796 
Spotters
Spotters has manufactured polarised eyewear for 20 years and its Signature Penetrator and Halide lenses (pictured) are especially suited for day driving. These photochromic lenses adjust to external conditions using UV, general light, and temperature. They also activate behind the windscreen of the car.
Contact: Spotters (AUS) 03 9728 2055