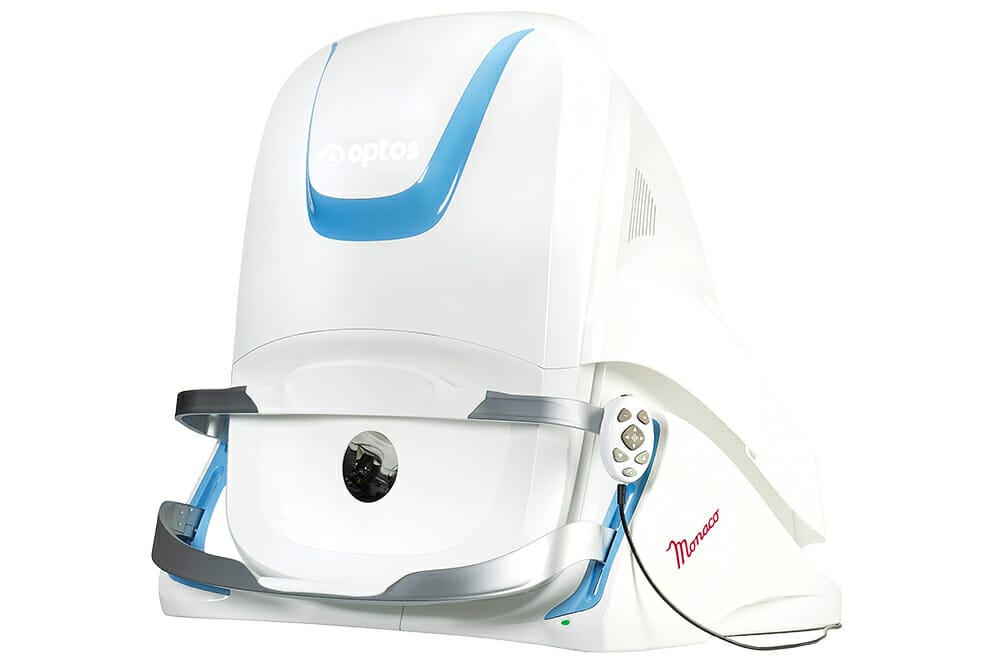 Optos has launched its latest ultra-widefield device to the Australian ophthalmic market.
According to Optos, part of the Nikon group. Monaco will "revolutionise the way eye care professionals examine the eye".
Monaco has bene described as the only ultra-widefield retinal imaging system with integrated optical coherence tomography (OCT). It produces a 200° single-capture optomap image in less than half a second, but is unique as it also provides cross-sectional OCT views of retinal structures.
The device enables rapid multi-modality capture featuring colour, autofluorescence and OCT scans for both eyes in just 90 seconds.
Both the optomap images and OCT scans are correlated to facilitate a more in-depth pathology exam. This means optometrists can perform a comprehensive examination on patients knowing ocular disease and potential issues are tested for.
Monaco is a unique imaging system that can capture ultra-widefield red/green and autofluorescence images, as well as having OCT capability
The two in one compact desk-top retinal imaging device also benefits optometrists as the device saves space in the practice compared to multi-devices and provides increased clinical information, improving overall practice efficiency.
"Monaco is a unique imaging system that can capture ultra-widefield red/green and autofluorescence images, as well as having OCT capability, said Jason Martone, Managing Director, Australia, at Optos. "The compact device has the same footprint as our California models and can capture all three modalities in under two minutes.
"Monaco gives both eye care professionals and patients great peace of mind, knowing that pathologies can be identified, even in the far periphery, and that potentially sight-threatening conditions can be discovered and treated at an early stage, while being comfortable for both patient and eye care professionals.
"We're bringing a device to the market that further enhances the detection of retinal issues and continues to improve practice efficiency. Our mission is to provide outstanding technology and customer service to the practices that we work with, to help them to provide the best possible care for their patients."
Greater Analysis, Increased Diagnostic Capability
UK Optometrist Simon Browning has worked with Optos equipment for over 20 years and recently started using the new Monaco device.
"Monaco is set to give us greater analysis of retinal health and increased diagnostic capability. Having two systems in one instrument has greatly speeded up the flow through the clinic session. What's even more important is the diagnostic image capabilities of the software.
"The OptosAdvance review software combines optomap and OCT retinal images on one screen. The ease of moving between the two modalities makes this a brilliant tool to use in the consulting room," said Mr. Browning.
"With both practices and customers living in a time-poor era, it's essential for devices to work as efficiently as possible, and with excellence. For eye care professionals looking for one device to do it all, I'd highly recommend Monaco. I'm confident it will save the eye sight of many people and allow clinics to work more effectively," he said.
Optos has been based in Dunfermline, Scotland since it was founded 26 years ago by Douglas Anderson. Douglas developed the ground-breaking optomap retinal imaging technology after his five-year old son lost his eye sight in one eye due to a retinal detachment.
The company, which is now owned by Nikon, has since sold over 13,000 optomap devices worldwide and has offices across Europe, North America, Asia and Australia.
For further information about the new Monaco device, visit www.optos.com/en/products/Monaco/