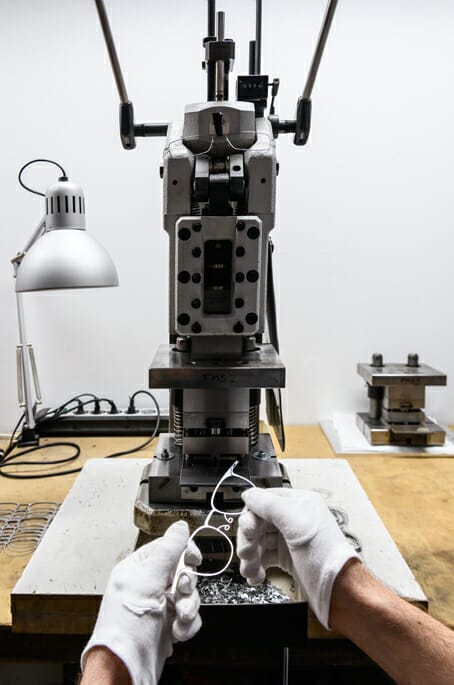 Mykita is an international eyewear label based in Berlin that takes an independent approach to design and manufacturing. The label's design team is described by founder Moritz Krueger as "a heterogenic group of product designers and technical engineers – some who have experience in eyewear, others with expertise from different fields". He says it's a mix that "stimulates an interdisciplinary dialogue and provokes new perspectives on eyewear and the design process". mivision spoke to Moritz Krueger to find out more.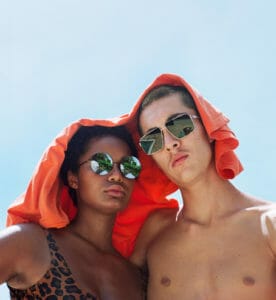 Q. How did Mykita start? 
A. Mykita was founded in Berlin in 2003 by a group of friends, including me. The company was born of the pure wish to build something ourselves – to have our own brand. Glasses were something we had a tiny bit of experience with, and the right moment in time came along for us to give their design a try. We started out on virgin territory so in every aspect, from product to business, we had to find our own way. We couldn't find anyone to produce our first designs so we had to become our own manufacturer and industrialise ourselves. And that, in the end, taught us so much.
Q. You continue to design and manufacture all of your frames inhouse at the Modern Manufactory within Mykita Haus. How does this distinguish your brand?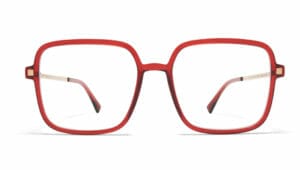 A. There's a transparency of process and innovative energy that comes from having all our departments together under one roof. Within our Modern Manufactory the team guides each product through every stage, from initial concept to shop delivery. What's special about this approach is it creates a consciousness that permeates the whole company and defines our business and our product. Maintaining this consciousness, and the authenticity that so resonates with our customers, is an important accomplishment for me.
Q. Over the years, Mykita has become most recognised for its stainless steel models and iconic spiral hinge. How important are materials and components to the design process? 
A. Mykita has a very clear and defined design language, which starts with material integrity. We create products that emphasise the most appealing properties of the materials we work with. Our product design is straightforward – seeing how something is built has become the most recognisable feature of our frames. The first collection featured an openly displayed spiral hinge, a mechanical solution that became an incidental style element and a visual hallmark of our frames. This original patented hinge represents our guiding design principle: seeking beauty in the technical solution.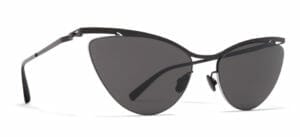 Q. Why the preference for stainless steel? 
A. Because we're not from the industry, our access point came from an industrial design perspective. Material research was our starting point, so we were exploring different materials and how we might be able to build a coherent design concept.
The thing about stainless steel is that it's resilient and flexible. But it doesn't make sense to connect pieces via adhesives, screws or soldering. Our concept in the end, of using flat stainless steel sheets and creating a three dimensional structure via a series of manual folding and sculpting steps, has strong parallels to origami. The spiral hinge is a purely mechanical solution. In the end it took on a secondary role as a style element because it also looks good, and in that way became the visual hallmark of Mykita design.
Q. To remain relevant, eyewear design must evolve – where do you seek inspiration?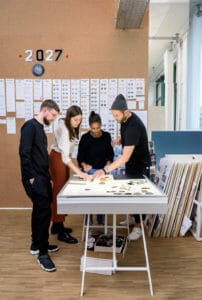 A. We like to focus on challenging norms and creating new aesthetic impulses within eyewear. Visible logos and conventional luxury codes take a backseat. Instead, we devote significant research and development to advancing our constructions, materials and surfaces. This all contributes to the characteristic modernity of our frames.
Much of our design inspiration actually comes from our Modern Manufactory. Having the whole Mykita universe visible on a daily basis at the Haus means you are not only thinking about creating ideas for new products, you also see exactly how those ideas become a reality. Having all the experience and expertise under one roof, and being able to communicate face to face on a daily basis, has created this holistic system which feeds our commitment to quality and the spirit of innovation.
Q. What do Mykita wearers most value about their frames? 
A. The distinctive look and feel. When you first hold a pair of our frames in your hands, the lightness and quality of the workmanship really stands out. Of course, our customers also appreciate the story behind Mykita and see the value of our transparent manufacturing process.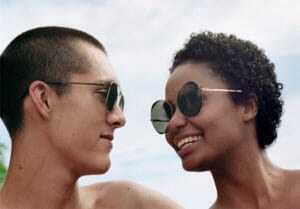 Q. Has this quality of workmanship been recognised by industry as well? 
A. Over the years we've been honoured with over 40 awards and formal distinctions in the field of product, retail, and communication design, as well as material, technological innovation, and business enterprise.
Q. What innovations can we expect from Mykita in the near future? 
A. We have always looked beyond the traditional confines of the eyewear industry, seeking out new and relevant technologies from different fields to incorporate into our system – our modern manufactory – and this is something we continue to do.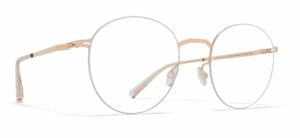 This mindset brought us to 3D printing technology and drove us to take on a pioneering role in the development of rapid manufacturing for serial production. Our research and development phase, from 2005 through to 2009, eventually led to the launch of Mykita Mylon in 2011 – the first serially produced eyewear collection made by additive manufacturing.
Since then, we have developed the project My Very Own (MVO) – our future vision for digital bespoke eyewear. MVO will take the technology behind Mylon to the next level by incorporating 3D facial scanning and creating frames that are tailored to an individual's personal physiognomy.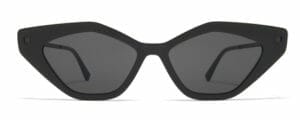 For this concept to offer true added value to our customers, we cannot be superficial. Our current focus is exploring how the process can be refined to create a product with a truly superior look and fit, function and visual performance. The future looks good!
Contact: Mykita (AUS) 0420 208 123