The University of NSW (UNSW) School of Optometry and Vision Science has recently opened its newly refurbished and renovated wing. Comprising a new preclinical teaching space, teaching laboratories, an optics laboratory, dispensing laboratory, and a clinical trial space, the upgrade will assist researchers and students in their studies.
Originating in 2014, the project came about due to an increased need for a larger, more efficient working space to accommodate for the University's growing optometry and vision science staff and students.
a building that was purposed in 2000 was no longer really adequate
"It was very clear at that time, and probably had been for some years prior to that, that a building that was purposed in 2000 was no longer really adequate for the increased student numbers, increased research requirements, and an increased number of students, for example studying vision science," said Head of School, Professor Fiona Stapleton.
"Between 2009 and 2014, our student numbers had expanded by double. So we'd gone from 250 to over 500 students. Our research staff had gone up about three and a half times, and our research space obviously hadn't changed."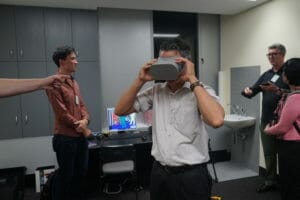 The new spaces, expanding throughout levels two and three of the Rupert Myers Building, are designed to best cater for teaching and research needs. For example, a purpose built psychophysics lab, dedicated to low vision orientation and mobility research, will align UNSW with other Schools of Optometry.
Laboratories on level three will support the research work of 15 School of Optometry Higher Degree Research (HDR) students as well as provide a research space for Chemistry students and other academics. A new flipped classroom will allow for tutorials and small group sessions to be conducted in a collaborative manner and within close proximity to corresponding labs.
As her last official act as head of school before handing the role over to Associate Professor Lisa Keay, Professor Fiona Stapleton acknowledged the individuals, faculty members, and externals of the University who made the renovations possible. She also thanked those who preserved with the project's longevity.
Special mention was given to Gaby Caus, for advocating for the School of Optometry at multiple levels to ensure the project happened, as well as Dr Dale Larden for overseeing and being closely involved in every detail of the project's development.
UNSW is also grateful for the contribution of their stakeholders and alumni, as well as ODMA and its members who have provided help and resources.