Mido, the largest eyewear fair in the world, held in Milan, Italy, saw approximately 59,500 industry professionals from 159 countries visit over the three days.
Among the crowd, many sports and entertainment celebrities were spotted, highlighting Mido's glamour and fashion profile and deeming it a must attend event for those wanting to showcase the latest trends in store.
"The extremely high quality of the products on display in all the pavilions was the thread that ran through Mido 2019. Many exhibitors expressed their delight with the outcome of the fair, confirming that Mido is still business driven: effective for extending one's network of contacts, making deals and talking trade," said Giovanni Vitaloni, President of Mido.
With unseasonably warm weather bringing clear skies to Milan, event attendees embraced the sun by wearing sunglasses closely reflective of current eyewear trends. Andrew Banks, General Manager from Aviva Mann Optical Group noted that, "it was interesting to see that mirror lenses and cosmetic lens tints continue to be popular with Europeans and this was reflected on the displays on the stands.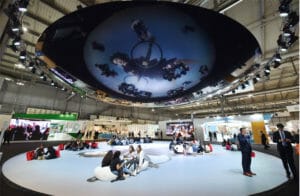 "Traditional shapes such as round and aviator continued to be prominent with suppliers. A trend toward using sustainable materials in both frames and optical accessories was noticed along with the recent trend of natural materials," he said.
Mr Banks described the 49th Mido as being positive for both exhibitors and attendees. "It was exciting to see many new exhibitors and some new innovations," he said. "Our suppliers indicated that many new clients as well as existing clients had travelled from all over the globe to attend this year's Mido with many placing orders for new products."
Max Neubauer from Eyemakers attributed much of his positive experience at Mido to the improved marketing effort to draw in visitors and enhance the presentation of the exhibition halls. "Some areas within the exhibition hall had been converted to lounge like areas where visitors could regenerate and regroup with free soft drinks, tea and coffee before hitting the next exhibit.
"And there was the 'Lab Academy', an area of standard sized, preconfigured booths where mostly new and upcoming designers showed their products. This area was the busiest and frequented by hard core buyers looking for 'that special' design," he said.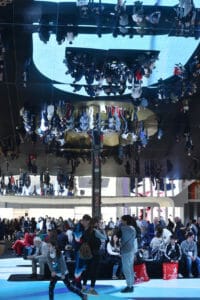 Over three days, Mido was broadcasted live on MIDOTV, and streamed on YouTube where it garnered over 100,000 views. Social media platforms such as Instagram and Facebook also generated significant interaction through use of the hashtag #Mido2019.
With Mido 2019 over, work is already under way on the next edition, marking Mido's milestone 50th anniversary. "A packed calendar of events is in the works for 2020, designed to involve the entire industry – companies, opticians, buyers, the media and institutions – for a proper celebration of the Gold Edition," concluded Mr Vitaloni.
In 2020, Mido will take place from 29 February to 2 March.