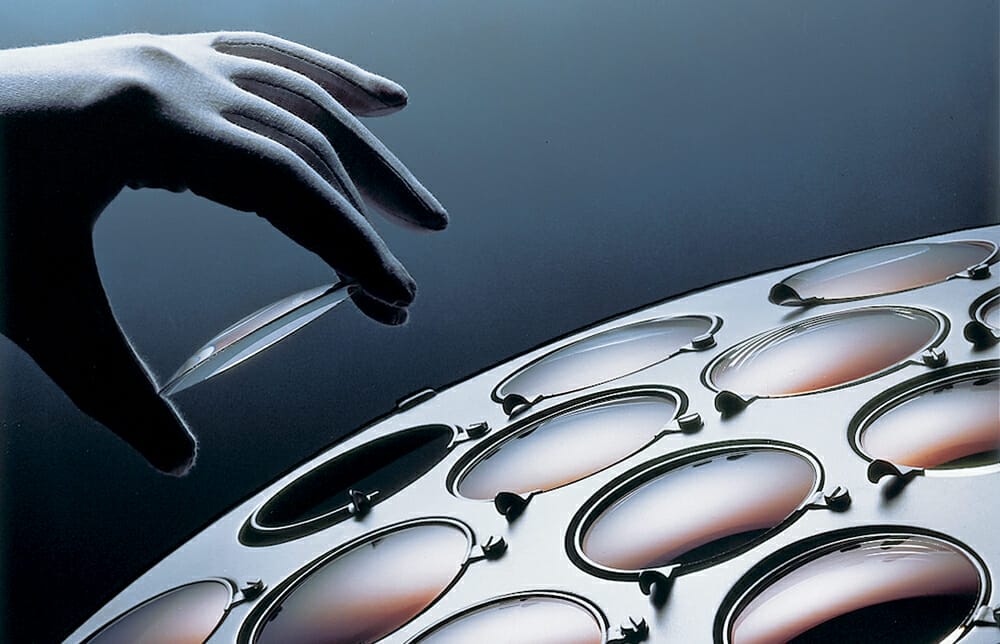 Founded in Germany in 1877, Rodenstock offers the perfect interplay between frames and lenses, based on a thorough understanding of "the system of vision in its entirety" and a committment to enabling everyone to use 100% of their vision potential.
Regardless of whether or not you're interested in history, it's hard not to be impressed by the story of Josef Rodenstock and his direct influence on the eyewear and eye care industry through the ages.
current collections tend to be reinterpretations of popular classics from Rodenstock's own archive, with inspiration from trend magazines or fashion and optical fairs
Hailing from a family that was unable to afford his school and university education, Josef struck out on his own path to knowledge, which led him to develop the first framed spectacles in an effort to remedy visual impairment.
That first was followed by many other Rodenstock innovations aimed at providing people with the best visual acuity, including the 1880 launch of sunglasses with yellow-green sun protection; 'ColorMatic' – phototropic lenses with lens darkening controlled by incident light, launched to the market in 1968; and most recently the DNEye Scanner for automated, personalised eye tests.
A CELEBRITY FOLLOWING
While Rodenstock is well known in Australia for its lens technology, until recently its frames have taken a back seat in the local market. However, frame design has been key to Rodenstock's business success and there are now plenty of fashion forward frames available for stocking optometry display shelves.
Countless celebrities and high profile personalities have worn and loved Rodenstock frames, among them Sophia Loren, Bill Clinton, the German-Austrian 'Kantsch' exhibition team that climbed the 8,630 meter high Kangchenjunga in the Himalayas in 1975, the German national ski team and of course, Ronald Reagan who prior to his Presidency of the United States was one of the coolest actors in Hollywood.
Reagan's love of Rocco Glasses made the collection a cult brand in the 60s and although the frame slipped into obscurity, it re-emerged with gusto in the 90s and has remained a top seller ever since.
Today the creation of Rodenstock frames is led by designer Bettina Bubel who has been with the company since 2011 and has studied product and jewellery design. Bubel says she designs frames for people who appreciate high-quality products and engineering, as well as aesthetics.
"He or she likes precision, and has a tremendous passion for quality. The measurement tools, lenses and frames from Rodenstock combine these strengths in an unmistakeable way," she says.
MULTI-AWARDED
Clearly the industry agrees. Rodenstock has been recognised with over 60 prizes in 120 years, among them awards for internationally judged design competitions, including the prestigious iF and red dot.
With such a rich history in design, Bubel says her current collections tend to be reinterpretations of popular classics from Rodenstock's own archive, with inspiration from trend magazines or fashion and optical fairs.
"The result pays homage to the iconic designs of back then, which are still current today. For example, the Rodenstock Diplomat model from the late '50s provides the style template for the T-Style Attitude model – a modern revival of the Clubmaster look. And, our oversized Lady R sunglasses are a declaration of love for the unfading charm of the perfectly staged proportions of the '60s."
Another example of timeless design she points to is model R7086 which also showcases Rodenstock's craftsmanship, precision grinding and intelligent technology.
"This model was inspired by the formal dress code of the '20s and reworked in a futuristic way to become the latest generation of our Retro Classic series. The titanium, which is riveted by hand, makes the frame extremely lightweight and strong."
GERMAN PRECISION
From the frame to the lens, every single Rodenstock product is designed, developed and tested at its headquarters in Munich, Germany. To ensure quality, its 14 production plants located in 13 countries, only fit their frames with premium Rodenstock and Porsche Design lenses.
"The perfection of our products is the essence of German quality and engineering skill," explained Bubel.
With the aim to provide people with the best progressive glasses in the world, Rodenstock continues to innovate and has approximately 500 patents and patent applications on file worldwide for innovations in lenses, frames and instruments.
The company, which employs around 4,900 people worldwide and distributes to over 85 countries, recently launched the Rodenstock DNEye Scanner into Australia. This makes it possible for practices to perform automated, personalised eye tests which are very precise at over 7,000 points, ensuring the manufacture of lenses that are absolutely tailored to the individual and their choice of frame.
Bubel is excited about what's on the horizon for Rodenstock. "Inspiration from our past, combined with new ideas, materials and extraordinary technical innovations like the DNEye Scanner will be the foundation for our future."