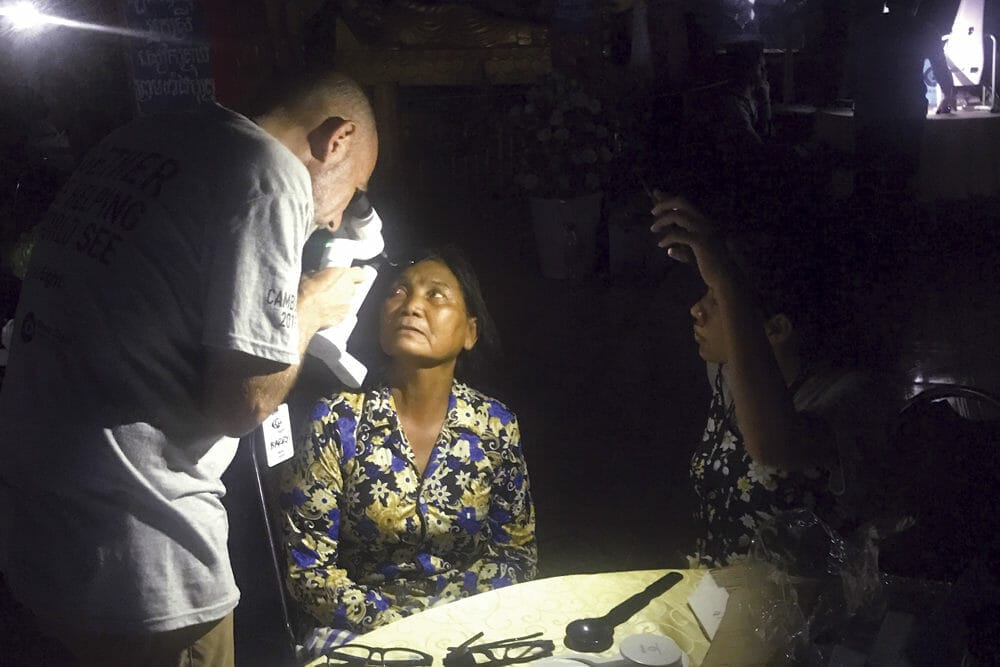 OneSight has grown up. What started out as the charitable arm of Luxottica has flourished into an independent global non-profit that works with donors, volunteers, partners and sponsors, to offer eye exams, glasses and permanent vision centres to the individuals and places that need them the most.
In Australia, our optometrists volunteer their time locally and in partnership with OneSight colleagues from around the world to deliver their services and expertise. Together, OneSight volunteers have positively impacted over 21 million people in 49 countries. And as often is said, doing so provides as much value to the patients as it does to the volunteers.
The story of OneSight is one of evolution. Founded 30 years ago as the result of an experiment to recycle frames for those in need, it has kept its entrepreneurial spirit alive. This has involved constant tweaking of both its programming model and mandate as times and technologies have changed.
Now we're able to access a greater pool of volunteers from right across the optical industry – for both projects and fundraising
In 2015, OneSight came to a bold, but necessary realisation: to truly change the world from one where access to eye care is a luxury to one where everyone can get an eye exam and, if required, a pair of glasses, would mean going beyond the capabilities of any one organisation.
So in 2017, still in deep partnership with Luxottica, OneSight spun off to pursue its vision of creating a world where lack of access to eye care was no longer a barrier to human achievement and potential. Doing so has allowed the organisation to seek both participation and support from a broader pool, while still having access to the expertise and enthusiastic support of Luxottica.
Wayne Hogan, who volunteered with OneSight for 28 years before becoming the Country Manager three years ago, said this move was "the biggest thing" for the organisation.
"Now we're able to access a greater pool of volunteers from right across the optical industry – for both projects and fundraising. That's been a big thing for our local program – because we now have optometry students and people from private optometry in our local programs."
Not that finding people to volunteer is difficult. Mr Hogan says there are three or four people vying for each position, such is the demand to make a difference. To get on a program, you have to go through an application process and then wait for the opportunity to arise.
OneSight has three different arms to its work both in Australia and internationally:
Local programs – OneSight volunteers perform school screenings and provide glasses to those in need,
Community programs – OneSight volunteers work in regional and remote centres as well as refugee centres, drug and alcohol rehabilitation centres with service providers and groups such as the Salvation Army, to deliver full eye testing and glasses to those who may lack access through the traditional channels, and
Sustainable vision centres – OneSight partners with governments and nongovernment organisations (NGOs) to establish and equip self-sustaining vision centres in developing nations, then trains local eye care workers on refraction, product and service provision. The goal is to transition these centres to full local ownership and operation.
Mr Hogan says sustainable centres are the future for long term delivery of eye care services.
"We are working all around the world to establish centres – countries include Rwanda, Zambia, and The Gambia; and in South East Asia we are partnering with other NGOs to establish clinics in Timor Leste, Bangladesh and China. We train local eye care workers on refraction, help them with an operating model, provide the infrastructure, and set up a product supply chain so that they attain self-sustained businesses that are owned locally, by the people for the people, and they can be there for many years to come," said Mr Hogan.
OPSM franchise partner Barry Zinn, (Hornsby, Sydney) was a member of a global team that set up a sustainable clinic in Huye, Rwanda. He said the opportunity to do so was life changing and that despite the volunteers coming together for the first time from all over the world, he experienced incredible camaraderie.
We were immediately a 'family' as we realised we were all there for a common goal – to provide access to affordable vision care
Huye, (formerly known as Butare) in southern Rwanda, is home to the National University of Rwanda. With a population of approximately 400,000 people, the town was in need of a sustainable clinic to provide affordable and accessible eye care and eyewear on an ongoing basis.
"Upon arriving in Rwanda's capital, Kigali, ahead of a three hour trip to Huye, our team (from Australia, the USA, Canada, Brazil, Italy, The Gambia and Rwanda) met for the first time.
"We were immediately a 'family' as we realised we were all there for a common goal – to provide access to affordable vision care," said Mr Zinn.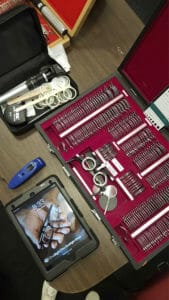 "Our aim was to open a clinic at CHUB (the National University of Rwanda Hospital Centre). We set up all the refraction equipment, frame displays, finance systems, IT systems, frame stocks, accessories, a triage room, registration room and so on. Then we commenced training local personnel in their different roles.
"Some volunteers were involved in marketing the clinic by visiting schools, health centres and handing out pamphlets to the people in the streets of Huye.
Others taught local staff pupillary distance measurements, seg heights, frame selection and financial transactions.
"My responsibility, together with two other optometry doctors from the United States and Canada, was to train three ophthalmic clinical officers (OCOs) to master the use of the phoroptor (which they had never used before), to teach and reinforce the use of a trial frame in refraction, to use the auto refractor, noncontact tonometer and lensometer.
"We spent five days training them in refraction and triage management, teaching them prescribing habits through hundreds of case studies and simulated patients. Then we got them to perform refractions on the three of us, and on some of the volunteers."
Mr Zinn described the clinic's grand opening, where local dancers performed, official speeches were made, and a ribbon cut before guests were invited to walk through the facility.
"A few tears were shed as we realised this was the culmination of a dream come true for so many, and now a permanent facility for people who had previously been denied basic vision care."
Following the opening, the team stayed on to ensure the clinic was running smoothly and to supervise the OCOs with their newfound refractive skills.
"They didn't disappoint with their enthusiasm, commitment and passion," he said.
In May this year, Mr Zinn was one of five optometrists and 19 others given the opportunity to volunteer at a charitable community clinic, set up in "a magnificent Buddhist temple" in Cambodia.
Over almost five days, they provided approximately 1,300 patients with comprehensive eye examinations that included visual acuity, tonometry, dilated retinal examinations, slit lamp examinations, refractions and the dispensing of free optical prescription glasses and sunglasses.
Additionally, in conjunction with the Khmer Sight Foundation, many patients were referred for cataract surgery, pterygium surgery and other sight saving surgery.
"There were so many highlights from this trip, most of them uplifting and emotional," commented Mr Zinn. "The smile on every patient's face who was helped in some form was so precious to witness. A smile when they could now simply thread a needle, drive a car, read a newspaper, see their children/ grandchildren said it all. One picture worth a thousand words!"
SCHOOL SCREENING IN AUSTRALIA
Back in Australia, much of OneSight's work involves screening children for vision.
In South Australia, optometrist Lauren Field has conducted several primary school screening programs, mostly in disadvantaged areas, with her store manager Martin Homes, who is a OneSight coordinator in the region.
"Our school screenings are usually undertaken over a full day and are preceded by permission slips for each child, which come back to us with any notes about concerns that the teacher or parent may have.
"We screen monocular and binocular vision and then we check with a +1.50 flipper to rule out latent hyperopia. We check the child for stereopsis, colour vision and near visual acuity. Additionally, we do cover testing, motility, convergence and we check their ocular health. We put all this information together and then if the child requires further examination we refer them on to a practice where the examination is bulk billed under Medicare. If they need glasses, we give them a voucher to cover the full cost at any Laubman & Pank or OPSM practice."
Ms Field says being able to correct a child's vision is ultimately rewarding. "My view is that even if there's only one kid we've helped on any one day, then we've made a great difference to them, their family and most probably their classmates as well. A principal of a particularly disadvantaged school told me that by providing vision correction to the children in need at her school, we had changed the entire culture of the school. The kids were better behaved and more able to learn. They were happy and felt a greater sense of achievement… Knowing that vision correction can make all the difference to a child's behaviour, their academic and social development is fantastic."
Ms Field said witnessing disadvantage in the community has been confronting. "It's made me aware of the disadvantage out there. Some of the kids I see have had a lazy eye that's been noticed for years without being checked. Others have broken their glasses and they haven't had them replaced for months and months – these cases hit me because it just shouldn't be this way."
Terry Nguyen, from Laubman & Pank in Ipswich, Queensland says one of the challenges in screening children is earning their trust – something he does by drawing on his experiences as a volunteer running games and activities for children at his local church.
"Over time you see so many that it's easier to recognise which ones are likely to be cooperative and which ones will be more resistant and require a different approach."
Like Ms Field, he says the most rewarding aspect of volunteering with OneSight is realising the impact you can make in the community.
"By sharing and volunteering a small amount of time we can make a real difference to people's lives. It is very satisfying to get feedback from a school, facility, or community that we've provided with eye care and to hear about the improvements that have come about."
ONESIGHT IN REMOTE AUSTRALIA
While working as an optical dispenser and training to be an optometrist, Mr Nguyen volunteered at clinics on Mornington Island, in Doomadgee in Queensland, and in Shepparton in Victoria. He said the experience taught him a lot about relationships, care coordination and the health problems faced in remote communities.
"Within indigenous populations there is a very high proportion of people who have diabetes and cataracts. Witnessing this made me realise how restricted their lives become and the processes required to provide them with relevant information and deliver the care they need. It really comes down to establishing relationships with people in the community, especially the elders.
"We have coordinators who run the clinics and those people have existing relationships with elders within the communities. The elders know who to contact if they need help and we are able to contact them to arrange the clinics. When it comes to providing further care or specialist treatment, these relationships are particularly important."
Carnation Tran from OPSM in Alice Springs works with indigenous patients in her practice as well as in remote clinics.
"I studied at Deakin University and did my six month placement with Luxottica in the Northern Territory. While I was there I heard about OneSight, and was able to join my first clinic in the Gulf Region in Doomadgee and Mornington Island. It was the perfect opportunity as I had always wanted to do outreach work as a student."
She said working in remote areas presents challenges that push you beyond your comfort zone – an opportunity she relishes.
"When we volunteer in indigenous clinics in remote Australia, we are usually working in really small communities that don't have access to healthcare all the time – there may be just a couple of hundred or a few thousand people. We really go back to basics, testing with trial frames and so on, because we don't have access to the equipment that we have back in the clinics.
"In remote Australia, you get to see a broader range of pathologies and to manage them in collaboration with a GP or an ophthalmologist, rather than referring or sending the patient directly to their clinics, something that we can easily and usually do in store.
"We are all very aware of the need to carefully triage patients and emergency cases that may need further care – getting them to a hospital eye clinic can require a ferry and/or two planes, all of which can be very upsetting for the patient to attend, difficult to arrange and expensive too."
But with that, Ms Tran says, come plenty of rewards. "For many elderly people, it is their first eye test. They might think they have really good vision but when we test them, we find that they may not even have driving vision. A lot of the time they can get a pair of reading glasses on the spot – and they can read – that's really rewarding."
OneSight's stated mission is to 'bring eye exams and glasses to the one in seven people on our planet who lack access to vision care'
At the other end of the spectrum, Ms Tran recalls helping a small boy, aged four, who was born aphakic.
"He was legally blind (needing a -20D prescription in both eyes), but he had been seen at a OneSight clinic and glasses had been arranged for him previously. The lenses had to be really thick – but at least he was able to see, and most importantly, he was overjoyed at being able to see his mum for the first time."
"I was with the OneSight team that went to the next clinic in the same community and so I got to see him there. By that time, he had lost his glasses so when I put the trial frames on with his prescription in it, it was so rewarding to witness him seeing his mum again after being without glasses for so long. Of course I was able to arrange replacement glasses."
TRANSFORMING LIVES
OneSight's stated mission is to "bring eye exams and glasses to the one in seven people on our planet who lack access to vision care".
In the process, the organisation is giving these people the opportunity to transform their lives and the lives of their families. However, it is also transforming the lives of those who choose to volunteer their time to participate in its many global programs.
Barry Zinn said the impact that OneSight is making world-wide is far-reaching.
"For me it was the most humble, gratifying and rewarding experience I have ever been fortunate to be involved in… the reward of giving back something to your community, or other communities worldwide, is undeniably satisfying," he said.
If you would like to volunteer with OneSight, or support its work with a donation, visit onesight.org or send an email to onesightinfo@onesight.org.au.