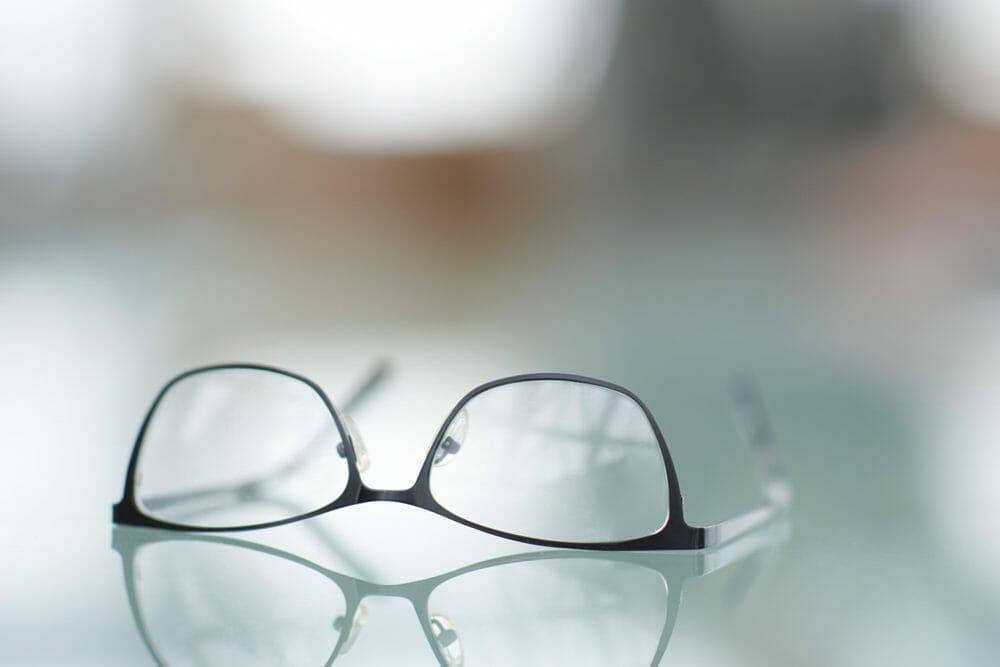 50 years after graduating with a Bachelor of Optometry at the University of New South Wales, Dr Philip Anderton sat down with his fellow final year class of 1969 to reminisce on their early optometry years and reflect on the changes they've seen.
Their bank of practical experience, coupled with continued study, allows for a fascinating insight into the evolution of the optometry profession in Australia.
Back in 1969, the final class of optometry at the University of New South Wales (UNSW) was massively different from the composition of optometry schools today. There were only five students studying at the time and they were all male – Philip Anderton, Peter Merrington, Stephen Pain, Robert Linke and Victor Kondratenko.
Refraction and optics were the main focus of an optometrist's day
The practice of optometry also differed markedly from practice today.
"My colleagues graduated in 1970 and I stayed on to complete a double degree (B Optom, Bsc), graduating in 1971," recalled Dr Philip Anderton. "When we first started work as employed optometrists, the practices were like the university we'd attended – they were dominated by males of anglo-celtic extraction.
"Our weeks were very structured – we'd work Monday to Friday from 9am until 5pm with an hour's lunch unless there was an emergency or other crisis. We had appointments booked for every 45 minutes, and most of the time were assisted by optical dispensers and office staff to complete each case."
Refraction and optics were the main focus of an optometrist's day. All lenses were ground from optical glass and most optometrists maintained a store of spherical and sphero-cylindrical powers, as well as equipment to mark up, cut and edge lenses for any given frame.
"In 1969 the new DIA machine introduced template-driven automatic cutting and edging. We'd all learned lens marking-up, cutting, hand edging and fitting as a part of the final year in 1969, but I remember learning a huge amount on the job from the senior optical dispensers I worked with after graduating," said Dr Anderton.
Interestingly at that time, OPSM, now a major optometry business owned by the multinational corporation EssilorLuxottica, operated only to dispense optical prescriptions written by ophthalmologists.
OPTOMETRY: BUT NOT AS WE KNOW IT
While optometrists looked after their patients' refractive needs, ophthalmologists tended to manage patient eye health.
This was despite the fact that in August 1963, NSW had become the first State to amend their Optometrists Act, providing optometrists with access to diagnostic drugs.
"This was a momentous event as it began a new era for optometry, taking the profession out of the exclusive realm of optics, and paving the way for the current era where optometrists play a significant role in the clinical team that diagnoses and manages ocular and related pathology," said Dr Anderton.
Without access to either diagnostic technologies or therapeutic drugs, Dr Anderton said he and his cohort became very skilled in the "difficult art" of an undilated examination of the eye with a direct ophthalmoscope
"However, at the time my cohort was going through, the University of New South Wales did not have a Medical lecturer to provide the mandatory training in 'Principles of Medicine for Optometry' required by legislation. That meant we missed out on the training."
Things changed when Brien Holden joined the UNSW Optometry staff in 1972. He had qualified in diagnostic drug use in Great Britain and so, as a new lecturer, was able to run a diagnostic drugs course at UNSW for the first time.
Without access to either diagnostic technologies or therapeutic drugs, Dr Anderton said he and his cohort became very skilled in the "difficult art" of an undilated examination of the eye with a direct ophthalmoscope.
"Each examination would take from 25 to 45 minutes and comprise a full history, examination of the retina with a direct ophthalmoscope, measurement of vision and subjective refraction, analysis of binocular vision, and if required, prescription of lenses and the selection of a frame."
BRIDGING THE GREAT DIVIDE
Optometrists were able to provide referrals to ophthalmologists as required, so that patients could receive services recognised by the private health insurers. Services provided by optometrists, on the other hand, were not eligible for rebates by private health insurance companies, a factor which further influenced optometry's ability to expand its scope of practice beyond optics.
It was not until 1975 that Medibank (today known as Medicare) came into play, making optometry services more accessible to the public.
The introduction of therapeutics teaching was also instrumental in expanding the scope of optometry, something Dr Anderton is proud to have been involved in.
"Most of my 'practice' time was spent as a lecturer (1978–1985) and senior lecturer (1985–2004) at UNSW Optometry, where I taught just about everything in the course, and researched in the basic vision sciences. As such, I was pleased to play a small part in the new developments, the most significant of which was to create the first postgraduate course in Ocular Therapeutics at UNSW, together with Professor Murray Fingeret from SUNY in the USA, and Dr Tom Millar, a biochemist and ocular scientist with whom I collaborated in research.
I remember learning a huge amount on the job from the senior optical dispensers I worked with
"Murray brought in many of the leaders in these disciplines from the USA (e.g. Linda Casser, Leo Semes, Tony Cavallerano) and two ophthalmologists from New York (Ed Smith and Amelia Schrier) with whom he collaborated closely in the management of advanced cases of glaucoma.
"I was also the NSW Optometry Board nominee on the NSW Drug Authority Committee, which negotiated the introduction of therapeutic drug legislation for optometrists in NSW.
"To their credit, many local optometrists completed the Graduate Certificate in Ocular Therapeutics even before we were able to have it officially recognised as the qualification for a NSW Optometrist Drug Certificate in the 1990s."
CHANGE MAKERS
"Optometry has changed enormously over the years and while we were students, those spearheading change tended to be older optometrists who were secure in their career paths and leading the Association and University Departments.
The clinical leaders from all three Schools of Optometry at the time (UNSW, Melbourne, QIT) were critical to expanding the role of optometry in the vision and eye health team. This became particularly important in rural and regional Australia where most practising optometrists were early adopters by pure necessity, being the only eye health practitioner in their areas.
"During our final years there were students at all three University courses who went on to play leading roles in the profession, in business, in Government relations and at the Universities."
Dr Anderton said as well as focussing on expanding optometry's role in eye health and achieving recognition in Medibank, they were very much focussed on developing technologies and advanced techniques for eye examinations. These included slit-lamp microscopy, Goldmann tonometry, and detailed examination of the retina with a dilated pupil. At the same time, Standardised Automated Perimetry was being developed and adopted by the profession.
Today of course, the role and scope of the optometrist is dramatically different and it continues to expand into areas Dr Anderton admits were un-imagined in the 1970s.
"Today, I suspect optometrists are the chief detectors and initiators of management for patients with sight-threatening chronic diseases such as glaucoma, cataract and diabetic retinopathy. In rural and remote Australia, optometrists provide immediate, locally accessible access to high-quality technical and clinical investigation of patients with vision and eye health needs," said Dr Anderton.
"Unfortunately, the relentless reduction in the real value of the Medicare rebates received by patients for optometry service items continues to place pressure on both providers and patients. While optometrists now have the right to charge 'gap' fees, these fees are simply not affordable for many patients in rural communities in particular."
SAME DEGREE, DIFFERENT CAREERS
While the opportunities may not have been quite as diverse 50 years ago as they are today, our five graduates of 1970/71 have enjoyed remarkably different career paths.
Between 1970 and 1977, Dr Anderton worked for the Sydney corporate, Gibb and Beeman, before moving into academia. More recently he has provided a fly-in fly-out optometry service (in his own small plane) to rural and regional areas of Australia and is currently Adjunct Associate Professor at UNSW Optometry and Vision Science.
Professor Brian Layland OAM OLM Fellow UNSW (HON. Causa) went on to further his studies and, until 2005, was an academic at UNSW. Throughout many years of his career, he made a significant contribution to the Brien Holden Vision Institute as Chair and Director of the Board until 2018, and now continues as the Institute's Patron and a consultant.
Having come from an 'optometry family' with a longstanding practice in Broadway, Sydney, Dr Peter Merrington spent a number of years practicing in the UK before returning with an innovative approach based on his experience abroad. Since then, he has run Merrington's Optometry group practice in Victoria with his son James, the eighth Merrington to become an Australian optometrist.
Stephen Pain chose the path of independent optometry, practicing in Hurstville and Rockdale, before establishing a homebased practice in Sylvania. From 1993, he operated a rural practice in Sussex Inlet followed by a stint of locum work before retiring in 2017. Similarly, Robert Linke is a well-established independent optometrist practicing in Gladesville, Sydney.
Also an independent optometrist, Victor Kondratenko founded the optical supply company VKO Pty Ltd and has been involved in lens design, lens casting and manufacturing spectacle lenses over the last 40 years. He also established City Optical Pty Ltd with links in the USA, Mexico and China, and is currently working in independent optometry and spectacle frame wholesale through VKO.
THE HEART OF OPTOMETRY HOLDS STRONG
Throughout his career Dr Anderton has noticed an aspect of optometry that has remained the same from 1969 through to 2019; the value of an optometrist's personal reputation.
"The main factor driving patients to see a particular optometrist is word-of-mouth reputation. An optometrist who solves patients' problems, is aware of and adjusts to that patient's socio-economic status, and who examines and discovers significant sight- or life- threatening cases of disease, will rapidly build a strong reputation in the community," said Mr Anderton.
"The important message for todays' graduates is for them to recognise this fact and choose a career path that allows them to grow their reputation with authenticity, in a way that benefits them personally, rather than being concerned about benefiting their employer or franchise owner."