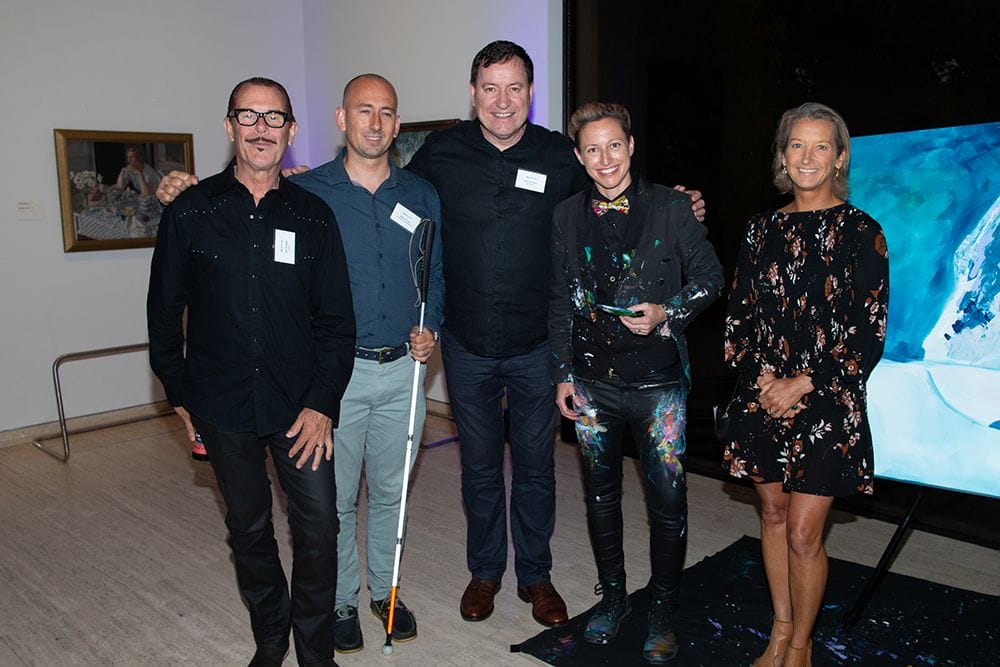 MyHealth1st has launched LookDeeper.com.au at an experiential event held at the Art Gallery of NSW.
Using the striking image of an 'Eyesberg', the nationwide early intervention initiative aims to inform people about the importance of preventative and regular eye tests for early detection of eye disease.
An optimised search tool appears on the campaign's website which provides users with the ability to find and book with any of the optometrists listed on the MyHealth1st platform – approximately 70% of Australia's independent optometrists are now listed.
LookDeeper.com.au was launched at an exclusive event for celebrities, key influencers and media at the Art Gallery of New South Wales on 22 November
Klaus Bartosch, the Chief Executive Officer & Co-Founder of 1st Group, which created the MyHealth1st platform said, "The campaign educates Australians about the hidden dangers of eye disease and demonstrates the difference between what they can see versus what an optometrist can see beneath the surface of the eyes".
Over 13 million Australians (55%)1 have one or more long-term eye conditions and although, nine out of 10 say their sight is their most valued sense,2 almost 4.6 million consumers do not visit an optometrist.2
Experiential Launch
LookDeeper.com.au was launched at an exclusive event for celebrities, key influencers and media at the Art Gallery of New South Wales on 22 November.
Guests included recognised Australians such as Glaucoma Australia ambassador and INXS star Kirk Pengilly, world champion surfer Layne Beachley, and Australian Paralympian Matt Formston.
Mr Formston who is legally blind, is a two times and current adaptive surfing world champion, a previous world champion and a world record holder in tandem cycling; and 16 times Australian champion across multiple sports. Of his experience living with eye disease he said, "I was five years old when I became legally blind from congenital macular dystrophy. My entire family went through a massive transition in our lives."
"You can't put a price on your eyes and the incredible sense of sight. Early detection and regular eye tests could be the difference between sight and living in the dark for the rest of your life," said Mr Formston, whose mother now lives with macular degeneration.
"I've learned to be a high achieving individual despite my loss of vision, but if I could have done something to avoid losing my vision, my life would obviously have been a hell of a lot less challenging," he added.
The evening, held amongst the Art Gallery of New South Wale's spectacular collection, highlighted the importance of good vision. To demonstrate the impact blindness and impaired vision has on a person's quality of life, guests were taken on a tour of the gallery with volunteers who are experienced in interpreting art for people with vision impairment. They were also encouraged to wear specially designed eye masks during a three course dinner.
Driving the message home was a complimentary pair of Maui Jim sunglasses, presented to each guest by the Maui Jim team.
Driving Change
MyHealth1st.com.au is part of the Australian digital health group, 1st Group Ltd, which is now also listed on the ASX:1ST. 1st Group provides user friendly online platforms that enable consumers to search and book appointments with health care services.
1stGroup is spearheaded by Klaus Bartosch, who says it was his own platform that saved his life.
Back in 2013 he was unwell and went to MyHealth1st.com.au at 9.30 at night to book an appointment with his doctor. That visit led to the early detection of Mr Bartosch's leukemia.
"I had no white blood cells or platelets," he said. "At the time, I was preparing for a series of long-distance bike rides in support of a charity for cancer research. I was put into isolation for 30 days.
"I'm told that being able to take action that night, at the moment of my concern, saved my life."
Now free of cancer, Mr Bartosch has become the driving force to start all Australians thinking about their eye health.
"So many people just don't have eye disease on their radar, nor do they realise that there are serious eye diseases that present no early symptoms. It can be really difficult to convince people to get a health check when they have no symptoms or pain," he said.
Interestingly, he said 70% of people who book appointments via MyHealth1st are women, which indicates that men are waiting too long to seek an appointment or not making the effort at all.
He said tech can empower people to engage with health services. "The LookDeeper.com.au campaign is a wake-up call for all Australians to make an appointment to visit their optometrist at least once every two years."
References
1. www.aihw.gov.au/reports/phe/260-1/eye-health/contents/new
2. Vision 2020. (2013). Eye Health Report Card Key Findings. Retrieved January 2019.
Accessed from http://www.vision2020australia.org.au/uploads/resource/93/Key-findings-with-graphics_FINAL.pdf