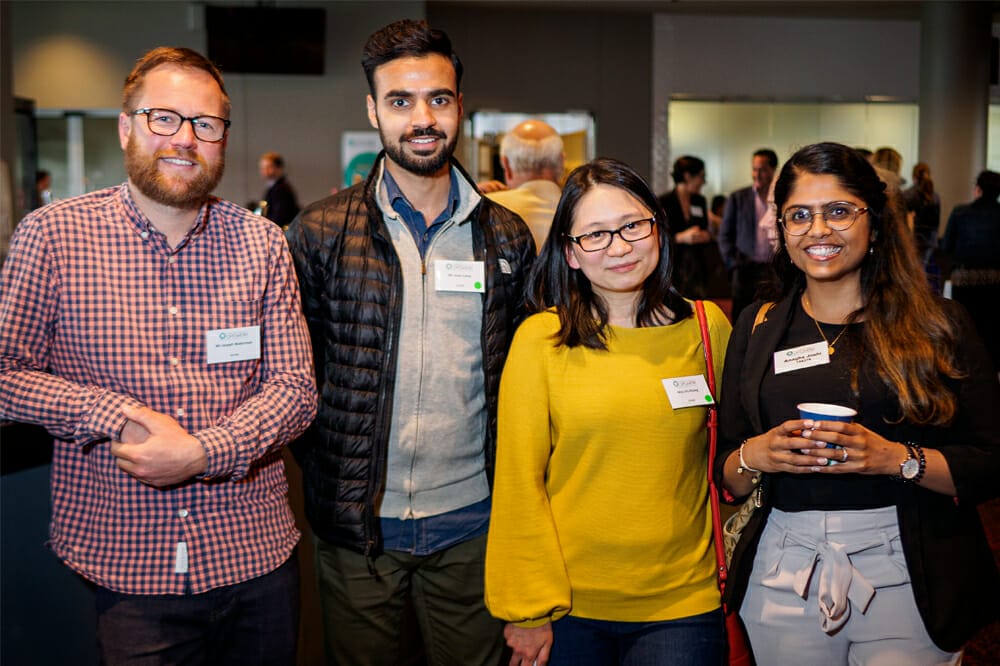 The Australian College of Optometry (ACO) has hosted its 10th Annual Conference at the Melbourne Cricket Ground. The two day event included keynote presentations, panel discussions, workshops and a cocktail event where delegates were able to network with colleagues.
This year's ACO conference provided delegates with cutting edge knowledge on a diverse range of optometric topics with a speaker line-up headed by Professor Noel Alpins (developer of the internationally renowned Alpins Method for the treatment and analysis of astigmatism). Prof Alpins delivered a keynote explaining how vector planning can treat the optimum amount of astigmatism and minimise remaining cylinder in refractive laser surgery. His presentation delved into the analysis of astigmatic outcomes for incisional, cataract and refractive surgery, highlighting the options available to optimise astigmatism in cataract patients.
OK AND MULTIFOCAL CONTACT LENSES FOR MYOPIA
In her keynote presentations, Dr Kate Gifford, who is internationally renowned for her expertise on myopia control, spoke about the many different options for slowing myopia progression, such as spectacles including bifocals, atropine, orthokeratology (OK) and soft multifocal contact lenses. The focus of her presentation on day two of the conference was on the use of OK and multifocal contact lenses for correcting and controlling myopia. She said the evidence indicates that both slow myopia progression by around 50%, and pointed out that both have their benefits and draw backs, depending on the individual patient.
Dr Gifford highlighted binocular vision function errors associated with the development and progression of myopia and explained the interaction between binocular vision and myopia controlling contact lenses, both for efficacy and visual comfort. OK contact lenses appear to reduce accommodative lag, aspheric multifocal lenses tend to increase accommodative lag, and concentric contact lens designs (ie. MiSight) appear to make no difference.
Dr Gifford recommended optometrists consider the whole patient profile before recommending a particular approach to reducing myopia progression and to "think about managing binocular vision even before you begin to manage myopia".
ANTIMICROBIAL RESISTANCE
Professor Alex Gentle, Associate Head of School for Teaching and Learning at Deakin School of Medicine, spoke about prescribing antibiotics, acknowledging that it can be difficult to keep up with resistance patterns and the spectrum of activity of antibiotics optometrists are able to access.
He said it is important to follow the Therapeutic Guideline's antimicrobial creed for antibiotic use and to work to minimise the risk of antimicrobial resistance.
The antimicrobial creed1 states:
M: Microbiology guides therapy wherever possible,
I: Indications should be evidence based,
N: Narrowest spectrum required,
D: Dosage appropriate to the site and type of infection,
M: Minimise duration of therapy, and
E: Ensure monotherapy in most cases.
Prof Gentle stressed the need to carefully consider whether antibiotics are necessary based on the individual case and whether the patient should be referred for lab testing prior to prescribing to be absolutely sure of the organism requiring treatment. When prescribing, optometrists must educate patients about using the prescribed antibiotics – including when, how and for how long they should take them, any potential side effects and the plan for review. The advice given should be documented, along with details of the prescription, the dosage, route of administration, intended duration and review plan. Patients should be reviewed soon after prescribing to ensure their compliance and that the treatment is effective. Findings should be documented. At the appropriate time, antibiotics should be stopped as opposed to tapered.
In his conclusion, Prof Gentle said, "current modelling of the development of antibiotic resistance patterns argues for careful selection of the spectrum of activity, use of a loading dose, more aggressive dosage paradigms, shorter treatment periods and relatively abrupt withdrawal".
NANOSECOND LASER AND AMD RISK REDUCTION
Associate Professor Wilson Heriot spoke about findings from the recent LEAD Study in age related macular degeneration (AMD) reduction, which investigated the use of Subthreshold three Nanosecond Laser (SNL) technology. He said while the study didn't show a statistically significant difference, the 36 month multi-centre randomised sham controlled trial did provide a direction for the future.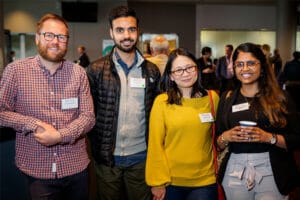 Participants in the study had bilateral large drusen >125μm, within the central 1500μm without late AMD or any signs of atrophy from nascent geographic atrophy visible via optical coherence tomography. Participants were randomised to receive, at six monthly intervals over three years, either 12 shots of SNL or a sham treatment. The study found that SNL did not significantly alter the progression to late AMD.
Explaining the treatment approach, A/Prof Heriot said, the three nanosecond (ns) pulse laser targets individual pigment epithelial cells in contrast to continuous wave laser that has been used for decades which has a longer pulse duration that allows heat to propagate through the retina and down into the choroid.
He said because the 3ns pulse laser is such a short pulse, it creates a lethal thermal change within the pigment epithelial cells which doesn't cause injury elsewhere.
Despite the results from the LEAD study, A/Prof Heriot said there's a push in Europe to use 2RT because Ellex has claimed that post-op analysis of the study results would constitute a proof of its effectiveness.
"So it's leaving us with a major problem because we have lots of fascinating research suggesting it works and a randomised trial that didn't prove that it works."
He then took the audience through why he believes there is a discrepancy between research and trial results.
A post-hoc, effect modification analysis showed a different effect of the laser depending upon the phenotype of intermediate AMD treated – those without reticular pseudo drusen (RPD) appeared to have a four-fold reduction in progression to advanced AMD, while those with RPD potentially did worse with a more rapid progression (two fold).
He said the results from the LEAD study provide a basis for future studies into treatment with 3ns pulse laser and highlight the need to better understand RPD. However, at the moment, the study does not provide a definitive answer that this treatment is proven for slowing progression of AMD – further studies are required. He said if further studies do validate the use of SNL treatment, "these findings would be highly clinically meaningful and would provide a significant, new intervention in AMD to slow progression to late AMD".
ARE WE READY FOR DOCTOR?
The ACO Conference included some lively topical discussions, one of which involved a light hearted debate between Dr Graham Lakkis and Professor Alex Gentle on the topic of optometrists using the title doctor.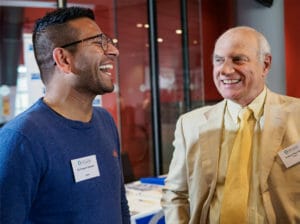 Although the term doctor was first described over 2000 years ago, Dr Lakkis for the affirmative, showed that the meaning had changed over time. Originally used for 'creators of knowledge' in universities, doctor was then adopted by physicians who studied medicine to differentiate themselves from apprentice-trained surgeons. In modern times the title means 'educator, diagnostician, healer and counsellor' and was now used by PhDs, dentists, veterinarians, naturopaths, chiropractors and other health professionals.
Dr Lakkis argued that optometrists perfectly fit the modern definition of doctor and had earned the right to use the title through their university education and training, independent practice and autonomous clinical decision making.
"Some optometrists have been reluctant to use the title because they don't have a PhD, don't perform surgery or aren't endorsed to prescribe medications. My contention is that all optometric practice includes complex doctor-level decision making on a daily basis such as analysing binocular vision disorders and cranial nerve palsies, differentially diagnosing swollen optic nerves, detecting choroidal melanomas and interpreting OCT scans."
Dr Lakkis made the point that titles have meaning, and that titles matter to patients, the media, politicians, and other professions. 'Doctor of Optometry' has greater meaning to the general public, and since 2010 is a title that is legally available for all optometrists to use under Optometry Board of Australia rules. In conclusion, he said that the time had come for all optometrists to use the title doctor, that the title elevated both the practitioner and the profession, and should be the default title used by all optometrists, new graduates and our optometric institutions.
Having been asked to take the negative side of the debate, Professor Alex Gentle presented a compelling argument, not necessarily reflecting his own beliefs, for why "now is not the time for all optometrists to start calling themselves doctors".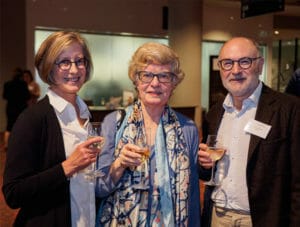 As an academic, he said he holds the right to use the title because he has been awarded a PhD, however he believes it to be a title that is confusing to the public.
Prof Gentle told the story of a public announcement on a ferry asking whether there was a doctor on board. The request was quickly changed and a medical doctor was called for instead.
"If I say 'yes' in that situation, then go on to say I'm not a medical doctor, people have the right to be annoyed with me. As a doctor, it would be useless for me to attend to someone who breaks a bone – they'd be far better off with a nurse," he said.
Prof Gentle said the title doctor infers some level of medical competency and that 94% of the population assumes it refers to a medical doctor.
The profession's protected titles are 'optometrist' and 'optician' and although the use of 'doctor' is permitted, there are caveats.
"If optometrists choose to use the title doctor, they must make sure they're not using it as a status symbol and must clearly indicate they are an optometrist directly afterwards – using the title to mislead others may be committing an offence under the Fair Trading Laws," said Prof Gentle.
He concluded, "I don't think now is the time for optometrists to call themselves doctors – it's potentially confusing for the community they serve. Instead, I'd like to propose that the term 'doctor' be abolished completely and we all use our protected titles… Joe Blogs medical practitioner, Joe Blogs optometrist or Joe Blogs PhD etc".
The room was left to ponder.
CONTINUED SUCCESS
Reflecting on the conference, ACO Chief Executive Officer, Maureen O'Keefe said, "It is pleasing to see the continued success of our conference as it enters its 10th year. The ACO commits to delivering not only a diverse and innovative program every year, but also a platform for the amazing work being done on the ground by those in the public health sector."
Acting Director of Education at the ACO, Dr Michelle Waugh added, "It's gratifying to see delegates learning from the impressive fount of knowledge of each speaker and being part of the special professional camaraderie that only a conference can provide."