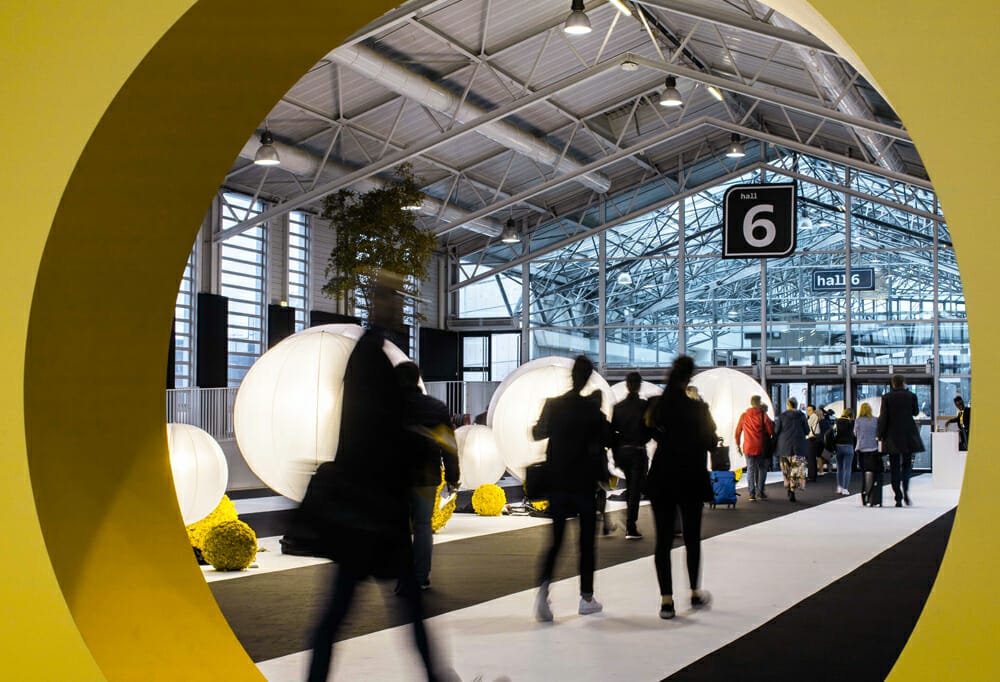 Silmo Paris presented a festival of frames in kaleidoscopic colours, to a background of beating music and flowing champagne within the vast halls of the exhibition centre at Villepinte in the city's north.
Silmo Paris is sensation overload. From the moment you step through the doors on day one you can't help but be swept up by the excitement of designers telling their stories, optometrists and distributors greeting each other with shouts of delight across the aisles, DJs pumping music, baristas grinding beans, and the welcome sound of popping champagne corks.
The 2019 exhibition presented an international feast of brands that took me back to the past with an historical eyewear display curated by Essilor, and into the future with concept practices that hinted at where the profession will be in five to 15 years time.
There were metal frames galore, frames in bold acetates and acrylics, some made from horn, others from marble, and a surprising number that had been 3D printed, demonstrating that this production method is now being embraced. I even found electronic eyewear – Autofocals by Morrow, which founder Paul Marchal and his business partner Jelle De Smet have developed for presbyopes.
"Once we're over 45, we find ourselves looking above or below our glasses, or we buy a pair of multifocals which narrows our field of view," Paul told me. He and Jelle have applied tunable contact lens technology to spectacle lenses, and produced a battery powered liquid crystal lens that fits into most frames and can provide up to +1.5D shift in power. The shift in vision takes two seconds and the battery lasts one week before needing just one hour to recharge. Paul said Morrow's "patent-pending lens-infoil" is scalable to higher dioptics and easy to manufacture in volume.
SUSTAINABLE EYEWEAR
It was no surprise to find environmentally friendly manufacturing being promoted by many of the emerging brands. Dick Moby, established in 2014 in Amsterdam, was one.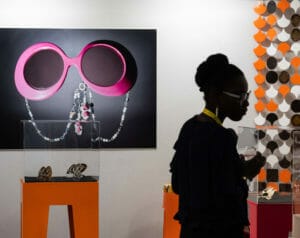 With a passion for surfing and the sea, the brand's co-founder, Robert Wefers Bettink, told me the original concept for his company was to make glasses from plastic recycled from the ocean. He and his partner soon worked out that this was not viable – high density polyethylene and polypropylene, the plastics which float on the ocean, are unfortunately unsuitable. Instead they worked with Mazzuchelli to develop a black acetate from its production scrubs.
Dick Moby's metal frames are manufactured using a combination of new and recycled metals including surgical grade stainless steel. As much as Robert said he'd like to develop a 100% recycled metal frame, it's simply not feasible for his small company due to the production volumes that would be required.
However, cleaning cloths are produced from recycled PET and cases are made from recycled leather offcuts ground down and mixed with latex and bamboo fibre.
EOE Eyewear is a Swedish company which has also built its entire business around sustainability. They started manufacturing frames from biodegradable acetate in 2010 and since then have been working to take their processes to the next level by finding a way to close the loop.
As a result, they're now collecting unwanted eyewear, separating the materials, then grinding down the acetates into millions of small, irregular pieces. Those pieces are put together into new bricks, using high pressure and heat, from which the new frames are cut. The frames are finished with metallic pieces made from Swedish recycled steel.
Impressively, EOE says its glasses are made from around 98% recycled material. While the frames are currently designed in Sweden then made in Italy, the aim is to bring manufacturing back to Sweden in the future.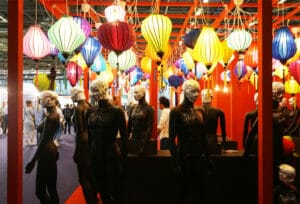 Australia's Colin Redmond – founder and designer at Niloca – also takes a sustainable approach to eyewear. His frames are manufactured using recycled acetates to as great an extent as possible, within the limitation of the material. "You can't achieve the highest gloss with recycled plastics," he explained.
"We are currently supplying our frames in recyclable packaging and we are working with a company in New Zealand to source a silk/hemp bag that will be completely biodegradable. We are also working with our manufacturer in Hong Kong to develop a more ecologically friendly water based painting process."
When I visited Niloca at Silmo, Colin and his business and life partner Josie Redmond, were both wearing models from his new collection, which is inspired by Tennis.
Colin always looks for a challenge in the manufacturing process and his Tennis frames didn't disappoint, with their technically complex fluted chevron temples. He said getting manufacturing underway was long and involved, requiring the development of new tooling to achieve the temples and to thread the metal insert through the merest depth of acetate. Made from recycled and recyclable materials, and PBP free, the fronts of these striking frames feature architectural bows – clever details that are full of tension.
PLAYING WITH NATURE
2018 Silmo D'Or winner Mora Busoli, is an Italian company making bespoke frames from marble. The company started out making rings from marble before venturing into 'accessories for the face'. On the stand, Federica Zavatta explained that the development of marble frames has been a complex process. The first frames made by company founder and designer Paola Busoli were heavy and fragile. However, a collaboration with the Belgian 3D eyewear design house Hoet resulted in a workable model that can be completely customised for the individual buyer.
The brow and temples of the frames are made from the purchasers' choice of marbles sourced from countries that include Italy (Carrara and Tuscany), India, France and South Africa. The lower portion of the frame is made from 3D printed carbon which provides lightness and strength. Each frame is hand crafted by artisans in Modena, with a process that takes five to six weeks, and finished with the purchaser's choice of gold or silver then embedded with precious stones and even diamonds.
Boutique German eyewear company Design Naturell works with horn acquired from farmed water buffalos in India and Vietnam. Petra Weber, co-founder of Design Naturel, explained the production process behind her latest collection of exquisite horn frames.
The collection features inlays along the frame brow which comprise two layers of horn sandwiching a piece of silk. The top layer of horn is so incredibly thin that it is translucent, allowing the colours and patterns of the silk to show through.
Horn adjusts to the body's temperature making it comfortable to wear and being a natural product – like hair and nails – is anti-allergenic. Alongside her frames, Petra had a small line of horn bangles, rings and pendants. Hers was one of several eyewear companies playing with accessories.
3D PRINTING
At the other end of the spectrum were the companies exploring the potential of 3D printing. Götti Switzerland is one. Cleverly, they've developed a collection of 24 strikingly different frames which all make use of the same cut away lens design and temples. Different looks are achieved with different temples and by leaving the lenses rimless, or edging them with 3D printed rims, which come in a spectrum of colours. Some of the lens shapes have also been topped with a 3D printed structural detail, for a completely different look.
Lenses are attached to the nose pad and hinge without glue, screws or soldering, but by using tiny 3D printed connectors. The hinges work with pressure and were developed over the course of eight years. While these frames look delicate, they are extremely flexible and strong. Importantly, being designed by the experienced optician Sven Götti, they are easy for dispensers to work with. "Opticians need a safe system – one that is fun to sell, has good quality and is easy to handle in the workshop. We have glazing labs in many countries that are trained to work with our frames and every practice that stocks them is supplied with a kit so they can fit lenses too," Sven said. A lab in New Zealand is currently undergoing training.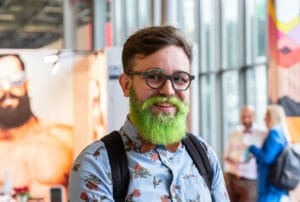 Mykita is another company that is increasingly exploring eyewear design and manufacturing with 3D printing. Its mylon frames are made from fine polyamide powder fused into solid objects with Selective Laser Sintering and formed layer by layer according to a digital data set.
Mykita continues to expand its collections with new metal frames brought to life with coloured etching, frames made from combinations of metals with acetates, and in gloss and matt finishes, as well as collaborations with the likes of Helmut Lang and Maison Margiel.
HIGH FASHION
Safilo was showcasing prototypes of the new David Beckham collection. Linda Benmiloud from Safilo said David was "very involved" in the creation of the collection and, as he will be the face of the brand, wanted to be sure it reflected his style. Well known for his tattoos, the temples of some frames are decorated with a tattoo-like design.
Max Maccanti, who heads the design for Marchon's licensed brands in Europe spoke to me about Marchon's vast stable of brands, many of which had entries in the 2019 Silmo D'Or Awards. He said his team takes inspiration from the craftsmanship and detail of jewellery, from different cultures and cities, as well as a deep archive of vintage frames that has been digitised by Marchon.
"We're launching Lanvin eyewear. Working on the Winter 2020 collection has been a very interesting endeavour because we have developed a runway style, which includes an 80s inspired headband," he told me.
He said designing runway styles is both fun and challenging as licensors seek to push the boundaries of design.
"They want extreme designs for the runway, but then for stores we have to find a common ground between this and what can be done in production – the two things can be disconnected."
He said runway pieces either become the inspiration for more commercial frames or they are simply modified for the mainstream market.
CELEBRATIONS
In true style, l.a.Eyeworks celebrated 40 years of eyewear design. Gai Gherardi was a student when she had her first taste of eyewear design. That was back in 1969 and she and her best friend from school, Barbara McReynolds took up a summer job with an eyewear practice in order to save money to hitchhike across the United States. When they returned from their trip the store owner asked them back.
"He said to us, I don't know what you were doing, but business was great while you were here," Barbara told me.
"We were holding draft resistance meetings and coalition building meetings in his store and at the same time, styling and fitting eyewear. But we knew there was something for us that was very special about eyewear and that somehow it was a vehicle for wonderful communication (great eyewear creates connections and starts conversations).
"Eyewear was so boring back then, there was nothing we liked, so we went to small American companies and found vintage frames and we would sand blast them, drill and dye them – we would do anything we could to customise them and we were massively successful. People were hungry for something different."
Gai and Barbara saved their money and opened their own retail store in 1979.
"At that time there were glasses for women and glasses for men, and we were focussed on moving away from that – so we started modifying traditional men's glasses and putting them on women – and that rocked the idea of gender specific eyewear."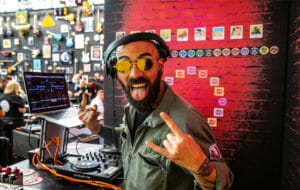 Barbara and Gai approached Bausch+Lomb to suggest they make Ray-Ban frames in exciting colours as they felt this could be commercially successful in their own store and beyond. While Bausch+Lomb said no, they did offer the pair a supply of unsold white Ray-Ban frames, which Barbara and Gai went on to customise with drilling, dying, altering, etc., as they had in those formative years with other dead stock frames. These early alterations began to build the vocabulary and sensibility for their future as eyewear designers.
The rest is history, as they say, and today l.a.Eyeworks frames are available worldwide.
SILMO STATS
Almost 36,000 visitors (56% international and 44% French) travelled to Paris to experience Silmo 2019. Exhibitors across frames and equipment numbered 970.
Eric Lenoir, director of Silmo, described the atmosphere as "dynamic" and said in a world where there are dominant international players, Silmo provides opportunities for independent optometrists to find their niche.
"I feel that the people that come to this show are really motivated. They are looking forward to finding new products that will enable them to specialise … because today you can't be a generalist, you have to make choices and this industry provides many, many possibilities… visual health, eye care, design, sports, kids, everything is here in front of them."
It most certainly was dynamic. Silmo returns to Paris from 2–5 Oct 2020.