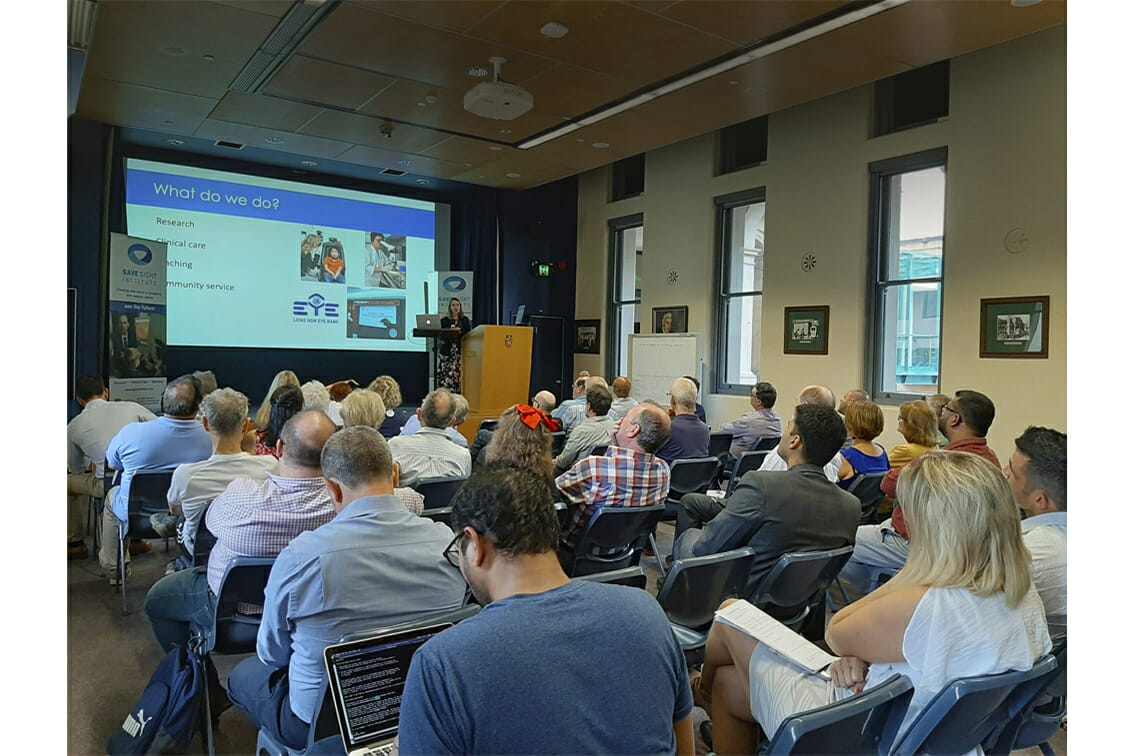 The KeraClub has hosted its fourth annual event, providing opportunities for patients with keratoconus, clinicians and researchers to acquire up to date information on the latest advancements in keratoconus treatments and research developments.
Co-hosted at the Sydney Eye Hospital by Save Sight Institute, The University of Sydney, and Keratoconus Australia, the fourth annual KeraClub event in late October 2019 brought together over 40 patients with keratoconus, alongside clinicians and researchers.
The event was chaired by Michelle Urquhart, an internationally lauded violinist who has keratoconus. Speakers included Professor Stephanie Watson, Dr Jim Kokkinakis, and patients with keratoconus, Joy Alleyne and Ana Sandoval. Ms Alleyne commenced the evening with a rendering of her personal experience with keratoconus. She recounted her shock when she was diagnosed in her youth, and the difficult, yet worthwhile adjustment to living with contact lenses.
Ms Alleyne wore piggyback lenses (hard contact lenses over soft contact lenses), which proved "hard at the beginning but the vision with contact lenses is so good, there is no other way to compare it. With contact lenses, you have hand-eye coordination, peripheral vision, and depth perception." Additionally, she found wearing the lenses prevented her from rubbing her eyes. However, alongside their merits, the lenses came with a share of inconveniences: they were easy to lose, burdensome to clean, and finding an optometrist with experience in keratoconus management was a challenge. After sharing a wealth of experience with keratoconus and contact lenses, she advised patients in the audience, "Don't let keratoconus define you, you decide what you are going to be. There are times when things are difficult. I once hailed a truck instead of a bus by accident! You just have to do what you can to get around".
LATEST RESEARCH PRESENTED
Ms Alleyne's talk was followed by a presentation from Professor Stephanie Watson, head of the Corneal Research group at the Save Sight Institute. Prof Watson detailed recent research, clinical care and current teaching activities conducted by her team at Save Sight Institute, University of Sydney.
She acknowledged the contribution of Keratoconus Australia and its president Mr Larry Kornhauser as "a great source of support for keratoconus research and the KeraClub event since it started".
Prof Watson reported on her team's recent finding that younger people and those with more advanced keratoconus have the greatest risk of changes in the steepest part of their cornea. Dr Alex Ferdi, a PhD student in Prof Watson's research group, pointed to the importance of this work in helping clinicians decide who requires corneal cross-linking.
Prof Watson also reported on the progress of the Save Sight Keratoconus Registry. This registry tracks outcomes of keratoconus using real-world clinical data from over 2,600 patients. With sites in Australia, New Zealand and Europe, there is now data from over 23,000 patient visits. Clinicians receive benchmarking reports comparing the condition of their patients with other users of the registry. The registry system generates graphs "on the fly", which help monitor visual acuity, corneal shape and keratoconus treatments. Patients also benefit from the registry as the graphs aptly illustrate their individual keratoconus journey.
Patient-reported outcomes are collected using the 'Keratoconus Outcomes Research Questionnaire' developed by Professor Konrad Pesudovs. Dr Himal Kandel's project found that this is a valid tool to measure the quality of life impact in keratoconus and the benefits of keratoconus treatment methods.
Prof Watson was pleased to announce the launch of the new "optometry module" for the Save Sight Keratoconus Registry. This module, developed with Dr Laura Downie from the School of Optometry at The University of Melbourne, will track continuity of care from ophthalmologists and optometrists for keratoconus patients, including contact lenses.
"Improving outcomes of people with keratoconus can't be done alone," said Prof Watson. "Collaborations within Australia and abroad for basic science, clinical and translational research and collaborations with registry users and stakeholders including patients with keratoconus and Keratoconus Australia, are all needed to deliver research that matters."
DAY TO DAY REALITIES
The insightful talk from Prof Watson was followed by an informative presentation from Sydney optometrist Dr Jim Kokkinakis. Dr Kokkinakis has over 30 years of experience managing keratoconus patients with various types of contact lenses. He is an optometrist at The Eye Practice, Sydney, and an adjunct senior lecturer at the School of Optometry and Vision Science at the University of New South Wales. Managing contact lenses in 'extreme' conditions was a key topic at this year's event.
Dr Kokkinakis highlighted that every keratoconus patient is unique: they have their own clinical profile, challenges, and expectations. He discussed common misconceptions, providing reassurance that people with keratoconus could do most things in contact lenses… aside from climbing Mt Everest! In addition to the broad range of capabilities, however, he underscored the risks of swimming or showering in contact lenses, rinsing contact lenses in tap water, and sleeping in contact lenses.
Michelle Urquhart shared her experience with scleral lenses. After undergoing corneal graft surgery, she now wears scleral lenses very comfortably. "It's brightened up my life. I'm driving at night-time again, touring, playing music, reading all those tiny little dots on the page. I now feel I am a very fortunate person," she said.
The final speaker, Ana Sandoval, flew from Melbourne to Sydney for the event to share her experiences and meet other people who have lived with keratoconus over different phases of their lives. She stressed the emotional toll of living with keratoconus, stating, "I knew absolutely no one with keratoconus… and it felt so lonely… When I wore my first contact lenses, I felt I was missing out on so much… the leaves, flowers and every little detail".
Ms Sandoval recently underwent crosslinking in both eyes. She affirmed that despite the pain and discomfort during the treatment, stabilising her keratoconus was worthwhile.
The talks were followed by a panel discussion where participants actively engaged in discussions. The questions related to keratoconus risk factors, seeking appropriate services and managing keratoconus.
AN ESTABLISHED ANNUAL EVENT
For the first time, the KeraClub was broadcast live this year, making it accessible to the people who couldn't physically attend the event. This enabled people to participate from all around Australia, New Zealand and beyond. The recording can be downloaded at soundcloud.com/ savesightinstitute/sets/keraclub-2019.
The KeraClub event will return to Sydney in 2020. Sign up at eepurl.com/dvSQtz to receive notifications.
Dr Himal Kandel is the Kornhauser Research Associate working at the Save Sight Keratoconus Registry with Professor Stephanie Watson. Dr Kandel graduated in Optometry from the Institute of Medicine, Tribhuvan University, Nepal in 2011. Since graduating, he has worked as a clinical optometrist in the Eye Care clinic, Kathmandu, and in the Eyecare Hospital, Maldives. He achieved a MSc Public Health for Eye Care at the London School of Hygiene and Tropical Medicine, University of London and has worked as a lecturer in Kenya. Dr Kandel completed his PhD from Flinders University, Adelaide, Australia in 2018.