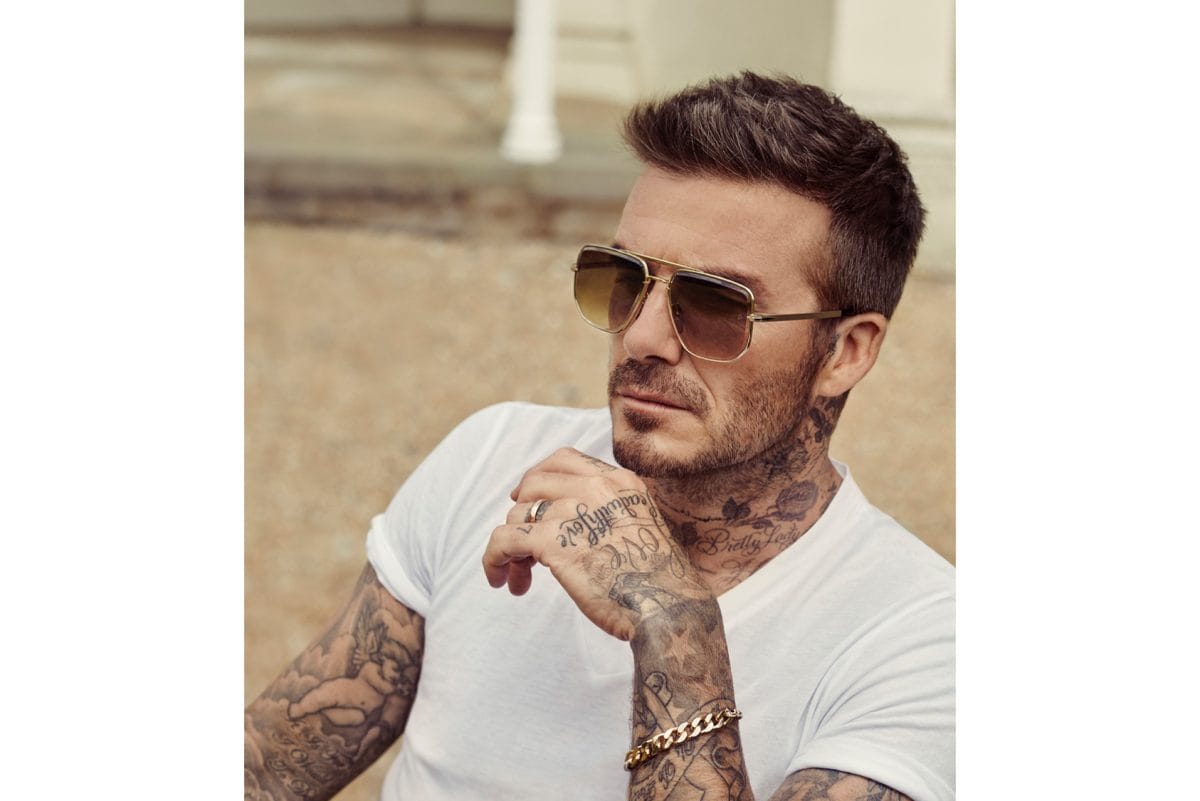 Eyewear by David Beckham is the new eyewear brand of former English football star and fashion icon, David Beckham. Internationally admired by both men and women for his accolades on and off the field, Beckham is the perfect candidate to step into the fashion eyewear industry.
Launched in the fashion capital of Milan, Italy, Eyewear by David Beckham catapulted into the eyewear market with a men's Spring/Summer collection comprising 40 models in optical and sun. Designed to suit a range of aesthetics, and provide a thorough selection for the mainstream man, the collection experiments with colours and materials that reflect Beckham's personal design tastes.
From start to finish, Beckham was heavily involved with the design of each piece, working closely with Italian optical group Safilo to create a collection that was uniquely 'him'. His unwavering commitment to creating something reflective of his own style is evident in the design and craftsmanship of the product.
PASSION FOR SUN
Beckham enters the eyewear industry with a notable passion for sunglasses. Crucial for both practical and fashion purposes, sunglasses have become synonymous with his style image and a main driving force behind the creation of Eyewear by David Beckham.
"I wear sunglasses all the time and this is a category that I love," said Beckham.
A notable model in the collection is 7000S, which was designed by Beckham with his passion for motorbike riding directly in mind. "This is one of the styles I'm most proud of in the Eyewear by David Beckham collection," said Beckham. "I love this style because it can actually fit under a motorbike helmet."
David Pearson, Senior Director, Asia Pacific (APAC), said Beckham designed the model primarily for functionality however, like the rest of the collection, it is a bold fashion accessory as well.
"It features a straight temple so it can quite easily come on and off when he's wearing the helmet and it's got acetate spoilers to protect his eyes from the wind and dirt. High definition lenses enhance and sharpen the contrast of the colours of the landscape," said Mr Pearson.
PERSONAL TOUCHES
Steering away from bold branding that Beckham describes as being "naff ", Eyewear by David Beckham aims to present as a stand-alone brand free from the commercial qualities that often come with a high profile like his. During the design process, he frequently visited the Safilo head office in Milan and, in the early stages, rejected the plans to make his personal brand the selling point of the collection. He found the draft designs over embellished, and asked to remove his name as a prominent design feature.
Instead he wanted to take a subtle approach, deciding on a simple 'DB' monogram emblazoned on the lens of each model and removing any over-the-top branding he thought would detract from the quality and sophistication of the design itself.
Also paying homage to Beckham is the inclusion of his signature Talisman, featured on the temple hinges of each frame. The slim, elongated diamond shape is reflective of his angel wing tattoo which is symbolic of a guardian angel, representing the idea of a free spirit. Again, this design was narrowed down to a simplistic version of the original, indicative of the high level of class Beckham wants his brand to embody.
Mr Pearson noted Beckham's quest for quality. "He wanted to launch a brand, not just make it a thing about him. He's really proud of the collection, this is something he really wants to do."
Complementing the personal nature of the brand, Beckham's eldest son, and budding photographer, Brooklyn Beckham, has been influential in producing the Eyewear by David Beckham promotional material.
"I had a great time filming my first campaign with my Dad," said Brooklyn, "It has been amazing to be part of the Eyewear by David Beckham launch."
DESIGN HIGHLIGHTS
The Spring/Summer collection kicks off the brand with a broad range of choice that's separated into the Style Pioneer and Timeless ranges. With its bold, heavier appeal, Style Pioneer features typically masculine pieces, contrasting the softer aesthetic of the Timeless range which presents easy-to-wear, informal pieces with slimmer acetate, and a more neutral colour palette.
The frames and lenses in the range also include a large array of colours – from honey, burgundy reds, and raspberry tones through to greens and cooler blues fading into clear.
"It's very extensive and covers all different styles. He wanted a lot of styles that you can wear to the beach then straight out in the evening, still in the same pair," said Mr Pearson. With the aim of appealing to a wide consumer market, the collection includes two sets of glasses with clip on lenses, both conventional clip on and magnetic, as well as specific designs dedicated to fit Asian face shapes.
Beckham consciously chose to use polarised lenses, ideal for optimising vision while on the water, riding his motorbike, or spending quality outdoor time with his family.
Acknowledging his partnership with Safilo, Beckham said, "It's important for me to work with a partner who cares as much about the design and craftsmanship of the product as I do. Thank you to the Safilo team, I have loved working with you to create this range.
"I'm so proud to share my first ever eyewear collection."
Contact: Safilo (AUS) 1800 252 016