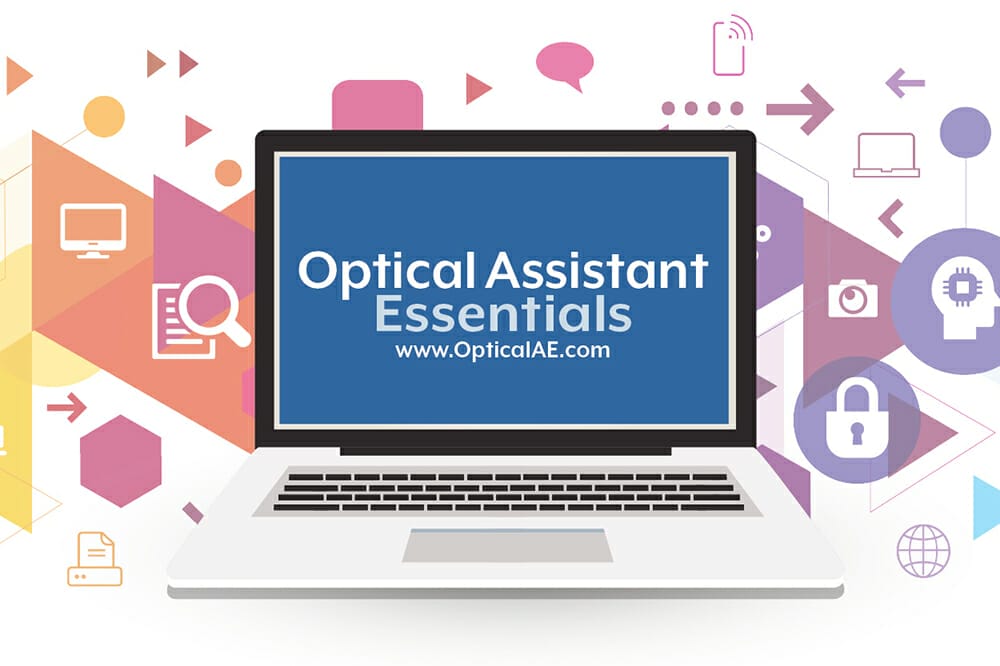 The Australasian College of Optical Dispensing (ACOD) has teamed up with mivision to launch a free online learning platform for newly employed optical assistants with little or no experience.
Optical Assistant Essentials currently offers over 20 short, concise video tutorials, with assessment quizzes that untrained optical assistants should commence watching from day one of their employment in a practice. Each module takes between five and 15 minutes to complete and can be watched at leisure at home or during a quiet moment in practice.
Presented by James Gibbins and Chedy Kalach, Founders and Directors of ACOD, the tutorials cover a variety of dispensing matters encountered in practice every day, and sometimes multiple times in one day. With spectacle and contact lens dispensing becoming increasingly complex, Mr Gibbins says the free learning platform will help practitioners better meet the needs of patients, lead to less spectacle remakes and increased revenue.
"The bulk of dispensing in Australia is carried out by unqualified optical assistants, and this should be a huge concern to the industry," Mr Gibbins told mivision. "Optical assistants can provide wonderful support in a retail optical practice, but without significant training in lens theory they are unable to provide every patient with recommendations for lenses and frames that are both possible and appropriate. This is why the labs continue to report an unsatisfactory non-adapt and remake rate.
"ACOD believes every optical assistant should be on a training pathway that leads to the formal and recognised Certificate IV in Optical Dispensing HLT47815 and completing these tutorials is excellent preparation for doing so. This foundation will mean the Cert IV learner will absorb and master much faster, shortening the study time required."
While completion of Optical Assistant Essentials will provide knowledge that allows students to move through Cert IV more quickly, Mr Gibbins said it does not provide any formal credit towards the certificate course.
"On this basis, Cert IV course fees cannot be reduced however huge reductions can be achieved via the wonderful state based subsidies and federally funded traineeships ACOD can now access on behalf of students and employers".
NATURAL PROGRESSION
Todd Tai, Director of mivision, and co-founder of the mieducation.com platform, said developing Optical Assistant Essentials was a natural progression for his company.
"Our goal at mivision has always been to enhance optometric care for patients in Australia and New Zealand and, with this in mind, to promote collaborative care across the eye health sector," said Mr Tai.
"Our free online learning platform, launched to optometrists in 2010, has been embraced by eye health professionals in Australia, New Zealand and increasingly throughout Asia. Each course we offer is completed, on average, by 500 optometrists in Australia and New Zealand alone. Recently we launched free online CPD platforms for ophthalmologists and orthoptists, and we are seeing a steady increase in participation. We are excited now to extend our offering to optical assistants – these are training modules that every practice manager should expect their new optical assistants to complete very soon after commencing in the role."
Chedy Kalach said partnering with mivision to deliver Optical Assistant Essentials was "an absolute no-brainer" for ACOD.
"James and I have enjoyed many years of friendship and collaborations with Todd, Mel and the wonderful mivision team. The passion for education and growth that both our organisations share makes partnering with mivision productive, satisfying and even a little fun," he said.
"The potential topics we can offer remains almost endless. We are extremely pleased with these tutorial videos, but we can see there remains a significant gap between these and the Cert IV level. We will closely examine the learner feedback as we proceed, and will continue to collaborate with Todd and his team to consider which topics to prioritise next," he added.
Mr Gibbins said practitioners can expect to see more initiatives launched by ACOD in the coming months.
"In response to the protracted COVID-19 period, and to student and employer feedback regarding learning preferences and needs for our students post COVID-19, we are working very hard on a new Cert IV course delivery format.
"Previously we had limited teacher/student face-to-face interactions to the workshops, which can be inconvenient for some. For the first time we will now be adding a number of workplace visits by an ACOD teacher, to meet the student 'at their place', where real world demonstrations of skills can be conducted, and both the student and employer can be saved some of the time and expense incurred with traditional workshops.
"We should be able to announce our new format very soon."
Optical Assistant Essentials' free online videos can be accessed at www.OpticalAE.com. Optometrists can explore the platform using their existing mieducation.com login details.