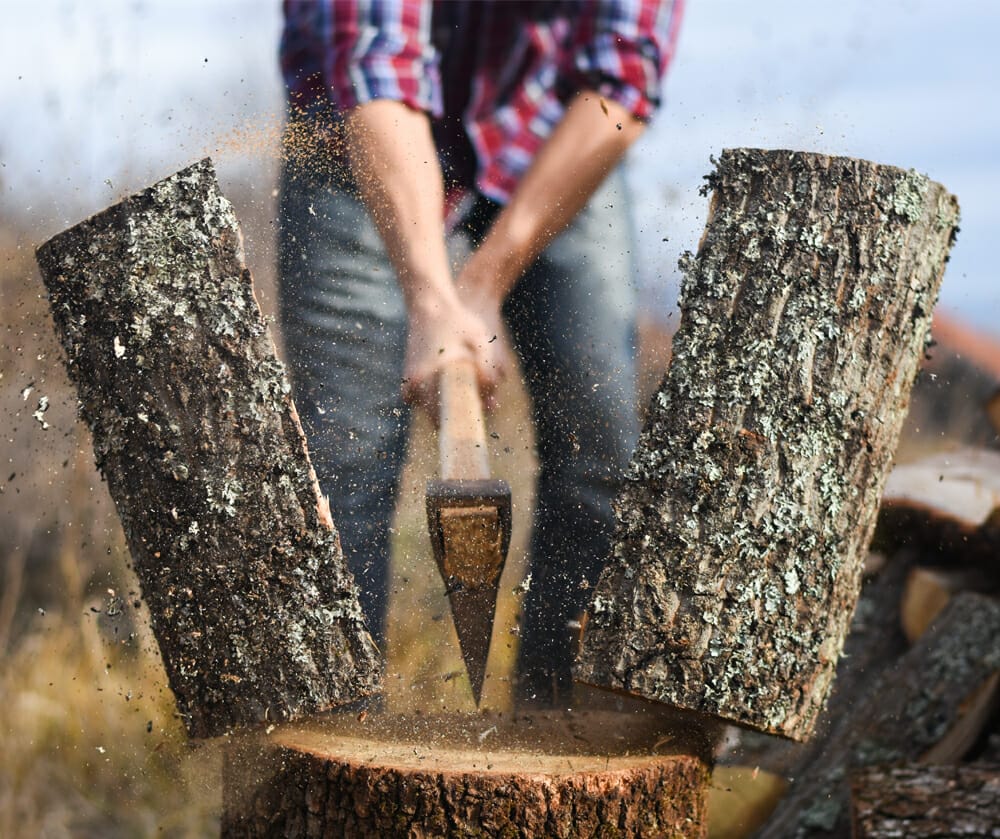 In our fast-paced world, protective eyewear is increasingly important to protect vision. Improvements in spectacle frame design and lens technology provide options for all your patients at work, home and at play.
Health and safety has become an accepted, important and integral part of modern life. It was not always so – in the past many people suffered terrible injuries and even loss of life due to lax procedures in the workplace, in people's homes and in the broader community.
Safe Work Australia reports that Australia's workplace fatality rate dropped by 44% between 2007 and 2015. That's a huge improvement.
Although death from eye injuries is fortunately very rare, they can have a devastating effect on independence and may result in isolation, depression and even relationships.1 Eye injuries also cost individuals, businesses and governments money. Around seven in every 1,000 workers sustain an eye injury every year, equating to as many as 50,000 eye injuries at a cost of around AU$60 million.1 
All of this makes every eye injured one too many – and is good reason to encourage your patients to wear appropriate eye protection. A thorough patient work-up and discussion allows us to target the ideal safety eyewear for our patients – be it for sport, hobbies, the workplace or elsewhere.
THE RISKS
It's no surprise that 60% of eye injuries occur in the construction, mining, agriculture, forestry and fishing industries, with the majority of incidents occurring from welding and grinding.2 There are of course many other risky occupations, as well as hobbies and sports that can lead to eye injuries. According to Optometry Australia, 21% of eye injuries in Australia are sustained through a DIY project at home, yet only 12% of Australians always wear eye protection for these projects.3
Whether at work, home or playing sport, the risks are many and include burns/ damage from solvents, cleaning products and industrial chemicals; abrasions and foreign bodies such as staples, nails, metal fragments, sand blasting and wood chips; devastating penetrating injuries from flying objects; UV damage (especially from welding); laser exposure; microbial eye infections and so on.
Eye care practitioners are often astounded to see concrete cutters on the streets of our towns and cities donning ear protection but not eye protection, or at best wearing cheap sunglasses. Similarly, suburban gardeners are often seen mowing lawns or whippersnipping with no eye protection.
Vision problems, which place people at increased risk of falls and accidents, are also responsible for eye injuries.
EDUCATION: THE TIME IS RIGHT
The high number, and significant risks of eye injuries, reinforces the need to continuously educate our patients and the public at large about the importance of wearing quality safety eyewear.
Fortunately, tradies are increasingly aware of the need for workplace safety thanks to media exposure of the risks of lung damage (silicosis) from fine particles of silica breathed in through grinding, sanding and working with cement, kitchen stone tops, tiling etc.
Similarly, many organisers of high impact sports are introducing rules requiring players to wear protective head gear, and hardware stores are increasing visibility of safety gear in their promotional displays and advertising.
All of this should make a discussion about protective eyewear easier to tackle. You could start by highlighting the risks of eye injury in your patient's chosen profession/ hobby/sport, before going on to discuss the consequences of not wearing protective eyewear, then demonstrate the protective features of the products available to them.
CUSTOMISED SAFETY EYEWEAR
There's no one size fits all generic approach to safety eyewear. The frame shape and lens type needed for someone who uses a high powered industrial laser, for example, will be different to that needed by someone exposed to caustic chemicals, which again will differ from that needed by the user of a nail gun or a worker in a rock quarry or mine.
In general:
Protective eyewear should completely cover the wearer's eyes, without lateral gaps via which particles or chemicals can travel,
Any nose pads should be properly adjusted to ensure a snug, comfortable fit,
Temple arms, if applicable, should be adjusted to an appropriate length for the wearer, and
Lenses must fit very securely in the appropriate frame so they do not dislodge under impact.
Safety lenses are typically made from polycarbonate or Trivex,which may be thinner and lighter than regular lenses – making them ideal for long-term wear in industrial situations. They also offer UV protection and are up to 10 times more impact-resistant than plastic or glass. There are pros and cons to any lens material, with interesting tests and comparisons to be found online.
Regardless of lens material, wearers should be advised to keep their lenses clean using lens cleaners that do not damage coatings such as anti-fog coatings, and to store their glasses appropriately to avoid scratches.
COMPLIANCE AND CERTIFICATION
Protective prescription eyewear must comply with the AS/NZS 1337.6 standard, which specifies minimum requirements for eye protectors fitted with prescription lenses intended to provide low or medium impact eye protection from flying particles and fragments in occupational situations.
Protective non-prescription eye and face protectors and associated oculars must comply with the AS/NZS 1337.1 standard, which is intended to provide protection for the eyes and face against common occupational hazards such as flying particles and fragments, dusts, splashing materials, molten metals, harmful gases, vapours and aerosols.
Eyewear that is compliant with the standards means the manufacturer deems the product complies with a standard. Certified means a third party, such as SAI Global, has assessed and audited the manufacturing systems and completed product appliance to comply with the standard.
CREATE THE OPPORTUNITY
Safety eyewear can be a great way to build your practice, as Brisbane optometrist Rory Dowdall found at the outbreak of the COVID-19 pandemic. He noted an increase in sales of plano and Rx safety eyewear, particularly to healthcare workers, which helped compensate for a loss of foot traffic and appointments.
"We increased prescriptions for positive chamber seal wraps, both Rx and non-Rx, which I usually source from New Eye Company (NEC), a company owned by Queensland local Andy Mehringer who won the ABC's New Inventor award in 2011 for safety technology," he told me.
As the COVID-19 situation developed, Rory kindly donated some plano protective eyewear to the Royal Brisbane & Women's Hospital Emergency Department and COVID clinic. Shamir Eyres was another company supporting healthcare workers during the COVID-19 pandemic, supplying medical staff working directly with patients at St Andrew's War Memorial Hospital in Brisbane with complementary spectacles fitted with Shamir lenses incorporating their anti-fog lens coating to combat the issue of spectacles fogging while wearing surgical/hygiene masks. Certified safety eyewear with anti-fog protection was also provided to those without the need for prescription lenses.
Such donations potentially saved lives – as we know SARS-CoV-2 may be contracted through the eyes from droplet exposure or by touching the eyes – in these circumstances safety eyewear can act as a barrier. The recipients of safety eyewear will likely continue wearing their protective eyewear well beyond COVID-19 and therefore potentially reduce the risk of infection, injury, UV damage, foreign bodies, chemical injuries and the like.
ANYWHERE, ANYTIME
As we can see, eye injuries can happen anywhere, anytime, from the playground to the kitchen, garden, hobby room to heavy industry and even in medical environments.
However, almost every eye injury can be prevented through proper advice, education and the provision of the appropriate safety eyewear.
Check out the options in the following product section. Contact the suppliers and get up to speed on the latest offerings. Refer also to Optometry Australia, which recently produced a free comprehensive occupational optometry/safety eyewear guide for members. The 2020 Occupational Optometry Guide includes information on the prevention of occupational eye injuries, vision assessments, eye protection products, Australian vision and eye-protection standards, and screening protocols. It also advises about eye safety consultations and how to conduct workplace screenings.
Update and upgrade your safety spectacle knowledge and prescribing. It's an essential value added benefit… and nobody loses.
References 
www.comcare.gov.au/about/forms-publications/ documents/publications/safety/eye-health-in-theworkplace- information-sheet.pdf 
www.optometry.org.au/workplace/occupationaloptometry- safety-eyewear-guide-for-members-to-helpprevent- eye-injuries/
www.safeworkaustralia.gov.au/system/files/documents/ 1702/workrelatedeyeinjuriesaustralia_2008_pdf.pdf
Impactful Safety Solutions
Shamir OHS Safety Eyewear and Lenses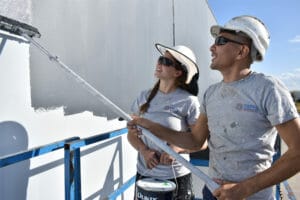 Shamir OHS's best-selling Eyres safety eyewear and sun wear models are available with both prescription or non-prescription lenses. This extensive range of high quality, fashion forward safety frames is ideal for sport, work and activities requiring an individual to wear certified PPE without compromising on style. Each frame offers unique features, from floating frames for those who work on or enjoy the water, to flexible frames that can bend without breaking.
Eyres safety and sun eyewear is:
Smart – with absolute front and side ocular/facial coverage and protection,
Safe – safety models provide 100% protection from projectile objects while sun wear models offer 100% protection from damaging UV rays, and
Strong – safety certified frame and lens performance for whatever life brings.
Shamir Australian Made Prescription Safety Lenses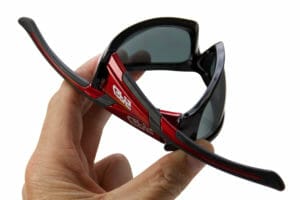 Shamir OHS's Australian made prescription lenses includes its Attitude III lenses for wraparound frames and Spectrum progressive lenses for flat frames.
For added protection and comfort for those who wear surgical/safety masks or play sports, recommend Shamir Anti- Fog lens coating which prevents the rear surface of the lens from fogging up and is also scratch resistant.
All Shamir OHS-Eyres models meet Australian and New Zealand Safety Eye Protection Standards AS/NZS1337.6 and AS/NZS1337.1 and are certified with SAI Global under Lic.SMKH21598 and Lic. SMKH20251.
Contact: Shamir OHS Eyres (AUS) 1300 663 209 
Hoya Safety Eyewear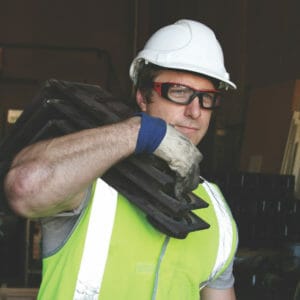 Hoya Safety Eyewear provides a packaged range of safety prescription eyewear that's suitable for any workplace or task.
Frames include models with a positive seal to prevent dust and liquids going into the eyes, and some have a brow bar to protect the eyes from sweat and liquid splashes. The range also includes frames that can be turned into a goggle and worn under any other required PPE equipment without discomfort.
Hoya's Phoenix safety lens material is chemically inert and can be cleaned with most cleaning products.
Contact: Hoya Sales Consultant
Bollé Safety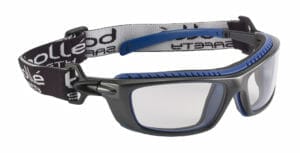 Many working environments require close fitting positive seal eyewear to protect from small flying particles, dust and sand. These particles can cause abrasions, punctures and contusions of the cornea. In fact, corneal abrasion is one of the most common types of eye injury, especially in dusty environments.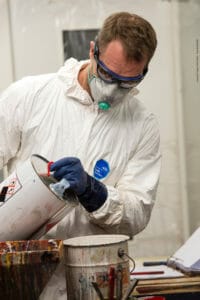 Bollé Safety offers prescription lens options with Baxter Rx, a sealed model of safety glasses that offers total comfort in a wraparound frame and effectively protects from sprays of solids, liquids and dust. Available with Trivex and polycarbonate Rx lenses, this model comes fully assembled with gasket and strap and is certified to medium impact standards.
Bollé Safety prescription glasses are available through the company's Excellence programme.
Contact: Bollé Account Manager 
New Eye Company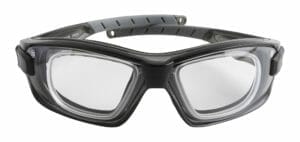 New Eye Company's Rx-able safety eyewear system enables users to release the scripted lenses from their frames and re-insert them into new protective frames should the need arise.
Awarded best invention on ABC's The New Inventors show in 2011, NEC's IC System comprises two components; a wraparound frame with fixed lenses and an Astralon optical foil – a flexible plastic inner frame that can be fitted with optical prescription lenses. The Astralon foil slips into place beneath the outer frame, which takes the brunt of any wear and tear or impact.
The NEC range has now been expanded to include the Scope range of safety and sports frames with Rx inserts.
New Eye Company manufactures single vision, bifocal and multifocal lenses to any script for the foils and Rx inserts from its Brisbane based head office. Foils have a lifetime warranty.
The frame lenses are 100% polycarbonate, rated UV400 and feature anti-fog and anti-scratch properties. They provide a 170° visible field with no distortions and are approved to Australian Standard 1337.
Contact: New Eye Company (AUS) 07 3885 2634 
Ugly Fish
Since opening in 2003, Ugly Fish Eyewear has gone from strength to strength. From the early days of focussing on polarised sunglasses, Ugly Fish has evolved to design, manufacture and distribute a range of multifunctional safety frames with positive seal, and professional user safety glasses for diverse industries.
All Ugly Fish safety glasses feature shatterproof lenses and lightweight TR-90 frames that comply with the Australian Safety Standards. Within the stable of products, is a safety prescription range designed for males and females, which is available through our partners: RX Safety, PSG and Hoya.
Contact: Piranha Eyewear (AUS) 1300 369 574 or your preferred supplier. 
Polaroid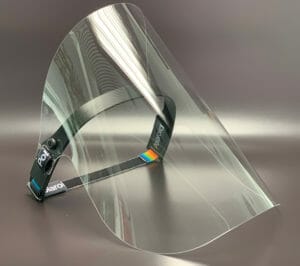 Polaroid Eyewear writes a new chapter in its history with Stay Safe, a face shield that's completely Made in Italy and produced at Safilo Group's Italian manufacturing facilities.
Stay Safe is the first professional face shield by Polaroid that's designed to fully protect the face: eyes, nose and mouth. The visor is made from polycarbonate, the rubber band is adjustable for adults and kids.
Recommend Stay Safe to protect patients, especially in delicate times like these.
Contact: (AUS) 1800 252 016 
PSG Eyewear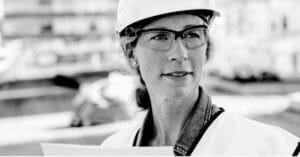 By extending your practice's offer with prescription safety eyewear, you can help your community protect their eyes at work.
Dedicated Australian prescription safety eyewear manufacturer and wholesaler, PSG Eyewear, offers AS/NZs1337.6- certified products for every industry. Part of the Essilor Group, PSG supports optometrists with exceptional in-practice marketing and training.
Contact: PSG Eyewear (AUS) 1800 066 519 or (NZ) 0800 000 745 
The Optics and Radiometry Laboratory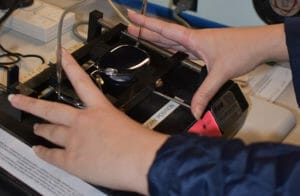 Ensuring eye protectors meet regional safety requirements provides peace of mind for suppliers, wearers and the community as a whole.
The Optics and Radiometry Laboratory (ORLAB), part of the School of Optometry and Vision Science at UNSW, Sydney, is the only facility in Australia that is accredited by the National Association of Testing Authorities (NATA) to Australian, New Zealand, American, and European eye protector standards. ORLAB is equipped to test a variety of eye protectors including spectacle eye protectors, goggles, welding helmets, face shields, and more recently, COVID-19 protective gear.
Contact: ORLAB (AUS) 02 9385 4622