"Spring is sprung" . There' s no doubt that over the coming months Kiwis and Aussies will be heading out to enjoy the great outdoors and dose up on some sunshine and Vitamin D. After many months of restricted travel due to COVID-19, as well as winter, we're all itching to go.
With international travel off the cards for the foreseeable future, we'll be destined to enjoy our local surrounds – which also means coping with bright light and UV radiation.
Now is the time to boost the options you have on offer in the outdoor and photochromic category.
There are many options for sunglasses that have been purpose designed and engineered to meet the needs of particular sports, occupations and hobbies. The features – in terms of frame material, shape, fit, lens tint, coatings, material etc., all vary greatly, according to whether the eyewear is to be used for cycling, fishing, golfing, hiking, spectating, working a trade and so on.
Now is the time to boost the options you have on offer in the outdoor and photochromic category
Our patient case history, the discussions we have with patients in the consulting room, as well as at the time of dispensing, are all golden opportunities to fine tune the outdoor spectacle needs of our patients. Even if we don't do the dispensing ourselves, the handover is critical to success.
While recommending a sunglass frame and lens package can be as simple as making a duplicate prescription of the optical solution in sunglass form, there are numerous considerations that need to be worked through. For example, if you're assisting a progressive lens wearer, the ideal lens design for outdoor use is likely to differ from the lens you'd prescribe for office and device use. A longer channel for enhanced mobility, greater postural flexibility and reduced distortion in the intermediate and distance, would usually be a winning choice. Selecting lens designs from the same brand/family will help to eliminate or minimise any adaption issues when swapping between different pairs of glasses.
An important consideration for any sunglass solution is tint. While you need to determine the tint density that best meets your patient's level of light sensitivity, you'll also need to set realistic expectations by describing the visual functionality a particular tint may induce. For example, a lighter tint of say 65% might suffice for someone who is not particularly photophobic, and enable the sunglasses to be worn into darker areas like parking garages. An 85% tint might be ideal for a light sensitive patient but will be less flexible in a range of conditions. Others might prefer a gradient tint from a fashion perspective, or simply because it allows for better eye contact.
While UV protection is required by law in the Australia/ New Zealand region, it is not necessarily a given, as described by Drs Shanel Sharma and Alina Zeldovich in their CPD article published in this issue, titled UV Damage to Children's Eyes: Australia's Silent Epidemic.
CONSIDER ALL THE ELEMENTS
Frame selection is, of course, an equally important step in the dispensing journey. Today there are strong recommendations to consider wrap around styles in order to prevent the ingress of extraneous UV light and the ravages of the peripheral light focussing effect.
Some lens manufacturers offer specific lens designs to manage wrap around frames and steeper base curves, while attempting to minimise distortion and improve cosmesis, but this will not meet the needs of every patient. In such cases, it may be necessary to recommend more 'standard' frame designs with smaller lens sizes, for high prescriptions. It's impressive to see what a difference special lens designs coupled with high index materials can achieve.
TRANSITIONING INTO PHOTOCHROMICS
Over the years, amazing strides have been made in the performance and function of photochromic plastics. Thanks to widespread marketing, many patients are now aware of these advances and happy to wear photochromic lenses. They may well ask for them. If not, we should be offering and discussing the options.
Consumer research conducted by Essilor between 2016 and 2019 backs up these observations and provides useful insight into consumer preferences. According to Fiona Schuller, Essilor Product Marketing Manager, "Our 'dynamic light environment' is getting bigger, brighter, and lighter, with optometrists hearing that patients are now more light-sensitive." With this in mind she says, "We need to consider four different characteristics that make up our light environment: spectrum, intensity, source and temporality. Natural light is essential to our visual performance. It also controls sleep and, as such, impacts our bodies. Although natural light is good for our wellbeing, a 2019 survey showed 90% of people reported that they experience visual fatigue and are light-sensitive."
Apparently, short, sharp bursts of light, from reflected light or a sudden sun strike for instance, cause patients the most discomfort.
When Essilor provided 1,000 light-sensitive wearers with Transitions Signature GEN 8 lenses to wear, they found:
93% of wearers were satisfied withthe lenses,
82% of wearers were less bothered bybright light, changing light and artificiallight while using the lenses,
80% of wearers felt their eyes were betterprotected from UV and were pleased toknow that Transitions lenses also filter blue light, and
70% of wearers, who had never wornTransitions, would consider them fortheir next purchase.*
For many, a photochromic pair of general spectacles adds flexibility and means less time spent hunting for, or switching between, habitual spectacles and dedicated sunglasses. For some, a pair of photochromics might cover all the bases. However, for others there will be times when photochromics simply cannot match dedicated sunglasses.
LENS FITTING OPTIONS
When it comes to prescribing sunglasses for your patients, as well as considering their needs for lens and frame design, you need to take into account your own preferences and options.
Brands including Maui Jim, Mako, and Bolle, fit their own proprietary prescription lenses to their own frames and do not deal with any other frame/lens brands. The great thing about this option is that you know the lenses are designed specifically for the frame, so they're more likely to work well – it's a one stop solution that can maximise the outcome for your patient.
Other companies, such as Rodenstock and Marchon, have their own frames and lenses, and they also fit lenses for all other Rx-able frames.
Then there are frame companies, such as Ugly Fish, that have established relationships with lens laboratories. That means once you place an order and supply the prescription, the Rx sunglasses will be made up accordingly within the frame distributor's own supply chain. Again, this one stop solution can save you time and inconvenience.
Of course, you're also able to work with dedicated lens laboratories to have your patients' Rx sunglasses made up. This means working with the lens lab/s you have an established relationship with and it's pretty much business as usual.
Check out the many sunglass options available. There are many lens tints, colours, densities, coatings, designs, and refractive index options, as well as frame choices to offer our deserving patients.
According to Essilor, 56% of Australians require vision correction yet only 5% of all wearers own prescription sunglasses… Having the most up to date knowledge on the frame and lens options available will help you close this gap… while building long term patient loyalty.
*Data on file: Contact Essilor for details. 
Labs That Fit Prescription Sun Lenses
Opticare
Opticare's range of sun lenses and lens coating options protect from the sun while improving visual performance. The range includes:
Sunmatic photochromic lenses thatautomatically adjust to outdoor lightingconditions by providing the right level of tint, then return to their clear state, both indoors and at night,
Blue Guardian lenses to block high-energyblue light from entering the eye and aidin the prevention of all harmful UVA and UVB energies, for eye protection and comfortable vision, and
Skeye Multicoat to increase lighttransmission by at least 7%, giving thewearer crisper and clearer vision. This is achieved by reducing front, internal, and back surface reflections. Almost all available light can pass through the lens and enter the eye for optimised vision.
Contact: Opticare (AUS) 1800 251 852
Shamir
Shamir Power Mirrors add a bold, fashionable, high-end colour mirror finish to prescription glasses.
Available in six high-density, high-reflective and fashionable colours including silver, gold, green, blue, red and orange, they provide the perfect finish for both sports and fashion. The outer layer of the Power Mirror coating features advanced hydrophobic and oleophobic properties, so they can be cleaned quickly and easily.
Contact: Shamir (AUS) 1300 553 465 
Transitions Signature Gen 8
With breakthrough technology, the newest generation of Transitions Signature lenses is up to three minutes faster to fade back to clear. This new generation lens is faster to darken and is even darker outdoors. Transitions Signature GEN 8 offers wearers ultimate protection by filtering blue light emitted by devices, screens and the sun, and also blocks 100% UV rays outdoors. Wearers can individualise their eyewear look by choosing one of seven colours: sapphire, amber, emerald, amethyst, graphite green, brown and grey.
Contact: Transitions Optical (AUS) 08 8238 3257
Zeiss
With the advance of smartphones, vision needs have changed significantly. Good, relaxed vision in our modern, mobile lives has driven innovations for eyeglass lenses. Zeiss has developed a new eyeglass lens portfolio for the visual challenges of our time – Zeiss SmartLife.
Included in this portfolio is Zeiss AdaptiveSun. These tinted lenses can adapt to the given light conditions and offer full UV protection. These prescription sun lenses offer an initial light absorption of 60%. Should the light conditions change, the lenses will darken by up to 97% absorption in just 18 to 35 seconds.
Contact: Zeiss Account Manager
VSP Optics
SunSync Elite is a revolutionary lightreactive lens that sets a new standard in photochromic performance, changing from dark to clear in seconds, with exceptional outdoor colour and indoor clarity, superior UV and blue light defence. SunSync Elite offers you and your patients the ground-breaking fade-back speed you've been waiting for. Available on Unity Via Progressive, Unity Relieve and Single Vision Grind lenses in 1.50, 1.59 and 1.67 indexes.
Contact: VSP Optics Australia (AUS) 1800 251 025 
NuPolar Polarised Lenses
NuPolar polarised lenses from Younger Optics are known for consistent quality and long-lasting durability. Thanks to Younger Optic's patented process and long-lasting colour stability, these lenses have no problems with delamination, even if wearers frequently leave their sunglasses in hot cars. NuPolar is available in the widest range of indices, designs and lens colours, and is perfect for digital surfacing. Available in solid and gradient tints, mirror and photochromic finishes, NuPolar enables wearers to choose a lens that suits their lifestyle and personal taste.
Contact: Younger Optics (AUS) 08 8241 9800
Hoya Lenses
Hoya Lenses' sun solutions include Sportive, Sensity, Polarised, Mirror, Light Mirror and the Oliver Wolfe sunglass range.
Hoya Sportive lenses are designed for larger and high curved fashion and sport sunglass frames. Sensity photochromatic lenses include Sensity Dark and Sensity Shine, which both deliver extra darkness outdoors and behind car windows.
Sensity Shine has a subtle mirror coating when unreacted, which transforms to a mirror lens in the sun.
Hoya's Mirror collection comprises three full mirror coatings (in gold, silver and blue), and four light mirror coatings (in blue, silver, copper and violet).
Hoya's Polarised range has been expanded to include Sync III enhanced single vision lenses and LifeStyle 3 progressive lenses.
Oliver Wolfe, designed for Hoya Lenses, has a 12 piece sunglass collection including Hoya's Mirror, Light Mirror, Sensity Shine, Grad Tints and Polarised lenses. Using a display stock methodology, the frame and lens is ordered through Hoya Lenses to ensure simple supply chain benefits for your practice.
Contact: Hoya Lenses Sales Consultant 
NeoSun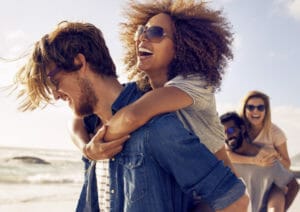 NeoSun combines style and function in a highly customisable and adaptable prescription sun lens that matches the wearer's look, protects their eyes and ensures clarity of vision.
Designed to give wearers greater flexibility with prescription sunglasses, they can be fit into a wide range of frames, including sports, fashion and rimless. Available in a variety of tints or polarised plus, with the option to add a mirror finish.
Contact: OSA Account Manager
SolarFlair
SolarFlair is a one-stop solution for all sunglasses. Available in single vision and progressives, these lenses are stylish and easy to fit. SolarFlair lets your patients choose any Rx-able frame from sport to fashion, and protects them from back surface reflected UV rays with Crizal Sun UV for an overall E-SPF rating of 50. Available in a broad range of colours and finishes in both tint and polarised options.
Contact: Essilor Account Manager
Transitions XTRActive Style Mirror
Transitions XTRActive lenses are uniquely designed to protect eyes from the brightest sun outdoors and harsh artificial light indoors. These lenses are extra dark outdoors when exploring the city or hitting the beach, and darken behind the windscreen to protect drivers' eyes from glare. Frames can be styled with the lens colour your patient loves by adding a new Transitions Style Mirror.
New Transitions XTRActive Style Mirrors feature six on-trend mirror colour finishes and provide exceptional visual comfort and hassle-free protection from harmful UV. Indoors, the mirror fades to a light reflection with a hint of colour and when outdoors, they reveal a stunning mirror finish that expresses your patient's personality and lifestyle with a bold statement.
Contact: Essilor Account Manager
Frame and Sun Lens Solutions
Marchon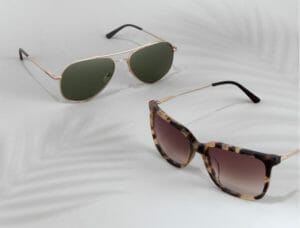 Marchon Eyewear's Sun Rx program offers your patients a complete catalogue of specially selected frames from designer brands, including Calvin Klein, Nike, Nine West, Nautica, Anne Klein and bebe, all of which can be successfully fitted with quality tint or polarised lens options.
Contact: Marchon (AUS) 02 9697 8080
Ray-Ban
Ray-Ban's Evolve photochromic lenses were created to offer a new look for protection, without compromising on style. Crafted out of a need for constant ocular protection beyond traditional purposes, these light responsive specialty lenses offer fast feedback and activation colour, effortlessly changing from clear to Ray- Ban grey, depending on environmental conditions. Ray-Ban Evolve photochromic lenses are made with crystal for the greatest clarity and homogeneity for the wearer. They protect from UVA, UVB and UVC rays, are finished with an anti-reflection treatment, and some styles offer a blue light filter option. Available in a selection of iconic Ray-Ban frames.
Contact: Luxottica Account Manager
Oakley Prizm
Prizm is an Oakley patented technology that's designed to enhance colour and contrast.
Contact: Luxottica (AUS) 1800 625 539 
Maui Jim
Featuring a red mirror coating and patented PolarizedPlus2 lens technology, Hawaii Lava is a bold blend of fashion and function. Expanding on the success of the Hawaii Lava lens featured in the Manchester United Collection, Maui Jim's newest fashion mirror colour is now available in prescription on all Maui Jim scriptable frame options (both sunglasses and eyeglasses). In addition to the new prescription option, the Hawaii Lava lens is available in several classic and new Maui Jim plano styles featuring the MauiBrilliant lens.
Contact: Maui Jim (AUS) 02 9452 5575
Mako
Mako sunglasses' affordable Rx program offers a digital freeform lens design specifically for wrap frames with a multitude of lens materials. Available in polarised 1.6 glass Rx in rose base with green mirror; polarised 1.5 and 1.6 index in grey, brown or G15 base colour with mirror options; polarised 1.67 index in grey or brown base with mirror options, and polarised 1.5 and 1.53 photochromic lenses.
Contact: Mondottica (AUS) 02 8436 6666 
Bolle Phantom Lens
Bolle Phantom lenses combine three advanced technologies: ultra-lightweight NXT material for superior optical clarity, photochromic performance for precise visual acuity whatever the weather conditions, and high contrast filter boosting colour to enhance vision. Available in six colours. Phantom+ Lenses combine the three key technologies above along with polarisation.
All Phantom lens options, and almost all Bolle lenses are available in the Bolle B'Thin prescription program. Additionally, 99% of the Bolle sunglass model range is available in industry leading prescriptions (+6.00 to -8.00, cylinder to -4.00) combined power.
Bolle Performance Shield models (Chronoshield, Shifter, Lightshifter and B'Rock) are also available on the B'Thin Prescription Program.
Contact: The Sunglass Collective (AUS) 03 8202 4300
Rodenstock
Fashion-lovers know that the right accessories complete the outfit. But Rodenstock sunglasses are much more than a simple fashion statement. Thanks to innovative technology, they reliably block harmful UV radiation, making them indispensable for protecting your patients' eyes against the sun. Rodenstock sunglasses filter blue light radiation to the optimal level for absolutely precise vision in bright or diffused light. Objects appear with high contrast; colours and details have a natural look.
Note: Rodenstock will fit Rx lenses into most other frame brands.
Contact: Rodenstock (AUS) 02 9748 0988
Serengeti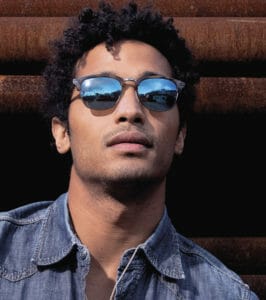 Serengeti Variodrive Thin Design Prescription Program offers a three in one lens technology for stunning visual definition, unsurpassed comfort and flawless quality.
All Serengeti lenses are photochromic and incorporate spectral control. Polarisation is an option that is available on the majority of Serengeti sunglasses.
The Variodrive Thin Design Program can be applied in Pol Phd 2.0 Lenses (NXT). The majority of Serengeti sunglass models are available in prescription (+6.00 to -8.00, cylinder to -4.00) combined power.
Contact: The Sunglass Collective (AUS) 03 8202 4300
Spotters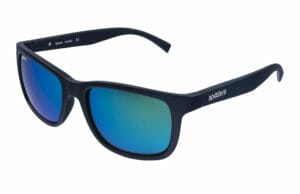 Spotters has manufactured sunglasses for over 20 years for all Australian conditions. Spotters Rx program consists of its signature crown glass lenses and photochromic glass lenses. These lenses are 100% polarised and 100% optically correct. Spotters' photochromic lenses are state of the art and available in the Penetrator, Halide, Carbon and Xtreme lenses. The company's photochromic lenses are triple activated by UV, general light and temperature.
Spotter's Columbian Resin lenses in progressive powers are a lightweight, optically correct alternative.
Contact: Spotters (AUS) 03 9728 2055 
Shamir OHS – Eyres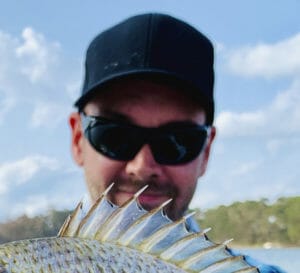 Shamir OHS – Eyres prescription and nonprescription safety sunwear offers advanced and unique solutions that can provide 100% UV protection. Certified to Australian and New Zealand safety standards, Shamir OHS – Eyres ensures optimum frame and lens performance to maintain eye health and improve visual
Contact: Shamir OHS Eyres (AUS) 1300 663 209 
Ugly Fish Eyewear
Ugly Fish Eyewear looks cool, while maintaining maximum form, function and protection for your patients' eyes. Ugly Fish has partnerships with City Optical, CR Surfacing, Essilor, Hoya and Wallace Everett Laboratories to supply finished prescription sunglass frame and lens packages. All laboratories carry a selection of Ugly Fish fashion, sport and leisure sunglasses, as well as optical frames, for both children and adults.
For prescription safety sunglass packages: Hoya, PSG and RX Safety have you covered with a great range of certified Ugly Fish frames.
Contact: Ugly Fish Eyewear (AUS) 1300 369 571
Adidas
Made from impact-resistant, ultralightweight TR90, Adidas' model SP0002 is designed with a competition segment wrap for all-day comfort and protection. Thin wrap temples with rubber tips provide grip, a metal temple core and adjustable nose pads increase comfort, and a safety hinge lock system reduces the chance of lens scratches. An innovative ventilation system, consisting of nine small aerodynamic air intakes, ensures a clear view in all weather.
The seven-base toric lens improves field of vision and offers maximum coverage. Colourway 20C offers a one-click interchangeable lens system with lens options, while colourway 27A is designed with photochromatic lenses that adjust automatically to light levels.
Contact: Marcolin (AUS) 02 8456 0946
Beamers
Kids' eyes need sun protection just as much as their skin. Like you, the founders of Beamers are local eye care professionals and their vision is to protect all kids' eyes from UV damage and prevent future eye disease.
Beamers sunglasses are designed for kids so they are comfortable wearing them. They are lightweight, flexible and soft. All Beamers sunglasses come with unique Optoshield Technology, designed by eye surgeons to give maximum UV protection.
Beamers are available in a range of colours and sizes, and are also Rx-able.
Visit: www.beamers.com.au