Practices that use good dispensing tools – whether they are manual or sophisticated digital devices – along with best practice dispensing techniques that include efficient patient management and effective communication skills, are less likely to suffer spectacle returns for patient based issues.
While the major lens companies have developed lens towers and apps to better manage the dispensing process, some argue these are simply expensive marketing ploys, aimed at creating a 'wow factor' to pull more patients in through the doors. Perhaps somewhere in the middle lies the balance.
Hoya recently released the new Visureal Master, Rodenstock has the Impressionist 4 and the DNEye Scanner, Opticare has the Visionix VX40, and Zeiss has a modular vision technology 'ecosystem' which connects a variety of apps with Zeiss equipment including the new Zeiss Visufit1000. Essilor has everything from iconic manual devices through to the Visioffice 3.0 tower.
All are sleekly designed, ultra-modern pieces that make a statement in the practice. But do they really make a difference to the dispensing process, customer satisfaction and your bottom line?
According to these companies, yes they do.
We see a dramatic shift in the type of product practices sell when they really get involved with this technology and truly embed a culture of excellence…
"Our tools assist the dispenser in gaining precise parameters for delivering more customised lenses to customers, which in turn improves patient vision," says Yvette Barnes, Vision Technologies Solutions Manager at Zeiss Vision Care. "The customer experience in store is enhanced and they are able to easily understand the value in spending more for better lenses."
Tim Thurn, Professional Services Director for Essilor ANZ, says his company's suite of dispensing tools make it simple to collect measurements that were previously time-consuming to take by hand, allowing the dispenser to use this data to ensure good outcomes for their patients.
However as always, the outcome still depends on having skilled dispensers. "Devices don't change the role of the dispenser because the devices can't drive themselves," said Mr Thurn. "An optical coherence tomographer (OCT) is useless without a knowledgeable optometrist using all of its settings and capabilities to the full, the same goes for dispensing devices – in the hands of a skilled dispenser they take dispensing to another level."
Ulli Hentschel, National Training and Development Manager at Hoya Lens Australia, makes the point that dispensing towers can also help bring the patient along the lens dispensing journey.
"These tools can really enhance the dispensers' role in a practice by showing the patient that they are experts in lenses and that they are using modern technology to provide better optical outcomes.
"For years there has been such a dichotomy within optical practices, where during the eye exam the patient experiences technology, such as autorefractors, retinal cameras and OCTs etc. and then, when it comes to take the measurements to be able to dispense high end progressive lenses, the patient is met with a wooden PD ruler and a Texta. Now, with tools like the Visureal Master, the dispenser can change this."
While most digital dispensing devices are solely used in the dispensing process itself, Rodenstock's DNEye Scanner differs by integrating with the clinical examination.
"The DNEye scanner ties the front of house and dispensing function to the optometric process in the patient's mind, explains Nicola Peaper, National Sales and Professional Services Manager at Rodenstock. "In this way the patient journey through the practice is more cohesive.
"From an optometrist's point of view, if the scan is performed as a pre-test, they begin their consultation with a large amount of information about the patient's eyes that would normally be gained using supplementary tests that may be indicated during the examination. "From a dispensing point of view the DNEye elevates patient confidence in the dispenser and opens up the opportunity to talk about lens quality, including index and material treatments that will benefit the patient."
LENS SALES AND RETURN ON INVESTMENT
Mr Hentschel reports that practices do see benefits from using sophisticated lens dispensing technology. "We see a dramatic shift in the type of product practices sell when they really get involved with this technology and truly embed a culture of excellence in what they sell and how they do it. They tend to start selling a lot more of the most personalised progressive lenses as well as more of the digital eyestrain products because they start to consult with patients more, and have deeper conversations around what the patient needs.
"What we also find is they start to focus only on the better coatings, so overall patients are getting better products and the practice becomes more profitable at the same time."
Of course increased higher value purchases deliver a solid return on investment, as do reduced warranty issues, as Mr Thurn points out. "These devices are an easily recoverable investment because they influence the highest turnover section of a modern optometry practice – lens sales, which equal around 50% of turnover, plus recent government changes allow for an instant tax write off. Compare this to the $100,000 investment for an OCT, which influences only the consulting side of the business and represents about 20% of turnover."
Along with increased sales through patient conversion, Mr Thurn says practices that have incorporated digital dispensing tools as part of their premium customer experience report reduced credits and remakes.
"This can translate into ROI through less time spent by staff processing re-makes and better customer experience, which can increase customer retention overtime.
"If we take the example of progressive lenses, a top practice using digital dispensing devices. ie a top practice using digital dispensing devices will have returns and credits of <0.5%, some as low as 0.2% – that's between one in every 200 and one in every 500 patients. Compare that to the average rate of returns of 5% and you can see the gap is very large.
"We're seeing a decline in dispensing error credits of between 4 and 6% within some practices that have invested in good dispensing tools."
At Rodenstock, Ms Peaper reports that payback time for the majority of customers who purchase a DNEye Scanner has been 12 months or less.
"There is an effect of both direct and indirect value creation. What we hear is that having the scan and explaining the technology to the patient removes cost issues for the patient. There is only a small fee for including the calculation in the lens design and so the majority increase in sales comes from improved category of lenses dispensed plus more high index and coating sales."
However she said there has been no empirical evidence to suggest a reduction in lens returns.
"A Swiss study has measured acceptance of the lenses but rejection of progressive lenses is already very low, so the effect is more improved enjoyment rather than rejection." For those who are looking to invest in digital dispensing technology, the instant asset write-off means that until 31 December 2020 you can claim an immediate rebate on purchases up to AU$150,000 (up from $30,000).
STAFF TRAINING AND SUPPORT
As you'd expect, all of the digital dispensing tools come with tailored staff training to get your practice up and running with its new device and to maximise potential. How much training depends on the device.
Hoya's tools are designed to be very intuitive. "Typical initial training would see one of our team in the practice for the day going through the technology with all the staff. Then we allow the staff to use it on themselves before seeing patients so they build their confidence with it," said Mr Hentschel. "We then hold their hand for the first few patients, guide them if necessary, then often visit a week or so later to check in on how they are going and answer any questions."
Zeiss says the majority of its dispensing tools are simple to use and do not require any specialised skills. Similarly Crystalauren Mena at Opticare says "learning to use the Visionix VX40 is extremely easy – it's the only lens meter that is completely automated. You put the frame in the mounting and press the start button, then the VX40 does everything automatically. It measures the distance and near Rx, the monocular PDs and provides the power and cylinder maps." Ms Mena said this means practices reduce operating costs by allowing less technically trained staff to use the device without the risk of operator error.
Essilor's training depends on the device supplied and the practice set-up. Basic training on how to take a set of measurements using the VO3 could take as little as fifteen minutes. From there it depends on how deep the dispenser wants to go into the capabilities of the machine, which include integration with the practice management system.
Being more integrated into the entire patient journey means Rodenstock provides training on its DNEye Scanner for all relevant staff members on installation – from front of house staff who perform a scan as a pre-test through to optometrists and dispensers.
"This training will take up to an hour. This is followed by comprehensive training in what the instrument does and how to talk to patients about it, which probably takes another hour," said Ms Peaper. Head office offers support with two optometrists on hand for discussions. Questions about individual scans can be dialled into the DNEye itself.
ESSENTIAL… OR NOT?
Of course not all practices want, or can afford, to invest in digital lens dispensing technology but according to Victor Koo from JP Optical, that doesn't mean the lenses they dispense will be inferior.
"The corporates have introduced tower lens measurement instruments for pupillary distance (PD) and height at a price which most retail practices cannot afford," said Mr Koo. "Patients, as well as the optometrist and dispenser, don't have time to go through all the functions that are available… the introduction of these instruments is a marketing strategy to show they are innovative in technology, but this is not practical.
"What is taught in TAFE or the Australasian College of Optical Dispensing on PD and height is the proper way to mark up a progressive lens."
Mr Koo said a major reason why progressive lenses are returned is that optometrists and dispensers do not take time to understand the patient's behaviour when wearing their spectacles.
He says the most important steps to ensure quality of progressive lenses with the least problems are:
Use a pupilometer to check the eye PD,
Place the frame onto the patient's faceand ensure it sits properly on both sidesof the ears,
Ensure you sit at the same level with thepatient and can see their eyes with easewith tilting, so there is no parallax,
Place a penlight next to your eye on thetemple side and shine the light towardsthe patient's eye, asking the patient to look towards your nose, 4. Using a marking pen, dot the light position which is shown on the pupil on both eyes,
Using the PD rule, measure thedotted position and counter check themeasurement of the PD on the pupilometer to ensure the PD is correct, and
If the PD mark is similar to thepupilometer then you are spot on. Theheight measurement would then be from the dotted spot to the bottom of the frame.
"This is the simple way to take a PD and height measurement without spending an enormous amount of money on lens towers. However, most dispensers or optometrists will instead take a PD marking on the frame by either standing up or bending their knee to dot the pupil on the frame.
"That's a very bad habit and it's part of the main reason customers always complain about being unable to adapt to progressive lenses."
Mr Koo says the next important issue is deciding which progressive lenses to recommend to individual customers. This, he says, requires asking specific questions and offering patient education.
What is the patient lifestyle?
What do they really want from wearinga progressive e.g. for sports, general use, onthe computer or close up?
Explain that the family of progressivesallows only certain usages – in other words,computers or close up progressives cannot be used for sport or general purpose, and
Recommend the best quality toavoid disappointment.
A Sample of Digital Devices on Offer
Essilor
With the arrival of COVID-19, contactless dispensing is now a necessity. Essilor offers two products to help integrate digital measuring into a practice: Visioffice 3.0 and Eyeruler 2.
VISIOFFICE 3.0
Designed for ease of use by the practitioner and for a simple, yet impressive wearer experience, the Visioffice 3.0 (VO3) raises the bar for dispensing devices, with accuracy of 0.1mm. As well as the unique Eyecode system, which finds the centre of rotation of the eye in 3D and measures the frame data, the VO3 now includes H3D. For a complete view of the patient's natural head posture, H3D takes a 3D scan of the patient's eyes, head and eyewear. Laser projected markers mean the patient is always exactly positioned in front of the device. VO3's high precision results are also an essential part of the Near Vision Behaviour measurement – together they give the outstanding level of personalisation and performance to the Varilux Xclusiv progressive.
EYERULER 2
"Good things come in small packages", as the saying goes. The Eyeruler 2 (ER2) is a compact yet powerful tool, with algorithms and technology born from the Visioffice. Ultra lightweight and easy to use, ER2 works on a broad range of iPads and includes a number of embedded technologies that make it plug and play as well as Bluetooth compatible.
Like the VO3, the ER2 links to the Near Vision Behaviour app that allows for the dispensing of the Varilux Xtrack progressive.
Contact: Essilor Account Manager
Hoya visuReal Master
Hoya's visuReal Master centring system offers the perfect blend of aesthetics and precision.
This system uses a ground-breaking sixcamera set-up that automatically takes multiple photographs of your customers as a basis for determining all relevant centring data with complete precision. Jigs are not required to be mounted on the frame and there is no need to take lateral photographs.
The software is user-friendly, fast and can be used on any web enabled device.
A truly customer-friendly measurement system, your customers will perceive the visuReal master as a mirror in your practice because its complex technology is completely concealed within. This means customers will look at themselves wearing their new frames and assume a natural posture. Customers with severe visual impairments will be guided by light signals.
IDENTIFIER APP
Hoya's Identifier app is designed to walk the patient through lifestyle questions that, in turn, allows Hoya to 100% tailor the lens design specific to the actual lifestyle of the patient. One unique feature that the Identifier takes into consideration in the lens design is the previous lens history. The Identifier app is currently being updated for the launch of the New Hoyalux iD Myself lens.
Contact: Hoya Account Manager 
Opticare Visionix VX40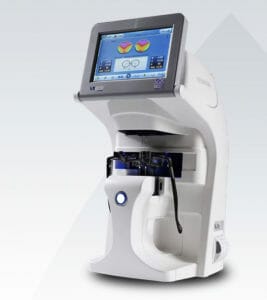 Opticare's next generation autolensmeter Visionix VX40 uses patented wavefront technology to enable highly-detailed analysis of the frame; detecting up to as much as 1,350 points within 30 seconds.
Visionix VX40 is fully-automated. Upon placing the frame, and with one touch of a button, it conducts detailed lens analysis and measurement on its own. Even left and right eye movement requires no additional user input.
This sophisticated device offers complete, fully-automated lens analysis, detecting and analysing all types of lenses from bifocals to freeforms, progressives, and single vision lenses. It presents the measurements in the form of a visual topographic map of the power ranges across the lens.
Visit: www.opticare.com.au/visionix
Rodenstock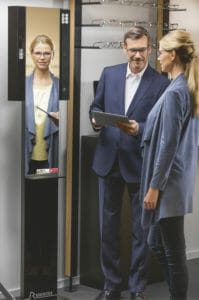 IMPRESSIONIST 4
For a patient's spectacles to perform optimally, the frame must perfectly fit the face, and the lenses must perfectly fit the frame as it sits on the patient's face. Finally, the lens must fit the patient's lifestyle.
Rodenstock's new generation of its innovative measurement terminal, ImpressionIST 4, guarantees optimal individual consulting and adaptation. The process starts with measuring and without a bothersome measuring attachment, it is convenient and fast. Then, using Rodenstock consulting, the perfect lens for both the frame and the patient's lifestyle can be discussed, resulting in spectacles that are perfectly matched to the customer. When using the Rodenstock ImpressionIST 4 you can achieve greater customer satisfaction and be perceived as a true expert in spectacle lens dispensing.
DNEYE SCANNER
Rodenstock's DNEye scanner offers highprecision 3D eye measurement. Measured biometric values are integrated into your patients' lenses to ensure they receive the most individual Rodenstock lenses and the sharpest vision.
The DNEye Scanner offers:
Corneal topography, using a 24 ringplacido disc which analyses up to100,000 measurement points,
Pachymetry, using a staticScheimpflug camera,
Full wavefront aberrometry includinglower and higher order aberrations usinga Shack-Hartmann sensor – 1400 points across 7mm are measured, and
Opacity detection using retroillumination.
The DNEye scanner has a non-contact tonometer.
Contact: Rodenstock (AUS) 02 9748 0988 
Zeiss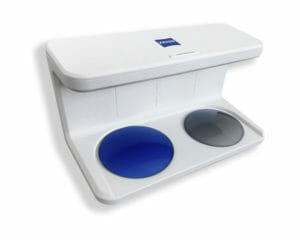 Zeiss vision technology solutions is a modular system that can be added to or upgraded over time.
The Zeiss Visuconsult 100 app is freeto download and can be usedindependently, and
The Zeiss Visuconsult 500 app is asoftware licenced app which is used torun the Zeiss VTS equipment from iPad or desktop. This works in conjunction with Zeiss' icom mobile box, which is the 'brain' of the ecosystem.
From the Zeiss Visuconsult 500 app, you can link Zeiss equipment such as the Zeiss Visulens550 to check a patient's current prescription, the Zeiss VisuRef150 and/or iProfiler for objective refraction, the Zeiss SRU for refraction and several options for digital centration starting with iTerminal Mobile, iTerminal 2 and the new Zeiss Visufit1000.
ZEISS SELF-TINTING AND POLARISATION DEMONSTRATOR
The Zeiss self-tinting and polarisation demonstrator is used during the lens consultation process. The demo tool is perfect for explaining the polarisation principle and the added value and benefit of a Zeiss polarised lens or a Zeiss photofusion self-tinting lens solution. It demonstrates the speed of tint activation for self-tinting lenses and helps compare different lenses/products.
The tray at the bottom of the demo tool can be rotated to either a picture to demonstrate the polarisation effect, or to a white background to strengthen the self-tinting effect. To demonstrate the polarisation effect, white light LEDs light up and shine on the picture underneath. Due to the affixed diffusereflection back plate, this creates unpolarised light on the picture. To demonstrate the effect of Zeiss photofusion lenses, the UV LEDs light up and shine on the white layer underneath. Two different lenses can be demonstrated at a time.
Contact: Zeiss Account Manager