Australian designed, augie Eyewear provides fashionable eyewear for children who like to keep it simple.
Created by Lana and Scott Arnold – whose children wear prescription glasses – augie Eyewear draws on their parental experience and Lana's skills in both fashion and interior design.
At the crux of this is their goal to create classic frames for kids that simplify the usually complicated process parents face when trying to find the perfect pair.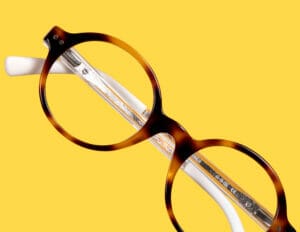 augie Eyewear emerged in Australia in early 2020 to fill a gap in the market for affordable, classic children's eyewear. According to Lana and Scott, "the lack of timeless pieces and over supply of heavily branded frames featuring kitsch childish characters" were the main inspirations to create a range of glasses that kids can feel cool wearing.
FASHION FORWARD
Earning augie what Lana calls the "kid tick of approval", is their unique approach to eyewear design. They make a concerted effort to survey children of all ages on what they do and don't like about their glasses, then take the comments received on board.
With this, the design process begins.
In line with the belief that simplicity is key, no augie frames have fussy design features or superhero inspired frames. Instead, augie uses timeless yet trendy frame shapes to achieve a harmonious balance between classic and fun.
"We've taken inspiration from timehonoured classics to perfect four basic shapes that work well for kids – square, oval, round and winged," explains Lana.
Well known for their use of colour, augie claims to have perfected colour tones that are just right for the Australian market.
"Our colours are a considered blend of fun and brightness – from simple crystal clears all the way through to pink glitter while not forgetting raspberry, French blue and turquoise on the way," says Lana. "Yet we don't forget the classic tones such as tortoise shell, which have traditionally been quite hard to get for kids."
MORE THAN MEETS THE EYE
At the end of the day, it's not just fashion trends that have to be considered when designing the perfect pair of kids' eyewear.
"As a parent I understand that when you find out your child needs glasses it can be overwhelming and a little bit disappointing," said Lana. "As adults we want frames that suit our personality, but they also need to be comfortable. We want to generally feel good in the glasses we wear and I believe that kids deserve this too. Finding frames they love will ultimately unlock their confidence and encourage them to thrive, giving them a positive experience and outlook on wearing glasses."
This is where the importance of comfort and wearability arises. To meet the needs of children aged three to 12, augie designs and manufactures frames to fit every face shape and in a broad range of sizes. Additionally, they tackle common discomfort issues by using silicone tip arms and flexi hinges. The use of acetate for all augie frames means each pair is strong and lightweight – perfect for all day wear, especially for children.
What's more, in order to give parents even greater choice at independent practices, augie Eyewear is affordably priced. This is important because it means parents don't have to compromise on fit and style.
Increasingly appealing to many is the fact that augie Eyewear is environmentally conscious. Lana and Scott have partnered with 1% For The Planet, an international charity that helps businesses donate a percentage of their profit to environmental causes. Additionally, by sourcing cardboard boxes from suppliers who use post-consumer waste materials, the couple takes a sustainable approach to augie Eyewear's operations.
TALK OF THE TOWN
Lana says augie Eyewear is admired by practice owners and behavioural optometrists who love their colour range and simple approach to kids' eyewear. But most importantly, she says, the range has received positive responses from young customers, with one child claiming she'll wear her new frames until she's at least 100 years old. The pair in question was one of augie's most iconic styles – 'Olive' in pink glitter.
"This hits our big why: To give kids the confidence they deserve to feel in their frames. If a child feels happy in their eyewear then they feel confident to wear their glasses and thrive just as they should," says Lana.
In response to the positive uptake of the glitter offerings, augie will soon expand this range. Right now, they're working with acetate suppliers to introduce more fresh and fun additions.
Contact: augie Eyewear (AUS) 1300 391 440