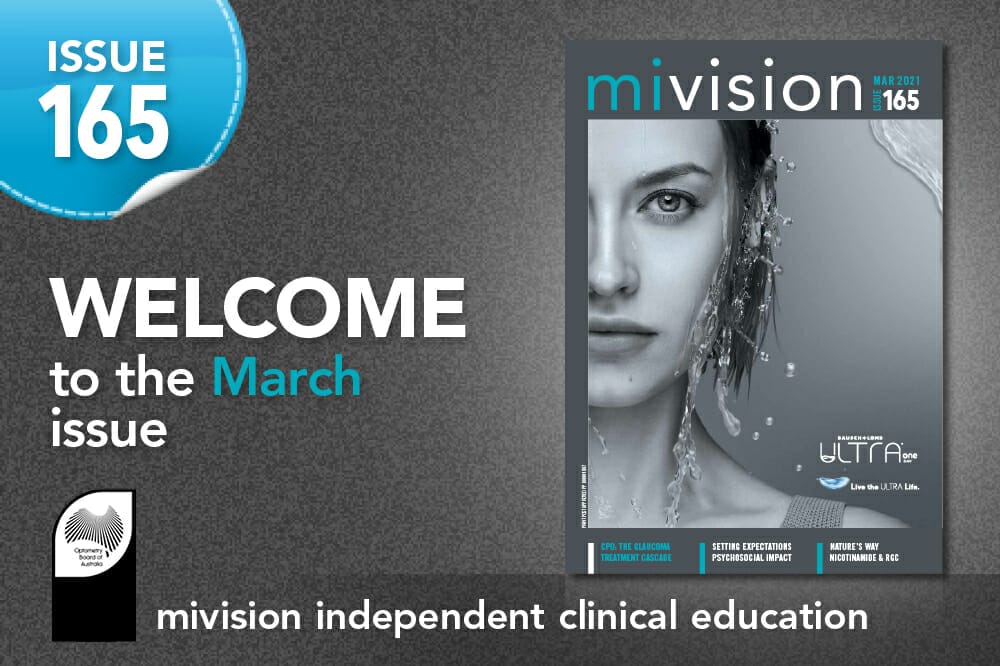 For the past three years our March issue of mivision has focussed on glaucoma and this issue is no different. In an extraordinarily collaborative effort, we have been able to compile a comprehensive body of articles ranging from differential disease diagnosis and models of care through to preventative measures being researched, artificial intelligence, and treatments – both topical and surgical – currently available and on the horizon.
Thank you to Annie Gibbins, Chief Executive Officer of Glaucoma Australia and Associate Professor Simon Skalicky, President of Glaucoma Australia, for their assistance with the issue. We hope it inspires you to get behind World Glaucoma Week this month by encouraging your patients to drop in to your practice and "treat their eyes" with an eye test.
Our news highlights the incredible contribution to global eye health being made in Australia and New Zealand. Local optometrists have contributed to CLEAR, a new global consensus report on prescribing and fitting contact lenses; research out of University of Queensland is shedding light on natural sources of zeaxanthin; a group of researchers at University of New South Wales are turning fat cells into stem cells while others are collaborating with commercial enterprise to trial a novel eye drop treatment as an alternative to injection therapy for retinal vascular disease. The latter could make a massive difference to the lives of people with neovascular age-related macular degeneration and diabetic macular oedema going forward.
Practice development is a constant, which is why in this issue, we've commenced a series to help your practice grow its digital footprint. You may also be interested in opportunities to upskill your team. While mieducation.com, our CPD platform for optometrists is well known, you may not yet have visited www.opticalae.com – Optical Assistant Essentials. We've developed this free online education resource in collaboration with the Australasian College of Optical Dispensing to upskill new dispensing assistants. In the process we hope it will increase your practice profitability and patient satisfaction. www.opticalae.com is receiving great reviews. Take a look.
Enjoy the issue.