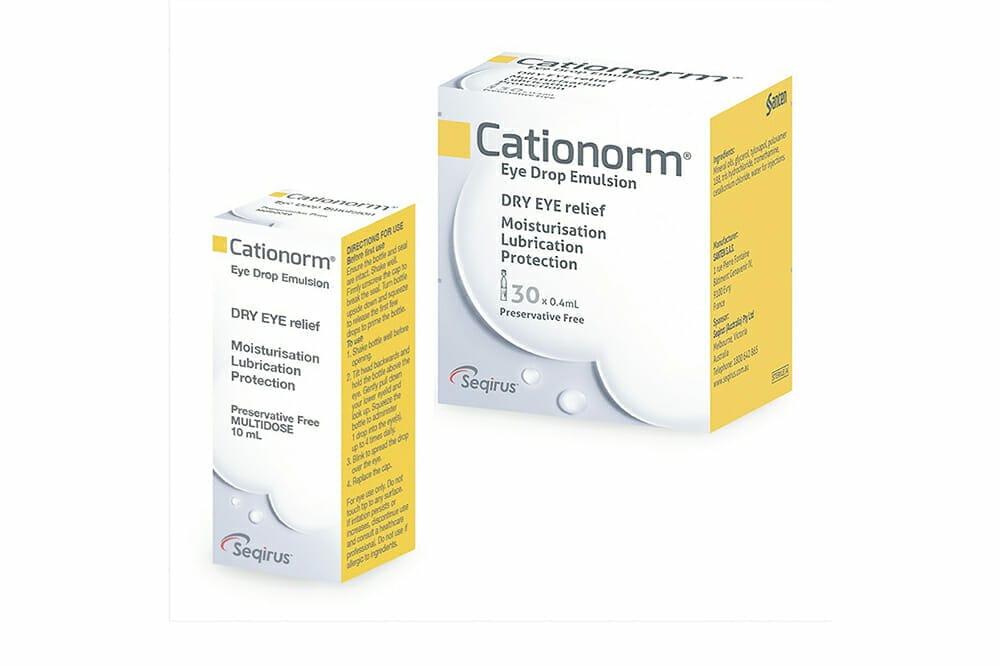 Cationorm (cationic nanoemulsion) is a new preservative-free, hydrating and lubricating emulsion which protects the eye surface, reducing the discomfort and irritation of persistent dry eye caused by prolonged use of contact lenses, or environmental conditions.1
Cationorm repairs the lipid layer to reduce evaporation, lubricate and stabilise the tear film; restores the balance of moisture in the muco-aqueous layer of the tear film; and heals the ocular surface providing long-lasting protection.2-5
Cationorm can be administered as one drop up to four times daily in the affected eye(s), and is suitable for use with contact lenses.6 It is conveniently delivered via a preservative free multidose bottle or single dose ampoules.6
Patients should be instructed to always read the instructions for use, and if symptoms persist, to talk to their health professional.
PBS Information: Cationorm Multi Dose (10mL). Authority required (Streamlined). Refer to PBS Schedule for full authority information. Cationorm (30 x 0.4mL) is not listed on the PBS. 
Contact: Seqirus Customer Service (AUS) 1800 008 275 or customer.service.au@seqirus.com 
References 
Therapeutic Goods Administration. Australian Register of Therapeutic Goods – Public Summary Seqirus PTY LTD – Lubricant, eye. [cited 2021; Available from: www.ebs.tga.gov.au/servlet/xmlmillr6?dbid=ebs/PublicHTML/pdfStore.nsf&docid=406945E40B6D2CA4CA25843C0042145B&agid=(PrintDetailsPublic)&actionid=1.
Lallemand, F., et al., Successfully improving ocular drug delivery using the cationic nanoemulsion, novasorb. J Drug Deliv, 2012. 2012: p. 604204.
Daull, P., F. Lallemand, and J.S. Garrigue, Benefits of cetalkonium chloride cationic oil-in-water nanoemulsions for topical ophthalmic drug delivery. J Pharm Pharmacol, 2014. 66(4): p. 531-41.
Amrane, M., et al., Ocular tolerability and efficacy of a cationic emulsion in patients with mild to moderate dry eye disease – a randomised comparative study. J Fr Ophtalmol, 2014. 37(8): p. 589-98.
Robert, P.Y., et al., Efficacy and safety of a cationic emulsion in the treatment of moderate to severe dry eye disease: a randomized controlled study. Eur J Ophthalmol, 2016. 26(6): p. 546-555.
Cationorm product package.
Seqirus (Australia) Pty Ltd. Date of preparation: August 2021. ANZ-Cati-21-0047