Kids are often the forgotten patient group when it comes to selecting and showcasing frames. Yet they present a massive long-term business opportunity for your practice, as well as an opportunity to influence learning and quality of life for future generations.
mivision spoke to Paul Clarke, optical dispenser and co-owner of Vision West in Western Australia, and SooJin Nam, optometrist and owner of Eyecare Kids in Sydney, and discovered their secrets to success when helping kids with vision correction.
Children today typically love wearing glasses. And why wouldn't they? – there are some fabulous frames around in fun colours and shapes, with popular branding and bling, as you'll see in the accompanying product showcase.
Even so, many practices choose to stock a limited range of kids' eyewear which, according to Paul Clarke, is a massive lost opportunity.
"I'd suggest carrying a reasonable range of children's and teens' frames, and including multiple sizes and lots of colour," he explained. "Kids want to have choices just as much as adults do. Practices that carry a sizable range of kids' frames also achieve free promotion through parent groups on social media."
Interestingly he said practices should not be afraid to stock and show higher priced frames. "Most parents want to buy only the best products for their kids."
Unlike adults of course, children are rapidly growing and the activities they're involved in change accordingly. This makes it essential to stock frames that meet the functional and physical needs of multiple age groups.
"Children require a larger range of designs and sizes to match growing heads," explained SooJin Nam. "Younger infants and toddlers benefit from straps and flexible frame materials so the frame stays stable on their head as they move around.
"A challenging age group is the pre-teen or early teens – their eye size and length of temple is not quite that of a child or adult, so remember to keep a range for them. When helping older children make selections, look for frames that fit well on their nose and check that the temples are fitted well behind the ears."
Mr Clarke added, "Never suggest that 'it doesn't matter if the frame is a little large because the child will grow into it' – the majority of kids will destroy their glasses and need a new pair, well before they have outgrown them."
WHO'S MAKING THE DECISION?
When it comes to helping with frame selection, Mr Clarke said remember who your customer is. "Establish early in the dispense, who is making the decision about the frame – the child or the parent? Nowadays, kids generally love the idea of wearing glasses and they want to be the decision maker. So, it is best not to fall into the trap of ignoring the child and directing your attention mostly to the parent during the dispense."
Ms Nam agreed, adding that it's sometimes necessary to remind parents that it's not them wearing the frames.
"Parents/guardians can be quite eager to choose a frame style that they like. Remind them that it's always best to let the child have the final say on what style, and particularly the colour, they would like to wear. The child is more likely to be compliant if they are involved in the chosen frame design, and of course, will look forward to collecting them when they are ready."
Sometimes a frame discussion between parent and child can turn into a dispute, at which point Mr Clarke says it's all about diplomacy and, on occasion, a little bit of trickery too.
"Probably the greatest challenge dispensing kids is when the parent and the child disagree on the final decision. In the case of a young child, their reason for preferring a poorer choice of frame over another may be influenced by the brand. A certain amount of psychology and trickery can often work to convince the child that the parent is right.
"With older children, occasionally the parent's view of what looks best on their child might be at odds with the child's opinion and a stalemate develops. In this case, both the parent and the child are probably wanting support and advice from the dispenser. The best way to deal with this situation is to be honest. If the child's choice of frame looks bad, tell them. If the parent's choice looks bad, suggest that what the child likes is the current trend. If you have built a relationship with the parent and child, your advice may resolve the issue quickly."
In the case of a reluctant glasses wearer, Ms Nam says it helps to begin by explaining the benefits of wearing glasses, such as "you'll be able to see the board better" while in the consulting room.
"I find most children are quite happy to try on frames, and they are very rarely self-conscious about wearing them at school. A likely reluctant child would be one who has amblyopia in one eye but has very clear vision in the other eye, so they think that the glasses are not making any difference. That's when it is useful to make them aware that one eye sees blurry and one eye sees clearly, and how wearing glasses can help the blurry eye see better over time. Logic surprisingly works well, even with younger kids."
And finally, Mr Clarke says, when dispensing, let's not forget lens coatings.
"I recommend multicoating on lenses given to children – for some reason, multicoating is often not included on lenses that are dispensed to kids. There is little logic to that. Children are just as deserving as adults to enjoy the benefits that multicoated lenses provide."
Enjoy the selection of kids' frames, available for your practice, featured in the following pages.
Rock Star

Filled with energy, Rock Star delivers the latest mini-celeb looks while inspiring individual style and self-confidence. This bright and young range pops with personality, with its fashion-forward design and fun pattern and colour fusions.
Contact: Aaron's Eyewear (AUS) 07 3367 8447 
Police Junior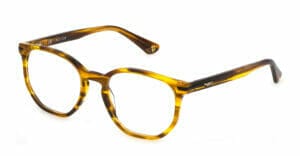 Police Junior is the perfect collection to suit kids' lifestyles with trendy geometric shapes in various colours, and flex hinges for durability. From active kids to the classic look, Police Junior has got you covered! Pictured is model VK104 0794.
Contact: De Rigo (AUS) 02 9428 1500 
Nano Vista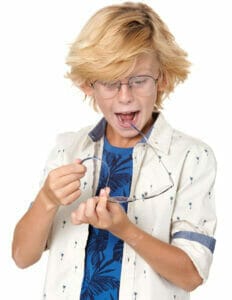 Nano presents a unique titanium alloy frame that is elastic and resistant, like nothing seen before in metal frames.
This new generation of Nano Vista models can be stretched 180º, flexed, and bent – and they'll always go back to their original shape.
Hypoallergenic and fully adapted to the shape of the child's face, all Nano frames are backed by a three year warranty.
Contact: Aviva Mann (AUS) 1300 850 882
Minions
Minions – the 2015 American comedy animation, spun out of Despicable Me, produced by Illumination Entertainment and distributed by Universal Pictures – is the inspiration behind this new brand of kids' eyewear. The distinctive, yellow bespectacled lead characters – Kevin, Stuart, and Bob – lend themselves perfectly to a fun and charismatic collection of ophthalmic frames and sunglasses which will 'wow' kids and win over parents. Bold in design, they also offer a balance of comfort and durability.
Visit: www.glbleyewear.com 
Guess Kids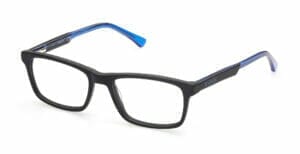 Guess Kids Eyewear is perfect for little ones with a sense of style.
Inspired by the Guess adult's eyewear, these boys' glasses draw inspiration from a classic men's style. They boast a rectangular acetate front and fun twotone style that is available in a variety of colourways. A Guess logo on the temples completes the look. Pictured is model GU9206-002.
Contact: Marcolin (AUS) 02 8456 0946
Kids Eye Gear
Kids Eye Gear makes patching and wearing glasses fun with a range of adhesive eye patches that fit babies to adults. Fabric eye patches, patch decorations, interactive patching reward charts, and SpecStoppers ear hooks are available.
Contact: Kids Eye Gear (AUS) 0414 566 894 
Lindberg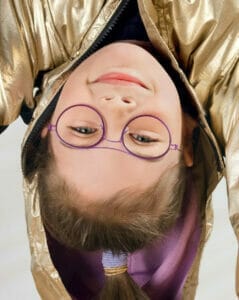 Kids in need of glasses deserve a frame that fits the face perfectly and feels barely there. Active by nature, they should not be limited by eyewear that cannot meet their needs.
Lindberg eyewear for children delivers on style with frames that are also durable and comfortable to wear.
Visit: lindberg.com
Nike Kids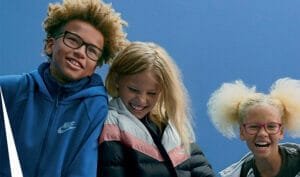 Purpose designed and made for future game changers, Nike kids' sunglasses are as tough, fun and resilient as the kids who wear them.
A burst of colour brightens up the new Nike kids' eyewear styles this season. The Nike Kids styles 5028 (left) and 5509 (right) are lightweight, with tough acetate frames and two years unconditional warranty.
Contact: Marchon Eyewear (AUS) 02 9697 8080 
Polaroid
With a range of colours and a style for every face, Polaroid eyewear is a great choice for people who are kids in age and at heart. Within the collection there is a focus on sustainable materials so you and your customers can express your love for the planet through your everyday choice.
Contact: Safilo (AUS) 02 9540 0500 
Instyle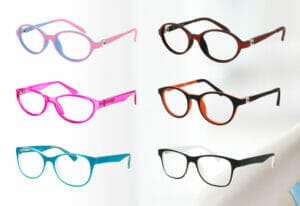 Comfort and affordability are top considerations when choosing frames for young and active patients. Opticare, your trusted optical supplier, offers different frame options that are specifically designed for children. This company champions the durability of its products in the Instyle Kids collection.
Contact: Opticare (AUS) 1800 251 852
Sea2see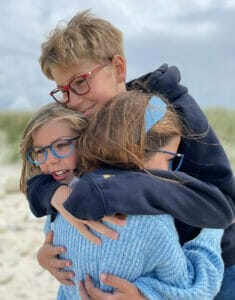 Sea2see is expanding its glasses collection – by popular demand – for the youngest eco-conscious kids and teens. This year the Made-in-Italy 'petite' collection by Sea2see has a wider choice of genderless and unisex styles with modern shapes in a mix of vibrant, upbeat colours for all tastes and style preferences in this age group. Pictured is Joe, a traditional rectangular frame shape that's offered in six colourways, from black matte to blue/red matte.
As with the entire Sea2see eyewear range, the 'petite' styles are made from 100% recycled marine plastic, collected through an established program of waste collection in Europe and West Africa, which has an immediate and positive impact on the coastal environment.
Visit: www.sea2see.org 
Ugly Fish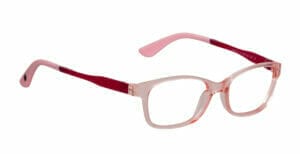 Aussie brand Ugly Fish Eyewear prides itself on supplying optical frames that look cool, while still maintaining maximum form and function. With light weight frames suited to active babies, kids and tweens, this range offers flexible temples, frames and matching ear locks, all at an exceptional price.
Contact: Ugly Fish (AUS) 02 4284 7888 
Beamers
Interested in being part of the Beamers movement to protect kids' eyes from UV damage? Would you like to help reduce the burden of diseases, such as eyelid cancers, pterygium, cataract and macular degeneration?
Beamers sunglasses are designed by Australian ophthalmologists and, with Optoshield technology, they provide maximum UV protection for kids' eyes while being soft, durable, comfortable and colourful.
This summer Beamers is looking for partnerships with like-minded optometrists.
Contact: hello@beamers.com.au 
Augie Eyewear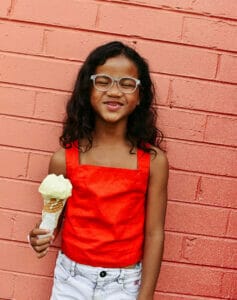 Augie can be described as fashionable classic eyewear for children. Timeless frame shapes that are on trend and give kids a chance to look and feel more grown up ensure a positive experience and positive outlook on wearing glasses. Common discomfort issues have been overcome by using silicone tip arms and flexi-hinges, perfect for all day wear. All styles are available in two sizes, suiting kids from toddlers to early teenagers.
Augie Eyewear gives 1% of every sale back to the planet through its charity partner, 1% for the planet. Cardboard boxes are sourced from suppliers who use post-consumer waste (PCW) materials.
Contact: Augie Eyewear (AUS) 1300 391 440 
Superkids
Superkids are crafted for all children – the brats, the little monsters, the hyperactive, the day-dreamers, budding artists, and future traders. These fun little acetate frames are simple, pop-tastic and, above all, durable with all important flexible hinges. Crafted by Anne & Valentin and made in France.
Contact: Eyemakers (AUS) 02 9960 7766
Tartine et Chocolat
Timeless and understated, Tartine et Chocolat presents a curated children's optical collection featuring subtle and classic styles with a hint of youthful flair. Suitable for children ages three to eightyears, they're available in sizes from 40-47.
Contact: Little Four Eyes (AUS) 03 8352 9996 
The Cancer Council
The Cancer Council is a well-loved brand that Australia knows and trusts, with products designed to help protect Australians from our unique climate and conditions.
The Cancer Council makes eye protection accessible to all Australians through affordable pricing and mass market distribution. The kids' collection offers something for all ages, even infants and toddlers. Pictured is Bumblebee for infants.
New to the collection is Cancer Council Flexi Kids' range, made from an exceptionally robust, soft and flexible rubber, to complement the adult's Flexi collection.
Contact: Sunshades (AUS) 02 8303 7300 
Zoobugs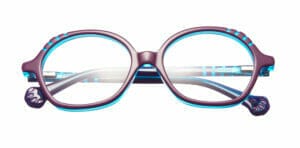 Created for small, growing faces, Zoobug's eight new acetate frames are lightweight, comfortable and resilient, without compromising on beautiful, balanced design and detailing. New to the collection is the cut-out effect on the top rims, a subtle decoration that is funky and cool. These frames also feature a new tiny signature 'footprint' on the temple tips. Pictured is Viola, for ages three to seven, with a roundish shape and available in the eye-catching colour combinations of burgundy/red, brown/pink, pink/yellow crystal, red or purple. Size: 45-14-120.
Visit: zoobug.com 
Spinach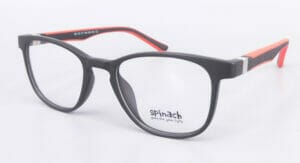 Spinach is a comprehensive solution for kids and young teens that offers style, quality and value. Designed by the team at Frames Etcetera, the Spinach collection comprises 19 models, each in two on trend colours, made from mixed metals and plastics and covering a size range of 45-50.
Contact: Frames Etcetera (AUS) 08 9248 1882 
Random
Random eyewear is purpose designed by ProOptics for growing kids with active lifestyles. This brightly coloured, comfortable and durable collection features boys', girls' and unisex models that are all handmade in Korea, ensuring exceptional quality.
Contact: ProOptics (AUS) 02 8007 6041