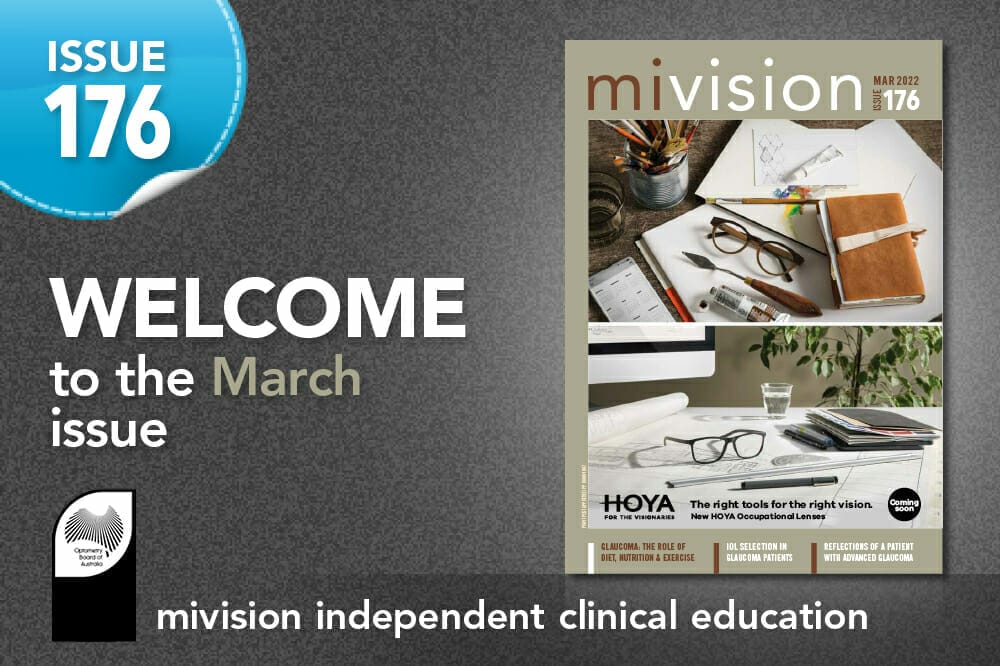 It never ceases to amaze me that members of the broader community continue to perceive the main reason for visiting their optometrist is to check their vision acuity.
Unlike checks for bowel, breast and prostate cancers, the thought of having their eyes regularly checked for eye disease often does not occur until it's too late.
And this low level of awareness has nothing to do with demographics, as is demonstrated in our lead story this issue – the story of Shannon Davis.
I spent an emotional hour or two interviewing Shannon, a 45-year-old father of a four-year-old and a baby, who until recently was a partner in a leading professional services firm. Two years ago his planned future was ripped from him when he was told he had irreversible, end-stage glaucoma. Despite believing he had the world in his sights, he was existing on a residual amount of central vision. He was legally blind.
As the mother of three young adults, I can't imagine not being able to see the smiles – even the fears, frustrations and anger – on each of their faces; let alone the prospect of not seeing them have children of their own. I can't begin to imagine how Shannon felt when he realised the sighted time he has to watch his children grow is limited.
All because this highly intelligent individual was unaware of the need to have an eye health examination.
Is it time to change the messaging? Do we need to be more blunt about the risks of eye disease? Instead of a friendly reminder to have an ocular health and vision check then choose a stunning pair of glasses, should we paint the picture of life without sight? Should we lobby GPs to check that their patients have had an eye test? Should a comprehensive eye examination be required before we can have our drivers licence renewed, regardless of age?
These are some of the questions Shannon is grappling with, while he ponders how he can help save the sight of generations to come. I invite you to read his story and consider these questions too.
Welcome to our fifth annual glaucoma issue. An issue rich with information on the latest research and clinical approaches to detect, diagnose and manage this insidious blinding disease. Thank you to Annie Gibbins, CEO of Glaucoma Australia, and her team, including the board and committee members, for their assistance in producing the content.
Enjoy!