'Front loading' visual field tests is a feasible approach to better understand a patient's condition and disease progression, with minimal compromise to clinical workflow, according to a study performed by Centre for Eye Health (CFEH).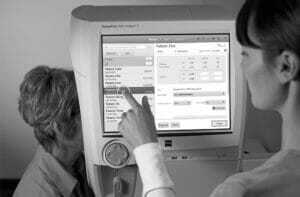 Since the release of the SITA Faster strategy in 2018, clinics with a Humphrey field analyser 3 (HFA3) have welcomed the benefits of reduced testing times and improved clinical workflow. With SITA Faster cutting visual field testing times by up to 50% (compared to SITA Standard), clinicians are now exploring ways to better utilise the time saved by their HFA3 to better understand the glaucoma state and progression of their patients.
To overcome the subjective and multi-factorial limitations of performing visual field tests, the CFEH explored the concept of 'front loading' or performing multiple perimetric examinations per eye in a single clinic visit. Given that two SITA Faster tests could be performed within the same time frame as one traditional SITA Standard test, CFEH investigated:
The number of patients that provided are liable visual field test by doing two tests per eye in the same visit, and
The repeatability between the first and second test per eye in the same visit.
Of the 329 glaucoma suspects and glaucoma patients that were included in the study, it was found that over 90% of patients had at least one reliable visual field test result for each eye and approximately two thirds of patients had two reliable test results for each eye. It was also determined that global parameters, such as point wise sensitivity and probability scores, were very similar between the first and second tests.
CONCLUSIONS
Upon reviewing the results, it was determined that:
The frontloaded visual field tests were similar between the first and second test when reliable, and similar even when the results failed to meet traditional visual field reliability requirements,
Performing more than one visual field test to potentially obtain multiple useful test results has been shown to give reliable data for progression analysis sooner, and
Performing quick tests within the same session may help to overcome learning effects or practice efforts and therefore reduce the number of visits.
In summary, CFEH found that a 'front loading' approach using SITA-Faster at a single visit can provide reliable and repeatable visual field data to overcome practical issues regarding low testing reliability.
To find out more, listen to the podcast at: rapidresearchreview.buzzsprout. com/1884295/9514939-episode-2-is-it-possibleto- get-reliable-visual-fields-at-every-visit?t=0.
References
Phu J, Kalloniatis M. Viability of Performing Multiple 24-2 Visual Field Examinations at the Same Clinical Visit: The Frontloading Fields Study
pubmed.ncbi.nlm.nih.gov/33951444/
(FFS). Am J Ophthalmol. 2021 Volume 230 pp 48-59. DOI: 10.1016/j.ajo.2021.04.019