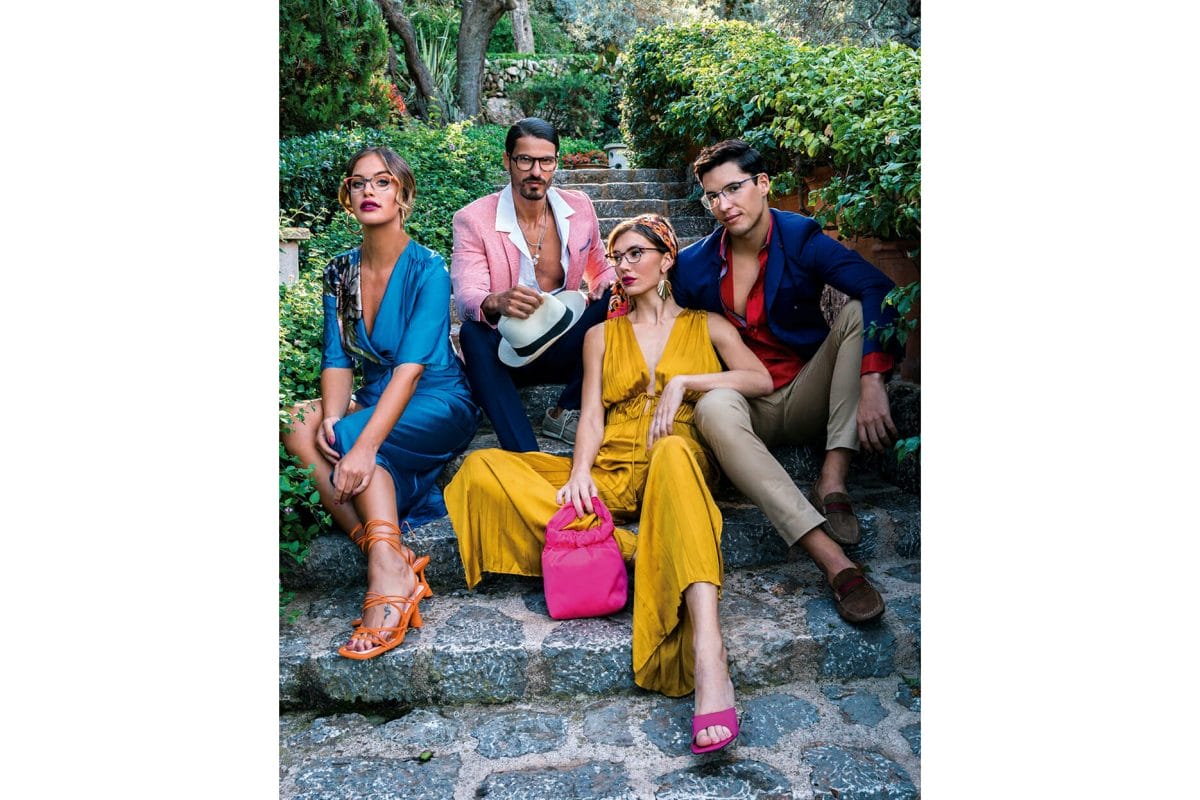 Global consumer demand for sustainability is driving innovation across all industries. In eyewear it began with the use of recycled plastics in frame materials. Now the major manufacturers have extended their commitment to sustainability further, implementing initiatives to save on energy, reduce water and chemical consumption, and waste, and to enhance the lives of their staff, customers and the broader community.
The production of sustainable eyewear is booming, thanks to global enterprises equipped with the capital resources to invest heavily in developing eco-friendly frames that offer both the performance and appearance of those manufactured with more traditional materials.
Through this process, scrap from the manufacturing of acetate frames can be diverted from landfills and used to produce new sustainable acetate for premium eyewear
Back in February 2020, Eastman announced an industry-first collaboration with Mazzucchelli 1849, to produce and sell acetate sheet made from Eastman Acetate Renew, a cellulose diacetate composed of 60% bio-based and 40% certified recycled content.
Eastman's innovative carbon renewal technology process is capable of recycling some of the most complex plastic waste, including non-polyester plastics and mixed plastics that cannot be recycled with conventional recycling technologies. Through this process, scrap from the manufacturing of acetate frames can be diverted from landfills and used to produce new sustainable acetate for premium eyewear.
In October 2020, Eastman announced another industry-first partnership, this time with Marchon becoming the first eyewear company to produce and sell its proprietary and licensed brand frames using Acetate Renew, beginning with the Salvatore Ferragamo Responsible Eyewear Collection.
"We are very proud to announce our partnership with Eastman," said Nicola Zotta, President and CEO of Marchon Eyewear, Inc. "As the first eyewear manufacturer to collaborate with Eastman, this relationship will be beneficial for us, as it will significantly reduce waste and greenhouse gas emissions, while maintaining our commitment to safety and sustainability without compromising the quality of our frames."
Since then, more frame manufacturers have jumped on board including Mykita, Andy Wolfe, and Safilo.
PEOPLE, PRODUCT AND PLANET
Speaking with mivision while in Sydney in April, Angelo Trocchia, Group CEO at Safilo, described his company's long-term, comprehensive approach to sustainability, which encompasses three areas: people, product and planet.
With a committee established to drive this approach, headed by none other than Safilo's Chairman, there's no arguing that this Italian eyewear company is absolutely committed to the cause.
"We've been taking action in our plants and offices throughout the world to reduce our footprint – to reduce consumption of water and chemical components in our manufacturing processes, to install more environmentally friendly lighting, to reduce packaging materials, and to use eco-friendly and recycled materials in the manufacturing of our frames and lenses," said Mr Trocchia.
In 2020 alone, Safilo achieved a 15.9% decrease in greenhouse gas emissions thanks to rooftop solar installations, a 15% decrease in water consumption, and saved 6.929GJ of electric energy.
Initiatives the company has introduced or is exploring, include the production of premium sunglass lenses from sustainable materials in a process which reduces carbon emission by 50%; exploration of 3D-printed lenses – though Mr Trocchia acknowledged it will take time to develop a cost effective, scalable process; and a partnership with the not-for-profit company Ocean Clean Up, which sees plastic collected from the ocean processed into small pallets for use in eyewear manufacture.
Mr Trocchia said Safilo is also working with suppliers to fully close the loop in eyewear production, though the collection, separation and recycling of multiple materials is complex and something that remains unresolved to date.
"The costs are very expensive, but we are working with some suppliers – how long it will take to bring the cost down to a reasonable level, we don't know," he said. However, he added, as a global leader in eyewear Safilo has the benefit of history, internal teams with strong technical expertise and skills, and the ability to partner with external suppliers to research and develop innovative solutions.
"We keep working with the technical guys to come up with the solutions. It's a journey and every year we will add activities consistent with our approach across the three key areas of people, product and planet. Some changes – like changing the lighting – may be simple but they are important – small things, as long as we are consistent, we will make the difference."
REPUTATIONAL BENEFITS
It's Mr Trocchia's view that Safilo's commitment to sustainable and eco-friendly manufacturing will, in turn, attract the best talent across its worldwide business.
"Australia is in front when it comes to interest in sustainable processes, but we see this need growing up in Italy and other geographies. As a company, we need to be more than just product – we want to attract people who share our values and identify with our authenticity."
Marchon has also taken a comprehensive approach to sustainability, and believes this is well received by employees, suppliers, and customers.
"We are proud of our Corporate Social Responsibility (CSR) platform – Eyes on Tomorrow," explained Thomas Burkhardt, Senior Vice President of Global Brands, Marketing and Design at Marchon Eyewear.
Demonstrating its commitment to "being a responsible partner to our stakeholders, employees, and communities", Eyes on Tomorrow is built on three pillars:
Eyewear: creating more sustainable frames, lens, and packaging solutions,
Supply chain: innovating the manufacture, transportation, and storage of products to lessen the impact of all related activities, and
People: striving to create an inclusive environment for Marchon's workforce and partners, and to be a positive contributor to communities.
"Marchon has a long history of empowering and supporting its employees in the US and over 21 countries on all major continents," said Mr Burkhardt. "We also believe in giving back to the communities we operate in and furthering the purpose of our parent company,VSP Vision, to empower human potential through sight."
NOT JUST THE GLOBALS
While global eyewear manufacturers have the upper hand when it comes to investing in sustainable eyewear manufacturing and distribution, there are plenty of smaller operations – including local brands – driving change. And, as Mr Trocchia says, of most importance is consistency, because every little bit of progress contributes to the bigger picture of change.
Otis Eco-Acetate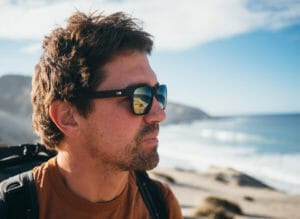 Otis Eco-Acetate is made from cotton seeds and wood pulp, collected and made into plant-based products. Sample materials and frames are exposed to an accelerated ageing process and declared biodegradable by global certifying institutions. When no longer needed, these Eco-Acetate frames can be returned to Otis, where the raw materials will be sorted and recycled. Over time, Eco Acetate decomposes and returns to nature, with the processing time reliant on environmental conditions.
Contact: ProOptics (AUS) 02 8007 6041
AM Eyewear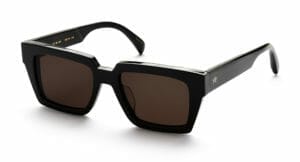 AM Eyewear uses Zeiss polyamide lenses that are not only sustainable in the material, but in the production process as well. The whole chain is certified according to REDcert2 standard, to offer a truly sustainable polyamide lens, with the carbon footprint reduced by 50% compared to standard lens production.
Visit: ameyewear.com 
augie
As parents and business owners, protecting our kids' future is at the heart of everything Augie does. Augie chooses sustainable materials and packaging every time, using post-consumer waste material for its own packaging. Frames are made with renewable resources, while being comfortable and durable for kids.
Contact: Augie (AUS) 0403 560 370
Chopard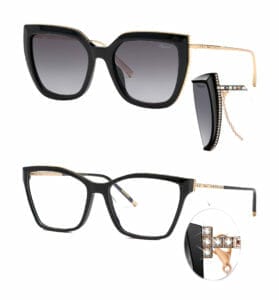 Chopard is committed to sustainable luxury as part of its identity, values and tradition. The collection is produced with plant-based materials and both frames (SCH319 and VCH321S pictured) have bio-acetate fronts with a faceted surface.
With Chopard's new packaging, both exterior and interior cases are made with 100% recycled materials, same as the cleaning cloth.
Contact: De Rigo (AUS) 02 9428 1500 
Dragon
Let your patients feel good and look good with the billie sunglass, made from plant-based resin, a natural bio-based plastic to protect the oceans we love to surf, the mountains we climb, and the earth we love to explore. Featuring Dragon's signature lumalens colour optimisation, this unisex sunglass is both sleek and functional.
Contact: Marchon Eyewear (AUS) 02 9697 8080 
Jisco
Impressively, 35% of Jisco's collection is made with bio-acetate that comes from 100% cellulose, the most widespread organic compound in nature, and 25% of the collection is made from 100% recyclable pure titanium. These biodegradable frames are wrapped in compostable plastic for protection, with outer packaging – like the cardboard shipping boxes and merchandising colour cubes – made from recycled and recyclable materials when possible.
Jisco's Eco-Titanium is a capsule collection of frames designed from combinations of 100% recyclable pure titanium and 100% bio-degradable bio-acetate pieces.
Contact: ProOptics (AUS) 02 8007 6041 
adidas Originals
adidas Originals' model OR5025-092 is a classic, soft-squared frame composed from injected polyamide made from 99.7% recycled plastics. The adidas Originals' logo adorns the geometric fitted temples.
Contact: Marcolin (AUS) 02 8456 0946 
Maui Jim
Maui Jim installed the first system in the industry that remotely processes waste off the production floor. It shares this information with other labs to encourage adoption of similar practices.
Each year these efforts save approximately 15,000 litres of fluid and over 90,000 kilograms of waste from the recycling of damaged frames, lenses, and lens-cutting waste. Consumers can feel good about purchasing a Maui Jim prescription knowing that it is responsibly processed.
Contact: Maui Jim (AUS) 02 9452 5575
Le Specs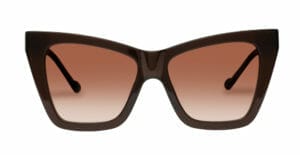 Since 1979, Le Specs has been designing unique eyewear specifically for Australian environments and our evolving Australian way of life. Continuing Le Specs' journey to source ecological and less polluting materials, the new Le Specs sunglass and optical collections are luxuriously crafted from a sustainable bio-acetate material that combines the beauty and qualities of acetate with a plant-based and biodegradable composition.
Contact: Sunshades (AUS) 02 8303 7300 
Zeal
Northwind brings a head-turning new look to the Zeal See Grass collection. This wide-brow, angular design is crafted in a closed-loop system from recycled plastic and agricultural grasses in a process that combines sustainability with quality, durability, performance and style. Combined with Zeal's plant-based Ellume polarised lenses, Northwind has the brand's lowest footprint to date.
Contact: Maui Jim (AUS) 02 9452 5575 
Oroton
Consciously growing the sustainable eyewear edit, Oroton's bio-acetate collection is handcrafted from 100% Mazzucchelli M-49 bio-acetate material. Engineered to achieve increased biodegradability, Mazzucchelli's M-49 material is an eco-friendly thermoplastic material featuring a new innovative formula, with a luxurious touch and feel. In a further commitment to a more sustainable future, all Oroton sunglasses are packaged with a cleaning cloth made 100% from recycled bottles.
Contact: Sunshades (AUS) 02 8303 7300 
Eco Conscious

Released at O-Show, Eco Conscious is classified as a fully biodegradable collection, which means the material must biodegrade to carbon dioxide, water, mineral salts and new microbial cellular constituents (biomass). The acetate selected by Eyespace for these new Eco Conscious models has been tested and passed by SGS – one of the world leaders in testing. Throughout the fully audited manufacturing process, factory water is recycled and redistributed. Priced to sell in volume.
Contact: Aaron's Eyewear (AUS) 07 3367 8447 
Rodenstock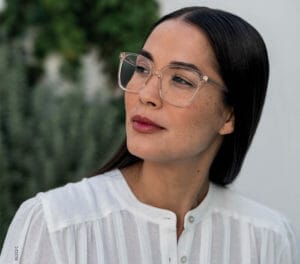 Rodenstock uses a plant-based plasticiser to create bio-based and biodegradable acetate frames of premium quality. Moreover, Rodenstock's eco-friendly acetate frames come in new, plastic-reduced packaging, consisting of a recyclable cardboard box and a microfibre bag made from recycled PET bottles.
Contact: Rodenstock (AUS) 02 9748 0988
Polaroid
In 2021, Polaroid made their optical collection 100% sustainable by using bio-based materials and recycled metal. Acknowledging that all colour comes from nature, and thanks to Polaroid's sustainable choice, the brand is committed to making the world more colourful.
Contact: Safilo (AUS) 02 9540 0500 
Sea2see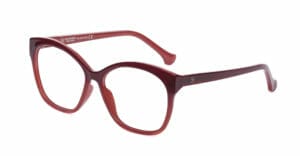 Model Panarea 06 (pictured) by Sea2see is a bestselling style that comes in a stunning gradient burgundy tone. The frame is made in Italy out of Sea2see's 100% recycled marine plastic and is presented in a recycled cork case, featuring recycled PET plastic fabric and compostable plastics, and a box derived from sugar cane extract.
Visit: www.sea2see.org 
Van Staveren Eyewear
Van Staveren Eyewear is committed to the use of sustainable and biodegradable materials. Instead of making a new 'only biodegradable' range, Van Staveren is implementing these materials across their four collections, wherever possible. This includes using Mazzucchelli M49 material.
Visit: vseyewear.com.au/products/eco-friendly 
Basebox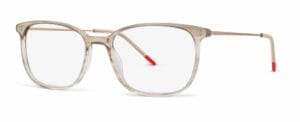 The Slimology capsule is the latest addition to the Basebox range. Uber thin and streamlined, these frames offer a style reboot for consumers on the fashion pulse. Slimology frames are composed of a mix of recycled ocean plastic, recycled stainless steel and bio-acetate. Super-thin temples with acetate tips provide a disruptive colour flash. Slimology frames are the perfect embodiment of minimalistic design with contemporary colour blocking.
Contact: Aaron's Eyewear (AUS) 07 3367 8447 
Mondottica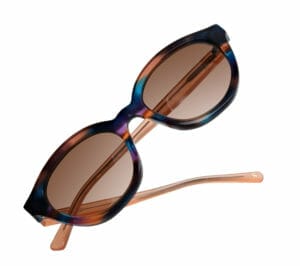 Colour is what makes Joules stand out from the rest of the competition. Indeed, the team behind this brand believes that when colour is used lavishly, but in a considered manner, there is no way better way to brighten up any occasion. The introduction of sustainable, renewable acetate into the collection has not held them back from their mission – over 50% of their 2022 sunglass collection is made from renewable acetate, and it's sensational. Mondottica works closely with the team at Joules to meet their brief of 'protecting, respecting and growing together – responsibly.
Contact: Mondottica (AUS) 02 8436 6666 
Scotch & Soda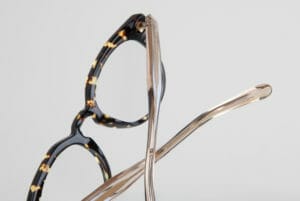 Mondottica shares Scotch & Soda's ambitions to reduce our impact on the environment. While this is a process they are continually working on, already part of the collection has been crafted from eco cellulose acetate – a new sustainable material made from naturally occurring cotton. Yet another section of the range is made with biotate cellulose acetate, a natural and renewable material made from cotton and wood pulp. Biotate offers a sustainable option to conventional plastic that can be broken down into non-toxic components at the end of the product life span, and returned to nature.
Contact: Mondottica (AUS) 02 8436 6666