On a wet post-election Sunday, 22 May 2022, 365 optometrists gathered at Luna Park in North Sydney. Outside, parents smiled at their children, who screamed with laughter as they rode the rides and tossed ping pong balls into the gaping mouths of swivelling clown heads.
Inside you could hear a pin drop as optometrists, mainly from NSW, gathered for the first time in over two years for a fast-paced day of clinical education, business building tips, and lectures for those early in their careers.
On its 10th year anniversary, Super Sunday lived up to its name, delivering a superb line-up of clinical presentations, alongside a business program and a stream of lectures curated especially for early career optometrists.
He reiterated that a brief nudge earlier can be a lot more effective in altering a person's motivation than later when it requires more substantial intervention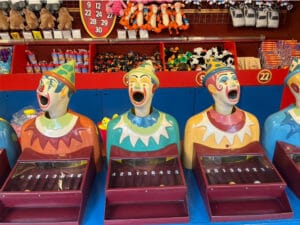 Each year the team from Optometry New South Wales/Australian Capital Territory (O NSW/ACT) delivers a lecture that's a little 'outside the box' and this year that lecture was on the challenges of alcohol and drugs in the community, delivered by Professor Michael Farrell, Director of the National Drug and Alcohol Research Centre at the University of New South Wales.
The 'warm-up' lecture to Prof Farrell's was delivered by optometrist turned ophthalmologist Dr Michael Chilov.
Dr Chilov felt particularly at home at Luna Park, having worked at the famous fun park while at university. He also attended several Super Sunday conferences while practising as an optometrist – most of them similarly rainy days.
Dr Chilov delivered a "Cook's Tour" on the ocular side effects of systemic drugs, stressing the importance of taking a thorough medication history, as part of any consultation, to minimise the risks. There are, after all, over one hundred drugs that can affect the eye, some causing serious and irreversible problems.
The main focus of Dr Chilov's presentation was on the anti-inflammatory drug, hydroxychloroquine (Plaquenil), commonly used to treat rheumatoid arthritis, and bandied about in the United States as a potential treatment for COVID-19.
This medication is favoured by many rheumatologists and immunologists for treating autoimmune and inflammatory diseases due to its efficacy and relatively favourable safety profile but can pose serious risks to patients, including cardiac toxicity (potentially leading to sudden heart attacks and, of greatest relevance to Super Sunday's audience, bull's eye retinopathy). While the risk of the latter is relatively low, Plaquenil maculopathy can cause irreversible and severe vision loss.
The risk factors for Plaquenil maculopathy are the duration of use, climbing significantly after 10 years of use (five years <1%; 10 years <2%; and 20 years 20%), and a high dose of the drug which is now considered to be 5mg/kg/day (was formerly 6.5mg). Generally speaking, a patient is in the high-risk group if they are taking two tablets a day or if they are a smaller / lighter person taking one tablet per day. Other risk factors are impaired kidney disease, co-existing retinal or macula disease and Tamoxifen use.
Screening consists of visual field testing (usually a 10-2 field, however East Asian patients should have a 24-2 field due to recent reports of East Asian patients developing extra macula damage) as well as optical coherence tomography (OCT). Check for parafoveal changes that have a bull's eye effect; as the disease gets more advanced, you will see changes in the ellipsoid layer, and sparing in the central zone on OCT, referred to as the 'flying saucer' sign.
Fundus autofluorescence and electroretinogram testing can be used as secondary screening. Slit lamp/fundus photography aren't that useful because the bull's eye changes will be advanced before you can pick them up.
Screening early in the treatment process and communicating with the patient's general practitioner and relevant specialists is critical because by the time you have pigmentatäry changes at the macula there is often significant underlying damage. Alternatives to Plaquenil can be prescribed.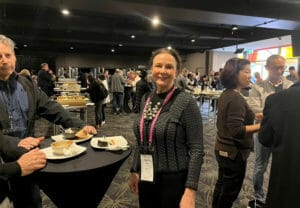 Dr Chilov also spoke about screening patients prescribed the anti-inflammatories Ethambutol, which is used to treat Tuberculosis, and Gilenya (Fingolimod), which is used to treat multiple sclerosis. Patients on high doses of Gilenya are at risk of macular oedema, as are diabetic patients and those who have had uveitis due to a condition of the blood retina barrier. Baseline screening of the macular and at four months using OCT is recommended.
Moving on to other common drugs with ophthalmic effects, he said while there is no recommendation for ophthalmic screening of patients on long-term corticosteroid therapy, it is reasonable to encourage annual visits to check intraocular pressures and look for cataract.
While some people have woken up blind from ischaemic optic neuropathy after using erectile dysfunction drugs, we're unsure of whether this is a side effect of the drug or probably more likely due to underlying vascular problems – which could be why they're using the erectile dysfunction drugs in the first place.
Flomax or Duoodart, used to treat benign prostatic hyperplasia – a problem with urinating – can block the alpha receptors in the pupil, leading to irreversible loss of dilator muscle tone and resulting in a floppy iris. A floppy iris complicates cataract surgery, however if the patient's history of Flomax or Duodart use is known, the surgeon may take measures, such as injecting adrenalin into the anterior chamber or using iris hooks or rings to keep the pupil dilated during the procedure.
With so many new prescription drugs becoming available, especially in chemotherapies and immunotherapies, it's essential to be vigilant – to understand the drugs your patients are taking and their potential side effects.
Dr Chilov also touched on recreational drugs, the use of which is increasing in the community, according to the most recent national drug survey. While some drugs can directly cause eye problems – for instance cocaine rarely causes a retinal artery occlusion – one of the main ways recreational drugs contribute to ophthalmic presentation is through eye injuries.
Alcohol is also frequently implicated with ocular trauma (there's a 70% association of alcohol with open globe injuries), however we know excessive alcohol consumption increases the risk of age-related macular degeneration (AMD). Two drinks a day increases the risk by 20%; four standard drinks per day increases the risk of exudative AMD by nine times.
Cigarette smoking increases the risk for multiple eye diseases. Smoking increases the risk of AMD by 2.5 to three times, and increases the risk of retinal vascular diseases, nuclear/posterior subcapsular cataract, dry eye, and thyroid eye disease (smoking increases the risk of thyroid eye disease developing and comes with a poorer prognosis).
INFLUENCING BEHAVIOUR
During a fascinating presentation, Prof Farrell spoke about the decline in smoking due to policies, pricing and education, and the rise of alcohol and drug consumption. Interestingly, younger populations are starting to drink alcohol later and drinking less of it.
He said the challenge for all health professions is how to discreetly explore health-related problems with patients at an early stage when it's much easier to intervene.
"Simply drawing the connection between the substance use and the condition they have may have an impact on the person going off and thinking about it for themselves."
He said that while smoking is one of the most modifiable behaviours, it is an addiction, so there is a need for some diplomacy. The most effective way to help a patient may be to direct them online where they can find a support group to help them change their behaviour. Groups like QUIT are nonjudgemental and supportive.
The use of illicit drugs is increasing. Globally, we are seeing a substantial rise in the episodic use of cocaine (described as "the new kid on the block") despite its high price; we're also seeing a rise in mortality, hospital presentations and treatment seeking.
About 200 new synthetic drugs appear on the market every year, presenting new and substantial challenges. These new psychoactive substances could potentially have systemic effects across a range of body organs. While opioid deaths – due to contamination of drugs with fentanyl – are not yet being seeing in Australia, there is increasing local concern about this. We are also seeing the heroin pick up. As with smoking and excessive alcohol consumption, there is plenty of potential to help people taking illicit drugs by encouraging them to seek help and advice. The links between macular degeneration and smoking and excessive alcohol consumption are important associations to highlight.
He reiterated that a brief nudge earlier can be a lot more effective in altering a person's motivation than later when it requires more substantial intervention.
"You might move someone from having no awareness that their behaviour is slightly left of the curve to being conscious that they're a bit different; you might move them from being a pre-contemplator to contemplating and changing their behaviour."
More information about drug trends can be found at ndarc.med.unsw.edu.au/ program/drug-trends.
EARLY CAREER OPTOMETRISTS ON MYOPIA
The theme for the afternoon Early Career Optometrists' session was myopia management, and first up was ophthalmologist Associate Professor Chameen Samarawickrama who described myopia as "the new normal" and collaborative eye care in myopia management as "our new normal".
Assoc/Prof Samarawickrama views the knowledge and skills of optometry as complementary to the knowledge and skills of ophthalmology and suggests that working together generates positive synergies that best serve our patients.
While more studies are needed to fully understand the cause of myopia and treatment effect of various strategies he said, "The best outcomes are probably a combination of multiple things: medications, glasses, and contact lenses in select cases will together make a difference."
He said the opportunity to "start the ball rolling" with collaborative care is right at the beginning.
Collaborative care needs to involve strong lines of communication, ensuring the child's parents, school and general practitioner are kept in the loop with the condition and its management. Consistency of messaging is essential for compliance with treatment – the opportunity for an optometrist and ophthalmologist to repeat the same message repeatedly plays a critical role in managing the patient.
Assoc/Prof Samarawickrama said the common things we should all be saying when we talk about myopia management are:
Increase sunlight exposure and outdoor activity – there's been a lot of good data to show that this plays a role in slowing progression; evidence shows 2% less myopia development per additional hour spent outdoors per week and wearing a hat and sunglasses won't reduce this affect, and
Near work, taking into consideration viewing distance and duration, plays a role in myopia progression so try to ensure children hold their paper/device further away, use good lighting and take a break from near work every half hour.
Assoc/Prof Samarawickrama went on to speak about the studies supporting the various spectacle lenses and contact lenses for myopia control as well as the evidence for atropine to manage axial length and visual acuity in myopia, citing multiple studies, though particularly ATOM and LAMP. The key measurement for myopia progression needs to be axial length measurement, particularly vitreous chamber depth, as various techniques can effect refraction and mask myopia progression.
He said atropine should be commenced early, with higher doses for children whose parents are both myopic (given myopia's genetic association). Children with >1.00D myopia at five years are in the 94th centile and if they continue in that trajectory without treatment, they will be -7.00D by 20 years. There are minimal concerns over side effects associated with atropine and his patients have never had any.
Speaking of referring patients on to an ophthalmologist for collaborative myopia management, Assoc/Prof Samarawickrama highlighted the need to include as much background information as possible.
"We don't learn about spectacle lenses and soft contact lenses for myopia management, as the studies are relatively small, so please provide information about what you have prescribed and why, the trials and results – even attach the study.
"That way we're all working together to keep our patients front and centre."
Optometrists Rebecca Dang and Amanda Lea presented a handy review of the commercially available soft contact lenses and spectacle lenses for myopia control, comparing axial control, refractive control, modality, power range, add, base curve/ diameter, and recommended retail price.
While A/Prof Samarawickrama was less enthusiastic about contact lenses for children, saying infections at a young age can cause life-long vision problems, Ms Dang and Ms Lea said they were comfortable prescribing soft contact lenses to children who were assessed as being able to manage them because "the life-time risk of myopia is much greater than the risk of injury or infection to eyes because of contact lens wear.
"We have kids as young as six-years-old wearing soft contact lenses and ortho-Ks," they said.
While orthokeratology has a lot of benefits, there are still unanswered questions such as the effects on limbal stem cells, its effect on keratoconus development and the effects with cessation of treatment. Sometimes it's not suitable for patients who need myopia control.
Both Ms Dang and Ms Lea were excited about the availability of Hoya's MiyoSmart lenses which have demonstrated effective myopia control.
"MiyoSmart by Hoya has been a main game changer in the past couple of years – these spectacle lenses provide myopia control that's on par with contact lens options – axial control of 62%; refractive control of 52% – although there are limitations in the power range and blank sizes will change with higher prescriptions.
"Cosmetically they look like single vision lenses and kids love them – you put them on their face and they're good to go; they don't get blur when they look out the sides of their glasses," they explained.
MiyoSmart requires completion of a brief training course before you can prescribe them, and Ms Dang and Ms Lea advised the young optometrists in the room to call their Hoya lab for expert advice on more complex prescriptions.
Optometrist SooJin Nam spoke about the complex task of communicating myopia management to patients and their parents.
Ms Nam was one of the earlier optometrists to prescribe contact lenses for myopia management back in 2003.
"At that time no-one knew what ortho-k was. It wasn't an evidence-based myopia control treatment. However, I'd spoken to colleagues who'd observed that young myopes wearing ortho-k seemed to be slowing in their progression. As clinicians we often make observations that are progressed by research."
With "a smorgasbord of studies on myopia management", she said optometrists are now spoilt for choice, but that doesn't mean we should bombard patients and their parents with all the options available. Instead, it's important to assess the patient's lifestyle, myopia needs, budget, and likelihood of compliance before recommending two options.
While myopic parents are likely to understand the mechanism of myopia progression, those with no experience with this condition are likely to have little idea. Ms Nam finds that drawing illustrations can be beneficial. We also need to explain the short and long-term risks of myopia progression, though if there is any hint of anxiety, "please don't use the words eye disease and going blind in front of them".
Having done that once, and seen a child in fits of fearful tears, Ms Nam said she had learnt never to do it again.
The Brien Holden Vision Institute myopic calculator is an excellent tool to help parents and patients understand how myopia will progress and how it will impact vision over time – whether the patient is a pre-myope or a progressing myope. Freely available at bhvi.org/myopia-calculatorresources, Ms Nam said, "It's a nice tool to have, it's a nice visual representation, and it really helps to explain both the short- and long-term benefits of myopia control."
Training front of house staff to enquire about vision needs at the time a patient books an appointment can be helpful as a myopia management consultation requires more time than a general examination.
To be a good myopia management communicator she said:
Listen to your patient's needs and wants – sometimes what you want to prescribe may not suit,
Be clear and concise in your professional advice – have your thoughts organised, and
Use empathy – treatments can be scary; patients have a lot going on.
Finally, Ms Nam stressed the importance of being non-judgemental about the behaviours of the child sitting in front of you and of their parents.
"When parents ask, how much time should my child spend on digital devices – I try to focus on realistic outcomes. Rather than focusing on less time on the iPad, focus on what activities take the child outdoors for around two hours per day."
A SUPER DAY
Super Sunday once again lived up to its reputation of being absolutely super – congratulations to the team at O NSW/ACT who managed to have such a diverse range of topics presented in one fast-paced day.
The conference will return to Luna Park on Sunday 21 May, 2023.